Apple's Secret is Out: This Technology is Larger than the iPhone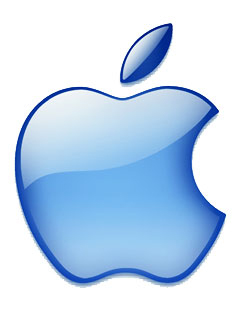 Fundamentals

A lot of the information we're about to cover might feel like a surprise. In many ways it is. That's because our purpose is to provide institutional research to all investors and break the information monopoly held by the top .1%.
PREFACE
As is the case with almost every new Apple product, the voices of the skeptics are louder and more cantankerous than the believers. In fact, when Apple released the iPhone, this is what a Bloomberg writer reported:
Apple iPhone will fail in a late, defensive move [to protect the iPod].

iPhone is nothing more than a luxury bauble that will appeal to a few gadget freaks.
Source:
IFANS
Now the same raft of criticism is being lobbed at the Apple Watch, but get ready to learn about what's really happening with Apple's new wearable -- we'll need to look past the headlines that have filled our minds with a narrative steeped in pure conjecture and surrounded in cognitive dissonance.
What we're about to uncover is fact, and that in and of itself makes it yet more incredible.
PREFACE
It's here. A colossal shift. A fundamental change. It will impact almost everything: communication will be revolutionized, our security will be safer, healthcare and life expectancy will rise.
It is one of the themes, one of the fundamental shifts coming in the future that may didn't understand, even confused as a gimmick from a company desperate to show innovation.
But the facts have been released, and the Apple Watch is selling better than the first iPhone. These are the facts, and they are not disputed.
THE PRIZE
The smart wearables segment is exploding. Here is the forecast from our friends at Statista: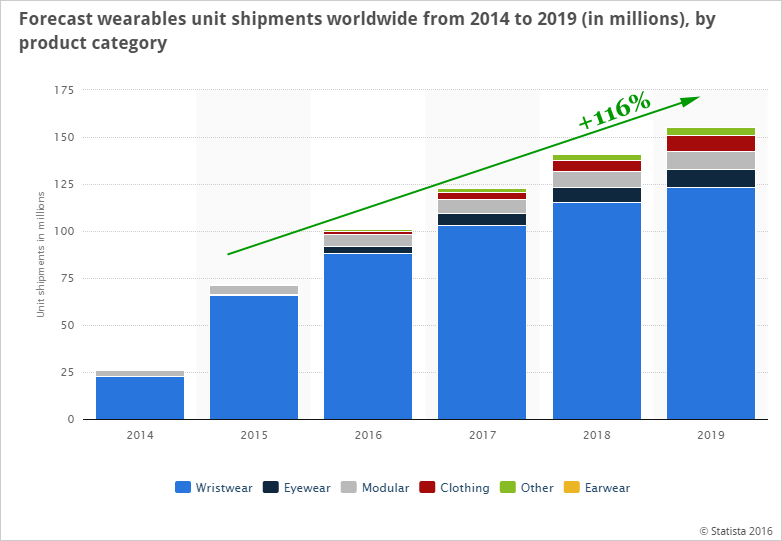 Worldwide shipments of wearable devices are expected to rise 38.2 percent to 110 million units by the end of 2016, market research firm International Data Corp (IDC) finds. That bright blue color dominating the bar chart - those are smartwatches.
Apple is estimated to own 50% of the market, and Google's Android watches less than half -- at 21%.
Intel (INTC), Amazon (AMZN), Fitbit (FIT), Garmin (GRMN) and others will enter the fray -- and they too will face the real problem: there's only one Apple.
Here is the real news -- facts only, please.
APPLE WATCH NUMBERS ARE HUGE
Benzinga
reported on a JPMorgan analyst report this morning that reported that Apple sold more than 5 million of its Apple Watches in the fourth quarter of 2015.
Further the report noted that total global smartwatch shipments rose to 8.1 million units marking the first time ever that
smartwatches have out-shipped Swiss watches
.
IDC estimates that Apple will sell 14 million watches in 2016, up from 11.6 million units (estimated) in 2015. None of those numbers mean anything until we look at context, and I warn you, this is going to sound unreasonably good. But again, these are the facts, and they are not disputed.
COMPARISONS
Most analysts forget, rather quickly, that the first version of Apple products, like iPod, iPhone and iPad, don't sell very well. In fact it's not until generation two or even three, that the opportunity becomes apparent. Apple Watch is bucking the trend, already. Here we go:
Apple's iPhone sold a total of 2.3 million units in its first holiday season. In fact, here's the all-time iPhone unit sales chart by quarter from
Statista
.
Apple Watch sold 5 million unit sales in its first holiday season -- that's 217% as many iPhones sold in its first holiday season.
Apple watch sold an estimated 11.6 million units in 2015 -- which was
not a full year
. iPhone sold 5.3 million units. Conveniently, Apple Watch's comparison is again 217% as many units.
iPhone sold 15 million units in its second year, and Apple Watch is estimated to hit 14 million. But, now we will see the real news.
IT'S NOT DEFENSE; IT'S OFFENSE
Up until now, the Apple Watch was seen as an adjunct to the iPhone. Some analysts even called it "a defense of the iPhone." Believe it or not, that's
exactly
what analysts said about the iPhone -- that the phone was a defense of the iPod.
That sounds so odd right now it feels unbelievable so we'll just show the actual news page published by Bloomberg at the time: Just to show you explicitly the reality we're uncovering, we'll start with the Google search result:

And then we click on the result and find this:

Yep, it's been deleted. But fear not, hundreds of other media companies caught the story and archived it. Here's a screenshot of what it used to read before it was deleted:

Source: ifans
The iPhone is "designed to protect the iPod." We can laugh at it, but that's exactly what people are saying now about the Watch. And here's why they are dead wrong, again.
STUNNING NEWS: WATCH 2
The soon to be released Apple Watch 2 will have Wi-Fi capabilities so that users will have connectivity when they're not near their smartphone. But there's more (full disclosure: this part is not fact, it's rumor):
Although there has been no confirmation yet, it appears the new Watch will have a FaceTime camera. That means, eventually, Facetiming, Skyping, video meeting, video calls, everything. Read this carefully:
The Apple Watch will become a stand-alone product
-- untethered from the iPhone. It's not a defense of the iPhone any more than the iPhone was a defense of the iPod.
STUNNING NEWS: HEALTH WATCH 2
AliveCor is a medical technology company working to product FDA-cleared EKG technology for mobile devices.
TechCrunch
just published a story entitled "AliveCor unveils Kardia Band, a medical-grade EKG band for Apple Watch." Here's the takeaway:
A medtech startup called AliveCor today unveiled what may be the first medical-grade EKG band for the Apple Watch, pending its FDA clearance.

The product is intended to help wearers detect cardiac arrhythmia conditions that can cause stroke, as well as indicate whether your heart rate and rhythm are normal.
Source:
TechCrunch
Source: ifans
"Press on the band with your thumb to take a reading." That's it. The company says that it's expecting to receive FDA approval for the band later this spring.
And who is this AliveCor company? It's CEO (but not founder) Vic Gundotra is the guy that built Google+ from the ground up.
[The product] could also be used by anyone interested in learning more about their health.
PUTTING IT TOGETHER
This is just one app, or extra hardware add-on, it's not the story -- it's a window into the story. The Apple Watch, whether it be version 2 or version 3, can be used as stand-alone device. Although sales have already blown through initial iPhone uptake, its potential is larger still.
We don't think the Apple Watch will ever turn into the single best selling technology device ever (the iPhone), but it's not an adjunct "defense of the iPhone." It just isn't -- and the facts show that uptake is explosive and the segment growth in general is equally substantial.
REAL INNOVATION
The Apple Watch is just slice of the real innovation that's happening at Apple. Here is the R&D chart (in blue bars) with revenue (in the gold line).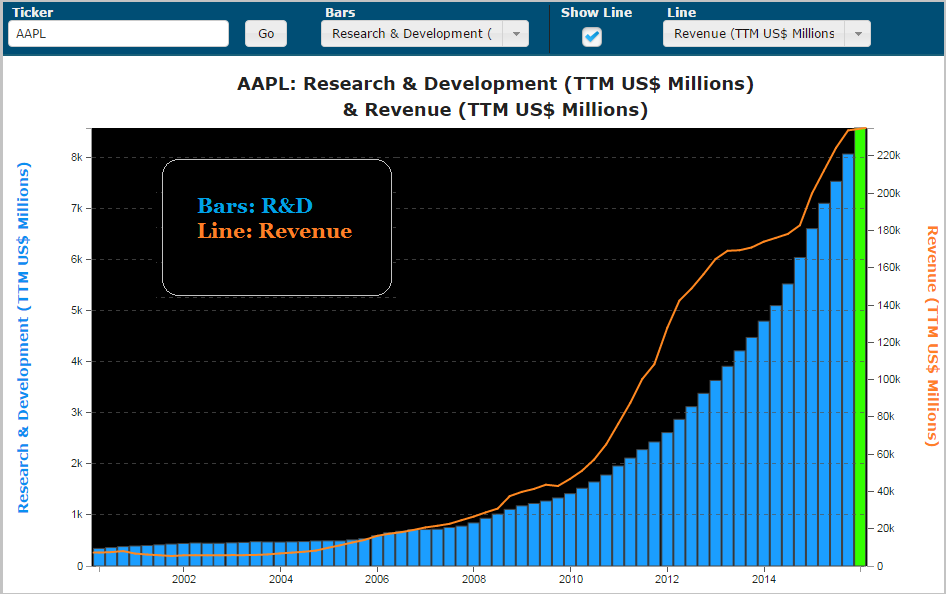 The largest company in the world has increased R&D expense by 80% in two-years and innovation coming out is breathtaking. We have seven different dossiers on each thematic segment Apple is going to win in CML Pro -- including how Apple will become the largest cable company in the world and how a secret handshake with India's Prime Minister now gives the iPhone a market larger than the United States starting right now.
WHY THIS MATTERS
There's so much more going on at Apple we can't contain it in one article. . But, true innovation, the kind that turns companies from small caps into mega caps, the kind that sees stocks double, triple or even quadruple only occurs when two critical phenomena collide.
To identify Apple and then go beyond, to find the 'next Apple' or the 'next Netflix' we have to get ahead of the curve. This is what CML Pro does. Our research sits side-by-side with Goldman Sachs, Morgan Stanley and the rest on professional terminals, but we are the anti-institution and break the information advantage the top .1% have.
Apple is one of just a precious few 'Top Picks' for CML Pro. Each company identified as
the single winner
in an exploding thematic shift like artificial intelligence, Internet of Things, drones, biotech and more. In fact, here are just two of the trends that will radically affect the future that we are ahead of: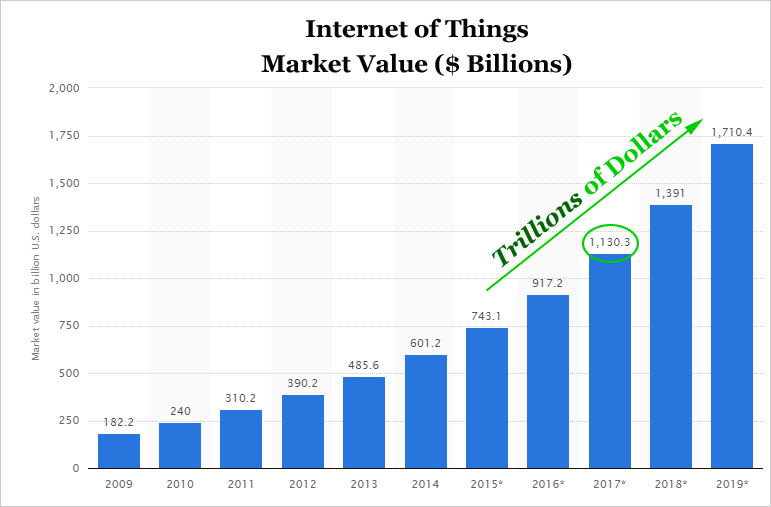 The Internet of Things (IoT) market will be measured in
trillions
of dollars as of next year. CML Pro has named the
top two companies
that will benefit.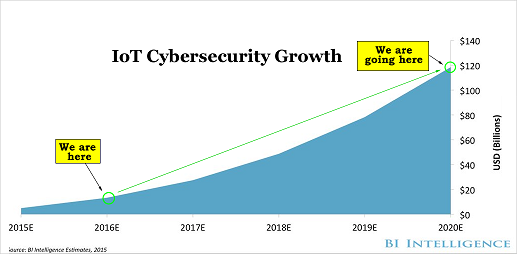 Market correction or not, recession or not, the growth in this area is a near certainty, even if projections come down, this is happening. CML Pro has named
the single best
cyber security stock to benefit from this theme.
These are just two of the themes we have identified and this is just one of the fantastic reports CML Pro members get along with all the visual tools, the precious few
thematic top picks for 2016
, research dossiers and alerts. For a limited time we are offering CML Pro at a 90% discount for $10/mo. with a lifetime guaranteed rate.
Join Us: Get the most advanced premium research delivered to your inbox along with access to visual tools and data that until now has only been made available to the top 1%.
Thanks for reading, friends.