Apple's Growth Opportunity is Stunning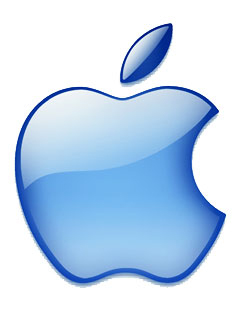 Fundamentals

REALITY CHECK
The tech market has been slammed and Apple hasn't been immune to the hand wringing, dropping some 30% from its May '15 high of $134.54.
Let's stop for moment before the panic sets in and think about the context. Let's look at all the reasons the skeptics are dead wrong and why Apple will continue to build upon the world's best business. And by the way, we just learned yesterday that Apple may now have the largest social media messaging service in the world, reaching 63
quadrillion
messages per year at peak rates.
I. VIRTUAL REALITY CHECK
Apple is making a substantial push into Virtual and Augmented Reality (VR/AR). On May 28th 2015, Apple acquired Metaio, an augmented reality startup. Then, in November Apple acquired Faceshift; the company that created motion capture technology used in the latest Star Wars film. We also learned that Apple hired Doug Bowman, Ph.D. who is considered to be one of the world's top virtual reality researchers.
Together VR/AR are projected to hit $150 billion in yearly sales by just 2020, according to a study by
digi-capital
: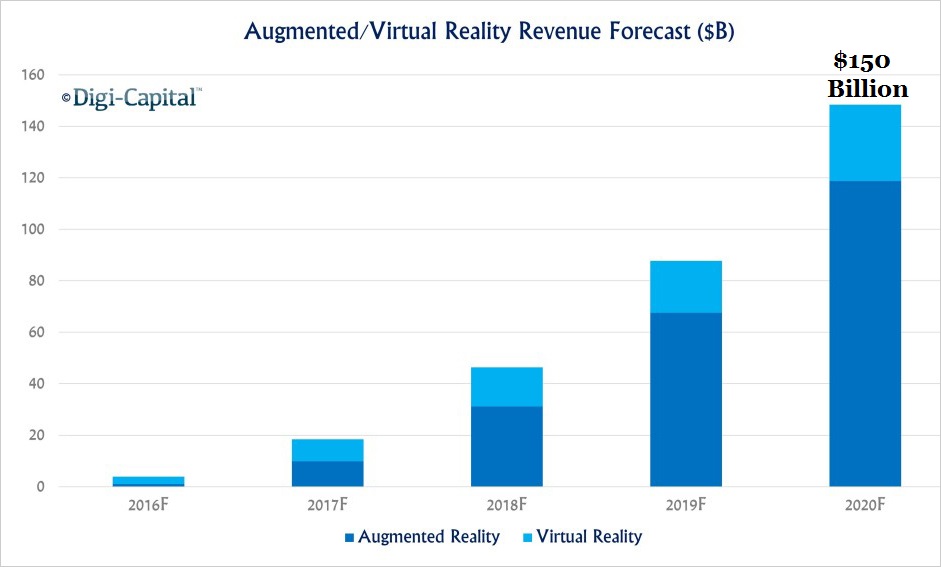 VR/AR is crowned as a market whose "customer base looks increasingly like all of humanity" by Dave Thiel at Forbes. Apple is entering it and will take a massive market share simply by virtue of its enormous iPhone install base.
II. APPLE PAY
Apple is positioning itself to be a dominant player in the mobile pay space, and the implications are huge. Here's a projection of payment volumes from Statista, in billions of dollars.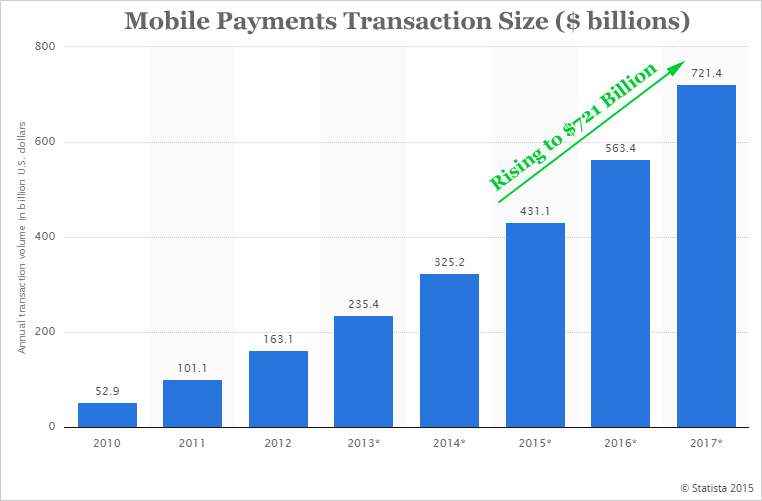 Bank of America forecasts the market to reach $3
trillion
by 2022. We're talking about a staggering 200-fold growth.
Here's what Tim Cook said on the latest earnings call (emphasis added):
In the second half of 2015, we saw significant acceleration in [Apple Pay] usage, with a growth rate ten times higher than in the first half of the year.
Yes, he said
ten times higher
growth in six-months.
The Secret: Apple's iPad and iPhone control a staggering 65% of the mobile pay market. To fully visualize the growth and market share dominace, we refer you to the
CML Pro research dossier dedicated to just Apple Pay
.
III. APPLE TV
Apple TV has enormous potential for recurring revenue. Just this week
we learned
that Apple will fund
original
programming
starring Dr. Dre. In fact, what Apple TV brings to the table is so large and so disruptive that we have a stand-alone CML Pro research dossier,
Why Apple TV is Brilliant and Seismically Disruptive.
On the latest earnings call, Tim Cook said:
"We had our best quarter by far for Apple TV sales, and the number of apps developed for Apple TV is growing rapidly.
Here's the growth expected in general in the smart TV realm: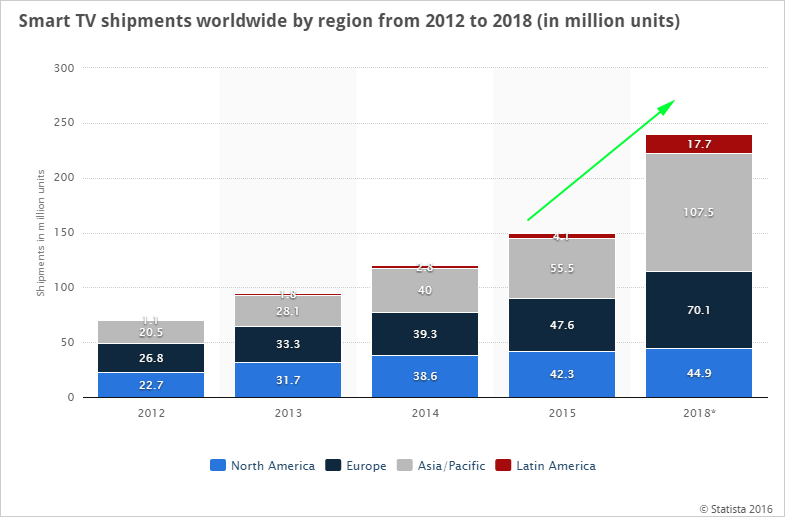 Estimates come in as high as 25 million Apple TVs to be sold in 2016, in a market that shows strong growth moving forward. But the
real
gem
is how Apple will use Apple TV to turn itself into one of the largest
cable bundlers
in the world and lead the 'cord-cutting' trend. We refer you to the CML Pro research dossier for the incredible details.
We break news every day. Discover the Undiscovered.
Get Our (Free) News Alerts Once a Day.
IV. APPLE WATCH
The skeptics who tell us Apple growth is gone will have difficulty explaining this:
It took Apple 74 days to sell one million iPhones.
It took 28 days to sell one million iPads.
The data points to one million Apple Watches sold in the first day.
More, over the Apple Watch's first Christmas season, it
outperformed
the iPhone's first Christmas.
Here's the market for wearables as forecasted by Statista: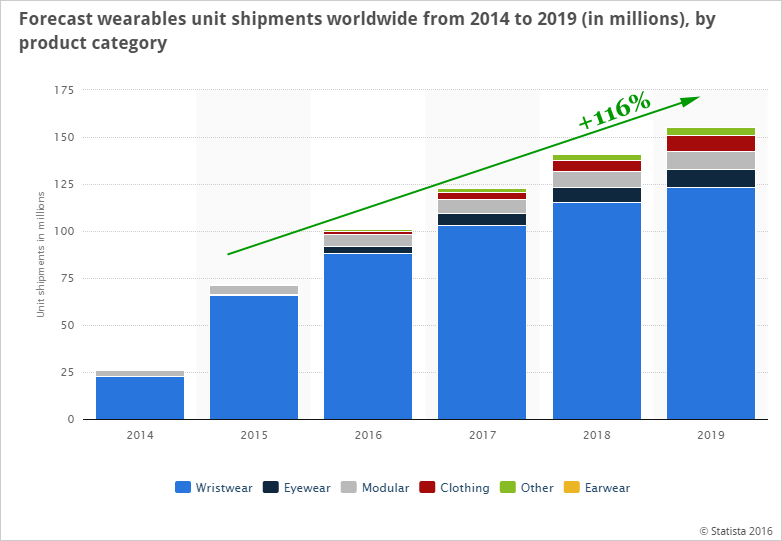 That bright blue color dominating the bar chart -- those are watches. Apple Watch is already beating expectations and it has the makings of a huge success, regardless of what the headlines read.
V. APPLE MUSIC
Apple's words from the earnings call:
Finally, we also shared the incredible Apple Music experience with even more listeners, with over ten million paying subscribers less than four months since customers began paying for the service.
That number was updated yesterday to now 11 million. Apple Music is well on its way to becoming the largest pay music service, and its recurring revenue base will go straight to Apple's bottom line.
VI. APPLE CAR
Apple has been aggressively hiring to build out its "Project Titan", which Elon Musk calls Apple's "open secret" to build an electric car.
The luxury car market is currently at $360 billion annually, and with recent advances made my researches that we've discovered, there's reason to think electric cars will quickly begin to cannibalize the internal combustion market. There's so much to say, in fact, we have an
entire dedicated research piece
covering it.
The electric car market is set to be an explosive one, and no company is better positioned to own it than Apple with it's amazing brand strength, engineering talent pool, and huge cash reserves.
VII. iPHONE
Yes, when it comes down to it, iPhone has substantial room to grow, no matter what the headlines may have you believing. Here is the forecasted smartphone market through 2019:
We're looking at a rise from 1.8 billion units to 2.6 billion units within four years. That's 44% growth, hardly a dead market. We've also just learned that the way has been cleared for Apple to start opening its first retail stores in India,
Apple's Secret: The Hidden Handshake with India Is Enormous
Here's the quick recap. First a chart of smartphone shipments by region out to 2019. Focus on the orange rectangles, which represent India.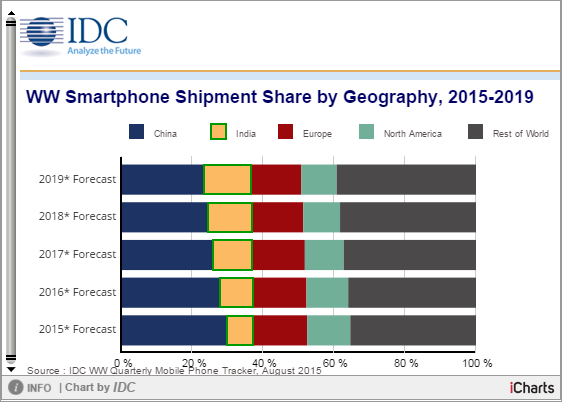 India's share of the smartphone market will increase a staggering 26% next year to to 9.6% of the total global share. Forecasts call for
140 million smartphones
to be sold in India next year, alone.
To fully understand why Apple will suddenly have access to this market, we need to dive into the CML Pro research dossier -- but the rules have been bent for Apple by India's own Prime Minister, and that means absolutely enormous opportunity.
Naysayers will stop at the headline that iPhone's are too expensive for the less well-off Indian buyer. Of course, one layer below the headline and we get this:
To understand why this prototype, coming out this year, is a total game changer, we refer you to CML Pro.
VIII. SOCIAL MEDIA
To top it off, now
we discover
that iMessage rates hit 200,000 messages a second. This makes Apple one of the largest social media networks in the world as a side effect of its other businesses.
Yes, Apple is going after Facebook's Messenger, with 800 million users and WhatsApp, with 1 billion users.
WHY THIS MATTERS
There's more going on with Apple but it's two radical innovations, including a patent filing we discovered, that make Apple one of the precious few 'Top Picks' for CML. But to go further, to find the 'next Apple' or 'next Facebook' we have to get ahead of the curve. This is what CML Pro does. Our research sits side-by-side with Goldman Sachs, Morgan Stanley and the rest on professional terminals, but we are the anti-institution and break the information advantage the top .1% have.
Each company we identify is
the single winner
in an exploding thematic shift like artificial intelligence, the cloud, Internet of Things, drones, biotech and more. In fact, here are just two of the trends that will radically affect the future that we are ahead of: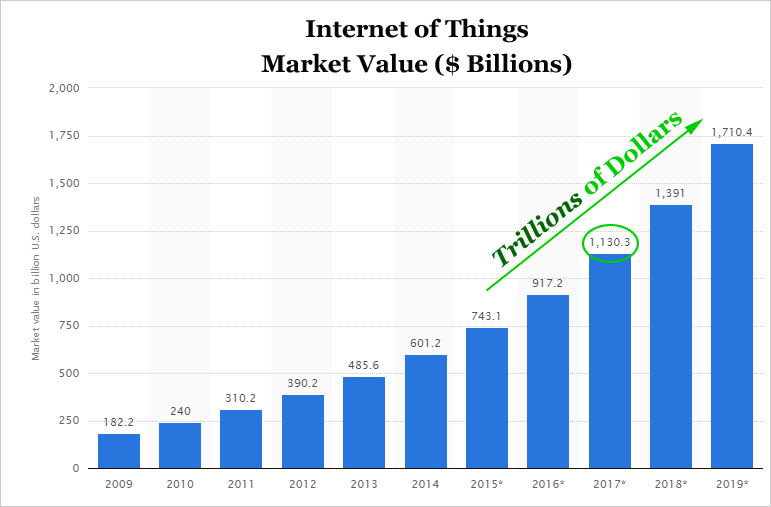 The Internet of Things (IoT) market will be measured in
trillions
of dollars as of next year. CML Pro has named the
top two companies
that will benefit.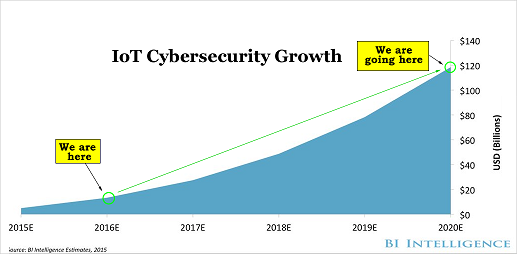 Market correction or not, recession or not, the growth in this area is a near certainty, even if projections come down, this is happening. CML Pro has named
the single best
cyber security stock to benefit from this theme.
These are just two of the themes we have identified and this is just one of the fantastic reports CML Pro members get along with all the visual tools, the precious few
thematic top picks for 2016
, research dossiers and alerts. For a limited time we are offering CML Pro at a 90% discount for $10/mo. with a lifetime guaranteed rate.
Join Us: Get the most advanced premium research delivered to your inbox along with access to visual tools and data that until now has only been made available to the top 1%.
Thanks for reading, friends.