A Technology Turnaround Story Crown Jewel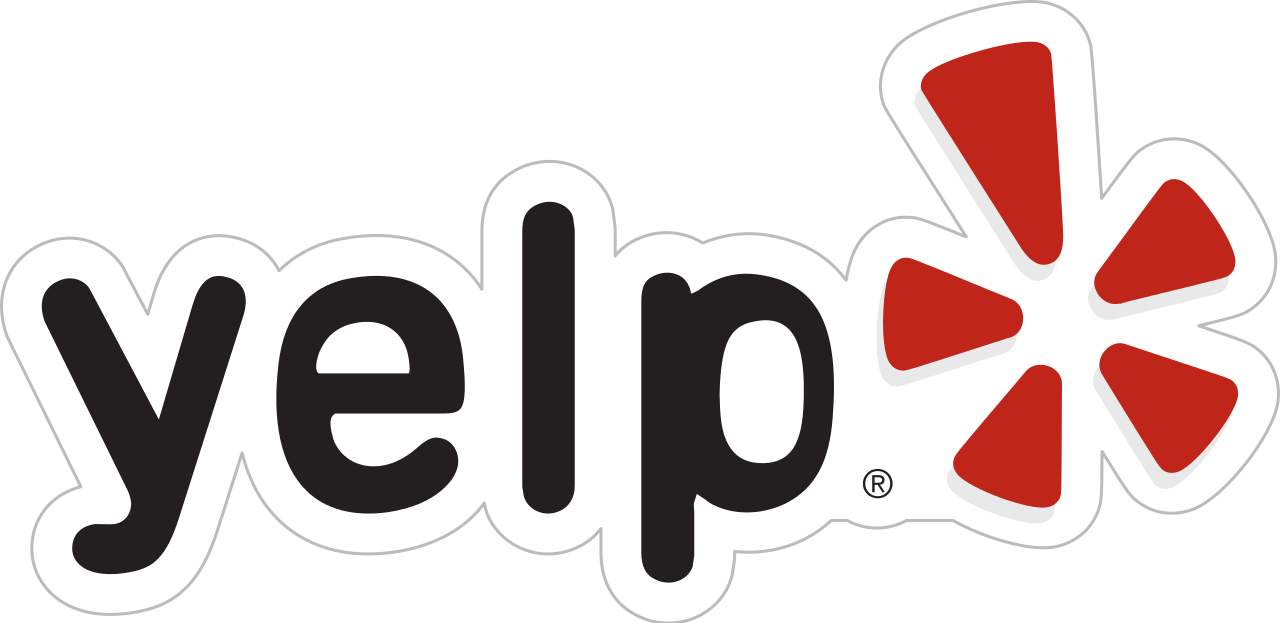 Fundamentals
Our purpose is to provide institutional research to all investors and break the information monopoly held by the top .1%. That means wading through misinformation. You're now a part of that change.
PREFACE
Apple is down and just that alone has created a vacuum of interest in the stock market. Sure, Amazon (NASDAQ:AMZN), Facebook (NASDAQ:FB) and Alphabet / Google (NASDAQ:GOOGL) are still growing, but the market is hungry for a tech turnaround story. The market is looking for growth and rewarding it, but also looking for value inside that growth. The market may have just found its crown jewel for a turnaround story.
Several years ago there was no greater bear than I when it came to YELP. With the stock trading at $57.38 I went down a litany of criticisms and ended with a simple conclusion:
"
I think YELP [at $57] is overvalued... by a lot.

"
But now, with the stock trading at $25, up from an all-time low of $15, I'm here to tell you, the story has changed, the thesis has changed, operations have changed, the strategy has changed and the company may end up being one of the great turnaround stories of this year.
EARNINGS
On the latest earnings call from May 5th, 2016, the company reported revenue of $158.6 million, beating Wall Street estimates of $155.6 million. Let's take a look at the company's all-time revenue chart: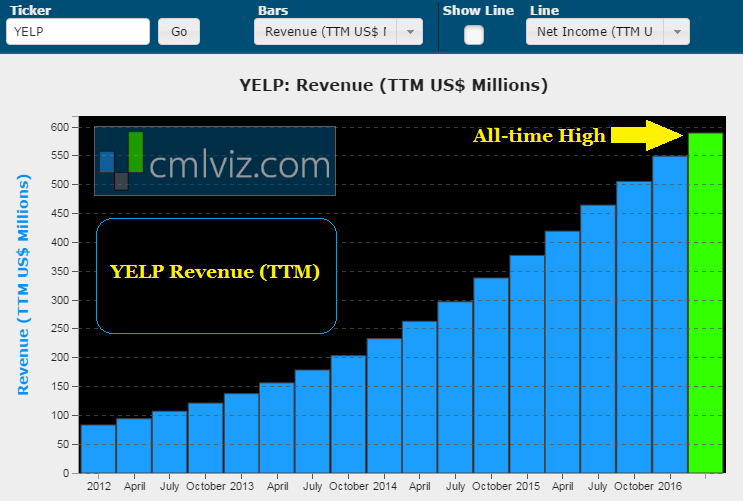 YELP grew revenue 40.6% year-over-year and now sits at an all-time high of just under $590 million in the trailing-twelve-months. For the current quarter ending in July, the company guided revenue in the range of $167 million to $171 million -- so we're likely going to see yet more growth, yet another all-time high in the annual numbers.
But, the company still can't produce a profit. In fact, here is the net income chart (quarterly):
The loss shrank quarter-over-quarter but it widened year-over-year. But, fear not, the company has $370 million in cash, equivalents and short-term investments and zero short- or long-term debt. Further, levered free cash flow (TTM) hit an all-time high. Here is that chart: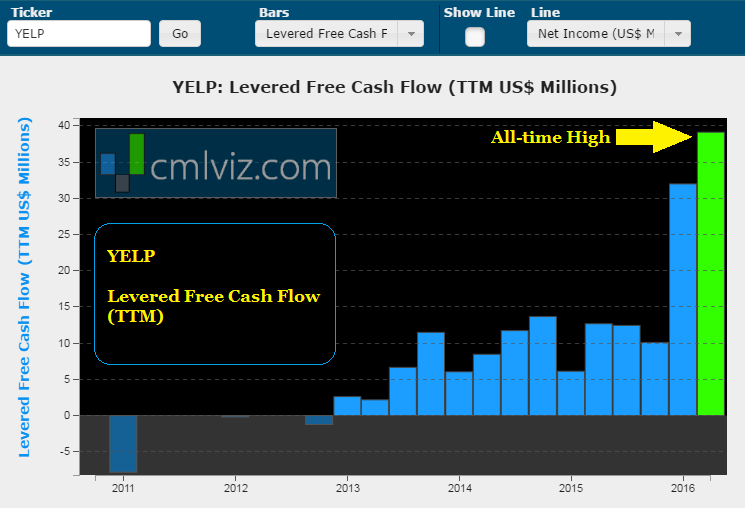 That $38 million over the last year compares to $13 million a year ago and just $8 million two-years ago. But all of these charts are not the story. This is the story:
THE TURNAROUND
Yelp actually finds itself in a dominant position due to a wonderful pivot in three areas.
First
: The company is phasing out its display advertising product in favor of focusing on
local
advertising offerings. Now checkout these numbers from the conference call:
"
Local advertising accounts grew 34% year over year to approximately 121 thousand.

Local revenue totaled $138.1 million, representing 40% growth compared to the first quarter of 2015.
"
Source:
Yelp Investor Relations
But the growth in its local advertising platform is in its infancy. The company went onto tell us that "Yelp's national business comprised approximately 20% of local revenue in the first quarter of 2016." The company has just started to break into this incredible opportunity.
Second
: Yelp has made the move to mobile and community, realizing (finally) that its success hinges on execution on smartphones. The company has 75 million unique monthly desktop users but now it also has 66 million unique mobile monthly visitors. However, app users view 10 times more pages than desktop users.
Here's more from the letter to shareholders:
"
App Unique Devices grew 32% year over year to approximately 21 million on a monthly average basis.

App users viewed approximately 70% of page views in the first quarter and were more than 10 times as engaged as website users, as measured by number of pages viewed.
"
So all of this is what Yelp refers to as "community," and that isn't lip service. If we were concerned about the content and reviews being stale, we learned this:
As of March 31, 2016, approximately 50% of reviews on Yelp had been added in the last two and a half years.
And further we learned that Yelp users wrote 31% more reviews than they did during the same period in 2015, pushing the total number of Yelp reviews above 100 million for the first time.
CEO Jeremy Stoppelman said that users are submitting reviews from their
mobile phones every two seconds
(
Forbes
).
Third
: In February of 2015, Yelp acquired the food delivery website Eat24 for $134M. This was lost in the news a bit, but it's rather shrewd. Users are already going to Yelp to find restaurants -- the company realized it might as well fulfill the vertical in entirety and take that search and review process and finish it off with delivery.
"
As more food ordering transactions move online, further integrating Eat24 will enhance our user experience with an easy-to-use product and service that allows our large consumer audience to transact directly with businesses.
"
Source: Yelp CEO Jeremy Stoppelman
It turns out, Mr. Stoppelman was right. Yelp revealed on its earnings call that "transactions revenue" totaled $14.5 million, compared to $6.6 million in the first quarter of 2015, primarily due to the acquisition of Eat24.
That may sound small, but it's 120% growth already and there's no slowdown in sight. It's a really smart addition to the Yelp experience.
THE FUTURE
For the full year of 2016, net revenue is expected to be in the range of $690 million to $702 million, which compares to revenue in 2015 of $550 million which still represents a heady 27% growth at the high end.
Further, Yelp has continued to invest in innovation, with research and development (R&D) expense hitting all-time highs last quarter as well. Here is the chart: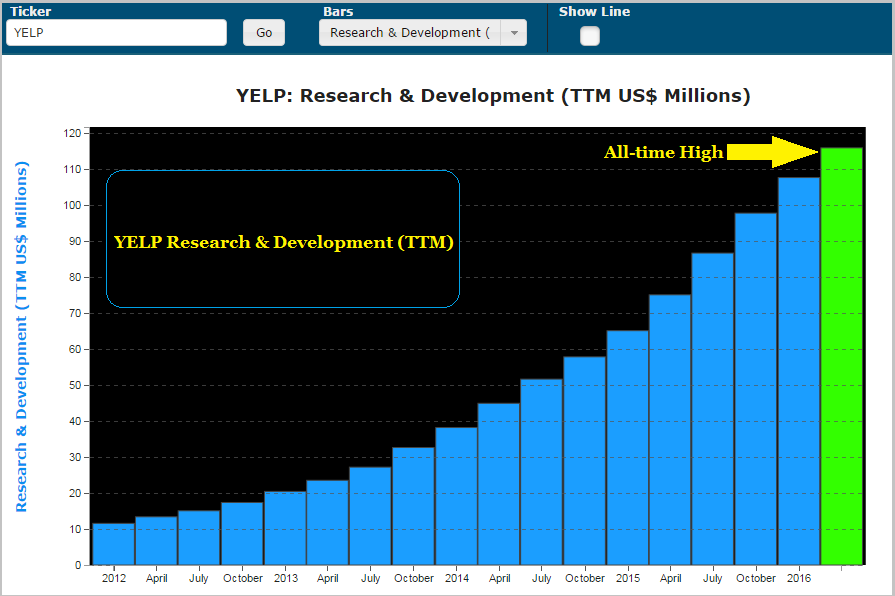 R&D rose to $116 million in the trailing-twelve-months, up from $75 million a year-ago.
IN TOTAL
Yelp continues to break all-time highs in revenue and R&D. It has just begun a transformational shift to its local advertising products and so far the success has been staggering. It has further integrated the experience with transactions surrounding Eat24.
The company has begun to master mobile and user engagement and sees growth across every metric from reviews, to users to logins, transactions and usage. With a current market cap of $1.96 billion, including nearly $400 million in net cash, $700 million in revenue forecast for 2016 and large growth in its business -- the company is now one to watch.
SEEING THE FUTURE
Yelp is just one of our companies to watch. But to go further and find the 'next Apple' or the 'next Facebook,' we have to get ahead of the curve. This is what CML Pro does. Our research sits side-by-side with Goldman Sachs, Morgan Stanley and the rest on professional terminals, but we are the anti-institution and break the information advantage the top .1% have.
Each company in our 'Top Picks' is
the single winner
in an exploding thematic shift like artificial intelligence, Internet of Things, drones, biotech and more. In fact, here are just two of the trends that will radically affect the future that we are ahead of: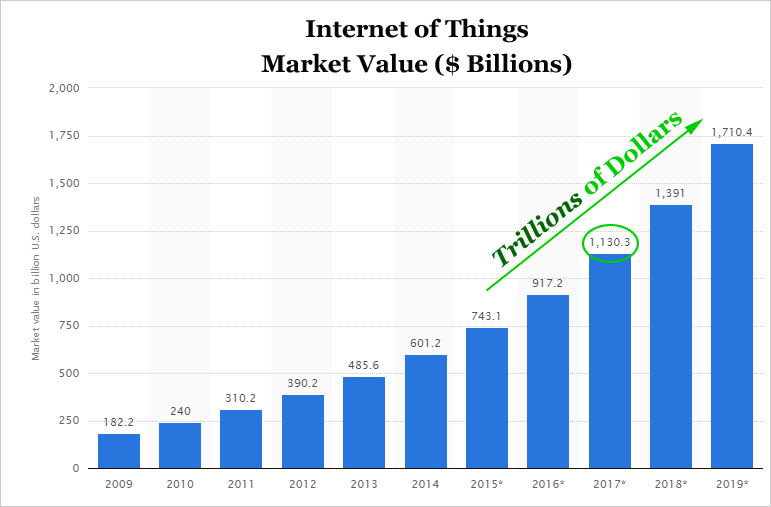 The Internet of Things (IoT) market will be measured in
trillions
of dollars as of next year. CML Pro has named the
top two companies
that will benefit. Then there's cyber security: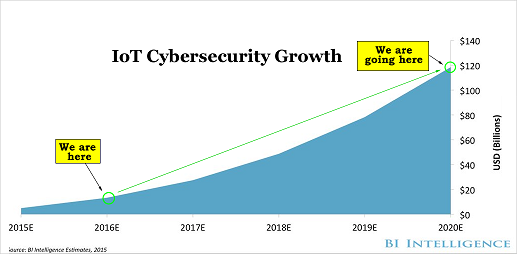 Market correction or not, recession or not, the growth in this area is a near certainty, even if projections come down, this is happening. CML Pro has named
the single best
cyber security stock to benefit from this theme.
These are just two of the themes we have identified and this is just one of the fantastic reports CML Pro members get along with all the visual tools, the precious few
thematic top picks for 2016
, research dossiers and alerts. For a limited time we are offering CML Pro at a 90% discount for $10/mo. with a lifetime guaranteed rate.
Join Us: Get the most advanced premium research delivered to your inbox along with access to visual tools and data that until now has only been made available to the top 1%.
Thanks for reading, friends.
Legal
The information contained on this site is provided for general informational purposes, as a convenience to the readers. The materials are not a substitute for obtaining professional advice from a qualified person, firm or corporation. Consult the appropriate professional advisor for more complete and current information. Capital Market Laboratories ("The Company") does not engage in rendering any legal or professional services by placing these general informational materials on this website.
The Company specifically disclaims any liability, whether based in contract, tort, strict liability or otherwise, for any direct, indirect, incidental, consequential, or special damages arising out of or in any way connected with access to or use of the site, even if we have been advised of the possibility of such damages, including liability in connection with mistakes or omissions in, or delays in transmission of, information to or from the user, interruptions in telecommunications connections to the site or viruses.
The Company makes no representations or warranties about the accuracy or completeness of the information contained on this website. Any links provided to other server sites are offered as a matter of convenience and in no way are meant to imply that The Company endorses, sponsors, promotes or is affiliated with the owners of or participants in those sites, or endorse any information contained on those sites, unless expressly stated.