Veeva (VEEV), the startup company: CFO unpacks how internal focus keeps proliferating products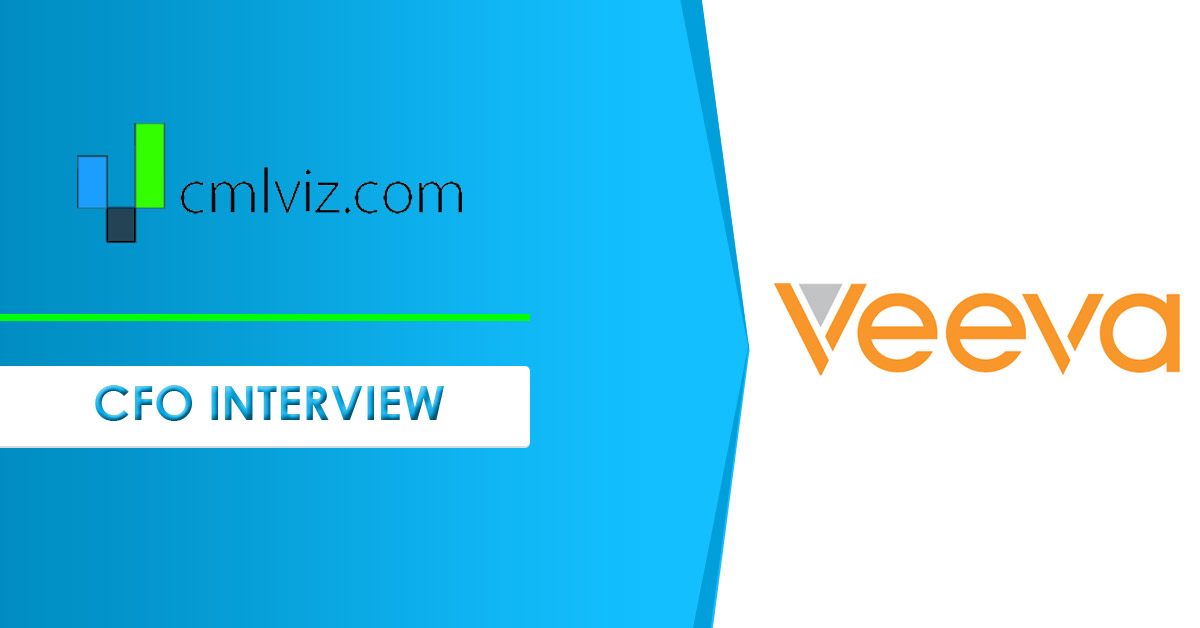 A young company can surprise you, expanding from a first product to a company with a whole portfolio of different offerings covering a plethora of functions. Five years ago, Veeva Systems (NYSE:VEEV) was known as being a one-product company, selling a CRM system for life sciences customers called Commercial Cloud.
Nowadays, Veeva has a tremendous portfolio of offerings, covering all manner of life science tasks, from managing the operations of drug trials to online meetings for physicians to tracking the efficacy of drug marketing spend to repositories for patient data, which is a new area known as the Data Cloud.
All of this is the result of diligent focus inside the company by what amount to startups under the direction of Veeva's soft-spoken founder and CEO, Peter Gassner.
Veeva's CFO, Brent Bowman, explained the startup culture to Capital Market Labs in a recent post-earnings chat, a tradition with the company and CML for years now.
"We have a slogan that focus pays off," Bowman says. And the company has "a lot of focus proofs in different areas that are driving," meaning, the steady progress of each new component of the portfolio. "You could think of it as, we have a lot of kind-of startups inside what looks like one big machine at $1.8 billion."
That is important both for the company's goal to get to $3billion in annual revenue come 2025, but also for the nascent area of what it calls Outside Life Sciences. OLS means selling the same products that help drug companies control product quality and safety, to other firms in industries such as consumer packaged goods and chemicals.
Bowman says that business will remain a small one inside of the multi-billion business, perhaps generating $100 million annually by 2025. It is the right way to go, he says, another startup business inside the Veeva culture of startups.
All of that product diversity has helped to fuel broad-based growth, as seen in the May 27th earnings report, Veeva's fiscal Q1. Revenue and profit both beat expectations as they have so many quarters since the company's IPO in 2013.
Capital Market Labs: First of all, as usual, what things would you like to focus investors' attention on from the results and outlook that you think are particularly important?
Brent Bowman: Yeah, so, Q1 was the second highest bookings quarter in the history of the company, following Q4, which was our highest. And it's really, you know, we're moving the industry to digital.
And we're doing that through focusing on customer success and product excellence.
So, I think that's the highest-level sound bite. And we saw broad strength across the portfolio.
Development Cloud, great growth, and then as well with the Commercial Cloud space. And if you look at the Development Cloud, it was a great mix of established products and newer products driving the growth.
So, lots of legs, and our room to grow in our established products like eTMF [electronica trial master file, part of the company's clinical practice products within the Vault product suite], the QualityDocs products [also part of Vault], and then as well as our newer products like CTMS [clinical trial management, also part of Vault], and QMS [quality management solution, also part of Vault].
So, I guess, the message is, broad strength there.
And I can say the same thing on the Commercial [Cloud] side where we continue to take share in core CRM.
We have nice growth in what we call our add-on products to our core CRM and the Veeva Crossix business. That acquisition we did about a year ago. Marketing spend is starting to recover.
Customers want to use more advanced digital analytics tools to help them decide on how they spend their marketing dollars.
So, we're seeing some nice growth there as well. So, the story is really strong, broad-based strength.
CML: In this quarter's bookings, was it the multiplicity of product offerings that was behind that kind of bookings growth? What would you say is propelling that to be higher, other than the prior quarter, higher than in past quarters?
BB: Yeah, I would just say the same value, you know, if you start with the Development Cloud, the connectivity of our products, and the Vault platform, and the value you get with that first product, and then you get even more value with that second and third product.
So, we're competing against competitors that have a point product. They could, maybe, try to compete in clinical ops, or the clinical data space, versus quality versus regulatory.
So, that full integrated stack of products on the platform, it's really taking root.
CML: We have to distinguish here, I think, Brent, because Peter [Gassman, Veeva CEO] was asked on the call this question about some companies purchasing what's called a full suite. And he made the point, these are smaller customers, smaller biotechs, or those with greenfield infrastructure.
BB: Very valid point. So, let's take that apart.
So, going all-in, Commercial, that that is true. You're talking pretty commercial, clean slate, and we see that happening.
But I was talking about the development side. You're right.
What you just described was simply commercial. And that's really earlier, commercial companies using our core CRM, our data, our business consulting services and the like. At a high level. We call that the Commercial Cloud versus the Development Cloud.
CML: Right. Your point is something different from these smaller biotechs, that, when you talk about buying into the full stack...
BB: I talk about Development Cloud, it's built on a common platform, Vault, and that is a differentiator for us.
So, we started out with our eTMF product that was built on that. We also we had QualityDocs, which was early in the quality space, and we had our RIM [regulatory information management] products.
So, customers have seen the value of that as we help customers move to the install them and they want the connectivity to take clinical.
Then there's a natural evolution across the clinical trial space where you get into the clinical operations and the clinical data capture.
So, customers are adopting more of our products across the clinical space because of the connectivity that's the result of it being built on a common platform. And then you can replicate that statement with quality and our other products as well.
CML: And I see that you put out a number of announcements just in recent weeks about some of these companies that were standardizing for clinical trials.
It looked like not that they necessarily use every conceivable product for every aspect of their business, but for clinical trials. They were saying, it sounds like, we're going to give the business to Veeva...
BB: Yeah, we're seeing more of that overall on the vision for clinical, you know, at the highest level, the concept of moving industry to digital devices is an important concept.
If we think about, you know, more of patient-centric, paperless clinical trials, our clinical network is really at the heart of that. And our goal is to have these clinical trials be 25% faster, and 25% less cost.
So, that's the higher-level vision. And then we have the products that support that.
CML: When you say that it's patient centric, what do you mean by that? It sounds more efficient, but what does that have to do with its being patient-centric?
BB: So, we also have the clinical network where you're trying to tie not only pharma to both sites, but pharma to the sites, to the patients, and creating that connectivity to make it easier as a digital experience for the patient as well, as opposed to say, can you give consent, by way of example, the digital technology that we can provide, so that that patient portion of the equation.
CML: Meaning they don't have to be involved in as much paperwork?
BB: That is correct, but that's piloted by higher level. That's what we mean by patient-centric.
CML: Is that being driven by your customers or by regulators?
BB: I think, you know, I would say, not by regulators now. That's really, I think, we're trying to help the industry be more effective and efficient. And so, we're leading that charge.
CML: I want to ask you about IQVIA. There was some reference to this during the quarter's news flow and on the call on Wednesday.
So, I want to make sure. Was there anything that you need to further clarify?
BB: I'm not sure exactly what your baseline is, but there was a very small procedural discovery by a special master that was ruled on, had nothing to do with the core of our trial. From that, there was basically a misleading press release by IQVIA that was put out.
CML: That's what I'm thinking of, yeah.
BB: Yeah, that's what went out. And the reality is that there were no fundamental changes to our case. Not at all.
And, you know, if you take a big step back, as far as this plays out, you know, what's the worst thing that could happen, if you kind of simplify, if we were to lose, which we don't think we will. It's where we are today.
We will continue to operate and take share. And their monopolistic practices are limiting the ability of some of our AI products, we call them "Andi," and for that data to be put in.
So, worst case is where we are today. We compete. We continue to do well.
Best case is, they have to stop preventing their data from being put into our software. So, it would be a tailwind.
So, I think it's important to understand that's kind of the reality. But we feel really good about our position and we think it's a distraction. We think it was a conscious distraction that issuing a press release.
CML: And someone asked you on the on the call. I think are customers of IQVIA getting anxious that their data will not be accessible to them in the hands of IQVIA, does that….
BB: No, no, you know, I mean, we don't believe so. We don't think the customers will allow it.
And this would further enhance their monopolistic practices. So, we feel that the customers want choice, we're giving them choice, we're giving them innovation. Our case will continue to move forward.
CML: You were asked about expenses, and I think you prudently said, you know, it's hard to say beyond fiscal '22 where things go, right?
BB: Right.
CML: Because people are traveling more. That's obvious. But there's probably a wide range of scenarios. Is there anything further to add about how you think, month by month, about planning, budgeting, when there's some uncertainty beyond this year.
BB: Yeah, I mean, so for the fiscal year, you know, we have a pretty good sense of what our motion is.
We know what events we're going to go to. And we're talking about the large events.
So, we've pretty much been doing that virtually, and we plan to be doing that, for the most part, virtually, for the large events.
What we do know is we will be servicing our customers more directly; more face-to-face travel will increase.
So, we've factored all of that into the guidance. And going forward from there, you know, with more information and time, we'll be able to provide better guidance on what next year looks like.
CML: Meaning, in other words, when you say, servicing customers, you're talking about field engineers that have to go on site?
BB: I'm talking about sales, I'm talking sales and services, right?
So, I mean, you think about our starting point is pretty much the zero travel the beginning of the year. So, as we move forward through the course of the year, that travel, from a customer internal business perspective, we expect to return close to normal by the end of the year.
Now, the event-related travel and activities, that's not the case, right?
That is not in your hands because that is the industry. And even the events that we are holding are virtual events. We've got one coming up in a couple of weeks.
CML: You're starting from a good position, right? Because you have gross margin and operating margin at or near all-time highs for the company. So, you're in a good position if you had to be a little bit more profligate in a year from now or more.
BB: Yeah, that was my point. And the reason that, you know, we're at an all-time high of 42% [operating] margin, there are a number of tailwinds that are contributing to that.
We talked about the travel business. That's a tailwind. That's why I want to call that out.
And our services business was fantastic this past quarter and services is typically about 20% of our overall business.
And we have very high utilization in that services business driving the higher margins there as well.
CML: But you also tell people that that is very highly variable. And so not to presume that a rate of services business, quarter to quarter...
BB: Yes, right, we expect that to normalize a bit as we continue to hire more delivery and professional services folks. And you get back to some level of normality around, you know, honestly, PTO, holidays that people have locked down for quite some time.
CML: Do you do you find like, personally, are you looking forward to getting in front of investors in an actual physical space or are you finding, yeah, this just works fine with everything's on Zoom, et cetera?
BB: I think the answer is probably kind of somewhere in the middle. I think going back to pre-COVID is probably not the right answer. But I think there are occasions where the face-to-face, I think, would be nice going forward.
CML: The answer for all of us is you want to pick and choose that line — I don't want to have that meeting!
BB: I think we've been able to be pretty functional.
CML: Let's talk about the Data Cloud [part of Veeva's Commercial Cloud]. I'm just curious because, again, this is another thing that got a lot of treatment on the call: Is Data Cloud something that should be thought about as having economics, as far as margin and investment for the company, that are different from all the other things?
BB: Yeah, and first off, let's talk about the horizon of Data Cloud.
So, right now, the Data Cloud, we're really in the phase where we're making sure we have the product right.
Really, that early adopter model. So, it's not contributing any real meaningful revenue at the moment.
It's something that will become more meaningful as you approach '24, '25. So, think of it from that perspective. And I think that the margins, from that we've said it, it should be similar to the best-practice data providers.
CML: What does that mean exactly? Who are the best-practice data providers in that, that are comparable?
BB: IQVIA is one of the companies that's out there that.
CML: I've heard of them!
BB: Syneos [Health (SYNH] in Morrisville, New Jersey] is one. There's a few.
CML: Okay, so there is a cohort….
BB: Yeah, there's a cohort that would suggest that the margins would not be at that 85% that you're seeing on the subs [subscriptions] for this type of business. So, we would have to add some unique value at such a scale to get back to that subs margin level.
CML: Is that doable?
BB: It's possible, but that would be a long-term goal. You know, a bit below that would probably be more realistic.
CML: Speaking, of long-term goals, also in 2025, I think, Peter said the goal for Outside Life Sciences (OLS) is perhaps $100 million in 2025?
BB: That's correct.
CML: Had you mentioned that before?
BB: That got mentioned a quarter ago, when we said that the current run rate of the business is just north of $30 million. And our target is to get to $100 million by 2025.
And just to kind-of anchor you, we said that the addressable market, as defined today, is a billion dollars.
CML: Right.
BB: So, even with that progress, we would only be 10% penetrated to that market by 2025.
CML: That's like CRM for things other than life sciences that are not life sciences?
BB: Well, it's more on the quality of safety side, it's the quality-safety side. And we're thinking about consumer product groups and chemical.
That would be the safety and quality product set, and largely leveraging what we have for life science.
CML: Okay. And so, this is kind of interesting dynamics because you're cruising toward $1.8 billion in revenue this year. I'm going to say confidently that your revenue is going to be higher in 2025, total company revenue.
So, given that $100 million is like a startup inside of, let's just throw out a number, say, it's a $3 billion-dollar company by 2025. Not that you're committing to that, just a multibillion-dollar company by then...
BB: Although we have said publicly our target is $3 billion by 2025.
CML: See that!
BB: You're a genius!
CML: I was channeling it. So, within a $3 billion-dollar company, let's say $100 million is interesting because it's a of a different scale.
Does that bring any kinds of special demands for managing capital, and managing investment, and hiring and such, when you have that?
BB: No, I mean, we were really comfortable where we are and how we developed the products and kind of go-to-market as well, as we do have a separate go-to-market team around that. And we like the progress we've made. So, nothing that we would have to do to scale that.
CML: Okay, I don't know if it speaks to a culture thing at all that you have a team that's working on something that's like a startup, you know, inside of a now very sizable, multi-product company...
BB: Yeah, but something to think about is, we have a slogan that focus pays off.
We have a lot of focus proofs in different areas that are driving. So, you could think of it as, we have a lot of kind-of startups inside what looks like one big machine at $1.8 billion.
We have a focus on clinical, and within that, a focus on clinical ops versus clinical data versus quality.
The Crossix business, the Data Cloud business, and so on. So, I wouldn't really characterize it in scale as being something unique that we're not used to doing.
CML: That's a good point, because in past, that is something that Peter used to point out, in 2015 or 2016, when Vault was only just appearing as the second product, and the company was at half a billion in revenue.
BB: Correct. We have GMs running those local businesses that are smaller, right, as you break them apart. So, this is where we're comfortable and confident we know how to do this. That's part of our rhythm.
CML: I want to pick your brain about something that I don't know if it's relevant to you or not.
There's a lot of front-office innovation going on among smaller software vendors, vendors like Gong and Chorus and InsideSales and SalesLoft.
All these companies that are about go-to-market, customer service, customer success, even the Qualtrics unit of of SAP.
I'm curious, from your perspective, as you look at productivity of the team, do you see any of these innovations, the smaller companies, helping what you guys do with selling, either with the channel or with direct sales or any of that?
BB: No, I wouldn't say so. I think our motion that causes us to be so successful is that reference-selling model that we believe that we've done.
And so, we have a high success rate, and, again, clear and focused markets. Get the product right.
Early adopters and the reference-selling model, that has been the way we've been very successful. So, I would not say that those type of companies would significantly help what we're doing right now in that sales motion.
CML: Fair enough. I have a feeling it may have something to do also with not just your existing go-to-market, but, as you say, because you're in a field that has a lot of reputation and credibility. Some of these other companies are way, way more horizontal, selling product that is very generic.
BB: That's the real point, right? So, as we're in life science, I mean, we are a known provider. Nevertheless, we are becoming more known as well. That's part of the foundational work that's taken us some time to do.
CML: Is that anecdotal? You mean, as far as progress you observe in OLS?
BB: That's anecdotal, you know, working with the GM, and, you know, seeing the progress that we've made over the last 12 months, and getting the attention of some of the larger names in that space.
So, I guess, it takes time because we are a new player in the OLS space. So, we're starting to build a reputation. We don't have the reputation.
CML: Okay, my money's on you! Exit question, or, the last formal question. Are there any areas such as genomics that are emerging that that are potential for growth?
BB: How I would answer is we have so much opportunity in our core life science development space right now.
So, you know, we talked about that piece is $6 billion, total addressable market, and we're about 15% penetrated in that space. So, we really want to make sure we focus and expand that portion of the business over time, you know, move up to adjacent-type markets. But at the current time, that's what we're focused on.
CML: Anything in our waning time together that we haven't brought up that that you'd like to mention?
BB: Let's see, what else? I mean, just kind-of the macro [view] is where we really believe we're building a durable model, a durable financial model to the portfolio to come in that's continuing to evolve that strategic partnership where we're seeing more and more of that.
You know that we're not a vendor, we are a strategic partner. We're in at the right level of discussions to help them form their strategies across the development as well as commercial. And we're investing for growth. That's really important.
CML: Do you give anything outside of the $3 billion target [for 2025 revenue]? Is there any kind of aspirational, sort-of stretch, goal for the annual growth rate?
In other words, you've said, this sounds like a prudent target to aim for in 2025. Do you say, you know, if we turn the crank, we could turn it up from 26% or so growth lately?
BB: I mean, we guide on a full year, and we have our two major targets, and we've talked about, that's our target until we beat it. And when we get there, we'll reassess the new target.
One other note to mention, that this is the first full quarter as a public benefit corporation. And we talked about that a little time before.
CML: Was there anything that's come to mind in the succeeding 90 days that you wanted to mention about that?
BB: Everything we discussed before is still true: The momentum, the customer feedback, again, very positive, the employee feedback very positive. So, it just kind of supports our thesis around becoming a PBC. So, it's all been positive.
CML: No one's saying you shouldn't be doing nice things?
BB: Haven't reared their heads yet!
CML: Thank you for your time, Brent. Stay well. Hopefully, we'll see you next time.
Conclusion
Finding the gems like Veeva Systems (NYSE:VEEV) well before they have become household names is what CML Pro does, with an auditor verified track record, because of course it's verified.
Each company in our 'Top Picks' has been selected as a future crown jewel of technology. Market correction or not, recession or not, the growth in these areas is a near certainty.
The precious few thematic top picks, research dossiers, and executive interviews are available here:

Thanks for reading, friends.

The author has no position in Veeva Systems atthe time of publication.

Please read the legal disclaimers below and as always, remember, we are not making a recommendation or soliciting a sale or purchase of any security ever. We are not licensed to do so, and we wouldn't do it even if we were. We're sharing my opinions, and provide you the power to be knowledgeable to make your own decisions.

Legal
The information contained on this site is provided for general informational purposes, as a convenience to the readers. The materials are not a substitute for obtaining professional advice from a qualified person, firm or corporation. Consult the appropriate professional advisor for more complete and current information. Capital Market Laboratories ("The Company") does not engage in rendering any legal or professional services by placing these general informational materials on this website.

The Company specifically disclaims any liability, whether based in contract, tort, strict liability or otherwise, for any direct, indirect, incidental, consequential, or special damages arising out of or in any way connected with access to or use of the site, even if we have been advised of the possibility of such damages, including liability in connection with mistakes or omissions in, or delays in transmission of, information to or from the user, interruptions in telecommunications connections to the site or viruses.

The Company makes no representations or warranties about the accuracy or completeness of the information contained on this website. Any links provided to other server sites are offered as a matter of convenience and in no way are meant to imply that The Company endorses, sponsors, promotes or is affiliated with the owners of or participants in those sites, or endorse any information contained on those sites, unless expressly stated.