Capital Market Laboratories Meets With Veeva Systems (VEEV) CFO: Demand for products and the ability to enable digital transformation kept right on going through the pandemic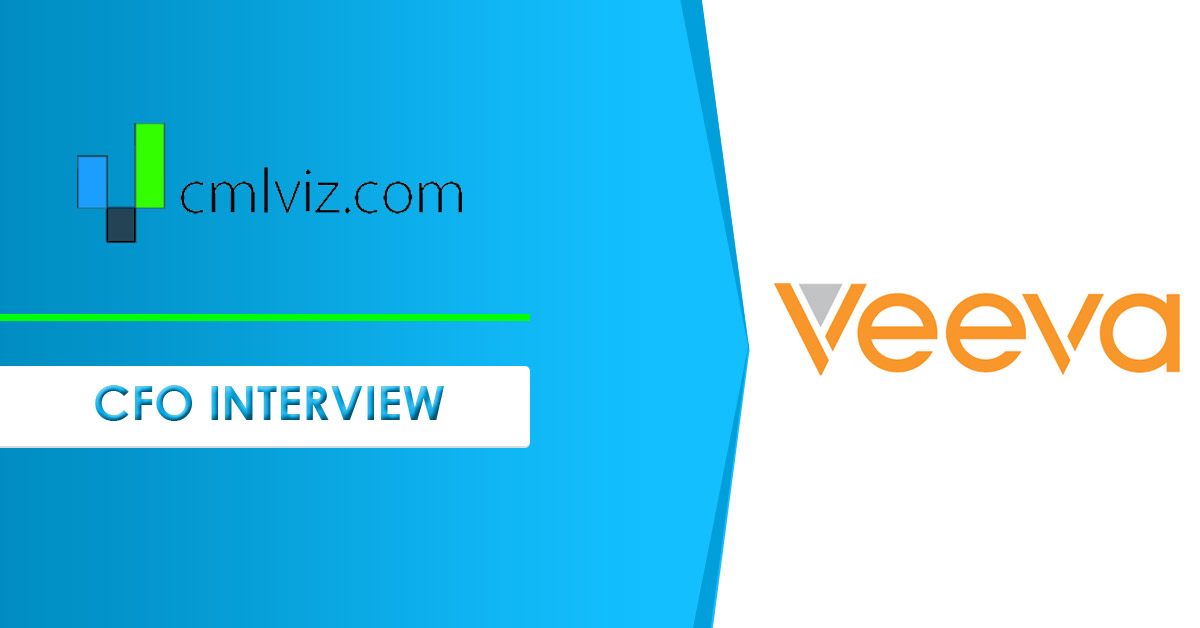 Shares of cloud computing software vendor Veeva Systems (NYSE:VEEV), which focuses on the life sciences industry, are trading higher since August 27th, when the company reported both fiscal Q2 results ahead of consensus and a Q3 outlook for revenue and profit that was also higher than expected.
As in past quarters, CFO Tim Cabral took time following the call to talk with Capital Market Labs. This was the last interview Cabral would give to CML, given that he's passing the baton to Brent Bowman, a career tech executive who previously held finance positions with software startup called [24]7.ai, as well as giants such as Intel, Altera, and Sun Microsystems.
Interestingly, the two go way back: Cabral and Bowman coached little league against one another a decade ago. Bowman sat in on CML's Zoom call with Cabral, and there was clearly a lot of good feeling between the two individuals.
Amidst the pandemic, the good news for Veeva, said Cabral, is that the company is the "trusted partner" in industries that continue to invest. "We serve an industry that for the most part remains relatively healthy, and has not only an outlook for the second half of the year to show some level of recovery for them, but a continued appetite in wanting to invest in their businesses for their long-term growth," he said.
Veeva was helped in many cases by the disruption that the pandemic wrought.
Drug reps had a harder time meeting with physicians, and it was harder to manage the communications with patients taking part in drug trials. Both areas were "materially impacted," said Cabral.
And that opened a door for increased interest in two of Veeva's newer software products that can virtually connect reps and doctors, on the one hand, and patients and doctors, on the other hand.
"We were uniquely positioned with modern cloud technology, the innovations that we built," said Cabral, "to enable the industry to continue to engage with doctors on the commercial side, to continue to have doctors and clinical sites engage with patients."
Spoiler alert: Veeva might have a nice future revenue stream not currently showing up. It offers a product called "Engage Meeting," to facilitate video chats.
The company is giving that product away this year as a good deed to customers, said Cabral. "We knew they didn't have it in their budget for this year," he said, but Veeva wanted to get the capability out there for remote meetings.
The intent is to charge for the product in future, so that's revenue that eventually should be additive to the current rate of things.
Lastly, Cabral had very interesting thoughts to offer about how Veeva can in future use data, such as that generated by AI, to provide another layer of services to customers, something along the lines of business consulting. Sounds provocative.
To recap, Veeva's fiscal Q2 revenue rose a healthy 32.5%, year over year, to $353.7 million, yielding EPS of 72 cents. That was ahead of the average estimate for $340 million and 64 cents.
For the current quarter, the company forecast revenue in a range of $360 million to $362 million, and EPS of 66 cents to 68 cents, again, ahead of consensus of $347 million and 64 cents a share.
Capital Market Labs: You talked with us a bit last time we met, Tim, but, refresh our memories, how did you end up deciding that your former rival was the right person?
Tim Cabral: Especially because his team beat my team quite soundly! Clearly, I was thinking he's a better coach than me, so maybe he'll be a better CFO than me! I think it's a good question.
The thing that Peter [Gassner, Veeva CEO] and I really optimized for was, we've talked before, I think, about this being a servant leader, which I think Peter saw in me. And we definitely saw in Brent, and see in Brent.
He has now been at the company for maybe 80 days. And he has, really, a track record of loyalty to really great companies, companies like Sun Microsystems and Intel are on his resumé.
And at the time Brent was there, they were really innovative, really strong companies.
And I think you don't know what great is until you see it, and you live it, and you participate in it, as Brent has in his career. And I think that enables him to have a really high bar as he comes into Veeva.
So, it was, sort-of, the continuity of those things which trumpets other things that typically companies will look for, like, how many public company CFO jobs he had? Or, you know, how many times has he done this cloud thing.
So, while those were important, and certainly criteria, and we thought about it, they paled in comparison to those other things.
I've been listening to a book from Simon Sinek, called, Start With Why. And I'm at the part of the book where they're talking about the Southwest [Airlines] story. And one of the things the original founder, his name is Herb Kelleher, as you probably know, talked about was, it's easy to teach skills.
It's harder to teach behaviors and philosophies. And I think you could use that as an analogy to how we thought about the search for Brent.
CML: Welcome aboard, Brent.
Brent Bowman: Appreciate it, thank you.
CML: Where are you just coming from before this?
BB: I was with a private customer engagement software service company called [24]7.ai. I was the CFO at that company.
CML: Well, welcome aboard.
BB: Thanks.
CML: Tim, this is this the last time that you're going to be with us in these interviews?
TC: Yeah, I'm moving away from a full-time role into an advisor role at Veeva. So, I'll continue to be connected to the company, but certainly in the background.
CML: Okay, then, in your last time at bat for these Q&As, tell us, what things do you think are most important for investors to take away from the results and outlook?
TC: Yeah, I would say, three things.
Number one, another really strong quarter in terms of execution for the company. And those results enabled us to raise the guidance for the year both on the top and bottom line. And even in the adversity that this year is bringing all of us, we raised the top line and bottom line above the original guidance that we gave back in early March for the year.
So, good news is, we serve an industry that for the most part remains relatively healthy, and has not only an outlook for the second half of the year to show some level of recovery for them, but a continued appetite in wanting to invest in their businesses for their long-term growth, and their long term opportunities. And Veeva has been a go-to partner.
Which leads into my second thing, I think, the other takeaway, and we talked about this on the earnings call, is what happens in adversity.
And this is an obvious statement I'm about to make. When adversity hits, you really look for your trusted partners to help you.
And I think the work that we've done over the last 13 years to build a relationship with this industry, and the customers that we serve, and the impact that we're making, has been an investment that you're seeing a bit of return on this year, as companies look for trusted partners to help them innovate, to help them get through this adversity.
And I think even more than maybe in the past we're seeing that partnership be leveraged in the ways that the industry is not only leaning in and buying new software, you know, having the innovation that we deliver impact them; but also, in the richness and the cost and the quality of the conversations we're having for future potential. So, super bullish about that.
And I would say the third thing that's been a hallmark of the view over many years, and certainly in the years we've talked, another amazing quarter of innovation for a company that has built such an awesome product portfolio over the years.
The ability to continue to deliver innovation and not to rest on our laurels has been such a part of the story of Veeva.
And this quarter, we talked about our two new consumer-facing applications, MyVeeva for Clinical Trials, and MyVeeva for Doctors.
We've continued to help this industry, through innovation, to move to digital and go through the digital transformation that over time this industry would have gone through.
But I think in this adverse time, the acceleration in the need of it, we've been uniquely qualified to help them do that.
So, I think those would be the big three in terms of what I would take away from the earnings and the results of the last 90 days.
CML: To get just a bit more specific about that, Tim, when you and I spoke in May or June, you'd noted at the time that Veeva CRM Engage Meeting [an extension to the company's CRM product] is something that was performing surprisingly strongly as a new addition, because people were just trying to maintain a presence with patients and with their providers.
So that was one thing that was very much part of the pandemic. I'm curious, in addition to that, what things happened, exactly, to keep these clients coming back to you?
Was it people not disconnecting or not canceling licenses as much as they might have? Or were you adding customers more than you probably would have? Is there some way to break that down?
TC: Yes, again, I think it comes down to three things.
I think if you look at either the commercial side of the industry we serve, or the clinical side, obviously this pandemic, and what it means to the ability for either sales reps on the commercial side to continue to engage with doctors, as well as on the clinical side with patients, going into clinical science and being able to be seen by doctors to continue the process of their involvement in the clinical trial — both of those have been fairly materially impacted in terms of the way that both of those work.
So, number one, we were uniquely positioned with some of the products that we have, and obviously being a cloud provider, as you know, it enables digital business processes and digital engagement, if you will.
And so, I think we were uniquely positioned with modern cloud technology, the innovations that we built, to enable the industry to continue to engage with doctors on the commercial side, to continue to have doctors and clinical sites engage with patients, either through tele-health channels or other channels, to enable the business to keep moving forward.
So, I think that's number one.
Number two, as I said, I think over time, we have leaned into customer success as a very unique area of focus for an industry cloud company like Veeva. A lot of companies talk about customer success.
I think we take the extra step to really think through how customer success is realized, and how we work with this industry, the customers, and the people in the industry, to really drive customer success at all three levels.
And the trusted nature of what we've been able to deliver in terms of products, in terms of innovation, in terms of customer success over time is benefiting us in this adverse time.
And then you know Peter and the team have continued to be incredibly diligent on continued innovation, which makes our products both sticky and more attractive to think about.
The last thing you talked about, which was, are you not seeing as much attrition or are you seeing new business, I think both of those metrics are very strong for Veeva in terms of not really any more attrition than we've seen over the years, which is very low, and continued demand for our products, and our growing product portfolio, and the innovations we bring.
Both sticky and attractive to the industry, is the way that I would characterize it. So, pretty amazing opportunity.
CML: One would think, though, that in core CRM, and in Vault, that delays, possibly in some drug trials that are not COVID vaccines, you know, delays in all sorts of marketing and compliance functions, would set back some of the utility of those programs.
But you're saying that you did not see that in the numbers?
TC: Well, I think you're right: Where there was either, in certain customer segments, like clinical research organizations, which are very much tied to the number of clinical trials, and the continuation, if you will, of clinical trials; or if you're in the SMB space, pre-commercial, or if you're in medical devices, where not just doctor visits but actual procedures and surgeries really drive ultimately your top line, there were some small pockets where we saw a little bit of softness in the last two quarters.
But what more than offset that were all the other segments in our business.
And, again, the demand for our products and the ability to enable digital transformation in this industry in such a fast and effective way.
So, I think those two really offset some of what you would characterize as softer parts of the industry that we serve.
CML: The revenue growth is accelerating, which has been remarkable at your scale. Is it digital transformation that's somehow accelerating revenue growth in some kind of sustainable, permanent way, beyond the immediate situation?
TC: Yeah, one thing to keep in mind, as we're looking at the current set of financials, as presented, is that, remember, we did acquire two businesses late last year [Veeva purchased Physicians World and Crossix Solutions in 2019].
So, it's a little bit of an apples and oranges comparison in looking at growth.
So, if you're looking at growth and saying, wow, it's accelerated growth, make sure that when you look at it — and we've given investors enough information that they can back out the inorganic piece to get to the underlying business.
With that said, I would say that, the short answer is, I think digital transformation is in general definitely helping the impact, the quality of conversations that we're having, and somewhat the top line.
But one thing to remember that we continued in Q2, and it will be the same through the end of the year — because this pandemic came across all of us in such a fast way — for the Engage product, which is one of the core digital transformation products that we talked about 90 days ago, because we knew that this industry did not have that in their budget for this year, we've given that product to the industry for free for the remainder of this calendar year.
So, the rapid adoption of that, and whether you talk about the increased activity in Q1, two quarters ago, where there were 30 times more digital meetings in that quarter than the prior quarter, and then on top of the 30 times, there were five times more digital meetings in Q2 than even in Q1.
So the multiple impact is massive. We're not seeing any software revenue that we're recognizing this year. We're not billing our customers. Again, something that you just don't see companies ever do.
This is unique in terms of a company that's able to deliver software to a market and deliver it for free in a time of most need.
You probably have seen this happen in the past. But it's not the norm, but it is the norm for Veeva. And how we engage and treat our customers in this industry.
So, maybe a little bit more than you were thinking you are going to get for that question, but that's the color I would give you on the texture.
CML: That's a good lead-in to the next question. Where do we go in terms of enabling technology for healthcare? What are the next steps beyond what we've already seen that you have helped to accelerate?
TC: Yeah, you know, it's interesting. It depends on if you're defining health care as the industry, specifically, that we serve, which is more pharma and biotech, or if you're thinking more generally about health care and —
CML: As it pertains to Veeva, what's relevant for you…
TC: Well, what's interesting, and back to the innovation point that we were talking about earlier, the biggest announcement, I think, of this quarter, was the two consumer-facing apps, which we call MyVeeva.
And while the beneficiary will certainly be the direct industry we serve, the pharma companies and the biotech companies, who will have better ways to engage with doctors in the MyVeeva for Doctor product, and in clinical trials, the sponsor company, the pharma company will have better ways to engage with clinical trial patients in the MyVeeva for Clinical Trials product — I do think that there is a benefit even beyond the pharma, biotech companies.
There's a benefit to the healthcare providers as they look to engage with so many different brands within the pharma landscape, and having a one-stop shop where they can engage with either the pharma rep, with a medical scientific liaison within a pharma company, or within the brand websites and portals that the pharma companies, sort-of, deliver to the doctors in this market, the healthcare providers.
So, I think there is going to be a benefit for the doctors in their engagement with pharma companies so that they are better educated as they engage with their patients. Again, you've heard us talk over the last number of quarters about some of the things that we're doing that really, ultimately drive better patient outcomes.
And this is a very, very good example of that. And then, the direct patient-consumer app that we built, the MyVeeva for Clinical Trials, will enable their clinical trial experience, whether it's onboarding, whether it's information throughout the trial, whether it's engaging.
That could include tele-health type of engagement over time.
MyVeeva for Clinical Trials creates such a great portal for patients to participate in trials, and should ultimately help clinical trials move faster. Which is a big area of focus for pharma companies. So, really super-exciting.
Of course, early stage, but we really think a bit of an unmet need that we can uniquely address. So, I'm super excited for those issues.
CML: Is the idea of tele-health something that you're throwing out there because it's a check box, and everyone talks about it. Or is that seriously something you can add more and more of in your software?
TC: I don't know if I would characterize that as a focus for what we're doing.
Our focus is how do we make all of the great content that pharma companies and the brands deliver to the market, how do we make that more digestible and effectively used by doctors. And how do we make the patient journey during clinical trials more effective, more efficient for the clinical sites and the pharma companies.
Again, you've heard us talk about this clinical network, and I think with MyVeeva for Doctors, we're sort-of doing a little bit of the same on the commercial side, building this commercial network.
And as you can imagine, over the long run, those network effects have the ability, back to what we talked about earlier, to make the existing solutions that we deliver very sticky.
And for new customers that have yet to engage with Veeva, it makes the solution incredibly attractive.
CML: Does any of what you've said involve bringing in data analytics per se, artificial intelligence, or genomics, just to name three buzz-worthy things?
TC: Yeah, you know, genomics is probably more in the science. And data, for sure, through the lens of, you know, a little bit of AI, a little bit of ML.
But one of the areas that we are leaning into, work that we've been talking about for maybe the last quarter or two, is data-driven services that we can deliver to this market. Through the lens of, think about business consulting, if you will.
So, the idea of taking data, whether that's directly from our systems or any AI-created data from engagements that our customers have, and enabling a level of, and a depth of, services value through a business consulting lens.
We just had our leadership call where 50 of the top leaders get together every two weeks. And our business consulting leader, Dan Rizzo, presented sort-of an update on business consulting.
And, again, this is an area where you have a lot of participants leaning in.
We have a unique opportunity here to add even more value, add even a bigger impact to our customers as they go through the journey of evolving their commercial models and business processes, their clinical models and business processes, and others within the enterprise.
Today our focus is on the commercial side of the business. But I think over the long run, business consulting, we can have an impact across many different areas of the business. So that was a really long winded "yes."
CML: Last one. For Brent, how would you advise Brent, when you're at $1.4 billion in annual revenue as a run rate? What are the interesting challenges you see ahead for Brent?
TC: Yeah, I think there are probably some of the same challenges we've been experiencing over the last number of years, and I think there'll be new challenges.
Look, we're a product portfolio company, as you and I have talked about.
Brent and I were talking about this with some of our investors after the call last week.
The reality is that you have to have such an amazing balance of planting the right seeds, growing them in a way, having other seeds that you planted years ago, generating revenue, such that the combination of all these growth curves in the product portfolio create a consistency of a growth curve.
And I think that's been something that we have done uniquely well.
Certainly, from an external view, I'm sure, it looks much easier than it is.
We spend thousands of hours as a company, tens of thousands of hours as a company, deeply thinking about this. And I think that is going to be the legacy of Veeva, an amazing product portfolio company over time that, over the very long run, could also have multiple industry cloud blueprints over time.
Again, as you know with our Outside Life Sciences initiative, we're dipping our toe in the pool, if you will, in some very interesting areas.
And the focus of those is relatively small today, but I think that could be very interesting.
So, I think that's going to be a challenge for the company going forward and leveraging historically how we've done, that I think is really important.
The biggest challenge I think for Brent and the leadership team, is, how do we stay still Veeva as we triple the company size, as we more than triple the company's size, long-term?
The hardest thing for companies to do is to stay nimble to stay ready to change, to stay flexible, to stay true to the values as you bring in more people that bring a different perspective on it.
And one of the things that we got after the call was a question about how are you guys staying productive working from home.
And while the easy and obvious answer is that we were used to remote work, and we had already adopted Zoom and stuff like that, the more nuanced and potentially more important answer is, we've invested deeply in the values and the vision and operating philosophies of a company, such that everyone in the company at least understands them if not is aligned to them.
So, the strength of our culture, and the alignment of that culture, I think has been an amazing lynchpin during these adverse times, which enables us to still be very productive and work incredibly effectively together.
So, let me leave it at that but I think that's gonna be a big challenge, for Peter, for Brent, the leadership team, is, How do you hold on to that?
And it'll be cool for me to be connected, sort-of in the background, and watching the journey unfold. Super, super excited about it.
CML: Thank you so much for all the calls over the years, Tim, we really appreciate it. We're wishing you the best on the next adventure.
TC: I have learned so much through this journey from people like you, who just dig in and ask really thoughtful questions. It really helps me to sort-of verify what I think, and also think about other ways to dissect this thing, this unique thing that is Veeva.
So, I've had a lot of fun, I really appreciate your partnership.
CML: Likewise. Maybe you see you next time, Brent?
BB: You bet, thank you.
Conclusion
Finding the gems like Veeva Systems (NYSE:VEEV) well before they have become household names is what CML Pro does, with an auditor verified track record, because of course it's verified.
Each company in our 'Top Picks' has been selected as a future crown jewel of technology. Market correction or not, recession or not, the growth in these areas is a near certainty.
The precious few thematic top picks, research dossiers, and executive interviews are available here:

Thanks for reading, friends.

The author has no position in Veeva Systems atthe time of publication.

Please read the legal disclaimers below and as always, remember, we are not making a recommendation or soliciting a sale or purchase of any security ever. We are not licensed to do so, and we wouldn't do it even if we were. We're sharing my opinions, and provide you the power to be knowledgeable to make your own decisions.

Legal
The information contained on this site is provided for general informational purposes, as a convenience to the readers. The materials are not a substitute for obtaining professional advice from a qualified person, firm or corporation. Consult the appropriate professional advisor for more complete and current information. Capital Market Laboratories ("The Company") does not engage in rendering any legal or professional services by placing these general informational materials on this website.

The Company specifically disclaims any liability, whether based in contract, tort, strict liability or otherwise, for any direct, indirect, incidental, consequential, or special damages arising out of or in any way connected with access to or use of the site, even if we have been advised of the possibility of such damages, including liability in connection with mistakes or omissions in, or delays in transmission of, information to or from the user, interruptions in telecommunications connections to the site or viruses.

The Company makes no representations or warranties about the accuracy or completeness of the information contained on this website. Any links provided to other server sites are offered as a matter of convenience and in no way are meant to imply that The Company endorses, sponsors, promotes or is affiliated with the owners of or participants in those sites, or endorse any information contained on those sites, unless expressly stated.