Move to digital was going to happen, says Veeva (NYSE:VEEV) CFO to Capital Market Labs, pandemic has accelerated that change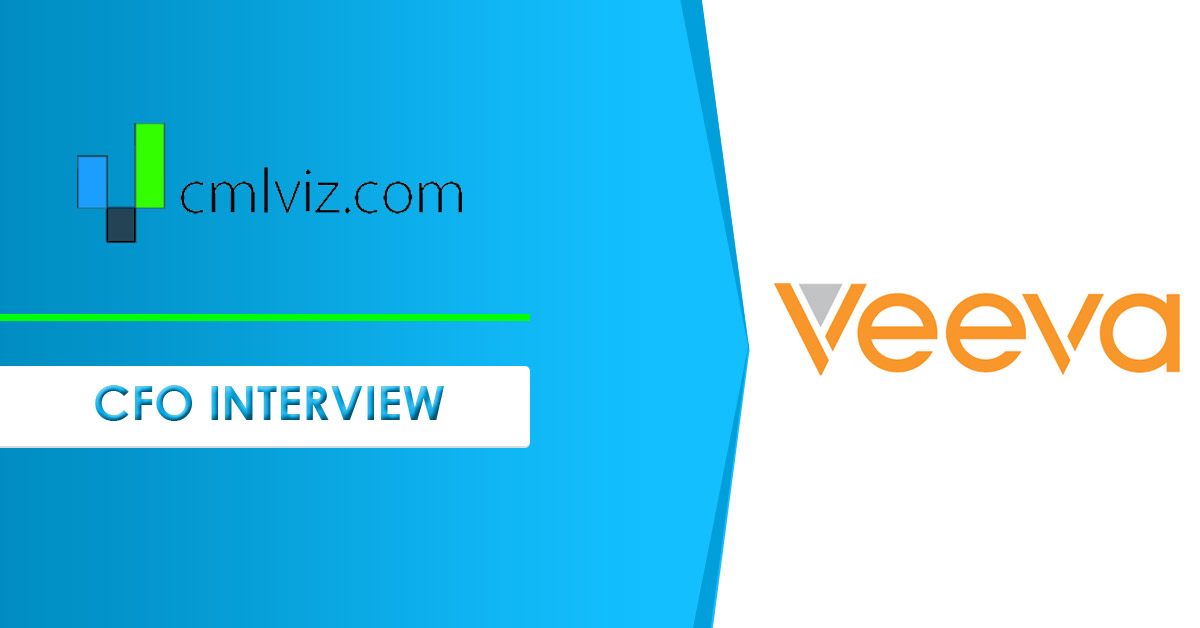 Shares of life sciences software vendor Veeva Systems (NYSE:VEEV) have gained roughly 10% to a recent $226 since the company first reported fiscal Q1 results on May 28th that topped consensus expectations.
The year view offered by the company was surprisingly strong, in an environment where some companies are withdrawing their year forecast.
Although Veeva cut $10 million from its revenue view for the year of $1.38 billion to $1.395 billion, chief financial officer Tim Cabral was upbeat about the outlook for his life sciences clients in a conversation with Capital Market Labs, which has become a regular quarterly occasion between CML and Cabral.
"This is not like the [2008] financial crisis," Cabral told CML, referring to the SARS-CoV-2 pandemic. "This is very different, and the life sciences industries play a tremendously important role."
"And so, the industry we serve remains relatively healthy."
Cabral also described how quarantine measures and lockdowns are moving life sciences more quickly to telehealth and digital operations generally.
That's a boost to newer Veeva software offerings such as CRM Engage Meetings, which can coordinate meetings between pharma reps and physicians.
"This move to digital, those digital channels to enhance, potentially replace face-to-face interaction over the long run, was going to happen," said Cabral. "This I think has accelerated that change."
To recap, the April-ending Q1 comfortably beat expectations, delivering $337.11 million in revenue and 66 cents EPS versus $291 million and 56 cents expected. Q2 view in-line on revenue, $339 to $341 million versus consensus $341 million, EPS ahead at 63 cents to 64 cents versus consensus 60 cents.
For the full year, Veeva sees $1.38 billion to $1.395 billion in revenue and $2.50 to $2.55 per share in EPS versus $1.27 billion and $2.44 per share.
Capital Market Labs: Tim, as we usually do, let's start by talking about what you think is most important for investors to take away from the results and outlook.
Tim Cabral: Yeah, it's been pretty amazing. I would say, first of all, it starts with the fact that the life sciences industry is relatively healthy.
So, they are on the frontlines, they are working long nights and weekends because they're expected to help us out of this pandemic. Right?
This is not like the [2008] financial crisis. This is very different, and the life sciences industries play a tremendously important role.
And so, the industry we serve remains relatively healthy. But, COVID, and the pandemic, and the impact it's had is causing a lot of disruption.
And while the financial results were really strong, I was amazed at the speed with which our team was able to effectively work in a virtual environment, effectively continue to collaborate incredibly well, and the speed of innovation was absolutely amazing in these challenging times.
And so, I would say it's potentially one of our best quarters ever if not our best quarter ever from an innovation perspective, from an adaptability perspective.
From a relationship perspective with the industry, I'll give you a stat. Engage Meetings, Veeva CRM Engage Meetings, which is our product to enable the virtual channel between pharma reps and doctors to engage.
Between February and April, we saw 30 times more utilization of that product. Now as you know, — we've talked enough about this — in a compliant organization or industry like life sciences, change management is hard.
Bringing a whole new channel in place is hard. These folks are working with speed and we are helping the industry tremendously. And so, I couldn't be more proud of the team.
CML: You also mentioned on the call Approved Messages these two things were in focus, Tim, Approved Messages and Engage. And I think people wanted to know, and it's worth reiterating, the question, how much does telehealth, the move to telehealth, the reduction in in-clinic visits, in-hospital visits, the whole telehealth and remote health phenomenon, last? It's had an immediate bounce in April, May for Engage and for Approved Messages…
TC: Yeah, what I would say, and Peter [Gassner, CEO] and I said this a little bit in our prepared remarks, is, we're listening deeply, whether it's one-on-one customer interactions, whether it's through the R&D summit that we had in Europe just recently, or whether it's through the narrative that we're hearing from earnings calls from the pharma companies.
They are expecting a recovery could definitely start in the second half, and I would imagine, while I do think I don't know if we, if we recover all the way back to where we were pre this pandemic, but I do think that, from them, and the way that they are engaging with us, I think they're feeling like a second half recovery.
Now what I would say, is, I think this move to digital — and Paul [Shawah, senior vice president, commercial strategy] said it on the call — this move to digital was definitely happening.
So, over the long run, this move to digital, the leverage of Approved Email as a channel, the leverage of CRM Engage Meetings as a channel, those digital channels to enhance, potentially replace face-to-face interaction over the long run, was going to happen.
This I think has accelerated that change as opposed to created a whole new thing that's going to happen over the long run, if that makes sense.
CML: But nevertheless, for you these are newer product offerings that get a lift in the short term. Does that mean that they spread as one analyst, I think, added, that they spread to becoming more of a new normal as product features, as capabilities, as offerings from you guys, if this is some kind of a new normal?
TC: Yeah, I think you're making a good point. So, the short answer is, yes, I think the move to digital, which we are helping the industry do, is exactly what these new products and these really new means.
I mean, the industry could have made a decision that you know, we're going to use the telephone, and we can't really go see doctors, so, we're sort of going to stop having as many interactions between pharma reps and doctors. And that just wasn't what the industry wanted to do.
They wanted to continue to figure out how they can continue to educate doctors, inform doctors. And our technology, our products that we were just talking about really help enable that move to digital.
And I think that becomes part of the vision we've been talking about, for a number of years around this idea of multi-channel CRM, with digital being a really strong component of that.
CML: Help us understand this outlook for billings term changes and the impact of COVID-19, both on the quarter and on the year outlook. I think you said on the call, Tim, that the billings outlook for this year is affected by "potential COVID-19 related billing term changes"… Is there any more light you can shed on what that consists of?
TC: Yeah, so, I think what we're talking about is, and that will have an impact on our billings, and it may have an impact on our operating cash flow as well, but we contemplated both of those.
And the guidance that I gave today, what we're talking about is, instead of paying upfront annually, maybe I as a customer want to move to quarterly payment terms.
So, that would take, depending on the size of the customer, that would take one payment and divide it over four periods of time. Which may or may not impact full-year billings — it could — but it also potentially could impact an individual quarter's billings dynamic, if you will.
That could also impact our ability to collect on those billings as they are spread out.
The other thing is, some companies on the margin are asking, I know I pay on net-30 payment terms, is it okay if this set of bills that I get over the next few months I can pay on net-90 payment terms?
So those are the types of changes that we've seen a little bit of, and our expectation is that we'll continue to see a bit of that trend, specifically in the SMB space.
We haven't really seen it in the enterprise space too much.
CML: And you don't know, it's impossible to know at this point, to what extent it spreads?
TC: Yeah, I mean we've obviously put some assumptions in our model. We're not necessarily quantifying all of those assumptions publicly.
But we put some assumptions that I think are probably down the middle of the fairway of what you're hearing and seeing from other companies.
CML: This is your second to last call. You've chosen a replacement now…
TC: Yes. He's starting in early June. And then just to close the loop on that, my anticipation is a 90-day transition period which takes us through the August earning Q2 earnings call.
And Peter and I are talking about an advisory role for me, and a couple other executives, but an advisory role for me that will extend my time and connection to Veeva.
[Editor's note: The new CFO was not named at the time of the interview, but was subsequently announced on June 8th. He is Brent Bowman, who was previously CFO of call center software startup [24]7.ai. Bowman previously had served at Intel, Altera, and Sun Microsystems.]
CML: Can you tell me generally what you looked for in this search and what you ended up using as your criteria?
TC: Peter wrote, literally, it was 30 words on a piece of paper in six lines of this is what I'm looking for. To answer your question, it was three things, primarily.
Number one, a super strong "Why Veeva?"
So, Why is this the role that this person can really immerse themselves in? It really makes sense for their career path. They really are connected with Veeva, and we think we found that for sure.
Number two, servant leadership. So, someone who understands the role that the CFO plays, and the leadership role the CFO plays of an organization like Veeva.
It's not the old, I hold the purse strings of the budget, so I have power. It's, how do I make the organization more efficient, more effective, so that we can get great production out of sales and services and product and other areas.
And number three, a really strong humility. This person — I actually coached little league against him 10 years ago — this person is humble, focuses on development, people development and coaching. Those three areas are really what we're optimizing for.
And I would say a little bit of some level of continuity with me, my style, my approach, and I think this person really fits the bill. So, I couldn't be more excited.
CML: Okay, explain that "Why Veeva?" thing. What is that?
TC: Yeah, one of our interviews is called "Why Veeva?" And the idea is, we really try to make sure that the role, the timing, the company, the connection, are super strong.
Because one of the criteria that Peter talked about was I want this person to mentally sort of commit to being at Veeva for at least the next five to six years. This is not a stepping stone.
So, we need a deep "Why Veeva?" And I think we found that, and that was something we were optimizing for.
CML: And the second one, the second term, did you say, servant leadership?
TC: Yes.
CML: Like, you're both a servant but you're a leader, or something like that?
TC: Well, the idea there is — and we talk about this a lot internally — the idea is that we have supporting functions in the organization.
And, yes, we're a public company and that comes with a tremendous amount of compliance and things that we need to make sure that we do accurately and with speed.
But at the end of the day, the most important part of my job is to lead my team to enable the employee experience at Veeva to be highly productive. And to stamp out any bureaucracy, any slowness any big company feeling.
And that's very different than you would hear other CFOs describe their most important thing. You know, maybe others would talk about resource allocation or return on investment.
And while those are important, I don't mean to say that they're not, my most important role is making sure that the people at Veeva are incredibly effective.
And so that is what this gentleman embodies as well, this idea of servant leadership.
I'm not a leader because — I'm not effective, I should say, because I have the CFO title.
I think I'm effective because of my focus on the supporting function mentality, the servant leadership.
CML: Here's an exit question for you, Tim, a kind of big picture question, if you will: Does anything matter for any company to not have a physical workspace? You know, the late Steve Jobs told his biographer Walter Isaacson that he specifically had the Pixar headquarters designed to promote serendipity.
Meaning he wanted people to bump into one another on the way, say, to the cafeteria, in a spontaneous fashion. They could never have anticipated because he believed that it produced valuable interactions.
And I'm sort of curious about your thoughts. Not as a — not speaking for Veeva per se but as a person with a long tenure in business. Is there something to that?
Does it matter that you can get things done in a Zoom world but perhaps there isn't the same serendipity?
TC: It's a really interesting thought. I mean, obviously to your point, when Steve was thinking about that, and certainly in Pixar days, we didn't have anything like Zoom.
So, the telephone, which was the primary mode of communication outside of personal interaction, back in those times, was not a really good replacement for bumping into someone or the personal interaction. I think the tools are much better.
And what I do think you're seeing, and you've probably seen this as much as I have, there's so many articles in The Wall Street Journal and others, I think what people are trying to figure out, how you create non-work-related, informal interactions on a platform like Zoom.
How do you do it? It's very, very different. So, I'll give you a small example. And it's worked okay.
One of the things that I told my team — I think you know I have a team of 120 people across finance and legal — One of the things that I told my team was, the thing that I'm going to miss is the open door policy and just hallway conversation, or the walk-up, five-minute discussion, question, whatever.
So, what I did, and I'm still doing, is, every day at nine o'clock in the morning, and at four o'clock in the afternoon, when I don't have other scheduled meetings, I have open office hours on Zoom.
I time it on Zoom, and people can join and I tried to duplicate that human interaction that Jobs talks about. And so, it's worked okay.
It's amazing how the human race is such a creature of habit.
People don't think about Zoom as social interaction. They think about it as business meetings. And so, they didn't know what to do with it.
So, a lot of thoughts on that! It'll be interesting to see how it evolves.
CML: It sounds like a good adaptation. It may not be exactly the equivalent of walking across the courtyard or the atrium et cetera and just seeing someone you didn't expect to see.
TC: Yeah, it'll be interesting to see how it plays out.
CML: Well, keep up the good work, Tim. We look forward to talking to you next quarter.
TC: Sounds good, talk in ninety days.
CML: Stay safe!
TC: You, too!
Conclusion
Finding the gems like Veeva Systems (NYSE:VEEV) well before they have become household names is what CML Pro does, with an auditor verified track record, because of course it's verified.
Each company in our 'Top Picks' has been selected as a future crown jewel of technology. Market correction or not, recession or not, the growth in these areas is a near certainty.
The precious few thematic top picks, research dossiers, and executive interviews are available here:

Thanks for reading, friends.

The author has no position in Veeva Systems atthe time of publication.

Please read the legal disclaimers below and as always, remember, we are not making a recommendation or soliciting a sale or purchase of any security ever. We are not licensed to do so, and we wouldn't do it even if we were. We're sharing my opinions, and provide you the power to be knowledgeable to make your own decisions.

Legal
The information contained on this site is provided for general informational purposes, as a convenience to the readers. The materials are not a substitute for obtaining professional advice from a qualified person, firm or corporation. Consult the appropriate professional advisor for more complete and current information. Capital Market Laboratories ("The Company") does not engage in rendering any legal or professional services by placing these general informational materials on this website.

The Company specifically disclaims any liability, whether based in contract, tort, strict liability or otherwise, for any direct, indirect, incidental, consequential, or special damages arising out of or in any way connected with access to or use of the site, even if we have been advised of the possibility of such damages, including liability in connection with mistakes or omissions in, or delays in transmission of, information to or from the user, interruptions in telecommunications connections to the site or viruses.

The Company makes no representations or warranties about the accuracy or completeness of the information contained on this website. Any links provided to other server sites are offered as a matter of convenience and in no way are meant to imply that The Company endorses, sponsors, promotes or is affiliated with the owners of or participants in those sites, or endorse any information contained on those sites, unless expressly stated.