Capital Market Laboratories (CMLviz) One on One With Veeva CFO - Charts the course to $3 billion in revenue and beyond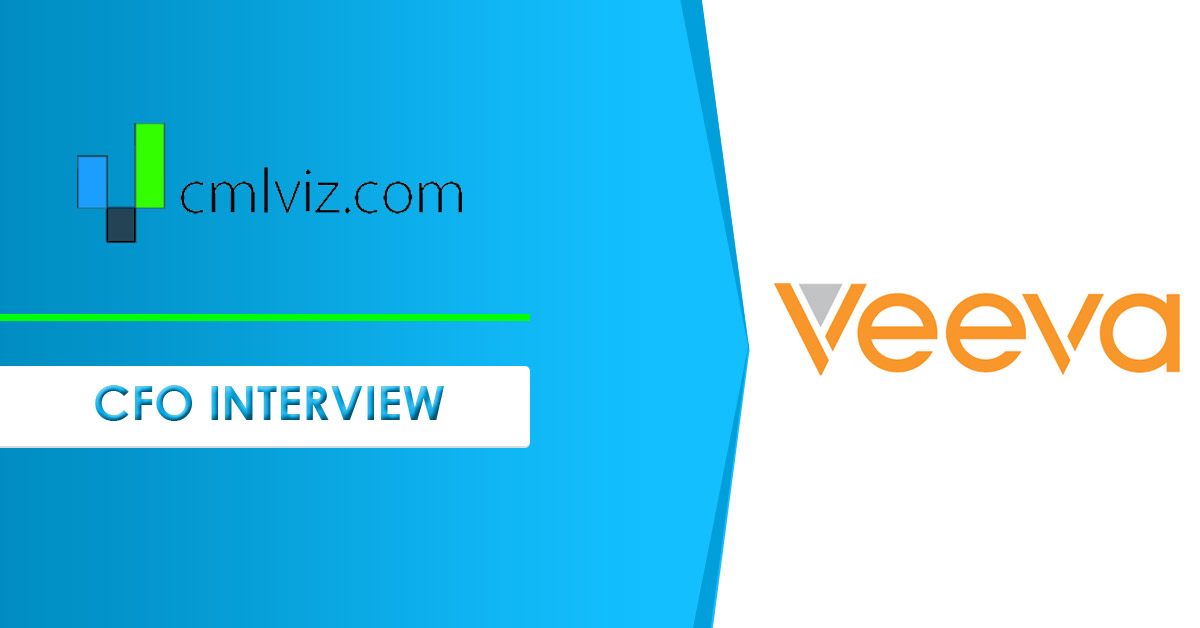 Shares of life sciences software maker Veeva Systems (NYSE:VEEV) fell sharply the day after the company's Q4 results, after market close on March 3rd. That's despite the fact that results, and the outlook, were strong. The report came right after the big swoon in markets at the end of February, and the upshot is a loss of all of Veeva's gains for the year.
Chief financial officer Tim Cabral, however, was upbeat as he talked with Capital Market Labs the day after the report, as he has every quarter for over a year. Cabral announced in September his intention to retire, but he's staying on for a time to manage the transition to the next CFO.
This time around, much of the discussion focused on the company's financial outlook, and in particular the $3 billion revenue goal that Veeva has set for 2025.
That target seems perhaps a bit tame, given the current 27% rate of growth, and over $1 billion last year. Capital Markets asked Cabral if it was a "conservative target."
While Cabral wouldn't consent to label it that way, he did imply there is upside. $3 billion annually is not "a final destination," he said. Rather, the point is to "plant seeds for long-term success and growth, so how do we get to $3 billion while still leaving opportunity for further growth."
To recap, the January-ending Q4 saw revenue rise 34%, year over, to $311.5 million, yielding EPS of 54 cents, topping consensus for $298 million and 52 cents.
For the current quarter, the company forecast revenue of $327 million to $328 million, and 59 cents to 60 cents a share in profit. That is higher than the average estimate for $314 million and 56 cents.
For the full year, the company sees revenue of $1.4 billion to $1.405 billion versus consensus $1.39 billion.
One-on-One with Veeva's CFO
Capital Market Labs: Tim, as we usually do, let's start by talking about what you think is most important.
Tim Cabral: I think similar to what we have said before, it was another really strong quarter for Veeva, and we ended an equally strong year with what we saw in Q4, which also included the inclusion of two acquisitions, Crossix and Physicians World. We are certainly excited about both, and the integration there is going quite well.
As we guided for Fiscal '21, we see strength and momentum in the business that is creating a lot of confidence around our $3 billion target for 2025 that we gave on analyst day last year.
It was just really strong, and, as Peter said, we have set ourselves up well from a product, and an operating model, and a team perspective, to achieve that target in 2025. We're certainly excited about that.
CML: Let's talk about that 2025 target. If you are this year forecasting an amount for total revenue that's 27% [$1.4 billion to $1.405 billion], if you plot that 2025 target of $3 billion, as a compounded annual growth rate [CAGR], that's more like an 18.5% growth rate. So if that's only 18.5% CAGR, that seems it's a little less than the current trend. So is that 2025 target perhaps conservative?
TC: I don't know that I would characterize as conservative; it was six years out, today as we sit five years out; last five years been pretty amazing ; as we look at the business and the opportunity, it is appropriate we are confident in our ability to get there in 2025.
I appreciate what it means from a CAGR perspective, but as the business continues to scale and grow, the incremental revenue to get there is quite significant.
Now, with Vault, we were targeting to quadruple that in a short, six-year time period. So, I think it's an appropriate guide. It sets the appropriate context for the opportunity we see and size of the market in life sciences.
The other thing to note, which is important, is that at the time we gave the guide, a year ago, we weren't just thinking $3 billion was the final destination. Peter and I both think about continuing to plant seeds for long-term success and growth, so how do we get to $3 billion while still leaving opportunity for further growth.
Think about when we set the billion-dollar target five years ago [note the company just passed that target in the year just ended.] That was based on products in the market at the time, but in that period, we continued to innovate and drop more products to the market.
I don't think that dynamic changes from here. So, you are right as far as, there are opportunities to be innovative, there's still an interesting opportunity out there to add unique value.
CML: Based on your outlook for this fiscal year of roughly 27% revenue growth, things are not slowing down for you, coming off of 28% last year. Does that outlook represent a new vision for the total addressable market [TAM] for Veeva.
TC: When you say 27%, bear in mind, the guide for fiscal '21, that 12 months of contribution for two acquisitions there, Crossix and Physicians World, is being compared against a period when there was less than 3 months for those, so you need to be careful when you are doing that math. The guide was more in the low 20-ish kind of percentage rate.
CML: Thanks for the clarification. So with that noted, does this forecast represent a new sense of your TAM?
TC: The only thing I would say is, added to TAM in the last year has been the inclusion of the market for the Crossix business we acquired, and of Physicans World.
Now, that's hundreds of millions, maybe a little more, it's not billions of dollars, it's so not necessarily a material change in TAM.
I would also say that while increasing TAM and innovating has been a hallmark of Veeva, the other part is a continued focus on customer success and up-selling and cross-selling, as they use more of our product, so TAM is not the entire part.
CML: Another element of the outlook I wanted to ask you about is free cash flow. What is your long-term free cash flow margin goal, if you have one?
TC: We haven't set one. What we have talked about is, if you think about free cash flow and you compare it to operating income, and we have given a 2025 operating margin target of 35-plus percent, my belief is that at a steady state, the difference between operating margin and free cash flow margin his 200, 300, or maybe 400 basis points.
So, a little less on free cash flow.
CML: So, if operating margin is 35% come 2025, maybe, free cash flow margin would be 33%, 32%, or maybe 31%…
TC: Yeah, 31%, right. That could fluctuate on collections and timing of billings, and based on a number of different things, but it's on the order of a few hundred basis points, at a steady state.
CML: Which of the additional products attached to Vault do you think the Street should most focused on going forward?
TC: I would say that as you look at our Vault offerings, you are right, the way you asked that, it is a tech platform that is underpinning a set of purpose-built apps.
If you look at what we've tried to do, what we've delivered and announced, we have tried to identify the most important, most critical business areas where we can add unique value, the areas of clinical, quality, regulatory and safety. Think about those four.
That is essentially the development process for the life sciences, getting through the clinical trials process, building quality products, getting to drug approval, from permissions and registering, and getting products into the market, and identifying any adverse events during clinical, and the commercialization of those products.
What's really cool is not only the applications for these areas from the same underlying platform, but also within those three, the integration and the way that those applications work together so seamlessly, that it creates massive amount of efficiency for our customers. Specifically, if I were to point people to where people should be focused, the bigger market opportunity, I would say it's still early innings, but CDMS [Veev's Clinical Data Management Suite], and Safety.
Within the family of products we are building and developing for the market, those are the two most interesting, and the biggest market opportunities. Those two have the biggest opportunity to impact the industry as we see it, and the customers in that industry.
CDMS is an overall bundle of products. And we have EDC [Electronic Data Capture], and Data Workbench in there, and a couple other things we talked about, and will deliver, some individual application bundles.
We talked about Safety, etc. We are starting to build in these areas a suite of products. And what we hear from customers, when you bring those together and engage with quality docs, and quality management system applications, on the same platform from the same vendor at same time, the power of that is very, very palpable.
That's what we are hearing back from industry. It's a one plus one equals three thing, the value the customer can get from adopting the family of products and across the family.
CML: Thanks for that, Tim. We will look forward to speaking to you again next quarter.
Conclusion
It's finding the technology gems like Veeva before they are household names, that can turn into the 'next Google,' or 'next Apple,' where we have to get ahead of the curve. This is what CML Pro does, with an auditor verified track record, because of course it's verified.
Each company in our 'Top Picks' has been selected as a future crown jewel of technology. Market correction or not, recession or not, the growth in these areas is a near certainty.
The precious few thematic top picks, research dossiers, and alerts are available for a limited time at a 30% discount.

Thanks for reading, friends.

The author has no position in Veeva at the time of this writing.

Please read the legal disclaimers below and as always, remember, we are not making a recommendation or soliciting a sale or purchase of any security ever. We are not licensed to do so, and we wouldn't do it even if we were. We're sharing my opinions, and provide you the power to be knowledgeable to make your own decisions.

Legal
The information contained on this site is provided for general informational purposes, as a convenience to the readers. The materials are not a substitute for obtaining professional advice from a qualified person, firm or corporation. Consult the appropriate professional advisor for more complete and current information. Capital Market Laboratories ("The Company") does not engage in rendering any legal or professional services by placing these general informational materials on this website.

The Company specifically disclaims any liability, whether based in contract, tort, strict liability or otherwise, for any direct, indirect, incidental, consequential, or special damages arising out of or in any way connected with access to or use of the site, even if we have been advised of the possibility of such damages, including liability in connection with mistakes or omissions in, or delays in transmission of, information to or from the user, interruptions in telecommunications connections to the site or viruses.

The Company makes no representations or warranties about the accuracy or completeness of the information contained on this website. Any links provided to other server sites are offered as a matter of convenience and in no way are meant to imply that The Company endorses, sponsors, promotes or is affiliated with the owners of or participants in those sites, or endorse any information contained on those sites, unless expressly stated.