Tesla's Secret is Out and the Stock is Ripping


Fundamentals

PREFACE
Tesla stock has been hammered of late seeing new annual lows. The company just released earnings a few minutes ago, and the firm missed revenue expectations with $1.75 billion versus $1.79 expected. EPS was a colossal miss, coming in at -$0.87 (negative) versus estimates of $0.10 (positive).
But the stock is ripping higher after hours, and for good reason. Here's what really happened:
TESLA
Tesla announced its guidance for full year 2016 and there were six takeaways that are enormous:
1. Total deliveries are still expected to be in the 80,000 - 90,000 range, which is 60%-80% higher than last year's 50,000.
2. The company expects to be cash flow
positive
by year end. Tesla's tumbling cash flow has been a serious issue. Here's the chart: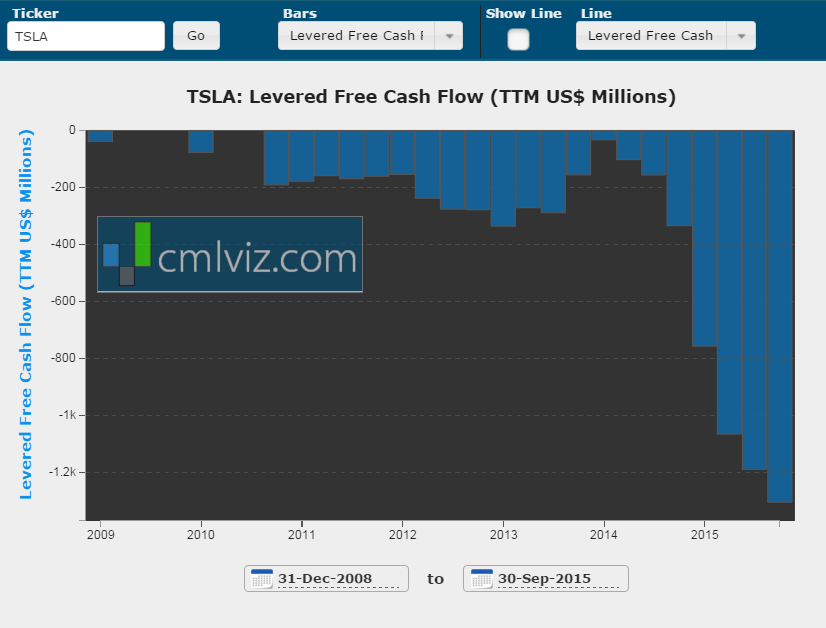 We're looking at over a billion dollars of negative free cash flow in the last year. But that seems to be coming to an abrupt end.
In fact, MarketWatch reports that Tesla's CFO said: "My mandate from Elon is clear: Cash is king. We are within striking distance of [being] net cash flow positive."
3. The $35,000 Model 3 will be unveiled on March 31st -- this is the vehicle that the company claims will take it from 50,000 unit sales to 500,000 unit sales.
More importantly, this vehicle answers the single and only question that will determine if Tesla makes it as a colossal success or failure. It's this, and this only. You can read
How to Crack the Tesla Code
on CML Pro.
4. The gigafactory is now operational and this is legitimately a technical disruption on the scale of anything we have ever seen before. Elon Musk tells us that the Gigafactory has zero toxic output.
5. Elon Musk said on the conference call that chip pioneer Jim Keller has joined the firm. This is liekly a signal that Tesla will develop its own microprocessors. Jim Keller helped design an early version of ARM and famed Apple chips.
6. Demand is not an issue: Elon Musk said said Tesla's high demand amid flat or even declining demand for rivals is "really rare."
Further he said the company has had to dissuade potential buyers because demand is so high.
REMEMBER
Tesla announced Sunday, January 3rd that it shipped 50,580 cars in 2015, hitting the lower range of its target for the year for 2015.
Wall Street hit the stock hard but the media missed everything. But
this isn't the story
.
THE MEDIA TOTALLY MISSED THIS
I'm not sure how this goes missed, but other than a few shrewd analysts, the biggest news Tesla reported was totally overlooked. Read this carefully, because it's almost impossible to believe.
First, we know that Tesla's total revenue in the trailing-twelve-months is $3.8 billion. Here's the all-time revenue chart.
And here's what was
also
reported but somehow missed by everyone just reading the headlines:
Tesla reported a backlog of 33,000 Model X reservations. That's $4 billion in order backlog.
Yes, the company has a larger backlog in one product than all of its revenue in the last year. And friends, that doesn't include the Model S, which is its best selling car (Source:
Benzinga
).
Read that again. The company has a backlog in its newest product that is larger than its total revenue for the year of 2015.
We break news everyday. Discover the Undiscovered.
Get Our (Free) News Alerts Once a Day.
MODEL X
In order for Tesla to even get to the Model 3, Tesla must drive more cash to the company with a higher volume product. As Business Insider puts it so aptly:
The Model S was a platform to prove that Tesla was for real. The Model X will be a platform to demonstrate whether the auto industry is moving toward the car of the future.
Source:
Business Insider
.
Further, a successful Model X will address a reasonable concern which is simply, "can Tesla create and engineer another successful design?"
We have an answer; it is, a screaming, jumping up and down: Yes!
With Ford and Google shaking hands on a partnership and GM and Lyft also making a new deal, we must ask ourselves if Tesla will go it on its own or look for a partner. Rumors are swirling of a dream team partnership with Apple, but don't let those headlines get in the way of the real thesis behind Tesla.
We publish research that uncovers new opportunities everyday.
Try CML Pro. No credit Card. No Payment Info. Just the Power.
TIME TO BUY?
If Tesla hits its goals of 80,000 - 90,000 deliveries this year, unveils its mass market Model 3 vehicle and becomes cash flow positive by year end -- this is quite possibly a $300 stock in a few years. But there's one critical element that could derail it.
In the CML Pro research dossier we discuss exactly what that is, and when we will know.
WHY THIS MATTERS
If any of the information we just covered feels like a surprise, in many ways it is. The wealthiest 1% have no interest in sharing the data they are keenly aware of.
But CML Pro has a research dossier on Tesla that goes deeper than anything the main stream media can produce and walks
exactly
the line of when, how and why to buy Tesla stock. It's just one of the fantastic reports CML Pro members get along with all the charting tools,
top picks for 2016
, research dossiers and alerts. For a limited time we are offering CML
Pro
at a 90% discount for $10/mo. with a lifetime guaranteed rate.
Join Us: Get the most advanced premium research delivered to your inbox along with access to visual tools and data that until now has only been made available to the top 1%.
Thanks for reading, friends.