One on One with Talend's CEO: Moving to data trustworthiness is going to boost the value of the business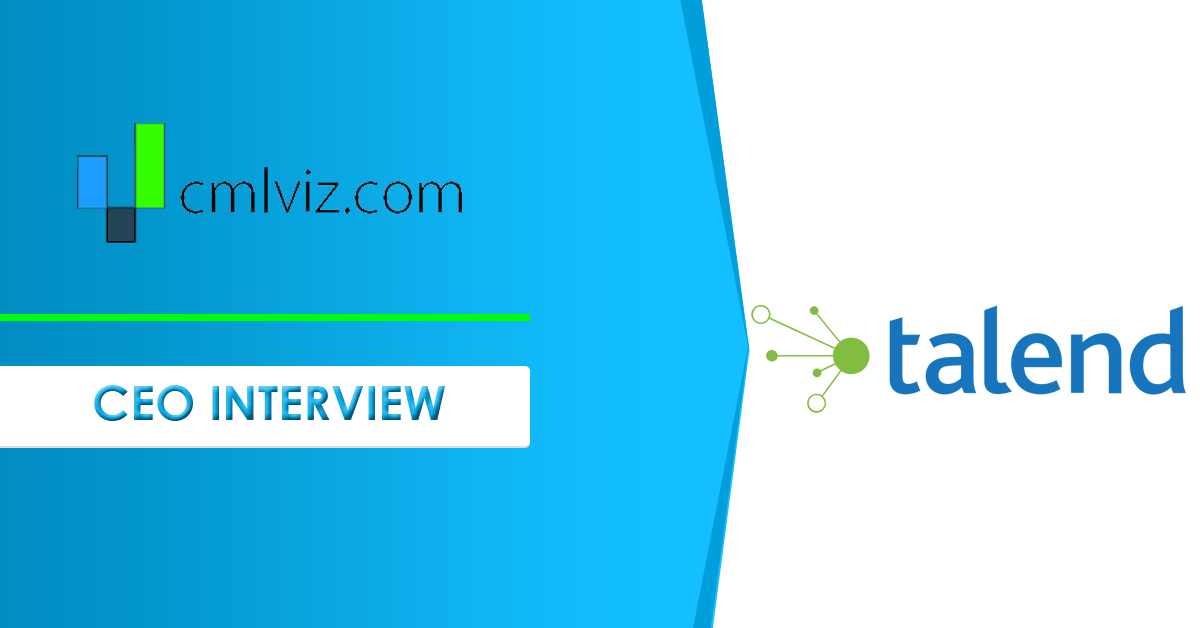 As she has in past, CEO Christal Bemont sat down with Capital Market Labs shortly after the latest earnings report to chat about the main takeaways and also deeper themes about where Talend (NASDAQ:TLND) is headed with its software.
Key, in her view, is moving beyond so-called data quality to talk about data "trust," as she terms it.
To give an example, Bemont talked about a marquee customer of Talend, AstraZeneca. The drug maker uses the Talend software to speed its time to drug trials. Talend saves the company hundreds of millions of dollars, said Bemont.
"That's awesome, and we could leave it right there, but guess what?" she said. "What if we move beyond that? What if we make sure the outcomes are even better? What if we make it so they have more confidence and more reliability that the trials are actually going to perform better?"
As she sees it, Talend is poised to move beyond simply the "how" of pulling data together, funneling it through various software pipes, making sure it's formatted correctly, and instead develop a kind of feedback loop whereby customers will see the direct benefit of data that is more relevant, more germane to a task.
Bemont hinted that there may be some interesting advances in the nature of the company's software in coming months, with more to be revealed at the company's annual analyst update, on November 18th.
Reading between the lines, it sounds like more ways to automate the basics will allow customers to focus on higher-level tasks rather than plumbing.
To recap the quarter, Talend reported Q2 revenue of $67.7 million, and a net loss of 24 cents a share. That was above the consensus $66.28 million and negative 31 cents.
This quarter, the company sees revenue in a range of $69.2 million to $70.2 million, and net loss of 36 cents to 39 cents per share. That's, better as far as revenue than the average of $67 million, and about in line with the average estimate for negative 37 cents on the bottom line.
For the full year, the company sees $277.5 million to $279.5 million in revenue, and a net loss of $1.14 to $1.20, both better than consensus for $272.09 million and negative $1.27 per share.
Capital Market Labs: Christal, we'll throw it open to you first, what things would you like to tell investors to focus on from the results and outlook?
Christal Bemont: Well, I think there are a couple things that I'm really, really proud of that are validation points for the intentions that we set at the beginning of the year.
Really, three, and I would break them down as follows.
One is, cloud continues to be reinforced in our belief and validated that it is the future. And we are making tremendous strides on our $100 million cloud target, being at the $75 million mark half-way through.
It feels really, really good to see that fruition, and it's fully expected it will continue.
And the second thing is the efforts that we are making internally, with our go to market strategy, and our sales team and really transforming the way that we show up to our ecosystem partners.
The work we are doing internally, the work that we're doing, is putting us on the path and already showing signs, still in a small way, but they're validation points that, one, we made the right decision to continue to press forward in COVID; and two, that that is the right sustainable long term business move that we needed to support the big influx that we're seeing with cloud.
And the third thing I would say is, in the spirit of this pivot that we're seeing that's really taking hold, is the conversation around moving beyond data quality and elevating it to a conversation of trust. And it's interesting here because I think about this a lot.
There are very subtle things that are lost in a world like ours where work can be very chaotic. And, you know, data integration and data integrity tend to be very, very simple.
That's probably the way to describe it.
The data piece that seems to have been lost, in my mind, is the importance of how critical it is to not just have a lot of data but to have data that really has a material impact on a company.
And it's a key thing I want us to be driving toward, in making it as easy as possible for our customers, is to make sure that we have the most substance when it comes to driving meaningful outcomes for our customers.
And I believe that is our future, is really this conversation of trust.
Those three we set out as an evolution that we've been looking into this year, and we really saw operationally substantial results.
CML: Working backwards, what do you mean by trust? Can you give me an example?
CB: Absolutely. Today, there is a focus on what would be data quality. And it has to do with things like, are all the fields completed.
Is it formatted in the right way. I wouldn't even call that table stakes.
Where I think the difference is, is to say, is this data that you can trust? Is it driving outcomes?
If you step back for a moment and say, what are we all here to do?
If you think about COVID, or any of these situations we are dealing with, in 2020, every organization is having to restructure their business, or look at their business in a different way.
There are countless examples of how the data itself, or having a lot of it, and structuring, isn't really the end goal.
It goes beyond quality, having it formatted the right way, to actually make it meaningful and impactful. Let me give you a perfect example.
AstraZeneca has been a marquee customer of ours.
Drug trials themselves are the most expensive proposition for a pharma company. That's the most expensive thing they do.
Our ability to get speed to get them to the point of bringing [drug] trials to market faster is able to save them hundreds of millions of dollars.
That's awesome, and we could leave it right there. But guess what? What if we move beyond that, we make it about trusting the data?
What if we make sure the outcomes are even better?
What if we make it so they have more confidence and more reliability that the trials are actually going to perform better?
Then it goes beyond just the fact that there's speed there, to the second part, the trust equation, and just continue to move the bar on what we feel our role is in this ecosystem, to go beyond hype, to how we can impact outcomes.
CML: Traditionally, these customers don't expect to have a feedback loop with the application. It's just a tool.
So, practically speaking, how do you expect to get that feedback loop to happen, to get involved in that discussion with them?
CB: I think it's the evolution to where, eventually, it's a departure from the how things get done to, how do we have a meaningful role and relationship and continue to evolve beyond integrity and quality, to more of, our working alongside our partners, to continue to insert ourselves into, continuing to improve, where the system does it on its own, whether it's AI and machine learning, saying, here are some things that might be insightful to improve the outcome.
This is where giving our customers that that feedback loop and that continuous input is going to be important to them.
This is going to help us in our development, in our vision of how far we can go.
CML: So, it should make the offering more valuable.
CB: A hundred percent. A hundred percent.
I think an advantage a little bit for me of not having grown up in this space, but knowing the importance of, and the instrumentality of getting data — you know, any application is only as good as the data you get in.
And then, certainly, the way that you can manage your business as a result of the data is processed through it.
Because data has always been the hub. But one of the things I've started to challenge and disrupt, in terms of my own thinking about what's possible, is that it shouldn't be as hard as it is, and it shouldn't require as many skills as it has.
And actually, it's not even about the "how."
I feel we're really making a really big deal about how stuff happens, how things happen.
The future is more about, well, okay, that should be, click, done!
And the real substance, and the materiality is in the things that we are trying to do for people that change the outcomes.
CML: There are some companies that might be competition for you in that regard. I'm thinking, for example, of Veeva Systems, which is very much about the processes for things such as compliance in life sciences.
How do you fit in if another vendor already thinks they are giving an industry tools to make outcomes better, that kind of value?
Do you try to take over some of that value?
CB: Well, it will depend. I fully expect that our competitive landscape will shift.
We will start to move into areas that we feel add the most value to a customer.
And because of that, with all due respect to those in our great competitive landscape, it will be a departure from where we are at right now.
And part of it will be just asking, is there a lot of there, there, in just continuing to have feature function wars and that type of thing?
I think it's likely this space will really show a lot of changes over the next 12 to 24 months. I expect we will be drivers of change.
Who those competitors will be — I really embrace competition. I think it makes people better.
There might be some coopetition, that could be.
CML: Are you being coy, Christal, are there details of this that you don't want to disclose??
CB: Well, I would say it's an evolution, and it's something that as more of the details become firm around some things we can give you really about specific use cases around, and some ways that we are shaping our future, then there will be some things we are going to be rolling out.
Even in the next few weeks there are some things internally that we are starting to land with our teams.
You should expect to see, we have an analyst day coming up, November 18th, and we're going to use that as a platform to continue to roll some things.
CML: Fair enough. Point two, Christal, you said there are internal efforts in the way you show up to the ecosystem, customers.
I think you said there are already signs of validation coming out of that. Anything you want to add to that?
CB: There are a few things.
One of the areas where I think we have been a little underserved, or maybe not recognized for as much as I believe we have the potential for success around, is our ability to serve the different types of scenarios that are required within a given customer.
That could be ingestion [of data], in the case of Stitch, and/or, different sizes of customer.
This spectrum of use cases that we uniquely have the ability to fulfill has really started to show up in a way, too, that demonstrates how well we do, with Stitch, and the importance of that acquisition.
We will continue to see that. And some additional efforts have been placed on that to really get everything out of that important part of our offering.
Second, we are really looking at how we — exactly who we are targeting, what the message is, and what is required to run this business from an efficiency standpoint.
So, simple things that showed up in terms of amount of pipeline coverage that we needed.
The ability to execute in-quarter.
We closed more in-quarter pipeline than we ever had before, in Q2.
So, an ability to really move at a pace that shows up in a number of different ways in our business.
Some of them may seem small, but the compounded effect of these things, in Q1 and then Q2, just indicate that we are on the right path.
Whether it's from a product standpoint, or a process and a motion.
CML: Are those things like the structure of who has what counts, and what the channel is doing versus direct?
CB: Well, we made a really conscious decision not to do anything super disruptive.
Some of the plans were already laid.
So, what we didn't want to do is to start to unhook a bunch of structural things like territories.
What you will hear about, especially in the November time frame, is that next year, certainly, we will start to look at some of those larger things as opportunities to further impact what we call lanes, to get really prescriptive on how we show up, and then how our people respond to it.
These things are more with our internal motions, within our existing lanes that we had.
CML: You haven't taken a different perspective on the channel? You have systems integrators, and VARs…?
CB: Super important, yeah. Absolutely, a really important part
CML: And that hasn't changed materially since you came on board [in January]?
CB: No, not materially.
Again, we have examined opportunities to continue to make sure that we provide value to our partners.
In the same way that we are thinking about or value to our customers, where, when I think about channel partners, whether it's systems integrators, or whomever, I'm always looking for, how do we differentiate ourselves to have unique value that makes us important to those individuals.
It's hard to do that across every single partner, to have this unique thing that just completely sets us apart, it's just such a vast partner ecosystem.
But I do think it is really important to have that same lens, and scrutiny on how you show up with partners, in the way you think about how do you stand out.
Just like we're talking about the message about trust.
What that really allows us to do is to move into a place that is less about the how, as we were talking about, and the function of building pipes, and more moving us into the business.
That's something we can bring to partners, to expand beyond a single moment in time project use case.
What's our role that is sustained? Our partners do that as well.
CML: Is that something you have brought to this role from your prior role at Concur? [Bemont came to Talend from Concur, where she was chief revenue officer.]
CB: I think there are elements of this that I have learned, of running a business, that are based on fundamental elements of running a business that can scale.
The thing that is very similar to Concur is my attachment to value. An intense need to push very, very hard, and never to be okay with where you are at.
To say, there is a better way.
And to say that the thing that brought us here today, you have to assume that is going to go away at some point.
That business will become irrelevant.
And so, what is the next thing you will do that will make people never want to leave you because you bring so much value.
CML: To make yourselves indispensable.
CB: A hundred percent. Sometimes we get really stuck as companies, as individuals, stuck in, this is just the way that the world is.
As we know you can get caught up with that.
CML: Christal, digital transformation seems to be making projects have permanently higher utilization, if you will. Are you going to reap rewards from that?
CB: Here's what I can tell you.
It's interesting, because I was just talking with the CEO of Accenture.
We were just having this conversation about digital transformation.
And at the heart of any digital transformation, which is very prevalent now, more than ever, the fuel, that gas accelerant, is data transformation.
Nothing really effectively can be done without transforming your data.
And so, doing that in pockets of an organization doesn't really suffice when you are doing whole digital transformation.
It becomes a kind of organizational recalibration.
In some cases, re-formation is needed. And so first of all, at the heart of that is data transformation.
And secondarily, it becomes more pervasive across a much bigger footprint across organizations.
CML: DevOps, if you're talking about trust, in a sense, we maybe are moving beyond defining you as a DevOps company. It sounds like you're moving away from that?
CB: Well, you know, how I would characterize it is, we should be able to deliver the same outcomes that we deliver today without so much of a heavy lift.
So, meaning, I believe the entire industry should hold itself accountable for this.
This is just the practice of saying, you want to continue to automate, we want to continue to continue to make the autonomous world possible.
We want the system to do the work versus you having to have people to do work on the systems to make something happen.
So, I think who we are will continue to expand, is more the way I would say it, more than move away from.
I want to continue to serve that audience, but I just don't want it to require so much.
The resources in that space are limited, the time is limited, and the ability to apply resources in a more strategic way is something that I am sensitive too.
So, I would say, we will continue to apply pressure on ourselves to make sure that we show up for that audience, to serve a bigger purpose, and a more meaningful purpose to the company itself.
CML: People will try to dissect what you just said in terms of the "how" of things. Like, does that mean "no code"?
CB: Well, I think the world is ready to get turned on its head, if it hasn't already.
And that is, to say 5G and IoT — you think there's a proliferation of data now? Forget it.
In a bit, when we are going to have more data than you know what to do with.
The right way to center Talend is in a way to know you can get to it comprehensively, without a lot of heavy lift.
But I don't even believe coding should have to be necessary.
There may be a role for it in some cases. But I believe it should be more about you putting your resources on having valuable insights for the outcome of your company.
And that should be something that we are really focused on helping you deliver, and helping you get access to.
CML: Did the growth profile change for you? It's been lower this year than it has been in prior years, about 12% growth or so.
You're looking at perhaps 12.9% [revenue growth] this year, at the high end of your range versus 2019.
Does some of what you're talking about at some point lead to an inflection, a change to your growth profile?
CB: Certainly, everything we are doing has to do with the efficiency and effectiveness of the business.
It will affect the top and the bottom line, and I expect we will continue to see an impact on both of those.
I look at 130% year-over-year growth in cloud [annualized recurring revenue growth from cloud for Talend in Q2], and I think, if I believe that cloud is the future, that's how I measure our success and our opportunity.
And this is the exact place I was in with Concur.
When I started with Concur, we were 350 employees, we were an on-premise solution, and we moved to cloud.
It does go through inflection points of when the business is transitioning.
And we knew intentionally that this is going to be an investment year, and this is going to be a year of really nice and strong foundational pillars.
I am really pleased with the results that we have seen. And that was before COVID.
If you think about the guidance that we gave at the beginning of the year, we have been able to reiterate it.
We did pull it right when COVID hit. And then we were able to bring that back.
And we went back to where we were at beginning of the year.
So, all those things are really encouraging to me, and show me we are on the right track.
CML: An accounting question for you: Has [accounting rule] 606 muddied the comparison for you versus prior years?
CB: It really doesn't. It's minor in the sense of, it's an accounting situation that certainly had a moment to reconcile.
This doesn't change anything that you are really seeing, or that you should expect to see, it's really separate from that.
CML: It's just if you have longer deals, that would stretch out…
CB: Yeah, really, everything you've seen in terms of Q1 and Q2 is what you should expect to see going forward.
You should expect to see little to no impact at all from 606.
CML: How are you feeling about running a team in this environment?
CB: We've continued adding headcount.
There was a moment in time where we hit the pause button, and said, let's stop and take stock of what's happening, and make the changes we knew would be good for the long term.
We have been very fortunate to be able to make those decisions.
My mindset and my view is, everyone is dealing with this for the first time, it's unprecedented.
People are navigating the best they can.
We have remarkable people around the globe who done a remarkable job of taking care of customers and partners, and have been able to take care of each other.
That's really important, and it's something that makes me very proud. I feel very blessed, quite frankly, to be in this role.
CML: There is some sense out there, in companies we talk to, that despite how well everyone is dealing, there is some fatigue that sets in. Is there any sense you have of fatigue?
CB: The whole mental and emotional health of this was something, from the very beginning, we said we would be mindful of when making decisions.
There were two aspects when it came down to taking care, one was physical and one was mental health.
We dedicated investment and time, and especially with consideration to, people will manage through this in ways that are not all be consistent and may vary.
And we're going to do what can we do to provide for them for the duration.
I think there is a big misconception out there from a lot of companies and a lot of people who think that productivity has shot through the roof.
I'm going to tell you, this to me is not a measurement of productivity.
I don't think you can measure productivity in this time.
These are unrealistic circumstances for people to be measuring their productivity. It's not sustainable.
I don't want people working like that because they have nowhere else to go.
That's not okay, and that's also not a good measuring tool for what work from home means.
This is the craziest work-from-home scenario ever.
Some of this, I knew what to look out for because I spent the last 20 years working from home.
My whole career at Concur I worked from a home office other than my very first year.
And my boss at that time, who hired me at Concur, said, I don't care if you work from a phone booth, as long as you get your job done.
And I said, that works for me.
I had two younger daughters at the time. And what was amazing about it, what he said to me, he was Steve Singh, the chairman of our board here, he said he always liked to puts his kids on the bus in the morning.
And what sunk in with me early in my career, at Concur, was how important it is to support people's lives, not their job at Talend.
And what that means to me is that, it's unrealistic to think they are not dealing with a bunch of stuff outside of Talend, especially now stuff at home.
And the greatest gift I was given was to be able to not being sitting in traffic very often, and to be able to put my kids on the bus as well, because I had leaders who believed that you living your life to the fullest and balancing is not only important, but something they wanted to support.
And I've drawn upon a lot of those things that happened to me because they're really important to me.
CML: Amen to that. Thanks, Christal. Until next time.
Conclusion
Finding the technology companies like Talend (TLND) before they are household names is what CML Pro does, with an auditor verified track record, because of course it's verified.
Each company in our 'Top Picks' has been selected as a future crown jewel of technology. Market correction or not, recession or not, the growth in these areas is a near certainty.
The precious few thematic top picks, research dossiers, and executive interviews are available here:

Thanks for reading, friends.

The author has no position in Talend at the time of this writing.

Please read the legal disclaimers below and as always, remember, we are not making a recommendation or soliciting a sale or purchase of any security ever. We are not licensed to do so, and we wouldn't do it even if we were. We're sharing my opinions, and provide you the power to be knowledgeable to make your own decisions.

Legal
The information contained on this site is provided for general informational purposes, as a convenience to the readers. The materials are not a substitute for obtaining professional advice from a qualified person, firm or corporation. Consult the appropriate professional advisor for more complete and current information. Capital Market Laboratories ("The Company") does not engage in rendering any legal or professional services by placing these general informational materials on this website.

The Company specifically disclaims any liability, whether based in contract, tort, strict liability or otherwise, for any direct, indirect, incidental, consequential, or special damages arising out of or in any way connected with access to or use of the site, even if we have been advised of the possibility of such damages, including liability in connection with mistakes or omissions in, or delays in transmission of, information to or from the user, interruptions in telecommunications connections to the site or viruses.

The Company makes no representations or warranties about the accuracy or completeness of the information contained on this website. Any links provided to other server sites are offered as a matter of convenience and in no way are meant to imply that The Company endorses, sponsors, promotes or is affiliated with the owners of or participants in those sites, or endorse any information contained on those sites, unless expressly stated.