One-on-One with Roku's CFO: 'We know our value to the partners who lean in'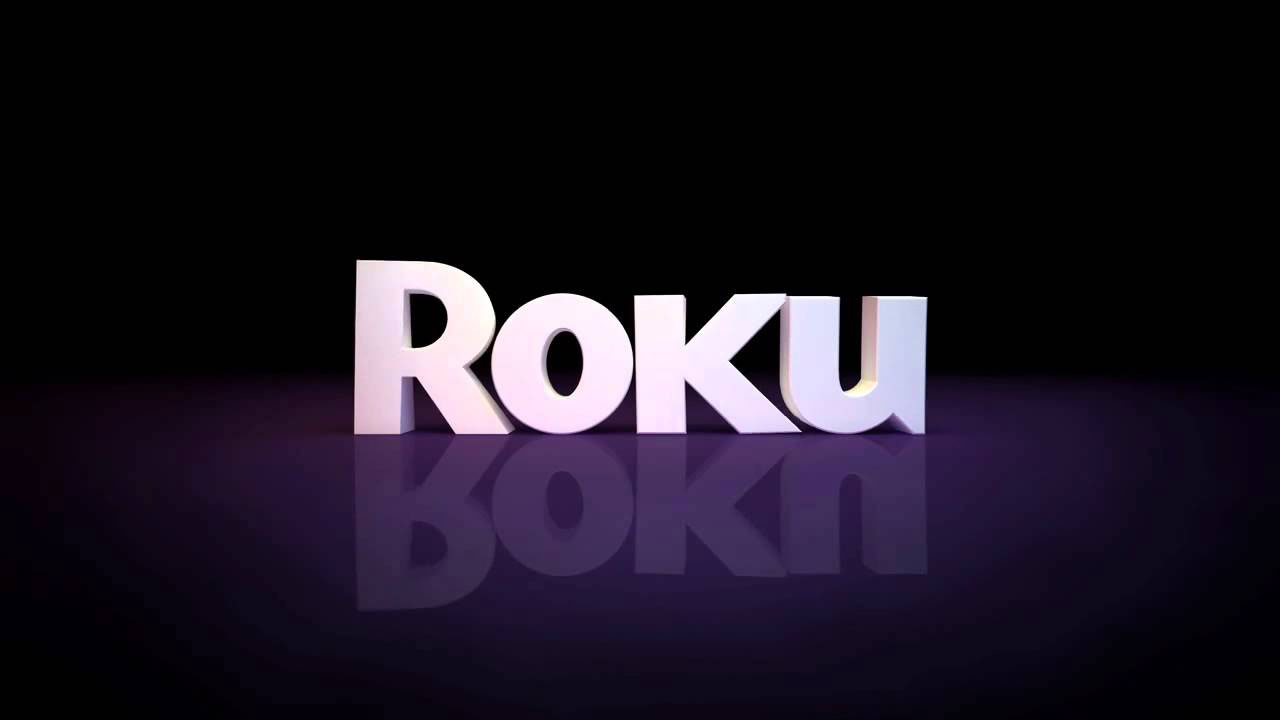 Shares of streaming video pioneers Roku are down 12% since August 5th despite a better-than-expected Q2 report, but no forward forecast for the company.

To hear Roku's CFO, Steve Louden, tell it, COVID-19 has only accelerating the many trends of building audience and building content that the company has pursued for years.

Louden sat down with Capital Market Labs to talk over the details, as he has in past.

CML was delighted to find out that Louden is staying on after having relocated to Seattle from Silicon Valley, after it had been announced earlier this year he would be leaving. Seems perhaps the new normal of remote work means a CFO can be anywhere.

Asked about the streaming wars, with newer streaming offerings such as NBC-Universal's "Peacock" service, and HBO's "HBO Max" not distributing on Roku, Louden defended the value of Roku to partners.

"The folks like Disney who are leaning on Roku are doing really well," he said. "We know that we can create a lot of value."

"We've got the largest, most engaged streaming audience in the US" and "we have the best tools in the industry to help people grow their audience."

Roku, said Louden, "won't always be the first" to have a given piece of content, "but we think we're the best positioned to be the largest platform if not one of the largest platforms for folks."

"Certainly, we have the vast majority of important content by now," he added.

To recap, revenue in the June-ended Q2 rose 42%, year over year, to $356.1 million, yielding a net loss of 35 cents a share. The Street had been modeling $314.5 million and a 53-cent net loss.

Roku added 3.2 million accounts, on a net basis, for a total of 43 million.

For this quarter, the company did not offer a forecast. Louden told Capital Market Labs one big factor is whether COVID-19 brings disruption to retail shopping this fall, especially Black Friday.

The other big factor is the continued significant decline in ad spending generally, despite Roku's own positive trends.

One-on-One with Roku's CFO
Capital Market Labs: Congratulations, you're staying on!

Steve Louden (CFO): Congrats, I get to keep my job. I'm excited, I'm glad to be continuing what we've been doing here. So, a lot of great opportunity remains. So, I'm glad it worked out.

CML: Congrats. Let's throw it out to you, first of all, what things do you think are most important in the results and outlook for investors to take away?

SL: Yeah, great, great question.

I think the biggest thing is, or three points. You know, it was a strong quarter, right? Despite all that's going on in the world.

I'd first point to the exceptional account growth. 3.2 million incremental active accounts, which is the highest we've ever done outside of a Q4 holiday period.

The second piece is, you know, we continue to grow the ad business and overall platform business despite the headwinds.

The U.S. TV advertising market is down significantly. But we're still growing the business, albeit maybe not as fast as we would have otherwise.

But I think that's, on a relative basis, that was a very strong indicator of the resiliency of the ad business.

Also, the rest of our monetization around SVOD and TVOD that had gangbuster quarters.

And then the other thing I would just say is that, you know, from not an economic but an ecosystem standpoint, the partners that are leaning into Roku are winning, right?

Disney had an awesome — at least, the Disney Plus piece of Disney's results were awesome.

They're at 60 million-plus subs there.

And there is an interesting comScore stat that we threw in our shareholder letter that said Roku was the number one platform purchasing Plus when they released "Hamilton."

So, it really just shows that we can add a lot of value to partners that lean into Roku. And so that that's heartening to see as well.

CML: Ok. Folks are kind of obsessed, Steve, with the partners who might not be leaning in. You know, NBC "Peacock." And "HBO Max."

And everyone's kind of obsessed with what's going on between distribution and content.

Is there going to be — how do you see that shaping up? Is it the case that OTT platforms and content can't exist in a comfortable symbiosis?

SL: Symbiosis — excellent use of that term.

I mean, what I'd say is, certainly these are high-profile new services. And we aspire to have all content. But we're not always the first.

So, for us it's important — the other thing I should note is just, you know, we have thousands of deals.

And so, the vast, vast, vast majority of these deals get sorted out, and they just get handled, and everyone just sees them on the platform, right?

So, there's no issue there. But in terms of these ones, I'm not going to talk about the specific deal points.

But it's pretty clear that there is a use case of a win-win-win type of deal. Like, the folks like Disney who are leaning on Roku are doing really well.

We know that we can create a lot of value. We've got the largest, most engaged streaming audience in the US.

We have the best tools in the industry to help people grow their audience. And we know that that can add a lot of value.

And we're wanting an economic deal that — and our deals are structured that when they win, we win.

And so, I think that that's important to note.

And so, we won't always be the first but we think we're the best positioned to be the largest platform, if not one of the largest platforms for folks.

CML: Is it fair to say, then, that it's important to eventually have Roku house all of the top content in the world?

SL: We aspire to have all the content that is relevant. That's an aspiration and generally we're there.

Certainly, we have the vast majority of important content by now.

CML: What about international, Steve? Anything you want to talk about in this quarter about what hurdles there are yet to cross to reach the kind of scale that you've reached in the U.S., internationally?

SL: Great question. Yeah, in this quarter, yes, quite a bit of good through-points, internationally, despite COVID and other economic disruptions.

We continue to make good progress. And, again, just as a reminder, our model is, grow active accounts, build scale, drive engagement, and then monetize.

So, you know, for international, for the most part, we're focused on building scale in these markets.

And so, we're in one in three TVs in the U.S. We're now in one in four TVs in Canada.

We continue to build OEMs and grow our market share in Mexico. And we're off to a good start in both the U.K. and Brazil with new TV introductions over the last six months or so there.

On the player side, you know, we had a fabulous player quarter overall, but also notably with player sales doubling, more than doubling, in the U.K. and Canada as well.

So, we're making really good progress in international markets as well.

CML: Do you think that this pace of new active accounts, Steve, is something that sustains itself? It's such a nice upside, what's the right way to think about that?

SL: Yeah, I mean, we mentioned in the [shareholder] letter that it's been strong trends, certainly, on the account side as well as the engagement side.

And we think the interest in streaming will continue to be strong.

I think the variable factor is really about the potential for disruption in the back half of the year, be it retailer disruption or supply chain or just consumer buying patterns either because of the economic conditions or if there have to be restrictions on the traditional shopping, you know, big shopping periods, most notably Black Friday.

So that's, I think, the question that will impact it.

But in terms of the consumer interest in streaming, it's clear that that's further accelerating with COVID.

And we think it's also accelerating just the ecosystem long-term shift to streaming as well.

CML: At some point in the quarter you had to make a decision and pull the trigger, does the rise in demand count most, or do these other factors of disruption count. And you made the decision not to issue a forecast. Was that a difficult thing to decide on?

SL: Yeah, certainly. Because I think for us, it's helpful for to have a clear communication of where we think the business is going.

And that allows us to talk more clearly about what are the trends we're seeing and what we hope to accomplish in the business.

We don't feel as comfortable giving a formal guidance at this point.

So, we tried to give some additional color about what are the trends we're watching. For us, it's these countervailing forces, right?

On the one hand, you know, the consumer interest, like I said, is stronger than ever. And we think that will continue to be strong.

But we're not sure how the retailers are going to be able to operate in the holiday season.

A similar thing on the ad side.

It's pretty clear we're continuing to grow the ad business and monetization overall. They continue to grow nicely.

But at the same time, U.S. ad spending is down significantly, especially on the TV side.

We feel great about that relative performance. But we also don't know what other factors are going to be in Q4.

So that makes it very difficult to have a credible forecast.

We're watching all that, and we have our internal scenarios of these different factors at play.

But it's hard to come out with one view on where the world's going to be three, six months from now.

CML: Fair enough. So, when you talk with public stock investors, you know, you had a banner year, last year, I mean a blowout year for equity price appreciation.

This year, not quite as much. How do you talk to them and what are they looking for here for them to put new money to work?

SL: We focus on what we can control. Which is, you know, driving forward innovation, continuing to invest in our strategic investment areas like the ad business, Roku TV, the Roku

Channel, and the international expansion.

Streaming is a massive opportunity. And we're very well positioned in that secular shift.

And so, you know, we focus mainly on talking about that story and our competitive differentiators in terms of a purposeful operating system that's cheaper to build in terms of the players and the TVs. And our neutral positioning.

The innovation that we continue to crank out.

So, we spend more time talking about those pieces, and the long-term shift to streaming than some of the short-term factors.

We think there's still lots more opportunity. We think we're well positioned.

And, more importantly, while there will be, you know, extra volatility in the markets — I mean, the TV market or the streaming market as opposed to the stock market — while there's short-term variability in things, we're pretty clear in our belief that COVID and the related economic forces are an accelerant to these already strong long term trends.

And that is very good for streaming, and that's very good for Roku.

CML: We'll let you move on to your next event, but we're glad you're sticking around, Steve. Look forward to talking with you next quarter.

SL: Sure, appreciate it. Thank you!


Further Analysis
This is Ophir writing.
We have a view of streaming video and the opportunity it presents, and it goes something like this:
Fundamentally, the world of TV is and will change forever, permanently.
When we first introduced Roku we called it "The Facebook of TV" and in particular doubled down on that comparison in December of 2018 when the stock dropped to $26. (The stock is up 468% since then.)
The critics cried afoul noting that Facebook is a social medium and has nothing to do with streaming video.
Alas, the lack of imagination on Wall Street never ceases to amaze.
Our view is that Facebook is a social medium incidentally, which is to say, Facebook is an advertising platform, first and foremost, and incidentally that happens to be driven by social media.
When Facebook first gained investor prominence, it was for all the wrong reasons.
We kid you not, but headlines from the past ridiculed the platform as clearly inferior to standard web ads.
I mean, how can a platform made for social interaction effectively sell ads?
It turns out the short sighted were wrong and the forward looking are multi millionaires.
What Facebook offered was a new data collection apparatus that drove absolutely unheard of detail into its audience and therefore an unrivaled audience targeting mechanism.
Add to that mechanism compulsive usage, you end up with a company nearing $1 trillion in valuation.
Roku has similarities to Facebook, but not side-by-side, but rather when it is compared to the alternative in its market.
TV ads are bad. Some would say they are awful.
You might see an ad that's relevant to you based loosely on the content you're watching, but it sure isn't personalized, it does not follow you off TV, and finally it is not interactive.
Roku ads are different.
They are custom to the user.
They follow you online, meaning that the ad seen on Roku will also find you the next time you go on the Internet.
Finally, Roku's ads are now in some part and will be soon in large part, totally interactive.
Yep, an ad for a widget that ends with "tap here" to learn more.
If we're looking to draw the corollary to Facebook, we have it.
Roku ads compared to TV, are like Facebook ads relative to standard Internet: Personalized, measurable, data driven, and interactive.
These ads are tautologically better than the alternative.
But don't take our word for it, take it from one of the largest ad buyers on planet Earth, Magna Global (Interpublic Group's Magna Global):
A study conducted by Interpublic Group's Magna Global and IPG Media Lab with Roku found that video ads on Roku's over-the-top platform were 67% more effective than ads on linear TV.

Campaigns for IPG clients Applebee's, H&M, McCormick and Truvia saw bigger gains in purchase intent running ads with Roku.

The study also found that consumers consider brands that run video ads on the Roku platform to be twice as innovative as traditional linear TV alone.

Consumers found the ads to be more memorable than those on linear TV, due in part to the reduced ad load of OTT, according to the study.

Given that OTT needs fewer exposures to generate the impact that linear TV provides at higher exposure levels, brands can run campaigns on OTT that are both more efficient and effective.

The study also found that OTT reaches a more targeted audience and that OTT ads require less exposure than linear TV.
Magna Global has also gone on the record to note, back in 2019, that OTT (streaming video) accounts for 29 percent of TV viewing but so far has only captured 3 percent of TV ad budgets.
Yep, this apparatus that streaming video brings, much like Facebook, is better — definitively — and just like when Facebook started, while the eyeballs are there, the ad dollars are slower to move.
Here is the TV ad market in the United States from Statista: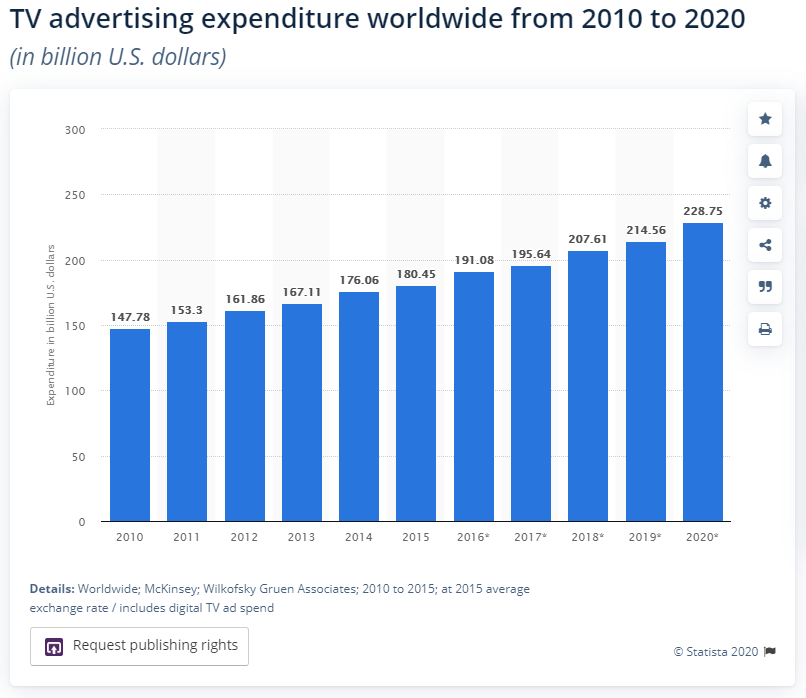 So, while the number of streaming households accelerates worldwide, a tiny fraction of that $230 billion market has moved to streaming.
And, as Roku's CEO so plainly says, every dollar spent on linear TV will eventually go to streaming.
That's a TAM of $230B in the United States alone and multiples of that worldwide.
For the record, with a TAM nearing $500B, Roku has reported less than $1.5B in the trailing twelve month revenue.
What you have here is the bullish thematic for Roku and all streaming companies.
Conclusion
It's finding the technology gems like Roku (ROKU) before they are household names, that can turn into the 'next Google,' or 'next Apple,' where we have to get ahead of the curve. This is what CML Pro does, with an auditor verified track record, because of course it's verified.
Each company in our 'Top Picks' has been selected as a future crown jewel of technology. Market correction or not, recession or not, the growth in these areas is a near certainty.
The precious few thematic top picks, research dossiers, and executive interviews are available here:

Thanks for reading, friends.

Tiernan has no position in Roku at the time of this writing.
Ophir is long Roku shares at the time of this writing.

Please read the legal disclaimers below and as always, remember, we are not making a recommendation or soliciting a sale or purchase of any security ever. We are not licensed to do so, and we wouldn't do it even if we were. We're sharing my opinions, and provide you the power to be knowledgeable to make your own decisions.

Legal
The information contained on this site is provided for general informational purposes, as a convenience to the readers. The materials are not a substitute for obtaining professional advice from a qualified person, firm or corporation. Consult the appropriate professional advisor for more complete and current information. Capital Market Laboratories ("The Company") does not engage in rendering any legal or professional services by placing these general informational materials on this website.

The Company specifically disclaims any liability, whether based in contract, tort, strict liability or otherwise, for any direct, indirect, incidental, consequential, or special damages arising out of or in any way connected with access to or use of the site, even if we have been advised of the possibility of such damages, including liability in connection with mistakes or omissions in, or delays in transmission of, information to or from the user, interruptions in telecommunications connections to the site or viruses.

The Company makes no representations or warranties about the accuracy or completeness of the information contained on this website. Any links provided to other server sites are offered as a matter of convenience and in no way are meant to imply that The Company endorses, sponsors, promotes or is affiliated with the owners of or participants in those sites, or endorse any information contained on those sites, unless expressly stated.