Invitae, NVTA, Capital Market Laboratories, cmlviz, cml pro, cml, content
One-on-One CEO Interview: Invitae (NVTA) Acquires a Critical Technology




One-on-One CEO Interview: Invitae (NVTA) Acquires a Critical Technology


Date Published: 2019-06-20

Written by Ophir Gottlieb

Hello, all. This is Ophir writing. This is a snippet from a CML Pro dossier on June 18th.


Lede
Number 1 Spotlight Top Pick Invitae announced the acquisition of Singular Bio to help increase access to genetic screening in early pregnancy. After speaking with the CEO, the acquisition was not only shrewd, but the news from it was surprisingly good.

We added Invitae (NVTA) to Top Picks on 1-Sep-16 for $7.42. As of this writing it's trading at $20.23, up 172%.


Preface
I got on the phone with Invitae's CEO Sean George to work through the Singular Bio acquisition and to understand it better.

The takeaway was a surprisingly better view of the non invasive prenatal screening (NIPS) market and its achievable gross margins through new technology to power cost of goods sold (COGS). I also came away with two other highlight worthy findings. All of them together look like this:

* The NIPS business can be a 50% gross margin business -- which is Invitae's platform wide goal, and before this acquisition, I didn't believe NIPS was on a path to this margin.

* If you did break out Invitae's cancer business, which they don't, Sean noted that it turned a profit as a standalone business as of Q1 of this year.

* Sean said, "we've been telling people that we do expect a 40% [of revenue] front end of the year and 60% back half of the year."

-- Let's just close the loop on that revenue statement. Invitae's official revenue guidance for FY 2019 is "more than $220 million."

In Q1 the company delivered just under $41 million. If the full year is going to be $220 million (the lower end of company guidance), and Q1 with Q2 will make 40% of revenue, while Q3 and Q4 make up the remaining 60%, simple math leads us to see that Q2 should by $47 million.

That would make Q1 and Q2 = $41M + $47M = $88M. If that's 40% of the full year, then Q3 and Q4 should be $132M.

Wall Street analysts have a mean estimate of $51M for Q2. If we follow the company's guidance, a Q2 with $51 million in revenue would be above the company's guidance and in line with our official guidance as one of very few analysts of record.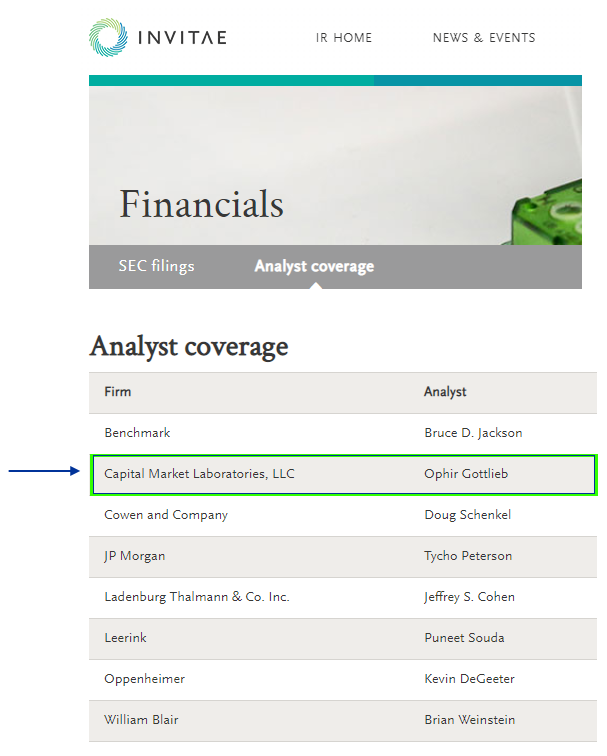 Story
Please find my full interview with Sean below.

Sean George: I can't emphasize more we will never do M&An as a stop gap. That is such a value destroyer. We will never be announcing M&An in an attempt to somehow fill a drop-in revenue.

CML: This seems to be pretty clearly a play in the NIPS market.

SG: Yes. NIPS is the first application we will be pointing to but pretty much any cell free fraction nucleic acid analysis application we think it has legs for. Probably after NIPS we will look at liquid biopsies. You can imagine there are other applications where analyzing deep into the cell free fraction of nucleic acids becomes important. This technology has use beyond NIPS but that's where we will start.

CML: Do you feel there is room in the NIPS market for a differentiation?

SG: NIPS is the thing we're pretty sure everyone is going to do at some point. Right now, in the US there are 6M pregnancies and about 2M women get NIPS testing. Globally not many women do at all.

In pretty typical Invitae perspective there are 20-30 million women that get pregnant every year, this is the target market we are going for and cost is a very important part of the equation. And this is yet another technology that allows us to lower our cost and really go after the full market.

CML: This will show a big dip in cost of goods sold but the gross margins won't be as good, right?

SG: Think of it the other way, we're selling it as part of our reproductive health package. Right now, the margin impact of NIPS isn't that great and it's made up for by other things like our cancer business for example.

This allows us to make sure over time and at scale we can maintain our across platform 50% gross margin target (which by the way we are at today). If we were doing 10 million NIPS a year we would need something else to let us hit that target [gross margin percent] and this is a good example of one of those things. This technology has the promise of dramatically lowering COGS.

CML: So, when this becomes fully integrated into Invitae, do you think you can reach gross margins of about 50% on this test?

SG: Yes. With this acquisition we can get the COGS into the low double digits kind of number which leaves plenty of room, even as a standalone test, to get that 50% number and then allow us to invest elsewhere in the platform for new content.

If you did break out our cancer business, which we don't, it turned a profit as a standalone business as of Q1 of this year. Now we'll go down the rest. This is yet another tool to bring down COGS across the platform and the first area it is most applicable to is NIPS.

CML: This is a little bit of a change -- it's better news. I believe last time we talked you said this could lower COGS just because it's a cheaper test but it's not going to be a 50% gross margin business on its own. You're now saying it could be. This is a change in your view of the possible gross margins on NIPS for the better, right?

SG: Yes. That's the right way to look at it. Here's another way. We've always priced about a year or two ahead of our COGS -- looking forward a year or two and what price we could get by way of those gross margins.

And yet here is another good example. We priced our NIPS offering, that pricing anticipated looking out a couple of years with this technology.

CML: How long do you think it will take for Invitae to get this technology to other applications?

SG: A good expectation is that by early 2021 it will be running in our full scale production, we're obviously going to shoot for before then, but there are still some unknowns in how long that will take. So let's say by early 2021 we want to get it up and running by that time we will also probably have a good view of what the next one or two applications will be.

CML: Let's talk about full year.

SG: We've been telling people that we do expect a 40% [of revenue] front end of the year and 60% back half of the year. I want to make sure you have that additional color. It's within the range it has been for the last two or three years, so it's nothing new but we want to help people see how we view the seasonality.

Takeaway
I was pleasantly surprised by the takeaways from this acquisition. I have no fear that the company is chasing revenue due to some soft of short fall and it was another reminder of how far forward this company looks -- a refreshing perspective in the financial markets.

With clarity around timing of revenue by quarter, the first quarter number was fine, the second quarter consensus estimate would be a little high to reach that full year $220 million. If the company does deliver a quarter of over $50 million (below Wall Street consensus), that would give us more confidence in the company meeting its guidance, not less.

If the company were to deliver over $51 million in revenue, that would give us confidence in our official estimate, as analysts of record, that the company will deliver closer to $230 million for the full year.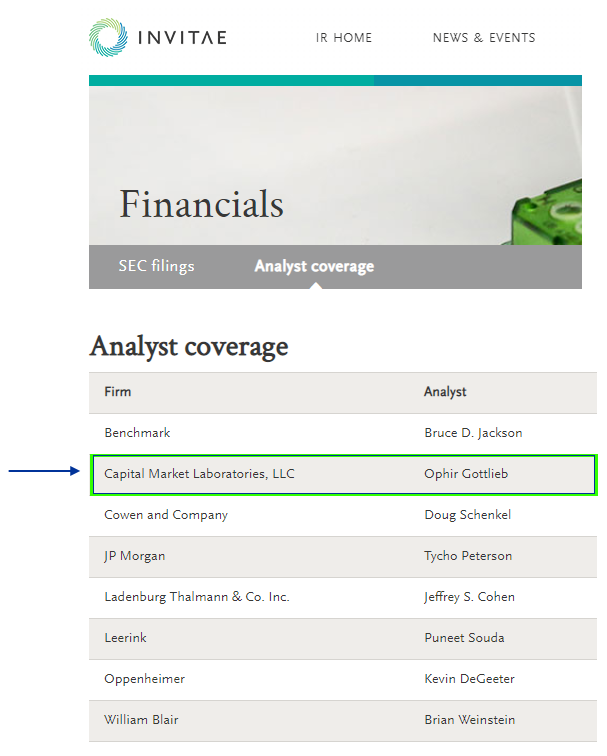 The acquisition, the clarity about revenue timing, and profitability of the cancer business (already) keeps Invitae quite comfortably as our number one Spotlight Top Pick.

Please be aware of the risk inherent in a company that is still cash flow negative.

THE FUTURE
It's understanding technology that gets us an edge to find the "next Apple," or the "next Amazon."

This is what CML Pro does. We are members of Thomson First Call (Refinitiv) -- our research sits side by side with Goldman Sachs, Morgan Stanley and the rest, but we are the anti-institution and break the information asymmetry.

The precious few thematic top picks, research dossiers, and alerts are available for a limited time at a 80% discount for $29/mo. Join Us: Discover the undiscovered companies that will power the future.

Thanks for reading, friends. The author is long Invitae shares and call options at the time of this writing.

Legal
The information contained on this site is provided for general informational purposes, as a convenience to the readers. The materials are not a substitute for obtaining professional advice from a qualified person, firm or corporation. Consult the appropriate professional advisor for more complete and current information. Capital Market Laboratories ("The Company") does not engage in rendering any legal or professional services by placing these general informational materials on this website.

The Company specifically disclaims any liability, whether based in contract, tort, strict liability or otherwise, for any direct, indirect, incidental, consequential, or special damages arising out of or in any way connected with access to or use of the site, even if we have been advised of the possibility of such damages, including liability in connection with mistakes or omissions in, or delays in transmission of, information to or from the user, interruptions in telecommunications connections to the site or viruses.

The Company makes no representations or warranties about the accuracy or completeness of the information contained on this website. Any links provided to other server sites are offered as a matter of convenience and in no way are meant to imply that The Company endorses, sponsors, promotes or is affiliated with the owners of or participants in those sites, or endorse any information contained on those sites, unless expressly stated.