Five9 CEO Rowan Trollope: Automation of call centers is a very, large market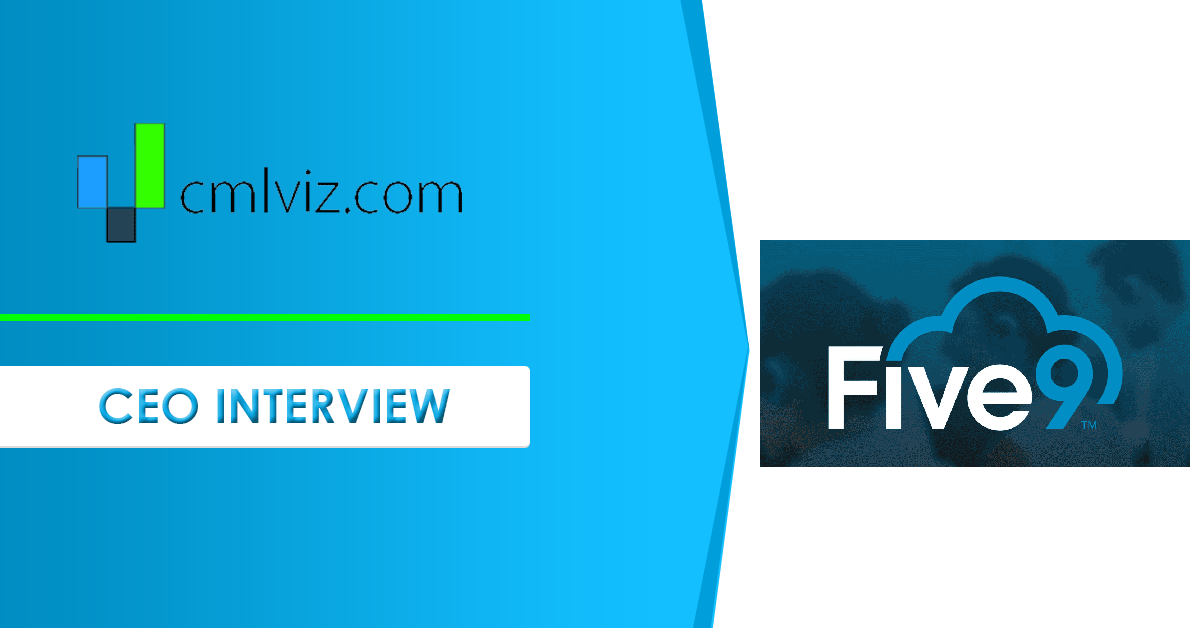 It never hurts to have a huge market, and in fact, it may be one of the most important keys to success for technology companies.
Rowan Trollope, chief executive of call center software maker Five9 (NASDAQ:FIVN), believes his company has hit upon one of the biggest markets of all in cloud-based call center software, the area of automation, enabled by artificial intelligence.
Trollope sat down with Capital Market Labs following the company's earnings release on February 22nd. The report itself was another blow-out, with a comfortable beat on top and bottom line, and an outlook higher as well for this quarter.
Trollope said that two "headline" items of the quarter, in his view, are the company accelerating its revenue growth to 33% last year from 27% the year before, and winning more and more large enterprise deals, including the company's biggest ever, for $12 million.
But the most interesting, most visionary part of the talk was where Trollope doubled down on the details of implementing the technology of Inference Solutions, the fifteen-year-old, San Francisco-based maker of "virtual agent" technology that Five9 acquired in November for $172 million.
"We've gotten a taste of that with Alexa and Google and Siri," said Trollope, referring to voice-based interactions that are automated. "And what's happening now is we're able to take those same technologies — not Alexa and Google, which are the consumer-facing iterations, but the underlying technologies.
"instead of having the frustrating 'push one for this,' and 'push two for that,' you end up with a very natural sort-of voice-based conversation. And that's a much better experience for customers."
Trollope told CML that contact center automation via such technologies is "a very, very large opportunity."
"Being at the vanguard of this automation transition is a clear strategic priority for the company." Noted Trollope as well, the automation programs are starting to lead the discussion with clients, and appears to help bring in new business, with companies actively interested in how to apply automation to save money.
To recap, Five9 reported December-quarter revenue of $128 million, and EPS of 34 cents a share, versus consensus of $115 million and 23 cents a share.
The company forecast this quarter's revenue in a range of $122 million to $123 million, and EPS of 12 cents to 14 cents, versus consensus for $116 million and 12 cents a share.
The full-year outlook is for $518.5 million to $521.5 million, and EPS of 75 cents to 79 cents, versus consensus for $451 million and 84 cents.
Please enjoy the one-on-one conversation.
Capital Market Labs: What things are most important, do you think, for investors to take away from the results and outlook?
Rowan Trollope: I think from a financial a financial perspective, that fact that we continued to accelerate growth this quarter, Q4, is notable.
We said this in the prepared remarks: When we went public, we were in the low 20s of growth. We moved to the mid-20s and the high 20s. Now we are in the low 30s.
That's notable, a different story than you usually see, you usually see a deceleration. And we are doing that in a balanced way.
As I've talked with you before, we posted 23% Ebitda for Q4.
CML: Adjusted Ebitda?
RT: Adjusted Ebitda.
CML: What else?
RT: The other headline is that we have continued to make traction on the strategy to go after what we think is a large opportunity to drive automation into the contact center with our acquisition of Inference.
We've taken a lead from a technology perspective. Now we have multiple assets.
We have organically developed, post-call agent assistant, where during the call, there's real-time speech-to-text, and allows agents to automatically wrap up, which saves them time on the back end.
And then time on the front end by allowing customers to self-serve. And I think what's notable there is — well, first of all, that's a very, very large opportunity.
Nobody likes the standard IVR, interactive voice response thing, when you get to that menu, "push one for this, push two for that." You know, there's a big menu tree.
Everyone is sort-of programmed now to push zero or to try to get around those things to an agent.
What's changed in the last few years is that deep learning has, and particularly Amazon Alex and Google, have really matured the deep learning-driven, conversational technologies. So that you can speak in a very natural way to a computer.
We've gotten a taste of that with Alexa and Google and Siri. And what's happening now is we're able to take those same technologies — not Alexa and Google, which are the consumer-facing iterations, but the underlying technologies, so that instead of having the frustrating "push one for this," and "push two for that," you end up with a very natural sort-of voice-based conversation.
And that's a much better experience for customers.
But it's not just on voice, it's also on chat.
I think the first wave, or, say, the first generation of chat bots generated a lot of excitement because people saw the digital channel as a way to sort-of drive automation within the contact center, to get cost savings. And what they did was become the new IVR.
Chat bots, most are fairly frustrating to talk to. My version of pressing zero is, I first say, Are you human?
CML: What do they usually say when you ask that?
RT: You know, they say, Sorry, I can't answer that. I think, generally, they don't answer it very well. What can I help you with? It's like, okay, this is not how it's going to be.
But, our underlying technology, from the Inference acquisition, allows us to take the more advanced deep learning conversational technology and bring that to businesses in a way that is abstracted from voice conversations or chat bots.
So, you can write the automation once for the conversation, and then if a customer wants to converse over WhatsApp, they can do that, and it'll respond.
Or if they happen to be in the voice channel, and that's the way that they want to interact with these technologies, then they are going to get the same answers, it's just that the digital agent can communicate over voice or chat.
But the headline here is, we believe contact center automation will be a really large, new, expanding market opportunity.
And with our acquisition we've taken the technology leadership. And I think over the next five to ten years, this is going to really accelerate.
Maybe in the next few years.
We are seeing tremendous interest in this technology from our large, strategic customers
And I think the third top-line message I'd leave you with is the traction that we continue to make in the enterprise.
We signed our largest deal in the history of the company in Q4, $12 million of ARR [annualized recurring revenue], a big European company.
And so, we're expanding both internationally and into much-larger enterprises. That's probably been accelerated by the pandemic, in general, like enterprise contact center and cloud and SaaS in general.
CML: I want to go back for a moment to the second item. When we talk about AI and the Inference technology, should we be referring to that as IVA? Is that what we're talking about?
RT: For the most part, but we have two pieces.
We have both IVA [interactive voice response] and agent assist. I would say the bigger opportunity is the IVA.
CML: This came up on the call, are there quantifiable signs for IVA, a certain attach rate or percentage?
RT: We didn't share any specifics on that, I don't want to share any additional details.
However, there was a reason that we — well, if you go back, and this is the middle part of last year, we signed a partnership agreement initially with Inference to resell, and right away we saw much faster adoption, and I would say interest, in the form of customers saying can you include it in the quote.
That took us by surprise.
When we saw that, we stepped back and said, strategically, do we think this is a market transition that is going to happen soon? And if it is, it may be sooner than we thought.
And if that's the case, then we should move faster here, to a leadership position. Because that's when share — you know, share shifts in markets happen on technology transitions.
And the so the real question is timing. And we felt the timing was going to be sooner rather than later, and we wanted to therefore take a leadership position.
CML: So, in a sense, qualitatively, there is some kind of attach rate here that might be…
RT: Yeah, exactly. It has exceeded our expectations, in terms of attach rates in large deals. And so, we moved faster.
CML: And does it pull along deals, does it lead…?
RT: Yes. Yeah, we're actually starting to lead with AI. It's interesting the conversations with customers.
Customers really are interested in that as a starting point for our conversations.
How do we improve our customer experience, we know it can be better.
But it very quickly leads to, By the way, we don't want to spend any more than we're spending today.
So, it's, like, how can you help me do this, and save money at the same time. Or at least, do it for the same amount.
And that's where IVA lives. That's where it gets dragged into the conversation.
It very quickly becomes the lead part of that conversation.
Oh, that's great. And then I can afford to do the things I want to do with those savings.
If I'm automating five to ten percent of my agents' tasks, that's significant savings for most companies.
CML: And is there hard ROI for this?
RT: Yeah, in that five to ten percent range. That's where it is today, we think it's going to accelerate from there. But, it takes time.
CML: Either you or Dan [Burkland, Five9's CFO] mentioned on the call that the "before" and "after" [of call automation] is pretty solidly working right now. And the middle of the call is a "work in progress," you seemed to say…
RT: Yeah, that's what we said and the — this is a question of focus.
What we believe, longer term, and the architecture we've been building, is where AI is involved in every part of the conversation. Whether it's active or it's sort-of silent.
Passive or active. So, you may be speaking directly to the computer, you may not be speaking directly to the computer, you may be speaking to a human being, the AI is listening, and sort-of providing suggestions, that's very, very helpful.
So, we kind of see that always there, ever-present, but sometimes it is more active, being with the customer.
And during the call, the kinds of adoption that we have seen from customers, or the interest that we have seen, has to do with things like compliance.
So, in healthcare, we have a customer who, when they are doing their calls with their customers, they are dealing with things like drug interactions.
Say, for example — this is an actual use case — if a customer is taking Acutane and they're speaking to a contact center person about that, one of the things the things that the contact center rep has to do, by law, or by some sort of rules and regulations that govern the company, is basically make sure you are not pregnant.
They have to check that box. And so, what they rely on today is training, to know to check those boxes. We can do that automatically.
We can hear the topic is acuteness, and we can immediately pop up a compliance box in front of the agent that says, check this, check this, check this.
It sort-of takes the guess work out of the equation.
So, that's one example.
Another one is an insurance company who had come to us and said, We want to do —we know our best agents do really well when they are selling home insurance; they'll look up the zip code of the caller.
And they'll look it up in the flood zone database. And if they're in a flood zone, you want to offer them flood insurance to add on to your insurance policy.
And, again, in these cases, they rely on agents to do that work.
So, they can take the guess work out of that during the call, automatically.
They'll look up the record in CRM, plug that into the API call to the flood database, and pop up a suggestion card to the agent, this customer is in a flood zone, so offer them flood insurance.
So those are two examples. But they are relatively lower priority than the IVA of the post-call wrap-up stuff. Only for the reason that the post-call wrap-up stuff and the IVA have real hard real hard ROI stories behind them. Whereas the ones that are in the middle [of the call] are a little early, I would say.
CML: Right. So, is it the technological aspect? Are you still defining the middle part? Is it still development?
RT: It's still in development. We have the pop-ups working.
It's just, I think, from a customer interest perspective, it tends to be that the one that's going to land more customers, consistently, are the ones where it's, like, real obvious, simple and clean, take the after-call wrap-up out of it, or deal with the IVA up-front.
That feels like that's what we're seeing from customers right now.
CML: Which means, sometimes, that you haven't quite got the feature set, the capabilities, for them to say, oh, my god, I need that thing.
RT: That's right. And we know that this is happening, it's happening with lots of little startups doing things in this area. So, we definitely think it's there. But it feels like the areas we are focused on are those two areas right now.
CML: Tell us about this $12 million deal. What made this largest-ever deal possible?
RT: Yeah. So, something that we have been working on for a long time.
Virtually every company competed on it. Companies we compete against regularly.
What made it possible was, number one, our experience.
We've been selling larger and larger deals, and delivering results.
They had, the customer in this particular case, had a positive impression of Five9's reputation from their own reference checks, and years in the industry, and so on. So that was number one.
Our existing customer references and so on. I would say another one is, we did invest pretty heavily in our EMEA [Europe, Middle East and Africa] sales operation. Having more boots on the ground, a better relationship with partners, and so on, really helped us on that front as well.
And then the third thing is, we established a go-to-market transformation strategy 18 months ago, two years ago, and we just twelve months ago created a new strategic sales team, people who are experts with these much larger deals.
So, I think the combination of those three: the new, focused and dedicated team, the European investment, and then the overall success we've had with larger customers.
CML: This was a greenfield deal?
RT: Mm-hm.
CML: And who did you —
RT: Well, when you say Greenfield, what do you mean by that?
CML: Meaning, a new customer for Five9?
RT: New for Five9.
CML: Who did you displace?
RT: I don't have it off the top of my head. I don't want to say the wrong company.
CML: And who did you say the customer was?
RT: We didn't. A leading European insurance company.
CML: Is it safe to assume some of these resources you've developed, you're able to use going forward in the marketplace to reproduce this kind of success?
RT: That's right. That's what usually happens. Our experience has been that, if we get one of these kinds of deals, and we successfully deliver it, and we create a happy customer, then that leads to more deals in that industry, and customers are talking to one another…
CML: On point one, about the growth rate acceleration, I'm sure lots of people wonder, post-pandemic, how much of what's going on is a pull-forward, right, typically, and how much is additive to what the market would have been?
RT: We did actually break down what we thought the contribution was. And I have two thoughts on it.
The first was, we saw that an acceleration of our business was happening pre-COVID.
So, most of what we've seen in terms of the acceleration of the last year didn't really have anything to do with COVID.
But we know that in certain circumstances there was some effect of COVID. And we think — this is what we said to our investors — that could be approximately low single digits of the growth.
So, we reported 39% in Q4, so it could be low single digits is what we shared.
For the most part, most of the growth we have seen, we don't think is going to go away, we think it's sustainable.
And to give you an anecdote on that, the kinds of conversations we had with customers were things like, Hey, we were thinking about digitization before — one conversation I had was, We've always had a digitization initiative, for the last free years, but now it's become life or death. Now we're accelerating things. That's what we've heard. What I've sort-of made clear to investors is, those companies are not going to un-digitize. Like, thankfully that pandemic is over, let's go over to the old way we were doing things.
CML: No, but, you've been around long enough to remember, times of things such as "re-engineering the corporation," when there was a big push because everyone thought it was the thing to do.
And some use cases were correct, and some weren't, and some implementations sucked and it was a hype cycle, right?
There are a lot of reasons why that's not the same as the time we are in now. But, these things can happen in waves.
RT: Yes, yes. So, that's what we shared with our investors, there is a low-single-digit COVID contribution.
CML: Okay. Are there things in the last 90 days that you say to yourself, Hmm, that's different from what everyone was talking about regarding digitization in Q3 that we were focused on?
RT: Could you rephrase the question?
CML: Sure. We've talked each quarter. We talked in Q2 and Q3 about things such as making reps the front door to retail for obvious reasons. I'm wondering, did anything happen in Q4 that was additive to that?
RT: Yeah, we have seen a little bit of that. I'll give you an example, a healthcare company who — well, actually, I'll give you two examples.
Α large healthcare company who is a customer of ours who wanted to enable their — they have lots of different doctors' offices, and in the doctors' offices, pre-pandemic, they had receptionists.
Now those receptionists are going back.
When the pandemic happened, the receptionists — or, the front desk staff, let's call them, they were sent home, initially.
Then they redirected the traffic to their contact centers. But the question was, how do we do we — this is an interesting opportunity for us. And this CTO or CIO I was talking to basically said, they figured out all of those people we had as front-desk staff, they were more like contact center reps, we just didn't treat them that way.
We think we can be more efficient when they do go back to their offices, when they are not dealing with someone sitting right in front of them, they can take calls from other places.
That was one example of a learning due to the pandemic. The second example one, I thought — not a customer, but nevertheless — was a drive-through window where the order taker was sitting at home on video.
And so, you get one less person in the restaurant. And you can see that would be an obvious case for a contact center.
Because you don't really need to have one person sitting and taking orders for one restaurant.
You know, they could actually be waiting for the next car.
They could actually take lots of orders.
That's another interesting one. So, it's sort-of like the contact center use case is expanding where we wouldn't have considered use cases before.
CML: Did you try to sell them software when you placed your order at the drive-through window?
RT: I'm always selling software!
CML: Yeah, give me a burger, and can I interest you in software…
RT: In some Five9 SaaS?
CML: Yeah, right!
RT: I should.
CML: What are the outstanding priorities for the year ahead?
RT: They pretty much fall in line with what I shared earlier.
That the headline is being at the vanguard of this automation transition is a clear strategic priority for the company.
Continuing our enterprise growth, and that international channel expansion — those are the three areas where our focus is. Pretty consistent with what we did last year.
CML: Thanks, as always, and keep up the good work.
RT: Awesome, always great to talk to you.
THE FUTURE
It's understanding technology that gets us an edge to find the "next Apple," or the "next Amazon."
This is what CML Pro does. We are members of Thomson First Call (Refinitiv) -- our research sits side by side with Goldman Sachs, Morgan Stanley and the rest, but we are the anti-institution and break the information asymmetry. We have a third party audited performance track record.
Thanks for reading, friends. The author has no position in Five9 (FIVN) on the date of publication.
Legal
The information contained on this site is provided for general informational purposes, as a convenience to the readers. The materials are not a substitute for obtaining professional advice from a qualified person, firm or corporation. Consult the appropriate professional advisor for more complete and current information. Capital Market Laboratories ("The Company") does not engage in rendering any legal or professional services by placing these general informational materials on this website.
The Company specifically disclaims any liability, whether based in contract, tort, strict liability or otherwise, for any direct, indirect, incidental, consequential, or special damages arising out of or in any way connected with access to or use of the site, even if we have been advised of the possibility of such damages, including liability in connection with mistakes or omissions in, or delays in transmission of, information to or from the user, interruptions in telecommunications connections to the site or viruses.
The Company makes no representations or warranties about the accuracy or completeness of the information contained on this website. Any links provided to other server sites are offered as a matter of convenience and in no way are meant to imply that The Company endorses, sponsors, promotes or is affiliated with the owners of or participants in those sites, or endorse any information contained on those sites, unless expressly stated.