One-on-One with Five9's (FIVN) CEO: The Pipeline Is Stronger Than Ever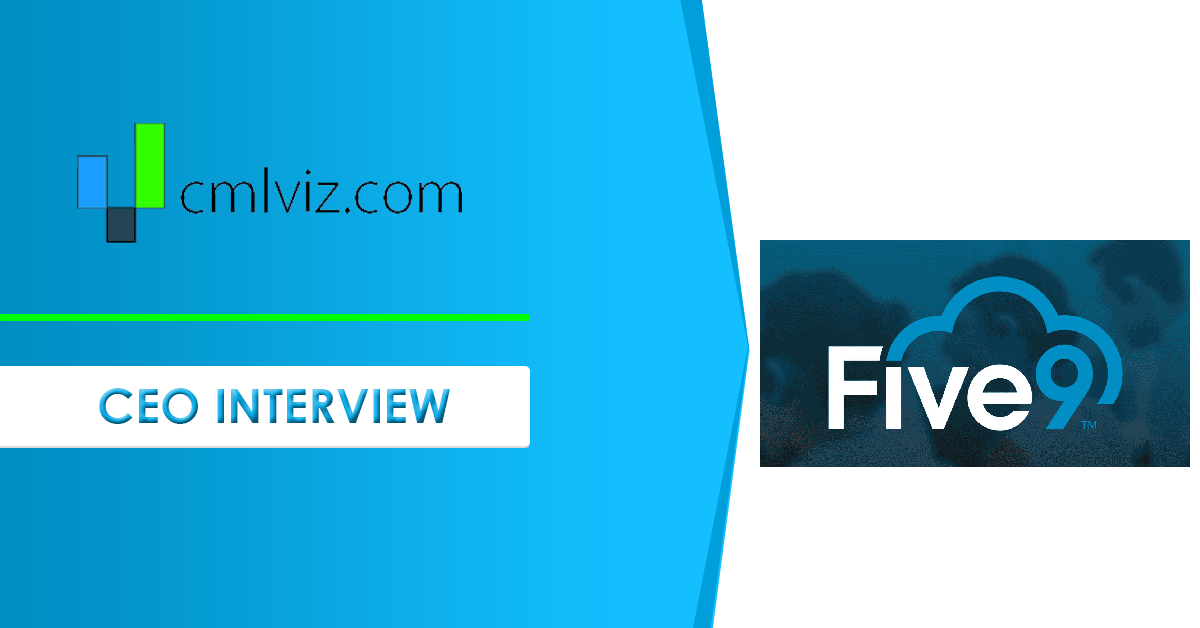 Shares of unified communications mavens Five9 (FIVN) are down 3% since the company reported Q2 results on August 3rd, at a recent $125.41, despite a comfortable beat in the results and a forecast for higher-than-expected revenue this quarter as well.
The stock is up 91% for the year thus far.
As he has often done in prior quarters, Five9's chief executive, Rowan Trollope, sat down to talk with Capital Market Labs about the results and outlook and a whole plethora of things about running a business in the midst of a pandemic.
This time around, Trollope seemed fairly upbeat about how the pandemic has played out for Five9's business.
"COVID was probably, actually for our business a slight tailwind," Trollope told Capital Market Labs. Trollope cited examples of retailers whose storefronts are shuttered and who had to resort to contact center software as the new front door.
"Their overall revenue declined … But their contact center volumes went up because of the shift from brick and mortar; you can't go into their store to buy, but you can still buy online."
The big story of the quarter, other than the company turning in record revenue during a pandemic, was the triumph of the company's new partnerships and resellers.
"The pipeline is stronger than ever," Trollope told CMLviz. "The channel partners, by the way, are contributing to that pipeline in a big way, they're the ones really driving that pipeline."
Not just AT&T but systems integrators, said Trollope, drove "just a huge, huge chunk of business."
"The channel goes where the customers go," he observes. "So, when you see the big channel guys flipping over to the disruptors like us, that's a big statement."
Happily, the company has also gotten back on track with development of new product features, including artificial intelligence technology.
"Our little team of A.I. experts kept on cranking and delivered pretty impressive results this quarter."
As far as where things go from here, Trollope is telling his staff not to count on a quick release from COVID-19. He advises them to prepare for a long siege. "That's the approach I've taken with the Five9 employees, is to say, this could go on a really long time," he says. "And if it doesn't, then we'll be positively surprised."
"Here's where we need leadership," says Trollope, both at a corporate level and a national level. "Here's where we need people in leadership roles to really have the grit and determination to just get through this."
He takes heart in the example of Winston Churchill. "Great leaders inspire confidence in advance of victory when there is really no reason to be confident, but that's what you need because otherwise you won't win."
To recap, Five9's revenue rose nearly 30%, year over year, to $99.8 million, yielding EPS of 21 cents, excluding some costs. That was better than the average estimate of $91 million and 15 cents a share.
For the current quarter, the company sees revenue in a range of $100.5 million to $101.5 million, higher than consensus of $93.93 million at the time, and EPS in a range of 17 cents to 18 cents, versus consensus 18 cents.
Capital Market Labs: Thank you for taking the time, Rowan. And, again, we will throw it out to you as we usually do. First off, tell us what things you think are most important for investors to take away from the results and outlook.
Rowan Trollope: Yeah, I think first of all, you know, with the record revenue, at $99.8 million, we accelerated our growth to 29%.
So, that, in a worldwide crisis, is a good thing for the company. We're certainly very lucky.
It's a Q2 record for us, it's the best Q2 we've ever had.
It's really been driven by enterprise business, which grew at 33%, and our gross margins were at 65.7%.
So, you know, we drove that up by 70 basis points. The operating margin was 18.3%, $18.3 million dollars in EBITDA.
Luckily, the math worked out that way. Again, that was definitely helped by a little bit less travel than normal, or a lot less travel than normal.
But we continued to hire aggressively as we saw the strength in the quarter. We ramped up our hiring. So, we're aggressively hiring in R&D and go-to-market. So, those are the numbers.
A little bit of the color in terms of what's driving the growth is really our channel expansion.
We announced the AT&T partnership earlier this year.
In this quarterly announcement we announced our CDW partnership. They're one of the largest technology providers.
So, between those two we really are — and we've got others, you know, that we didn't specifically announce or call out. But those two, AT&T Business and CDW, are two huge new channels for Five9 that gets us access to, from AT&T, some of the very largest companies in the world, and AT&T in their particular case is white-labeling us.
So, it's AT&T Cloud Contact Center, you know, powered — actually, I don't think they say Powered by Five9, but it's a white-label AT&T-branded product that they are taking to market through their channels.
So we also saw it, I think, it's not in the headline numbers, and we didn't give too many specifics around this, but, all four of our segments that we report out on, which is enterprise and commercial, net, new, and installed base, grew at record levels.
Our bookings were the highest bookings we've ever had for any quarter, which is, again, highly unusual for a Q2, which is our weakest quarter, usually.
We also had two of the biggest deals in the history of the company signed. The biggest and the third biggest, I think, came down.
So, we're landing these really large opportunities, and the pipeline is stronger than ever.
The channel partners, by the way, are contributing to that part of the pipeline in a big way. They're the ones really driving that pipeline.
I think our systems integrators, as one of the channel partners that I didn't mention, they drove more business in Q2 than all of 2019 combined.
So, we saw just a huge, huge chunk of business being driven by system integrators.
And, then, finally, we're making progress from a technology perspective.
The innovation sort-of flywheel is really moving now at Five9.
We have five customers — we launched an IVA, an interactive voice assistant, in Q2. And that was with our partnership with Google, so we're leveraging Google's technology underneath the covers.
And then we also now have our agent assistant, Five9 Agent Assist, with A.I.-based recommendations, in production with five customers.
That was the commitment we made to the Street, that we were going to shoot to have five customers in production. We now have that.
And we're off to the races on that front as well. So that innovation flywheel's really now starting to crank up.
CML: I think when we spoke last time, Rowan, it sounded like that A.I. application had taken a back seat for the moment. Just to focus on putting out fires and dealing with increased demand generally. So, you went back to that?
RT: The point is, we had something good to announce, we didn't stop the work.
So, in the sense of backseat, just from the messaging perspective. None of our customers wanted to talk about A.I., they just wanted to get their tech centers working.
Well, fast forward three months later, and it's pretty amazing how things change and customers, you know, were quite keen to deploy that Agent Assist technology.
So, we were able to achieve that milestone. I wasn't sure how that was going to go down. The big thing of COVID is, it seemed like the world was ending, so, you know, we weren't getting too fancy, I guess you could say.
We were actually dealing with things like, you know, COVID hotlines and trying to support thirty thousand concurrent lines for the payroll protection plan, fulfillment people, blah, blah, blah. So that's what we had our minds on at that point.
But our little team of A.I. experts kept on cranking and delivered pretty impressive results this quarter with the IVA launch and the five production customers on Agent Assist.
CML: So, let's talk for a moment about this three months' change.
We've had in this quarter, it's apparently a second wave in a lot of states, and in some countries around the world. And so that landscape's changing. More people are going about doing more things in New York City than they were.
So, what does that mean? I don't — I'm not asking you to be an economist or a sociologist. But is there a change to your operations both on the cost side and the revenue side that seems to reflect shifts that go on county to county, state to state, country to country, however you see any of that data?
RT: Great question. I guess there's a little bit to unpack there…
CML: Yeah, there's a lot to unpack. Sorry, it's a very general question.
RT: That's OK. I'll tell you:
I'll give you one angle on it which is when COVID first hit — I would divide my comments into two parts.
The first part would be, how I thought about the business from a revenue, margin perspective. At that point, we were quite unsure.
This time last quarter when we were talking it was like this could be good for us because we're seeing the work-from-home trend is going to really benefit cloud. We did see that.
We were getting reports from all the major news outlets about GDP is going off a cliff and 20 million people being unemployed.
So, we were very cautious, and thought, shoot, you know, we've got to take a real cautious stance here in projecting revenue and earnings because if the world's going off a cliff, we're not going to hold it back.
So that was the prudence we saw.
Now, what we saw in the actual performance of the quarter was, basically, either through luck or being at the right place at the right time, or whatever, we actually did very, very well.
And we also concluded that the strength of our business wasn't driven really by COVID response.
There were a few of those. There were a few of the hotlines, and the other things we had to snap together quickly.
And there were some customers that accelerated the move to the cloud because it seemed easier than getting their premises to work with home-based agents.
But there was an equal number of small businesses that went under, people that couldn't pay us, car dealerships that just needed to shrink their — they're not selling any cars, blah, blah, blah.
That kind-of offset it.
So, we kind-of, at the end of this quarter, as we look back with hindsight, we said well, COVID was probably actually for our business a slight tailwind.
The strength of the business is actually just being driven much more by the fact that customers have — maybe it's tied to COVID in some way, but really channels is the big one that's driving our business.
So, our business is accelerating not because of COVID but because we signed these big channel partners and they're really starting to crank and get the deals in.
And so, it's somewhat unconnected, disconnected from COVID.
As we head into the second wave, to kind-of get to the next part of your question, it doesn't feel like there is a real shift — like, our business has seemed to be somewhat insulated from that.
In fact, in some cases we've done better.
Like, for example in retail, as retailers shut down. One of our big retailers I could point to, they sell athletic wear.
And their overall revenue declined, and you can see that in their public filings. But their contact center volumes went up because the shift from brick and mortar, you can't go into their store to buy, but you can still buy online.
People are buying lots of athletic wear, and the only access they have to engage with that customer is now actually through the context center, they can't go back to that shop to ask the question of the retail employee.
So that has the effect of kind-of making the contact center the front door to these businesses.
So, it becomes much more critical.
So even though the headline numbers came down, the e-commerce numbers went up and that benefited Five9.
CML: Right.
RT: So, even in the second wave or third wave, I mean, I think we're going to continue to have a resilient business.
We were very cautious as we headed into Q2 from a hiring perspective. We wanted to see what was going to play out from a revenue perspective, and would customers even be willing to close big deals.
That was a question if you go back three months.
My perspective was, our buyer may be willing to sign a deal, because they're just sitting at home and just continuing to do their job, but the CFO may put a stop to it just based on caution.
That didn't really happen.
Businesses continued to execute and do their thing and they continued to buy software and sign with us.
So, we didn't really see an impact. And I don't see it — I don't see that affecting us although you know we're not immune to GDP.
We're not immune to overall macro, right? I mean if it gets worse, it gets worse. And I'm sure it'll affect us.
I'd say the other thing, though, is how it affected our company and how we operate.
We were initially cautious. We slowed down hiring. We saw this acceleration in the business. And this moment in time. We then kind-of turned the tap the other way and started hiring like crazy.
So, we had, I think, our highest hiring quarter ever or we're heading into that.
We're now on all-time highs in terms of hiring, just bringing on sales staff and also folks just to help us scale.
So, from our operations teams and so on.
CML: And your total headcount now?
RT: It's thirteen hundred and fifty, roughly.
CML: Wow, it's getting to be a big company.
RT: Yeah it's getting up there.
And then, last thing I'll say is, just from an employee morale perspective, I think we're facing a new kind of challenge.
The first challenge was, COVID's here, we all need to buckle down and link arms, and we'll get through this.
CML: Right.
RT: And it's going to be tough because your kids aren't gonna be in school, and, you know, you're not going to be able to go get your coffee, and this and that.
But there's a light at the end of the tunnel, and we're all gonna get through this together.
Now, with the second wave, we actually opened our offices for two weeks and then shut it down right away because of the re-surge in California.
And so, we've had to recalibrate that discussion with our employees, and kind-of finding the floor, which is, hey, this could go on for a really long time. We don't know.
And we need to be prepared as a company to be able to operate the way we're operating now, you know, for potentially one or two years.
And I want everyone to be ready for that.
So, there's a pessimism, I guess, that leads to survival.
I think it's a book by Andrew McClintock, where he talks about the survivors in P.O.W. camps were those who weren't expecting to be rescued the next day.
Those people who kind-of constantly thought, well, just make it through one more day, you know, the troops are going to arrive to rescue us, those are the people that died because they had that hope, and it just dashed their hopes too many times.
Whereas the people who were more pessimistic and lived because they said, all right this is the new normal life, we're just here and we don't know how it's going to last, just put your head down and get on with it….
That's the approach I've taken with the Five9 employees, is to say, this could go on a really long time.
There's going to be fits and starts. It's going to affect you personally.
We did things to help the employees, we're going to be there to help you through this.
Like, we did a bonus, spot cash bonus to our employees, director level and below, to help them.
We've been looking at all kinds of other assistance programs that we can put in place assuming that it's going to go on for a long time.
And if it doesn't, then we'll be positively surprised.
CML: We talked last time, Rowan, about things like the Donut virtual coffee.
Any new developments in things you do like that in the culture, in the relating?
RT: Well, Doughnut's actually worked pretty well.
I have another virtual coffee scheduled with someone who I barely know, which is great, you know.
And I've been encouraging my leaders to go through that process too. I think there have been some learnings.
There was the burst of activity around, okay, we got to all pull together and there's a light at the end of the tunnel.
So, like, weekly Zoom happy hours to start. And in those moments we actually saw, and I personally experienced, more connection with the people you worked with rather than less.
Because you were kind of over-correcting for this horrific situation.
Now, I think we're kind-of getting into there's that curve, you know, the trough of disillusionment.
And so, I noticed people's mindset, and the mood, kind-of waning. Less of the Zoom happy hours going on and everything else.
So, here's where we need leadership. Here's where we need people in leadership roles to really have the grit and determination to just get through this.
I'm inspired.
Winston Churchill has a great quote that I always tell my leaders, which is, great leaders inspire confidence in advance of victory when there is really no reason to be confident, but that's what you need because otherwise you won't win.
And I feel we're in the same trough now.
We're in that trough of disillusionment.
We don't know when things are going to reopen. Schools aren't really — well, I guess they are in New York, but here they're not.
CML: Right.
RT: Just settle in for the long haul.
And now's when the leadership really needs to come together, and keep the discipline, keep the communication and the rigor around this stuff to keep people engaged.
CML: And you're talking about leadership within your organization or leadership in the broad scheme in the society?
RT: Well, both, but I'm mainly referring to my own company.
CML: And you've charged people or directed people, at their level, to be directors, to be leaders in that way?
RT: Yeah, I have been talking to individuals, and you know, having these conversations so that they understand what I'm expecting of them.
This is going to be a tough situation for a long time, and they are going to be the ones that make the difference in our company in terms of helping provide that light at the end of the tunnel for our employees.
That confidence in advance of victory.
CML: Although P.O.W. doesn't sound like a light at the end of the tunnel. It sounds like be prepared to, you know, eat insects for the next…
RT: Yeah, that's true. But the point is that it's a long road, and don't expect to have a vaccine next week and all the schools are going to open and we'll be back to our offices.
Plan on longevity, it's going to take a while.
CML: Just keep having a dialogue with people, keep being realistic, outside of whatever you can practically do?
RT: Yeah, right.
CML: Let's talk a bit about competition.
With what's going on now, and we've talked about this move to the cloud, companies like Twilio are getting on board, and I imagine some of the legacy providers that you've been running circles around are more than ever trying to, right?
Avaya, yesterday, I think it was, popped 14% because of cloud.
RT: That's right.
CML: How do you regard these two, or which is more important? Is it the Twilios of the world, who are scrappy? Is it the gigantic legacy companies?
RT: Well, I think the legacy companies like you mentioned, Avaya, those aren't the companies I'm concerned about.
I actually don't spend a lot of time worrying about competition because that distracts me from serving customers.
So, I just focus on customers.
But to the degree that I game theory the future of the industry, Twilio is, I think, an incredible company for us.
I think Jeff [Lawson, CEO] is a great entrepreneur and he's built a good company, and if you look at their growth numbers, it's astounding the growth they're experiencing.
And it is being driven in part by COVID and more of these digital workflows.
But they're not a direct competitor at this point. We don't see them in deals because they're really a set of APIs for developers.
And, in fact, we have a lot of joint customers that use our product to do the contact center core, and use their product to do the digital engagement.
So, they're complementary. And a lot of customers are joint customers.
They do have a competitive product at least in the messaging, which is Flex. It hasn't really gotten into the mainstream competitive conversation yet. And we're not really seeing them.
It's mainly targeted, because it does require a lot of development work, you don't have to scratch very deep before you're in code with Twilio Flex.
And that's not what most of our customers are looking for.
There are a set of customers at the very high end of the market who are looking for that, I think, who have development resources.
So that's where they're going.
It's a big market and I think customer service as-a-function is increasing in importance.
And so, the pie is expanding dramatically.
There used to be a day, and I think we've talked about this, when businesses made widgets, they shipped them, and it was the last thing they wanted was to hear from customers because that was just a cost.
Well, flip that on its head in the subscription economy where every company, you know, is becoming a tech company.
And that also sort-of is heading in the direction of the subscription economy where you have a constant relationship with your customer.
That equation gets flipped on its head.
The more interaction you have with your customer, the better.
So, the very structure and makeup of companies needs to look different, the way that you allocate resources is different.
So, customer experience and customer service as a category is just booming and it's extremely strategic at every company.
So, it's an expanding pie, Twilio's serving a different part of the market than we are.
We take out Avaya all the time. They did have a good earnings [report].
Cloud, as you mentioned, is a headline. But if you scratch the surface and look at some of the industry analyst reports, you know, what they're doing is very similar to what other incumbents have done, which is take your on-premise product and license it as a subscription.
That's not cloud.
And I think people — that's easy to see through.
You need to have a true contact center-as-a-service or you need to have a true as-a-service offering. That's not what they're selling.
CML: It's a little like Windows when Microsoft, before Azure really came of age, Microsoft Cloud was really a site product with a subscription license. It was the Subscription Assurance pricing model from Microsoft before Azure really took flight.
RT: In fact, Microsoft E3, E5, their Office licensing, turned into a subscription before the software became really Web-enabled.
It's only now, if you look at what they've done with SharePoint and with Office Online, that it's really much more of a subscription service.
But originally it was like, well, I'm just getting Microsoft Word and Exchange and I'm just paying a subscription.
Which, look, Cisco did the same thing with their offerings, and that worked really well.
You take an on-prem software, you just sell it as a subscription. And so that's what's going on at Avaya for the most part.
I think they also have the beginnings of a contact center-as-a-service that they're trying to get out into the market. But it's still early days. But that's not really a factor right now.
It's us and InContact, with Genesys as a distant third.
None of these are UC companies. We're all sort-of customer service business software, and we sell to the line of business.
All three companies. And I think the channel is a good one to look at because the channel goes where the customers go.
So, when you see the big channel guys flipping over to the disruptors like us, that's a big statement.
You know, AT&T or CDW, these are huge Cisco partners. And in some cases, Avaya partners.
So, they're starting to switch over to pure cloud now.
CML: And so without forecasting revenue from the channel, is it fair to say it's going to be an increasing amount of your revenue? As the source of revenue?
RT: Absolutely. Yeah.
CML: Is it fair to say that the acceleration that we saw recently in revenues could be something that is a product of that going forward in other quarters?
RT: It's certainly a contributor to the acceleration we saw in Q2.
CML: That question was mean to make you predict the rate of acceleration that will sustain itself now…
RT: We have our own financial guidance that's out there, which is prudent for the second half, I'll say that, which is also very consistently prudent.
CML: I would guess that your comments about Twilio and the API — they're interesting, Rowan, because serverless is becoming a feature of some young companies like Rapid7, the security company, with their cloud worker programs.
And there's this kind of, you know, far-out notion, like, if you have AWS or some serverless stuff, more stuff is like an API.
But it sounds like you're saying for your customers, something that's a finished product, that's infrastructure, is important.
In other words, you're an infrastructure for doing this front-office work.
You don't just simply hand them an API. That sounds like that's important?
RT: Yeah, the analogy is, there's a market for people who want to buy homes, and there's a market for people who want to build homes.
And we're selling homes, we're not selling lumber and grading devices and all that other stuff.
If you want to buy a finished app and do your business, and you want to buy an off-the-shelf product that serves your needs, and is not your core competence, they come to us.
That's the vast majority of the market.
And we've seen this in waves. I mean, I've been around for a while.
In the '90s, we saw the wave with ERP [enterprise resource planning], where every company took ERP and said, we're going to go build our own, in part because the core technology wasn't very good.
And so, you would kind-of do that. A lot of companies got stuck on dead-end paths.
Now they've got this incredibly complex ERP back end.
Meanwhile, Oracle is accelerating and walking away, and NetSuite and all these other things are starting to come out.
And I remember at the company I worked for at the time, in the '90s, we looked at our ERP infrastructure, and we're like, holy shit, we're spending tens of millions of dollars to do something that has nothing to do with what we do as a company.
Why aren't we getting on to the industry standard or just using off-the-shelf apps?
So, the industry really kind-of swerved back to commercial off-the-shelf.
And Salesforce benefited from that, and NetSuite, and all these other kind of SaaS apps.
There is always, in early days in industries, there's always an instinct to kind-of try and do your own, because you can do it better than what's out there in the market.
So, I think that's somewhat the appeal of the development platforms in general.
Quite frankly, what Twilio has done very well, they're not an app company, they never haver been.
Same is true of Amazon who is also competing in this space.
They're, you know, they're a developer API infrastructure platform, and that's proving out to be a massive market. And it's an expanding pie.
Amazon growing is not taking away from Salesforce, you know.
And I view it the same way in our space. Like, Twilio growing with their API platform, and all the use cases they've identified, is not taking away from our growth.
Again, it's an expanding world, and the vast majority of customers that I talked to in this market want to buy off-the-shelf SaaS apps.
Now, they do want a lot of customization.
So, we've invested a lot in building out our API platform.
And also, we heard from customers that hey, look, this whole story about, ask your developer, and, you know, go write the code — that's interesting, but what customers tell me is, I don't have access to developers.
And that's very expensive.
That's one of the reasons that we drove this acquisition of this company called Whendu [a $15.9 million acquisition by Five9 last November, formerly SpiderMonkey LLC, of San Francisco], which is a No Code platform that allows you to do a lot of the heavy lifting and wiring things together in the contact center, which is what's required, and without having developers.
That's really a direct response to what our customers told us, which is, we want to do these more complex workflows, but I don't have access to developers.
There's not enough developers so can you help me.
This is a trend that's outside of, bigger than, Five9.
The No Code trend is definitely — I think it's new and it's complementing the off-the-shelf apps.
So, you kind-of now have something that looks something like a hybrid.
It's a commercial off-the-shelf app that does everything, but it's also got a really nice service area of APIs to allow you to plug it into your business processes.
And if you don't want to code, it's got a higher level workflow that's No Code which allows you to just drag and drop and click and wire these things into your existing backend systems.
So, I think that's kind-of the best of both worlds, and that's working for us right now really well.
CML: And it's true across commercial, small, medium businesses and enterprise?
RT: Well, it certainly is.
In fact, if anyone doesn't have access to developers, it's usually the smaller businesses.
The larger enterprises are more likely to have access to developers.
What we have seen — and frankly, our commercial business has been doing better than expected, also, through the last six months.
And part of that is because we're selling to a different kind of buyer in the commercial segment who is more interested in — where contact center is more core to their business.
There are small, medium businesses who are just looking for a dialer or they're just looking for something very, very rudimentary.
That's not usually who we're selling to.
We're actually finding more and more small businesses who want to differentiate around customer service.
So, it becomes core and strategic to their business.
And we've shifted our go-to-market strategy on that front. And those customers have been churning less, they have a higher average revenue per user, they see us as more core to the business.
CML: But the enterprise, you're saying, also will go for this?
RT: Yeah, absolutely.
I mean, the Whendu acquisition we made, we launched four new packaged apps on top of it, sort of packaged workflows, on top of it, workflow automations, since we've acquired it.
We've beaten our board plan from a bookings perspective on Whendu.
It's almost double what we thought it was going to be, and it's going really well.
CML: Exit question for you, Rowan. Are there other areas within the vicinity of customer service that make sense for you guys to pursue as digital transformation happens? Video conferencing? CRM-type stuff? Enterprise chat?
RT: Yeah, absolutely.
In fact, one of our growth strategies is to expand the portfolio.
There are two ways for us to make money: get more customers or sell more to the customers we have.
On the latter, we've been expanding our portfolio, not only with Whendu but also with Virtual Observer [acquired in April for undisclosed terms, formerly known as Coordinated Systems, of East Hartford, CT.], which is workforce automation and optimization.
The Virtual Observer acquisition is going really, really well.
And we see that there are increased abilities for us to have even more adjacencies.
So, in areas like automation, which, Agent Assist is taking us in that direction.
As we mentioned, IVA, the virtual assistant, voice-based assistant that can answer questions for customers automatically.
I think a lot of adjacencies are now more on the table as the contact center-as-a-service, as that layer of the platform, becomes more established.
It just opens up the door for us to continue to expand our portfolio.
So, yeah, that's a big part of the strategy to expand the portfolio, and I've got a preference for organic development over acquisitions.
So that's why we're investing in AI, and we think we've got a lot of data there to mine.
THE FUTURE
It's understanding technology that gets us an edge to find the "next Apple," or the "next Amazon."
This is what CML Pro does. We are members of Thomson First Call (Refinitiv) -- our research sits side by side with Goldman Sachs, Morgan Stanley and the rest, but we are the anti-institution and break the information asymmetry. We have a third party audited performance track record.
Thanks for reading, friends. The author has a postion in Five9 (FIVN) on the date of publication.
Legal
The information contained on this site is provided for general informational purposes, as a convenience to the readers. The materials are not a substitute for obtaining professional advice from a qualified person, firm or corporation. Consult the appropriate professional advisor for more complete and current information. Capital Market Laboratories ("The Company") does not engage in rendering any legal or professional services by placing these general informational materials on this website.
The Company specifically disclaims any liability, whether based in contract, tort, strict liability or otherwise, for any direct, indirect, incidental, consequential, or special damages arising out of or in any way connected with access to or use of the site, even if we have been advised of the possibility of such damages, including liability in connection with mistakes or omissions in, or delays in transmission of, information to or from the user, interruptions in telecommunications connections to the site or viruses.
The Company makes no representations or warranties about the accuracy or completeness of the information contained on this website. Any links provided to other server sites are offered as a matter of convenience and in no way are meant to imply that The Company endorses, sponsors, promotes or is affiliated with the owners of or participants in those sites, or endorse any information contained on those sites, unless expressly stated.