The world of contact center is going to stay at home perhaps permanently, Five9 (FIVN) CEO Rowan Trollope tells Capital Market Laboratories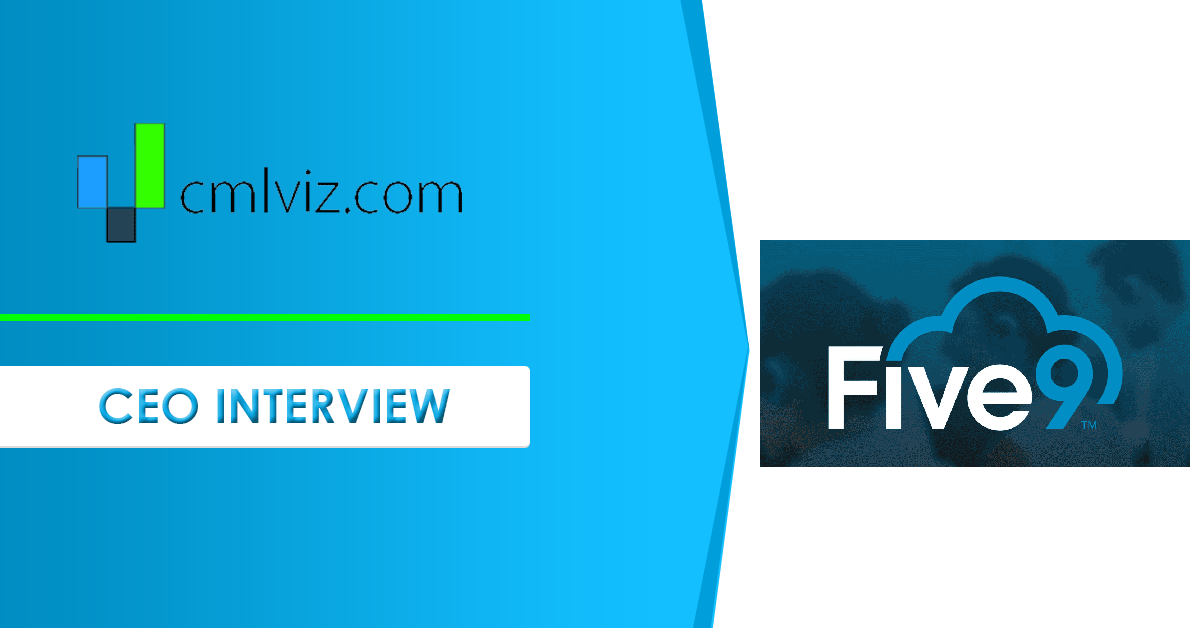 The world of contact center is going to stay at home perhaps permanently, says Five9 CEO Rowan Trollope
Shares of unified communications mavens Five9 (NASDAQ:FIVN) are up 15% from the company's Q1 report on May 4th, at a recent $110, buoyed by quarterly revenue and profit that topped consensus and a higher outlook for the quarter and the full year.
The only blemish was the year view for earnings, where the company cut its prior forecast to a level below consensus.
That cut is the result of a combination of factors: low interest income with the Fed's cut in rates; the expected loss of some subscription revenue and hard-hit customers unable to honor payment terms; and an additional $3 million in investments the company is making to build its business.
As he has done in past, chief executive Rowan Trollope sat down with Capital Market Labs to discuss the quarter and the road ahead, this time via a Zoom videoconference given the ongoing coronavirus pandemic.
It's a Zoom world now, of course, and many people who used to sit in cubicle farms, row upon rows of desks in the call center are now taking calls at home. Trollope predicts most will never go back to an office building.
His largest customers tell him they are moving from 50% to 80% of their call center staff to a permanent work-at-home arrangement.
"We surveyed our customers and 75% of them said that they are going to keep at least half of their staff working from home," said Trollope. "And that is such a dramatic shift in this industry, I can't even tell you. Our largest customer said 80 percent of their employees are going to stay working from home."
That shift that may become permanent has the potential to fuel new product offerings from Five9, said Trollope. There is a category of technology called workforce optimization, he noted, that now needs to let a call center manager remotely look in on what's happening to an agent without physically being able to walk by the agent's desk. Five9 had already acquired a company in the optimization market, Virtual Observer.
"In a work-from-home scenario, the adoption of that technology is going to probably go way, way, way up from where it's been."
The permanent work-from-home contact center could even have an impact on U.S. jobs, he opined. "You can actually see onshoring of jobs that were previously offshore," suggested Trollope. We've got millions and millions of Americans out of work […] Let's bring those jobs back."
Trollope also sees new business in the lockdown of brick-and-mortar retail, with the call center becoming the front-line of the retail experience. "You could look at it as less retail employees, but more contact center employees," he said.
Five9's staff was able to keep selling despite the move to shelter-in-place in California, said Trollope (Five9 is based in the city of San Ramon in Silicon Valley.)
We have been able to execute through the COVID crisis in terms of continuing to make large enterprise sales."
As for the economic outlook in a pandemic, "I think there's still a lot of uncertainty," said Trollope. "We were very cautious in our guidance."
To mitigate that uncertainty, the company provided some extra metrics, said Trollope.
"We issued guidance for Q2 that was a little stronger than we normally do," he said. "We gave investors insight into our Q1 of bookings pipeline that was double what it was a year ago."
To recap the quarter, revenue in the quarter rose 28%, year over year, to $95.1 million, yielding earnings per share of 17 cents, topping consensus of $89.6 million and 15 cents per share.
For the current quarter, the company sees $90.5 million to $91.5 million, and 15 cents to 16 cents per share, versus consensus of $89.4 million and 15 cents.
For the full year, the company projected $380.5 million to $383.5 million in revenue, above consensus for $367 million, but also cut its forecast for profit to a range of 72 cents to 76 cents versus a prior forecast for 83 cents to 87 cents and consensus for 84 cents.
Trollope also discussed partnerships with AT&T and with Zoom. In the latter case, Five9's contact center is being integrated with the Zoom Meetings program, to more nimbly pass customer calls back and forth between the call center and other employees. In addition, Five9 will get the benefit of having the Zoom sales team and sales channel bring Five9 into deals.
"It's still early days, so we haven't put numbers on this partnership, but it has the ability to be material to Five9," he said.
CML Pro One-on-One with Five9's CEO
Capital Market Labs: As usual, Rowan, I would throw it out to you, I've read a bit of the transcript from the May call, but what things do you think are most important for investors to take away from the results and outlook?
Rowan Trollope: I think, number one would be our AT&T partnership. We've been working on that for a year. It was a competitive, very competitive process. And AT&T selected exclusively Five9.
You know, they are the big dog when it comes to the distribution channel for UC [unified communications] as a service, as well as contact center.
I think the meaningful thing also about it is that they didn't choose a product for on prem, and one for cloud. They chose cloud all-in. And that's definitely a shift for them.
They had sort-of previously offered the whole Chinese menu of all possible options and now they're basically saying nope, we're going to go with cloud and it's all cloud right out of the gate, with Five9.
So, we're super excited about that. They've been an incredible partner.
I've partnered with them for years at Cisco [Systems, where Trollope was an executive prior to coming to Five9]. And the AT&T business leadership team is just moving at lightning speed.
You don't normally associate service providers and lightning speed, but they have really led some kind of an internal transformation or something.
They've been great to work with. So that's very meaningful for us. It's not baked into our 2020 numbers you know.
Maybe that's the sort of the second point in terms of the biggest takeaways for investors is, the second point would be that we still are operating in a very big market that is transitioning to the cloud. Nothing has changed with regards to the market.
We have been able to execute through the COVID crisis in terms of continuing to make large enterprise sales. Continue to execute very, very well.
We've definitely benefited somewhat from COVID-related shifts. I think work-from-home is the big one.
Essentially when any contact center now, if they're operating, certainly in the US, and probably in most of the world as far as we can tell, these agents are now working from home. And that's, I think, going to emerge as the new normal.
We surveyed our customers because we were quite interested in this seeing this trend and wondering what was going to happen next.
And we surveyed our customers and 75% of them said that they are going to keep at least half of their staff working from home. And that is such a dramatic shift in this industry, I can't even tell you.
Our largest customer said 80% of their employees are going to stay working from home. You don't have to scratch too deep to understand why.
There are real economic benefits to contact centers from moving away from all that fixed, upfront cost and time, that it's all from a single location. Just between those two things. Real estate costs, buildings, you know, telephones, all the rigmarole.
If you could access talent and manage it in a way that's effective working from home, I think that what we're hearing from our customers is that's way better, and we want to do that.
And then there'll probably be some customers that work in a hybrid mode. And I'm guessing very few kind-of just go back to the old way of, you know, everyone is in the building.
So that's the second thing. We're probably benefitting from that somewhat, as well.
CML: Did you want to add further past those two things?
RT: Yeah, I would say the third thing is that this is very much business as usual at Five9. We're an execution machine.
The COVID crisis probably, actually served as a galvanizing function for our teams.
We did an employee survey and found that our employee engagement had gone up during the crisis. We spent a lot of time with our employees engaging with them every week.
So, I have weekly calls with the entire company. Much more engagement than we had previously.
We already had, you know, very, very top marks when it comes to our engagement scores, and now we've sort of increased those even more.
That, I think, has sort of helped us execute through this crisis. And that's kind of the Five9 that our investors know and love, which is the predictable, reliable, kind-of, you know, nose to the grindstone, just get it done and execute and deliver, and that's what we did in Q1.
We issued guidance for Q2 that was a little stronger than we normally do. We gave investors insight into our Q1 of bookings pipeline that was double what it was a year ago.
And part of that is driven by the channel that we mentioned in the first point, AT&T and others. So, yeah, it's very much business as usual for Five9.
We're just continuing to keep our heads down and execute through this crisis.
CML: Let me ask you to drill down a little bit on the point about work from home because it is very interesting as you point out, Rowan. The first question I have is, what part of the product offering is seeing that surge in demand for remote work? Is it just moving seats to cloud, is it in other functions such as AI-based answers?
RT: I think that it's primarily the first point you made, which is awareness that it's easier from cloud.
So, I'll give you one anecdotal example to make that point. Just to give you some background, it is possible to run an on-premises contact center with at home agents.
CML: Right, sure. Just like a VPN situation….
RT: A VPN, right. So, a lot of customers, if the stars were aligned already, you know, that would have been a somewhat seamless transition. But that company has to maintain as, you said, VPNs with enough bandwidth.
Often contact centers use hard phones, so they would have to switch to soft phones. That kind of stuff.
So, it's not easy. And, furthermore, maintaining that, because when you go home, the network architecture changes because you're no longer in a world where everyone's in the same building.
So, you've got to make sure you have a robust infrastructure to handle that. So, if the stars were aligned and companies were already well set up to handle this kind of crisis, great. Most companies were not.
So that meant it was a lot more work. But net-net, every company I think, or many of them figured it out.
But just one anecdotal example, where this awareness of cloud being a better fit for this kind of a scenario with work from home, came to us from one of our largest customers, an insurance company.
They had north of a thousand agents on our platform, but they were part of a division of a much larger company that was evaluating Five9 and other on-premise solutions.
They're currently on an on-premise solution. And they engaged with the part of the organization that had moved to Five9, and said well, can you please give us a white paper or some description of what you went through to get your agents productive working from home with Five9.
And the e-mail they sent back was, sure, next line, we sent our agents home. That's it. I mean, there was nothing to do.
That put us in a much better position with the rest of the organization who were looking at many, many more thousands of seats to move. And when they saw how easy that was with Five9, I think that set us up well.
So, I think there's an awareness in the industry now, and amongst contact center our operations people, that, hey, you know, if you're going to leverage work from home, it kind of goes hand-in-hand with that, that you should be moving to cloud to do that.
CML: So, the shift to cloud is the predominant aspect here of work from home for you?
RT: Well, I think it will be, given what we're hearing from contact center folks that they're going to leave their people working from home. Yeah, I think this is going to accelerate cloud adoption.
CML: Is there any impact on R&D for you? Are there product opportunities that emerge as this happens? Maybe not immediately, but down the road?
RT: Immediately there are. The first conversation we have with our customers was just, you know, crisis mode, help me get working from home.
And while the software side of things wasn't that complicated, it was even just simple things, like, do your employees have laptops or do they have home desktops.
Do they have a quiet space? You, know, are there barking dogs or babies or other parents at home? That kind of stuff.
So, once they got beyond that kind of, okay, now our agents are able to take calls, the second conversation that we have with a lot of our customers was around, okay, now how do I make sure they're productive?
They've been working at home for a week, I don't know what they're up to. Well, the way a lot of contract workers work in big open spaces, you know, cubicle farms, the supervisors walk around and listen to calls.
They overhear, they grab an agent after a call to say, Hey I heard you, seems like you were getting frustrated on that call, can I help? You can't do that when people work from home. You don't see them, they're — you don't get that information.
So, there's a whole category of technology out there called workforce optimization that is built for this.
We acquired a company recently, not intentionally because of COVID, we didn't know about it pre-COVID, but, I guess, good timing for us, called Virtual Observer.
And Virtual Observer is a way of virtually observing your agents and engaging with them. Very, very simple.
It lets you listen in on their calls, even whisper remotely, so you can hit a button and the agent can hear the supervisor whispering, Hey, try this, the agent can hear it but the caller can't.
Same on text messages where they can have a one-way conversation with the agent that doesn't go to the customer.
So, they can sit and listen in, they can review calls after the fact and do scoring. They can push training out to those in place. That's a whole category of workforce optimization.
We made this acquisition; it's gone really well and that's been a whole other set of conversations.
So that technology is not penetrated into every contact center. Again, a lot of them just do it manually.
But in a work from home scenario, the adoption of that technology is going to probably go way, way, way up from where it's been.
So, there's opportunity for us there, and I'd say one step further, those technologies weren't built specifically with work-from-home in mind, but they do work well in the work-at-home environment in terms of helping your agents be more productive.
But the next level we've been hearing from customers is all kinds of new things that they're asking for to help them keep their agents productive in a work-from-home environment.
For example, monitoring. Just what is the agent doing when they weren't taking calls? You know, if they're in person, they can kind-of see it, but if they're not, you know, desktop screen recording is an example of that.
Another good example is more flexible scheduling. You know: if you come in to the office from 9 to 3, that's your schedule, you're there from 9 to 3. Maybe you get a lunch break and some breaks.
But in a work-from-home environment, you might be handling childcare, you might be doing drop-offs, you actually want to have a much more flexible scheduling.
Like, I'm going to take calls from 9 to 11, and then from 11 to three, I'm going to be dealing with my kids. And then, in the three to seven, I want to be back on calls or something like that. So, more flexible scheduling.
I think also on the recruitment front, if you were to stay in a permanent work-from-home environment, the ask is, help us find people. You know, help us find people, and then train them remotely.
So that's a new thing where typically you'd plop down a building in the middle of a city, and you'd advertise jobs.
Then you get a bunch of you know employees and so on. So now there's a whole different mode of managing those employees, onboarding them and making them feel like they're part of a team.
Another really simple example is we've been jointly selling Zoom; we have a Zoom partnership.
And, just how do you talk to your agents if they're not there in person? Enter Zoom.
So now we're seeing contact centers actually come to us to say, can you guys help us since you have this relationship with Zoom?
So, we're bundling Zoom and Five9 much more so that the agents can talk to their supervisors and have their daily team meetings. They typically didn't tend to be Zoom users before because they were all in person.
CML: On the conference call [with analysts], you said something about how you can pick out Zoom users who are subject-matter experts, and have them have a one-on-one with customers. What does that mean?
RT: I'm talking about two separate things. The thing I just mentioned was literally just using Zoom just to talk to your agents and have your daily meetings.
CML: To integrate Zoom as a tool —
RT: Yeah, just as a tool, it was pretty much standalone, right?
The second, more important, the point that you just mentioned is the integration we've with Zoom. And that was actually very simple.
Let's say I get a call into the contact center and you're calling me about your bill.
CML: You're the agent, I'm the customer?
RT: Right. I'm the agent, you're the customer, so you call me, you say my bill is wrong. I say, I can't fix that, I need to transfer you to the billing department.
We would call that the subject matter expert. So, then I am going to dial on my screen, I'm going to click on the name of the person in billing, let's say it's Michael.
So, I say, "Michael in billing," and then I hit transfer. At that point, what's happening is, Five9 is taking the telephone call or text message or what have you, and transferring it to Zoom Phone in this case.
So now Michael, who's the billing guy, his phone rings and he picks it up and it's the customer and the agent. And now he can be a part of that conversation.
And where we've gone one step further is, we can hand off the call with context because the bad thing with the experience gap that we're trying to fix is, I transfer you to billing, the very first thing Michael does is say, Tell me your name, what's your account, you know, I don't know who you are, so please give me all this information.
So, what we're doing is, we're packaging up all that information that the agent already collected or that you maybe entered and was pulled up from your telephone number.
And when the zoom phone rings there's a feature that we built, and the Zoom guys have built, where that information and context is popped up on the screen.
So, it says, ah, this is Tiernan, he's been a customer for five years, supports says he has a billing problem, here's a copy of the bill.
So now, Michael picks up and goes, "Hi, Tiernan, I'm Michael in billing, I see your record here, blah, blah, blah."
So, they're not a contact center worker, they're just another expert within the company. That's the feature that we've integrated.
CML: And they want this because they want those people who are on Zoom in the company to be able to be on that infrastructure?
RT: Yeah, exactly. So, Zoom is selling a phone system now that replaces your existing phone system. And you know you're taking the phone on your desk away and replacing it with a soft phone.
And what's beautiful about that soft phone is it has this ability to do these pop ups. You can't do that on a voice over IP phone, right? It's like a little digital display. They're very cheap.
So now we get this new modality where it comes in as an inbound phone call, but it's adorned with this extra metadata that helps you give you the context of why this person is calling and who they are.
And we probably pulled that out of Salesforce and then sent that over through this feature.
CML: How much pull-through do you think you might get, Rowan, from having the Zoom team, and the channel for Zoom, bringing this along?
RT: You know, Zoom is entering the phone space.
They've had huge success, obviously, with the Meetings product. Their strategy has been, if you look at the Meetings product, it basically has everything that a phone product has, it's a superset.
So, they created this sort-of phone product but leverage a lot of the same infrastructure that people rely on.
And they're selling that to their customers, and what they're replacing is the customer's existing hardware PBX.
And that means that they also they have to replace the contact center because the hardware PBX will have a legacy contact center.
That's where they refer the deal to us. So, what's happening is they're calling in to sell Zoom Phone, and then they have to sell the customer, we've got a partner that we can give to you, in this case Five9, to replace your contact center and integrate tightly with Zoom.
CML: And so financially, do you think there is a measurable impact down the road?
RT: Oh definitely.
CML: Pull through, right, or attach rate or something?
RT: It's still early days, so we haven't put numbers on this partnership, but it has the ability to be material to Five9.
CML: I noted when Barry [Zwarenstein, Five9's CFO], was talking about the financial modeling that you did, very careful modeling.
You did a lot of disclosure on the [conference] call, going customer by customer, and looking at, in particular, enterprise deals and push-outs and pull-ins, and the pipeline. You mentioned that AT&T has not been factored into the formal year outlook.
Is there a reason you don't want to offer numbers for what that might be on a revenue basis?
RT: Yeah. Mainly because we just launched it at the end of Q1. And when you look at the sales cycle, and in the implementation time, it's unlikely that those deals would be — at least the larger enterprise deals — affecting our revenue in this year.
You're talking three to six months of sales cycle. You know, three to six months of sales cycle, three to six months of deployment time. So, it's a 2021 effect, not a 2020 effect.
CML: I noticed you had $650 million of converts [convertible bonds] you just issued….
RT: Yes.
CML: What's the reason to go to market for that?
RT: First, you're taking advantage of a good time to raise money. Effectively, low cost of capital.
We had an existing convert out there that we did when I started my first day at the company. If you go back and rewind the clock, we never did a follow-on.
So, benchmark-wise, cash on our balance sheet versus market cap, we were low.
Since we issued the first convert, our stock price has tripled. And so those bonds are now all in the money, so they're costing us a lot of money.
So, part of this convert was to refinance those existing bonds and get a much higher convert premium on it. So now it's up 100% over the stock price when we raised, which was $103.
So, the convert now happens at $206. We bought that call.
So, the net of it all is, it's very, very low cost of capital that we can put on our balance sheet. And even with the money we had raised, our market cap now being over $6 billion, we're still low on cash on the balance sheet.
So, this allows us to stock up some money on the balance sheet for a rainy day. Which seems like a good idea at a time when markets are the way that they are.
CML: So, how do we think about a V-shaped versus an L-shaped recovery now, and things like travel and leisure and hospitality, big, big areas for you?
Do we think we know everything about them in terms of what we see in the current numbers and employment numbers, or is there a lot of uncertainty?
RT: I think there's still a lot of uncertainty. We were very cautious in our guidance. I'll give you a couple of factors.
One, as you mentioned, we went line by line, company by company, and we assumed what we thought was somewhat of a worst-case scenario, an L-shaped recovery for the back half of the year. We'd be happy to be pleasantly surprised. I did see the employment numbers come out, and certainly those were more positive although there was some fly in the ointment that I didn't totally understand on the reported data.
So maybe they weren't quite as positive as they said they were. It still surprised to the upside.
I would say the second factor there, we were relatively under-exposed to the hardest hit industries.
Less than 50% of our base was in travel and leisure and consumer goods.
So, we were actually in a relatively good position there, which helped us. I would say that one thing that surprised us is, we took sectors like retail.
One of our largest customers is a global mobile retailer. And we took them down. We just assumed the top line is going to come down, we took the industry estimates for this particular segment of retailing and we just assumed that we would see an impact in usage on our platform.
We saw the opposite. We saw the numbers go up. And what we didn't anticipate, now we've learned, is that, yes, this retailer closed all their physical stores, and yes, their top line went down, but the volume of their online business went up.
The front door to that online business in a way is the contact center.
So, the contact center volume went up. And you could look at it as less retail employees, but more contact center employees.
So, we have been quite surprised by some strength in the usage in some of these segments that we just weren't anticipating, and it's something that I've been talking about for a while, the move of brick and mortar to e-commerce should in theory benefit contact centers. We just hadn't actually seen it this notably yet.
And so, we saw it in that one example, and, like I said, you know, we did guide to a stronger-than-normal Q2. We just were quite cautious for the back half.
CML: And as far as the contact center as a profit center for companies, is it more so now? Is that what you're saying? That for some of these companies, it's more so now a profit center?
RT: Yeah, it's fulfillment, it's ordering, its closing deals.
You know, it's what your retail employees used to do. You've seen, probably, some of the stats where it's, like, e-commerce has spiked, right?
And so, what do you do when you're looking at a product on the Web site that you normally would have been in a store talking to someone in the aisle like, Hey, is this good, is it this fridge or that fridge? But now you're online looking at the same damn fridge, there's no retail employee to grab, you pick up the phone.
You say I want this one, but I don't know if it's as good as that, blah, blah, blah. Now you're getting sold and up-sold through the contact center.
That was the thing that we had believed was happening, but now we're actually seeing it happening.
CML: In the waning minutes that we have here, Rowan, I would throw out to you an executive thoughts kind of question that I'm really interested in for people who have to manage teams.
I like this quote from Steve Jobs that was used by Walter Isaacson in the biography of Jobs. They were talking about Pixar, and Jobs was talking about serendipity, is the word he used. They made Pixar the classic open workspace so that when you're going to the cafeteria you bump into someone from engineering and you have this exchange about, you know, I wasn't expecting to see, you but now that I see you, it reminds me I want to send you these data I did, I recompiled.
And so, what do you do now, when you have all these great tools, you have Zoom and you have all this stuff, but things as far as I can tell don't happen serendipitously in the sense that something intrudes unexpectedly in a positive way in your work day, and you start interacting without anyone having planned. Not just spontaneous but unintended. How do you recreate that in this environment?
RT: Yeah we've given that some thought. Two thoughts on this.
One, I guess a direct response to this, I'm doing something that I call manufactured serendipity. We're using technology from a startup called Donut [Donut Technologies, Inc.].
And the way that it works is myself, my leadership team, and hundreds of other Five9 employees are in a Slack channel called Virtual Coffee.
And what Donut does is, it will introduce you every two weeks to a random person in that Slack channel, and you have a meeting. It's a 15 minute, 20 minute let's grab a cup of coffee virtually.
And so, a lot of employees have joined that, and it's a way to create those serendipitous connections.
You can also configure the tool, say, I don't want to meet with these people, like, maybe the people I already know really well.
It remembers who you've met. So that's an example of leveraging technology to manufacture serendipity in a remote world.
The second thought I have on this is something that my CTO and I have been talking about, and that is, do we think that there is going to be a permanent change in a work from home environment.
And the observation is, and being in the video industry for a long time, I've noticed this, in a world that we're in right now, it's easy to convince yourself that this, you know, doing remote meetings like this is just so good that why would we ever go back to being in person again.
And outside of things like serendipity as you mentioned, there are actually some good reasons for that.
Right now, it's a level playing field. Everyone's remote. Nobody's in person, so nobody has an advantage right now.
But when offices start to reopen — and the current, I think, policy for level three or two or whatever we're in, is 25%, so our office, we're opening it to 25% of employees, turns out, not that many people want to do it.
But when you do go to that — whether it's 25% or 50% or 10% or whatever — you're creating an asymmetry in the advantage that the people in person have.
So now, let's say you're, you know, in the billing department and you're going to the weekly staff meeting, maybe there's only 25% of the staff there but the boss is there.
All of a sudden, you've got the advantage. You walk out of the meeting, you're clapping him on the back, let's go to lunch next week. Blah, blah, blah.
You get the in-person, that feel. That's going to create an effect, my prediction, that ratchets back up the need to be back in person because people want to get ahead in their careers, they're going to be like, if Joe's in the office, Mary is going to want to be in the office too.
CML: It's like you're not in the club that's an important club…
RT: Exactly. Most people are going to have swung so far to the work-from-home, and believe that that's going to solve all of these problems, and then they're going to discover that things like this are out there, and they're going to go, ooh!
And where the serendipity thing, there's probably a handful of these other factors where the pendulum will swing back more towards at-work, or at-work, in-person, for certain kinds of jobs.
For contact centers, I think the opposite is true. I think people are going to go, Wow, that was really effective. We had access to more talent. We don't need to have all this fixed cost investment for offices.
You can actually see onshoring of jobs that were previously offshore. That's one other big thing that I think needs to be said.
We've got millions and millions of Americans out of work. And we've gotten millions of jobs that we shipped overseas for low cost labor in the 90s and in the 2000s.
Let's bring those jobs back and give them to people and enable them to work from home. These are great jobs.
These are not even minimum-wage paying jobs. They can be quite highly paid jobs, with the flexibility of working from home.
You don't have to drive around. You can pick up your kids and drop them off.
We could really make a dent in this problem if we were to get onto this from a legislative perspective or do any kind of incentives to encourage businesses to do it.
I mean, there's natural economic incentives. But I think there's a bigger opportunity here to get the word out that, Hey, let's onshore some of these jobs that we sent overseas and give 'em to people that need the work today.
CML: Anything you want to add that we haven't gone over?
RT: I think we covered it.
CML: Thank you so much for taking the time as always, Rowan, and I'll hope to see you next quarter.
Conclusion
Finding the gems like Five9 (FIVN) before they are household names is what CML Pro does, with an auditor verified track record, because of course it's verified.
Each company in our 'Top Picks' has been selected as a future crown jewel of technology. Market correction or not, recession or not, the growth in these areas is a near certainty.
The precious few thematic top picks, research dossiers, and executive interviews are available here:

Thanks for reading, friends.

The author has no position in FIVN at the time of this publication.

Please read the legal disclaimers below and as always, remember, we are not making a recommendation or soliciting a sale or purchase of any security ever. We are not licensed to do so, and we wouldn't do it even if we were. We're sharing my opinions, and provide you the power to be knowledgeable to make your own decisions.

Legal
The information contained on this site is provided for general informational purposes, as a convenience to the readers. The materials are not a substitute for obtaining professional advice from a qualified person, firm or corporation. Consult the appropriate professional advisor for more complete and current information. Capital Market Laboratories ("The Company") does not engage in rendering any legal or professional services by placing these general informational materials on this website.

The Company specifically disclaims any liability, whether based in contract, tort, strict liability or otherwise, for any direct, indirect, incidental, consequential, or special damages arising out of or in any way connected with access to or use of the site, even if we have been advised of the possibility of such damages, including liability in connection with mistakes or omissions in, or delays in transmission of, information to or from the user, interruptions in telecommunications connections to the site or viruses.

The Company makes no representations or warranties about the accuracy or completeness of the information contained on this website. Any links provided to other server sites are offered as a matter of convenience and in no way are meant to imply that The Company endorses, sponsors, promotes or is affiliated with the owners of or participants in those sites, or endorse any information contained on those sites, unless expressly stated.