Capital Market Laboratories (CMLviz) One-on-One Interview with Five9 (FIVN) CEO Trollope Sees Progress Trying to Change a 'Crappy' Quarter-Trillion Call Center Industry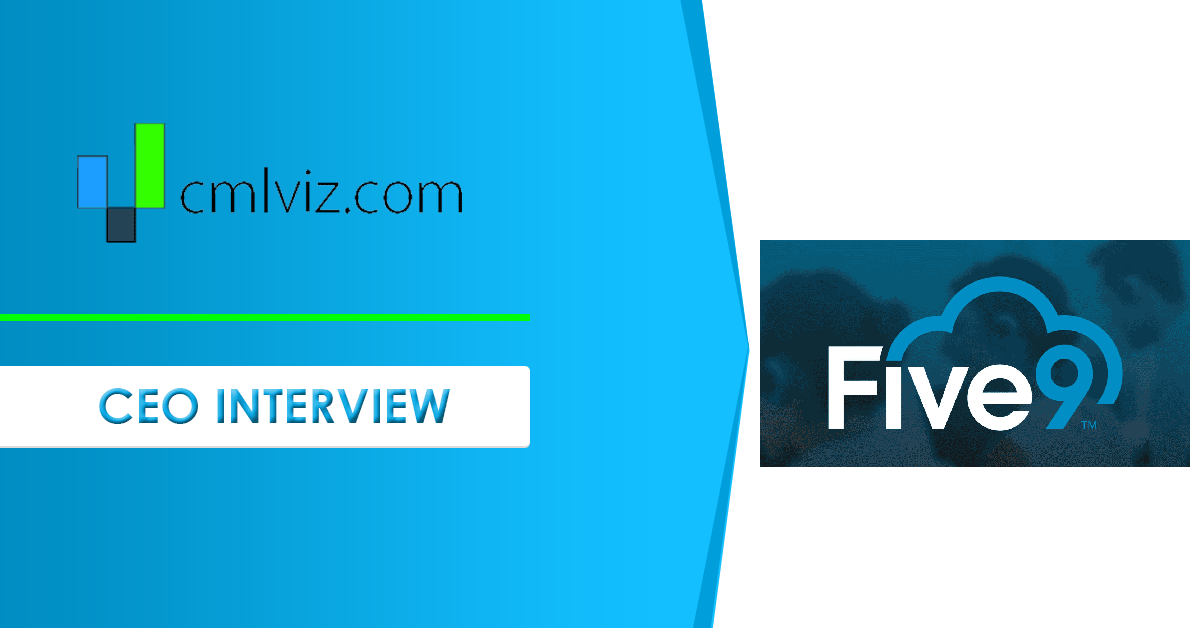 Date Published: 2019-08-29


Disclaimer
The information contained on this site is provided for general informational purposes, as a convenience to the readers. The materials are not a substitute for obtaining professional advice from a qualified person, firm or corporation. Consult the appropriate professional advisor for more complete and current information. Capital Market Laboratories ("The Company") does not engage in rendering any legal or professional services by placing these general informational materials on this website.


Lede
Hello, all. This is Ophir with the lede, then Tiernan with our one-on-one CEO interview.

Call centers are a massive industry spread across the globe. The vast (vast) majority are not cloud based, and most are nothing but telephony. This leaves customers unhappy, and costs spiraling out of control with scale nearly impossible without yet more costs.

Along comes a new player with a new idea - turn the customer service portion of the business into a technology hub - insert artificial intelligence (AI), go beyond telephony, add data analytics, put it in the cloud, and turn it all into a profit center. Make customers happier, faster - make corporations more profitable. Make scale easier, faster, and less expensive.

This is the thematic shift coming to the call center and Five9 (FIVN) is leading the charge.

We now move to Tiernan Ray's piece, below.


Preface
When young companies sell software their efforts are marked by an optimism about changing things in the way companies function. That tone is evident in the speech of Rowan Trollope, who took over in May of last year as chief executive of fourteen-year-old Five9, which went public five years ago. Now cruising toward perhaps $315 million in revenue this year, the company is on a mission to replace "crappy" customer service with support that's like a dream come true, according to Trollope, who in fact worked the customer support line himself when he started his career in tech.

The company has brought in a raft of new executive talent in the past year as that vision of saving customer support "has super-resonated with people," he says, and is "luring star team members from all over."

Trollope, speaking with Capital Market Labs following a comfortable Q2 earnings beat on July 31st, spent little time talking about the stock's nearly 17% jump in price the next day. (The shares are up 45% this year at a recent $63.16.)

He was more interested in talking about the new hires, about luring more enterprise customers, and about how Avaya and Cisco still can't compete with what his company is offering.

To recap, Five9 reported revenue in the June-ending Q2 of $77.4 million, and EPS of 20 cents, topping consensus for $72 million and 12 cents per share. For this quarter, the company forecast revenue in a range of $78 million to $79 million, and 14 to 15 cents EPS, topping the average estimate for $76 million and 14 cents. For the full year, the company projects $312.5 million to $314.5 million, and 70 cents to 73 cents per share, again above the average estimate of $306 million and 64 cents.

One-on-One CEO Interview

CML: You and I spoke about a year ago, so maybe tell me what changes have been the biggest for Five9 in the past year.

RT: One really big thing for us is that I brought on new leadership. I brought in a head of product from Facebook, who led the Messenger for Business platform. He's been a very forward thinker on how consumers want to engage and connect with businesses. So, just people-wise, it has been great building out and attracting all-star leadership.

We are at $300-million plus in revenue, going to a billion. So, we have brought in team with a bunch of different dimensions to get us there. Jonathan, our CTO, was a pioneer of the SIP protocol [SIP is a fundamental enabling computer network protocol for packet-based voice Communications]. He's our head of AI as well.

And, we have been able to keep our existing great leaders onboard, including our CFO, our head of sales, and our head of operations - a great, solid core that I have extended with great enterprise and deep technology forward-thinking people.

Now, people ask the follow-up question, which is what attracted them to come work here. It's the mission. The mission of this company, which has come into clear focus, is that there is $250 billion spent by businesses every year on the customer service category, to deliver what most people would say is a really crappy experience. Think about that, a quarter-trillion to deliver something no one likes. That seems like an opportunity to me.

A lot of it has to do with technology being too complicated. Technology is supposed to be there to serve businesses. But it was always too complicated for them to use, and to update, and to maintain and deploy.

I remember working in the contact center in a previous job. There was apathy. We couldn't get the system to do what we needed it to do. We are now in a time in the world where the technology can get out of the way, the complexity can be eliminated.

That has super-resonated with people, and it is luring star team members from all over. Our GM for international, and the leader for our channels business, both joined us with experience in this category, having built out market leadership at other companies. We just hired a new head of professional services. We are firing on all cylinders from an execution perspective.

CML: You're not going leave anytime soon, though, you personally?

RT: No!

CML: Because sometimes CEOs will tell you they are building a "deep bench" as a prelude to announcing they're moving on...

RT: I'm just getting started. I view this as a decade-long vision and mission. When I think about my daughter, Penelope, she's seven now. In ten years, she will become a consumer. And the experience we all have as consumers typically, where you buy something and it doesn't work, and we have to call, and it's a terrible experience, everyone knows that.

In 10 years, will she be able to resonate with that? Or will I talk with her, and she's going to say, what is there to think about, I get the answer automatically and it's delightful. I'll say, [expletive], you don't know how good you've got it. That simple idea that in 10 years she won't be able to relate to something everyone can relate to today, how bad customer service is, that's my dream, that she won't be able to relate to it This is a generational change.

CML: What's new on the product front?

RT: There are two major dimensions. On the partnership side, we have signed up some great partners. Zoom is one of them, that's a great partnership. We have high hopes for that. Zoom has launched their Zoom phone offering, and we have 1,000 employees moving on to it, it's beautiful, but they don't have a contact center, so we partnered with them, and we're taking it to our customers, it's a kind-of peanut butter and chocolate scenario.

Microsoft is another great partner. They are also making progress with O365 [Office 365 productivity suite], together with phone and meetings apps, but they don't have a contact center. So, they have a partnership with us.

So, some very successful new partnerships launched, and added, along with our existing Salesforce and ServiceNow, and Oracle partnerships. That produces new routes to market.

The other major thing for us is a new tech roadmap. In Q4, we hit our intermediate term financials goals a year early, so as a result we went back to the Street, and said we would invest more in product development and innovation. Our investors have agreed that's a great idea.

We've been using those dollars to hire developers and they have been creating two things. The future of Five9, with the future of AI, is now becoming real. We have four customers moving into Alpha on this technology. We will commercialize it next year. So, the AI product is real, that's exciting.

And second, the rest of R&D is driving innovation but primarily directed toward expanding us into larger and larger enterprises. The growth of the company has been the story, but the story behind that is the transformation into the large enterprise market.

Over a quarter of our business now is customers paying us over a million [dollars] annually for our service. These are companies with contact centers with thousands of agents. That is the fastest part of our business, at over 50% CAGR [compounded annual growth rate.]

The subscription portion of enterprise is growing in the mid-30s [percentage revenue growth rate annually] and will continue to do so for a while. And last year, we saw overall revenue in the 30s percent range [revenue], and maintained high 20s this year. That is unusual, for a company to accelerate like that, but it's because our enterprise is so strong and is becoming a bigger growth driver of the total, so the net net, we are an enterprise cloud company.

CML: You had to do some engineering, one would suppose, to meet the requirements of those larger customers?

RT: Yeah, we had to modify the product, to scale up, to provide support and service and capacities those large enterprises needed. For example, managing thousands of agents, you need more reporting and configuration and control and delegation of roles and responsibilities.

It's not there's like one supervisor and they are the admin and do everything. So, the tool and platform we have been building has to be capable - if you want to be successful, you have to have out-of-the-box integration with whatever system they use, the number one being Salesforce.

We are also big with Oracle, and we increasingly see ServiceNow come up. It's just continued integration work, tying these systems into their back end

CML: Is there a stated goal for you, for the enterprise, perhaps as a percentage of revenue?

RT: It's a quarter of the business now, we are going where the market is. The market for contact centers, the distribution of the market is, with 16.9 million seats globally, 25% of contact centers in the world are 50 or fewer seats, and 50% of the market is 50 to 500 seats, and 25% are 500 or greater.

We play across all of those, but we continue to see it shift up and to the right. We do have a philosophy about who we are serving. We are not going after the giant, the 50,000-seat contact center.

We are going after the enterprise where it is 5,000 and less. That's somewhere around 85% of the market. We are laser-focused on that, we do that better than anyone else. It has come down to a duopoly between us and our largest competitor, Nice Systems.

The way we measure it is we look at every deal we get into, and who we see competitively, and what do we win.

We win over 75% of the deals we get invited to. We have a world-class sales and marketing organization that is the envy of all our competitors. A vast majority of those, more than 80%, are wins against Nice. We do see other competitors, but it trails off really fast. It's basically a two-horse race. That's how we see it through our win-loss rate. There may be others that we don't see, but when companies go to the cloud, it's between us and Nice.

CML: What about Avaya and Cisco? Last time we spoke, you had some disparaging things to say, about how they didn't really have a contact center. But they both reached out to me to say that's not fair, that they have product.

RT: They are the ones who are being replaced. Neither has a viable cloud option for enterprises. I love Cisco, and Chuck [Robbins, Cisco CEO] is doing a fabulous job. [Trollope preciously ran Cisco's Collaboration business.]

But we tell the Street that the two legacy premise vendors we replace the most are Avaya and Cisco. Avaya has protested they have cloud, and, you know, so has Cisco, but the reality is, the proof is in the pudding.

The market is moving with the real multi-tenant cloud vendor out there. Cisco's offering is very nascent, it's what they acquired with Broadsoft. The reality is what happens with Cisco and Avaya, those incumbents have premise businesses, and they have to some degree admitted, "we understand cloud," and they created a hybrid offering.

That's what they are often talking about, the hybrid story. Well, we can take our premise thing and let a partner host it. This is what Oracle did when [Salesforce CEO Mark] Benioff railed about cloud, and Oracle said, "we have it," and it was the hybrid story.

Benioff ran an ad calling that the "false cloud." That false cloud story has played out in every other industry. Now, it wouldn't be fair to say they don't have any cloud. Avya acquired Spoken, so they have some sort of technology that runs in the cloud, but that's not what competes with us. And, similarly, Cisco has their Journey platform, but it doesn't have the same level of capabilities or features that a product like ours has, zero.

So, you will hear the FUD coming from the market, how much of your sears are hybrid seats, and they will call that cloud, but it's not really. Listen, I worked at Cisco, and it is a totally valid strategy, and they are doing a very good strategy of keeping their customers on board with that platform. But when customers want to transition to a totally multi-tenant cloud, they come to us

CML: Does the lack of a partnership with Cisco hurt Five9?

RT: I can give you a more succinct view now. I still stand by what I said last year. There are really two buying motions in the industry. One is the infrastructure buying motion: We are company ABC, we have a phone system, and the system is old and needs to be replaced. Many question whether they need to replace that at all, and are just letting it age out. But that is almost always part of the contact center, it's the same infrastructure.

So, it's okay for most employees to have a legacy phone for a few more years, and when they do try to replace it, they go to UCAAS [unified communications as a service.] But when it comes to contact center, they say, maybe we can unbundle this. Unified communications is, like, $60 billion bigger than contact center. And that buying motion is, phone is out of date, and by the way, it's attached to the contact center. It's not about improving customer service, it's about replacing it.

And then our buying motion is more of the digital transformation. We have to fix our overall customer experience, and that's where they look to an overall contact center. We want to be in both, we lead in digital transformation, but our new partnerships with Zoom and Microsoft really help us draft onto this UC infrastructure-upgrade sales, via Microsoft Teams UC, or Zoom Phone.

CML: Let's talk just a bit about the specifics of this past quarter.

RT: Enterprise was the headline there. That was in terms of the wind in our sails, but it was also a record bookings quarter, by a lot. Future orders were really up.

When you look at our gross margin - we are focused on both growth and the bottom line, we are not about growth at all costs - our adjusted gross margin continued its relentless improvement, at 65% versus 63% in 2018, and EBITDA was 18.6%. That's the key part of the story.

We are driving a balanced growth story here, and it's being driven by enterprise. We are doing a good job of keeping those enterprises happy and buying more. I shared two examples.

One was the $2.5 million in average annual recurring revenue. We keep driving that, the dollar-based retention rate, which is now 107%. We are really successful at landing in these big accounts and expanding.

I talked to one CIO, who is talking to us about a contact center of 1,000 seats. He said he has 65,000 seats in total. That's often the opportunity to get in small and grow. We charge $200 per month, per seat. So, really nice, steady subscription business up and to right. They aren't our target, the 65,000-seat shop, and in that case, I said, I don't think we are right for you, but we can service this part you have asked us to look at. The land and expand motion in enterprise is a really strong selling motion.

We don't have to get every seat out of the gate. We can stand it up in weeks. Door Dash is one of our largest customers. There we stood up thousands of seats in a matter of weeks. It's not like in the old days, when you had to deploy all this hardware. Just have your agents log into this web site, and you're done.

CML: Probably, these sales are not the kind where someone just whips out a credit card in the middle of the night, right?

RT: The reality is that the 1,000-seat contact centers aren't put on a credit card overnight, but we can move extremely quickly. The reality for these larger customers is that no contact center is brand new.

They all already have a way of doing business. And what they need is, they need somebody to help them be successful in transitioning, moving your IVR [interactive voice response], and your routing rules, and all the knowledge about what your agents know. That's the heaviest lift for these customers, it's not the technology.

The reality of moving customers into that is so much more complicated. So, where we have been exceeding is our professional services organization, with well over 200 full-time experienced contact center architects and consultants who will fly out to meet the customer, do the discovery, and help them organize differently. So, a big part of our success, one of the top three reasons for our success, has been professional services and a hands-on approach. Unlike all our competitors, we do that directly with customers.

Think about it almost as a customer success operation. It's a big reason for the success of our platform, one of the reasons customers are turning to us is that they have heard when companies move to Five9, they are more successful because of the hands-on attention we give them.

CML: We are beginning to see some "A.I. companies" move into this market, such as the startup Dialpad. How do you view the encroachment of these new firms into your market?

RT: I would say that it's a very hot space. Morgan Stanley did a research report a month ago. IT cloud spending, the number-one priority was customer experience.

The number of companies in customer experience has exploded. Dialpad, InsideSales, it's a big, messy world and it is taking a whole ecosystem of companies to help companies deal with this.

We really do view ourselves as a platform, and there is a rich ecosystem of vendors who plug into our platform. We are so critical, because it's the sound of the phone ringing, and the follow-up email, and all the software that coordinates what your agents do, and what we have built to interact with all those vendors. We will be hosting our biggest-ever customer conference in Vegas next month.

The growth is 100%, year over year, in terms of interest of people coming. We set a target for sponsorship, and we blew it away, so many companies said they wanted to sponsor. I'm going day to day at least every week talking to a new entrant or company pivoting into this space and they're all doing it slightly differently.

As for the longer-term trend, companies don't want to have all that complexity on top of them. I can't have 65 vendors in my customer-experience stack. That's where you see Salesforce and Oracle and Adobe consolidating things into one cohesive platform. It's just too much complexity for customers to deal with.

CML: Thanks, Rowan.


But What About the Future?
It is understanding technology that gets us an edge to find the "next Apple," or the "next Amazon." This is what CML Pro does. We are members of Thomson First Call -- our research sits side by side with Goldman Sachs, Morgan Stanley and the rest, but we are the anti-institution and break the information asymmetry.

The precious few thematic top picks, one-on-one CEO interviews, research dossiers, and alerts are available for a limited time at a 80% discount for $29/mo. Join Us: Discover the undiscovered companies that will power technology's future.

Thanks for reading, friends.

Legal
The information contained on this site is provided for general informational purposes, as a convenience to the readers. The materials are not a substitute for obtaining professional advice from a qualified person, firm or corporation. Consult the appropriate professional advisor for more complete and current information. Capital Market Laboratories ("The Company") does not engage in rendering any legal or professional services by placing these general informational materials on this website.

The Company specifically disclaims any liability, whether based in contract, tort, strict liability or otherwise, for any direct, indirect, incidental, consequential, or special damages arising out of or in any way connected with access to or use of the site, even if we have been advised of the possibility of such damages, including liability in connection with mistakes or omissions in, or delays in transmission of, information to or from the user, interruptions in telecommunications connections to the site or viruses.

The Company makes no representations or warranties about the accuracy or completeness of the information contained on this website. Any links provided to other server sites are offered as a matter of convenience and in no way are meant to imply that The Company endorses, sponsors, promotes or is affiliated with the owners of or participants in those sites, or endorse any information contained on those sites, unless expressly stated.