Elastic (ESTC) Maintains Hyper Growth and Scale; One-on-One with the CEO

Snapshot of Most Recent Earnings Report and Guidance for Elastic
• Revenue grew 42.5% in the lastest quarter reported (FQ3-2022), handily beating consensus analyst estimates of 33%.

• Cloud reveue grew 79%, beating estimates for 63% growth.

• Net expansion rate rose to 129%, beating estimates for 124%.

• Adjusted operating income came in positive at $0.2 million versus estimates for -$10.7 million (a loss).

• The number of enterpise customers grew 33% versus estimates of 28%.

• Cash from operations on a trailing twelve month basis for Elastic has now been postive for five straight quarters (TTM).

• Full year revenue guidance implied 40% growth versus estimates for 37%.
Preface
We see Elastic N.V. (NYSE:ESTC) benefitting from the massive and continual increase in data production around the world with a powerful moat in search driving substantial opportunites .
With explosive growth in data from several areas, including logging and security, Elastic's new usage based system for its cloud business is set to grow large and quickly for a sustainable period of time while its strongly embedded on-prem business will continue to grow.
There is an explosion of users creating data, an explosion of devices creating data, an explosion of use cases creating data, an explosion of software (and software companies) creating data, and then an explosion in the people and software creating analytics and machine learning models taking the data and asking for more to increase utility.
Back in 2010 then Google CEO Eric Schmidt said "From the dawn of civilization to 2003, five exabytes of data were created. The same amount [of data] was created in the last two days."
In 2020 59 zettabytes of data were created, which is 59,000 exabytes, implying that the amount of data created from the dawn of civilization to 2003 was created every 45-minutes in 2020.
We have heard others say that data is oil. We think data is air.
To further this metaphor, there is in way to breathe the air without search, observability, logging, and security. Elastic excels in these areas.
Most Recent Quarterly Results for ESTC
In total we cover 22 metrics for Elastic, of which nine are focus metrics.
The nine-focus metrics are listed below:
• Revenue Change YoY
• Cloud Rev Change YoY
• Net Expansion Rate
• Enterprise Customers Change YoY
• Total Customer Additions
• Operating Income Margin
• Implied Next Q Revenue Change YoY
• Implied Full Year Revenue Change YoY
• Full Year Operating Margin Guidance
The company beat on 21 of the 22 total metrics, with a slight miss on non-GAAP gross margin percent.
The company beat on all nine-focus metrics and we were particularly pleased to see positive operating cash flow and operating margins.
Here is an accounting of the results, item by item.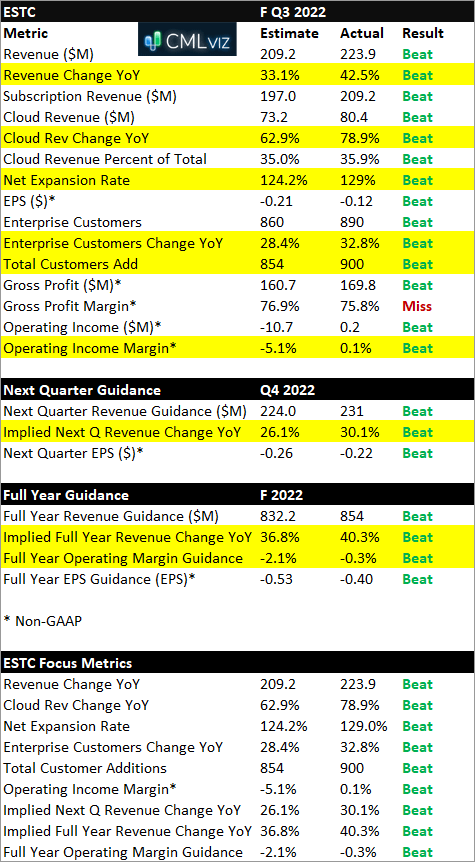 In all, the growth has been underappreciated in this software company and we see a moat fully established in its search business.
As for the numbers just reported, we see no flies in the ointment, and nothing the company could have done "better."
But, the story is best told by the CEO, and we held a one-on-one meeting with him after the earnings release.
To gain exclusive access to that interview, tap here.