Disney's Huge Growth Opportunity


Fundamentals

What once was a "boring" blue chip has now turned into a flexible, adapting, innovative, and content collecting machine. The bullish argument for Disney is that CEO Bob Iger, by collecting the Star Wars, Pixar and Marvel content into the Disney juggernaut has created a large pool of profits for several years to come. Bulls argue that that the once boring (and stuck) stock is poised for larger revenue, profits and a higher price. Further, the company has recently been saying that ESPN may bypass cable for streaming "eventually." Bob Iger said, "I think eventually ESPN becomes a business that is sold directly to the consumers." This is a crtical innovation given the trouble cable providers are seeing (more on that soon).
A live streaming service for sports events is a beautiful idea, beautiful capitalization on an already powerful asset and yet another creative way Disney has moved from old school to new school and mitigated risk of cable cord cutters. Further, now that Disney owns George Lucas' company, (in 2012) it has loads of money to make in the upcoming Star Wars movies. That's pretty exciting, but there is so much more.
Morgan Stanley's Benjamin Swinburne forecasts that the new Star Wars film could add $2 billion in retail consumer merchandise sales to the franchise's nearly $3 billion in annual sales. That would net Disney an incremental $200 million in license fees. Disney should also clear about $100 million in video game revenue in 2016, Swinburne estimates (Source:
TheStreet.com
).
The company got the cover story in the May 30th publication of Barron's where author Jack Hough notes that the firm "is a wizard at wringing profits from its theme parks and cruises, hit films and merchandise sales." Here's a chart of revenue (TTM) in the blue bars and net income (TTM) in the orange line. Note that both are at all-time highs.
But there's more...
Even though the firm makes money from theme parks, movie tickets and toy and game licenses, let us not lose the forest for the trees: Disney's media division is the single biggest business segment, accounting for more than half of all earnings (Source:
Motley Fool
) . Media networks generate cash through distribution fees, like the ones Disney charges cable companies for the right to carry channels like ESPN and Disney. But, as we all know, the the media business (and in particular the cable business) is getting disrupted in a rather abrupt way. According to the Motley Fool:
---
"The number of households subscribing to huge cable packages is down, and people are spending less time watching broadcast TV -- even if they're spending more time watching TV overall. So, Disney is having trouble finding growth in its biggest business: Operating profits there are up just 1.5% through the last nine months, compared to 19% for the rest of the business."
Source:
Motley Fool
---
Now recall the possibility of spinning ESPN into a product that gets sold directly to consumers and bypases cable altogether. That's a solid hedge for the firm from the larger scale issue with cable providers. On the other hand, we do have a very bullish phenomenon where consumer products sales are growing massively with a 37% growth in profit over the most recent three quarters. As we stated earlier, its been pure "wizardry" that has put together Frozen, Avengers and Star Wars product lines under one roof and the profits should be quite large.
China
It really wouldn't be a complete story for any multi-national firm without a discussion of China. Disney has built a massive Shanghai resort and the company has already stated that it will hurt earnings in 2016. The bullish argument is that this resort will be a multi-decade profit center once it's up and running given that China's "middle class" will grow from 47 million people in 2010 to 472 million people by 2020, per Bloomberg.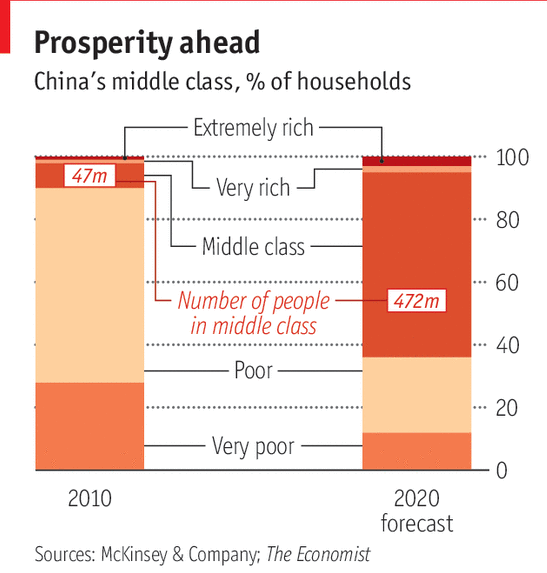 Stock Buybacks
As Disney stock has fallen in the recent months, the company has raised $2.4 billion for a stock buyback program. How's that for a bullish stance from the company?