Tableau is the Technology 'Big Data' Company Growing Like Wildfire



Fundamentals
Written by Ophir Gottlieb and Thomas White, 01-06-2016
PREFACE
If you've ever been near a wildfire or read much about them, one of the sayings you are likely to hear is that wildfires "make their own weather".
This refers to the wind patterns that develop in fires which can actually create a self-sustaining feedback loop, with the fire generating its own wind to help spread itself. This phenomena is not limited to the natural world.
The concept of critical mass should be a familiar one to investors, think VHS vs Beta. New frontiers in technology have always been a frenzied race to reach critical mass because the rewards are massive. One company on the verge of such massive success is Tableau (DATA).
Tableau is a great story not only because it is about to reach a critical mass, but because it is doing so in one of the hottest and most buzzworthy sectors today:
Big Data
.
STORY
Since its IPO in 2013, DATA has been on a sales tear. Revenue has risen over 300% since going public. Here's the all-time revenue chart:
Bears are quick to point out that such astronomical growth can't and won't last forever, and that slowing sales growth is right around the corner. In a sense they are right, revenue growth has been slowing for the last 18 months, but let's not lose the forest for the trees:
Revenue (TTM) is up 70% year-over-year. While the company isn't earning a profit yet, it is generating positive free cash flows after debt. Here's the all-time levered free cash flow trend.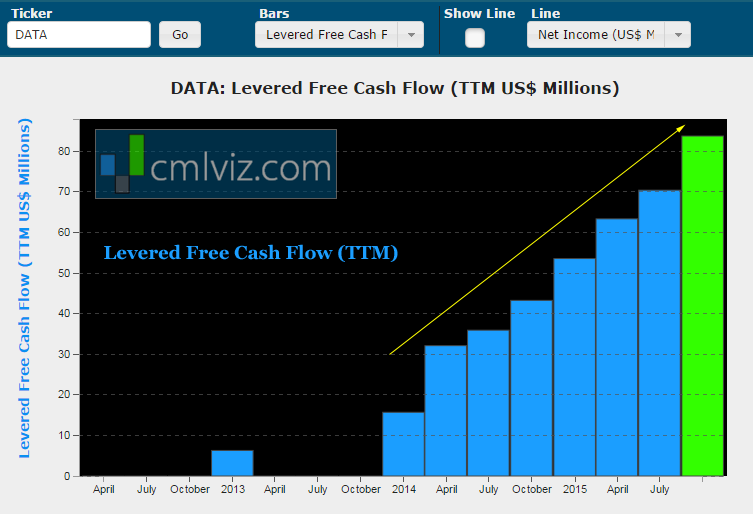 We can see free cash flow (FCF) is up 94% year-over-year to an all-time high of $84 million. In fact, the company has reported a new all-time (TTM) for seven consecutive quarters.
RISK
Some of the concern is warranted. It's inevitable that revenue growth will slow at some point. More specifically, and with apologies to Kelis, DATA's revenue growth shake brought all the firms to the yard, because it's better than their's.
2015 was the year that firms took dead aim at DATA. Their closest competitor QlikView introduced a new service called Qlik Sense designed to compete directly against Tableau. Meanwhile, Microsoft rolled out a new version of its Power BI platform designed to stave off Tableau, and most recently and perhaps ominously Amazon announced QuickSight, its own cloud-powered BI solution.
The sudden onslaught of competition has given investors pause. A sterling Q3 pushed the stock up about 20%, but it has since surrendered about half of those gains.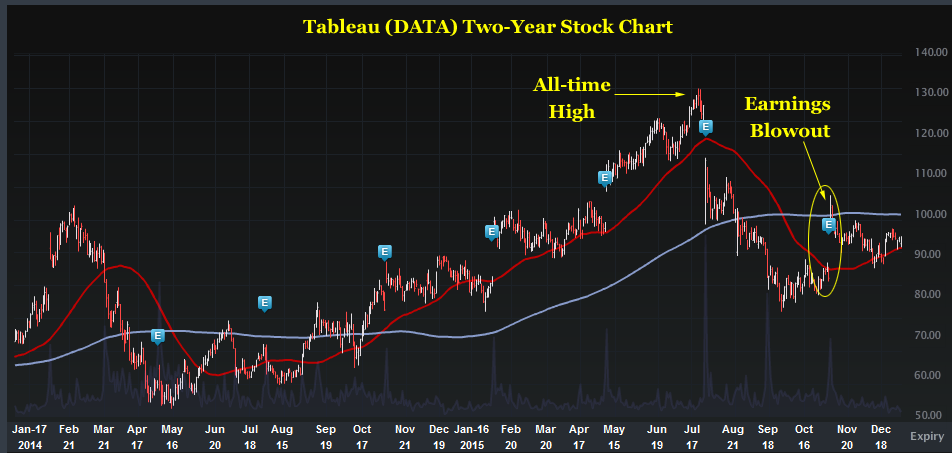 We can see that the stock has traded as high as $131 and is trading right now at $94.28. We can also that spike off of the most recent earnings reoprt.
While Wall Street frets, savvy investors should consider the following. Critical mass is a huge consideration in the world of IT. Early adopters in corporate IT often do so because quite frankly it gives them more marketable job skills and so a cycle creates significant incentive not just to pick the best software, but to pick the winning software.
EVIDENCE OF CRITICAL MASS
One indicator of Tableau's ability to shrug off competition is that 2015 was the 3rd consecutive year that DATA was named a leader by Gartner in their Magic Quadrant report. As this chart shows, DATA is without peer when it comes to 'Ability to Execute' according to Gartner.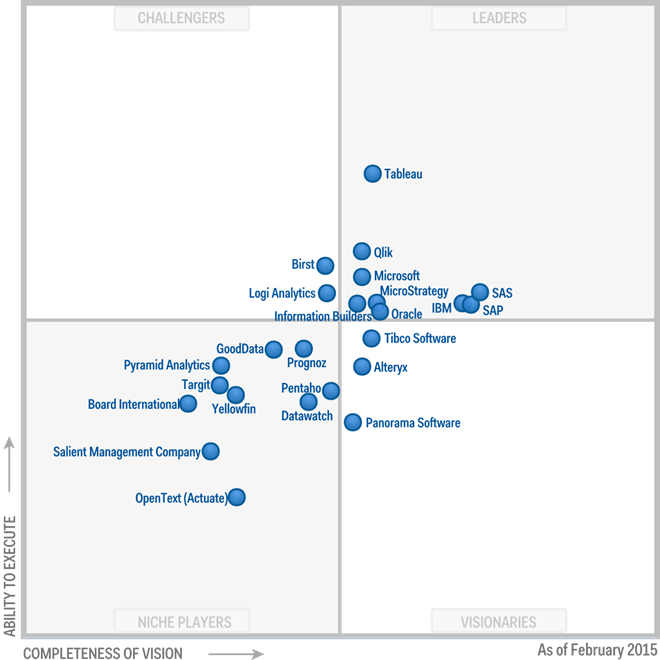 WHAT WE HAVE TO KNOW
Q4 results will likely be a pivotal moment in Wall Street's assessment of whether Tableau is 'inevitable'. But there are some early indications that the news may be blow out good for Tableau shareholders. Here are the facts, and they are not disputed:
I.
DATA's CEO Christian Chabot recently revealed plans to hire 1,000 new employees in 2016, a 36% increase in headcount.
II.
Wedbush recently reiterated its Outperform rating on DATA with a price target of $116.
III.
But the most bullish news was from Stifel which reiterated their Buy rating and $145 target for DATA based on channel checks that indicated several seven figure deals would be closed in Q4. If true, those million dollar, enterprise deals are a key indicator of Tableau's success in becoming the 'it' company in BI, for they are the virtuous circle. Each sale cementing DATA's position as a de facto standard, and creating the conditions that make future similar sales more likely if not inevitable.
Let's wait at least one more quarter for some more visibility, but this stock goes on the watchlist, today.
WHY THIS MATTERS
The top analysts, asset managers and hedge fund managers are keenly aware of the data that will move markets like the chart we addressed above. This is how they pick their stocks even if the market goes sideways or down. If we're not using this data, then we're trading against people that simply have more information then we do.
The information asymmetry that exists between pros and non-pros has transferred massive wealth to the top 1%. That information asymmetry is no longer acceptable to us. In fact, it infuriates us.
This is just one of the fantastic reports CML Pro members get along with all the charting tools,
top picks for 2016
, research dossiers and alerts. For a (very) limited time we are offering CML
Pro
at a 90% discount for $10/mo. with a lifetime guaranteed rate.
Join Us: Get the most advanced premium research delivered to your inbox along with access to visual tools and data that until now has only been made available to the top 1%.
Thanks for reading, friends.