One on One with Clearfield's CEO: Clearfield CEO: Sudden urgency of broadband may accelerate fiber, 5G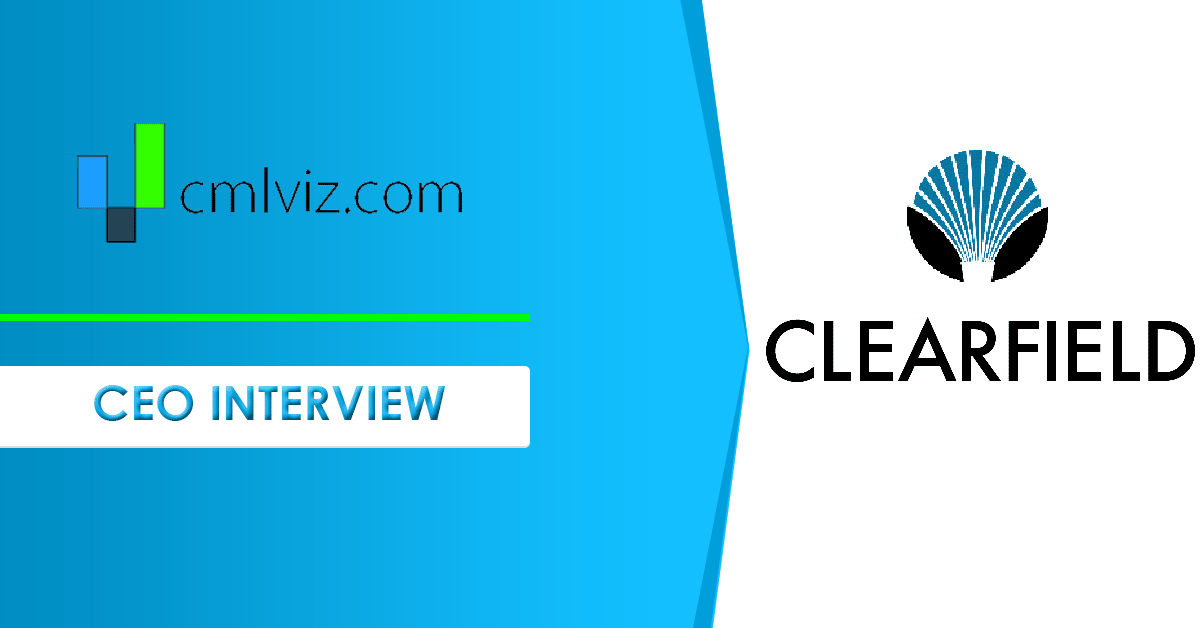 Shares of fiber-optic technology vendor Clearfield Communications (NASDAQ:CLFD) have soared 48% since the company on July 23rd reported fiscal Q3 revenue and profit that topped expectations and that set a new company quarterly record.
Capital Market Labs was fortune enough to get some time to talk with chief executive Cheri Beranek following the report.
Beranek has an exceptional grasp of the issues facing rural communities, where the vast majority of her customers, municipalities and small service providers, do the hard work of stringing broad band through ducts and over utility poles. And so the conversation wasn't just about the quarter or about how business is doing. It was also a window into potentially large changes in American life.
"I think tenacity is the word that is important for everyone right now," Beranek told Capital Market Labs. That pertains not just to dealing with the logistics of COVID-19, but also perhaps accepting a new way of life.
"We're never going back to normal of 2019," she says, confidently. "We won't have that life again. But it doesn't mean it's bad. It just means we need to envision our new life."
The new life, predicts Beranek, may be marked by an increasing prominence for small towns in American life.
"I think we're going to see the resurgence of small communities, and people wanting to go back to those spaces," says Beranek. That's going to be made possible, by the new virtual way of the world. The line is blurred between consumers and businesses as the workplace becomes wherever people happen to be.
"We talked initially at Clearfield about working from home," says Beranek, as the onset of U.S. lockdowns. "And now we talk about working from anywhere."
That's good for Beranek's sales of equipment that connects fiber-optic rings to the last mile, to homes and schools and offices.
It looks like fiber deployments, and 5G wireless, where Clearfield also plays, may be accelerated. Clearfield's innovative fiber equipment can put cables in places with minimal truck roll and in some cases without right-of-way permit issues.
"I think that could accelerate deployment and get more fiber out there more rapidly," says Beranek.
"And I think COVID and the demand for high speed broadband could create a situation in which the 5G deployments get pulled in," meaning, happen more rapidly than would otherwise have been the case, she argues.
The new urgency to get Internet everywhere could lead to a new M&A boom, muses Beranek. The highly fragmented local service provider business "can be rolled up and become an M&A strategy," she says. "So I think there's going to be a lot of new providers and a lot of new business models."
In the meantime, Beranek is proud of the shape Clearfield is in after wrapping up its most successful quarter ever. "We have a balance sheet of $50 million in cash, we're at a hundred-million-dollar revenue [run] rate, with net income at five percent-plus."
2021 marks the year, says Beranek, after fifteen years in business, that Clearfield will truly "come of age," a slogan she's attached to a three-pronged strategic plan on which she appears to be making substantial progress.
To recap, Clearfield reported Q3 revenue of $26 million and earnings per share of 22 cents, easily topping consensus for $22 million and 7 cents per share.
The company did not offer a forecast for the current quarter, and the share repurchase program remains suspended for the moment.
Capital Market Labs: Cheri, we spoke to you last in May of 2019. It's good to talk with you again. Since it's been a while, and since the world seems to have changed a little bit, tell us first, what's it been like running the company during a pandemic?
Cheri Beranek: Well, we made the decision this week that we're going to be working remotely at least until April. I'd say we've been living on adrenaline for the last four months. And now we're trying to be able to pivot a little bit and take the speed that we've been working on, but using it more in a deliberate way.
I think we can kind-of see that in our goal and our performance here today.
We had the best quarter in our history in the quarter that ended in June, with high margin and high profitability. That was adrenaline, and making sure that we could meet the demand of the companies that were responding to the marketplace.
I think the market has really proven out that high-speed broadband is a necessity, is not a choice. And as a result, you know, the demand has now been pretty widespread from what we're seeing, especially as you look at our numbers in the community broadband space.
They can move quickly because they're so distributed. A national carrier has to make a decision, kind-of, from a broad corporate standpoint as to whether or not they're going to deploy or whether they're going to keep their service teams under lockdown.
But a small community provider has got to make that decision for each community one at a time. And so as a result I think we see speed in that space that we've been able to take advantage of.
CML: Off of a smaller base, national carriers were a larger growth rate in the quarter for you, year over year, were they not?
CB: Yes, absolutely. We're definitely taking share a little bit at a time.
I mean, still compared to some of our competitors, it's a little bit of a rounding error. But what was interesting for us and probably the most compelling, I think, is that in an environment in which they're not making a huge amount of decisions to change technology, because it requires a lot of training, that we were able to grow our position at the national carrier footprint and continue to be able to introduce new products that are necessary to reduce some of the barriers to deployment during this time.
Because as COVID is going to be with us for who knows how long, we've got to come to a new routine. And they're going to be able to use those new products then to be able to accelerate their momentum.
CML: What what would a new product do in this case, with respect to COVID-19?
CB: Well, as an example, we have established a product called a home deployment kit. And the home deployment kit enables the individual homeowner to do all of the installation inside of the home, and doesn't require an outside service tech to be able to enter the home.
CML: No truck roll?
CB: The truck roll comes, they do the outside work. But then the handoff and the convenience is that there's a single truck roll, not two. Because oftentimes there's two different people. But it's also pre-kitted, so that everything is in one place — again reducing a truck roll because they don't have the equipment that they need.
And so we've seen a lot of interest in that, in deployment of that. We were doing that before COVID hit, and we launched it just about at the time COVID became prevalent. So it was designed to reduce costs. But it actually hit the COVID world just at the time in which it hit.
CML: And so that's important because in this environment you just want fewer truck rolls, you want fewer instances?
CB: We always want fewer truck rolls. But in this situation from a COVID world, it remains there's no interaction. We saw some of the national carriers pull back and not install. We saw some of them basically just throwing fiber through a window to be able to at least provide service.
The new deployment kits and FieldShield [Clearfield's fiber pathway product] helped them to be able to do that more permanently and hot have to be able to come back. What we're doing with some of the aerial deployment products, like the aerial fiber distribution hub, that product line is a StreetSmart product, meaning that it's designed really to reduce craft issues, and to be able to be deployed faster.
And so the Aerial FDH [fiber distribution hub], — rather than traditional FDH, which was just deployed on the ground, and needs permits in order for it to be placed there — the Aerial FDH was designed to be hung from a strand. And so in that situation there's no permit required, there's no rights-of-way issues. And especially if you're a telecom provider or an electrical utility who owns those polls, you know, you get yourself into a position of deploying very rapidly.
CML: Which goes to what we spoke about a lot last summer, which was, all of these rights of way have to be negotiated for the tops of buildings, residential, commercial, and/or putting them in odd places. Do you think that something like this might actually have a material impact on the burden of some of your customers?
CB: Absolutely. That's the reason for the design. It goes all the way back to our time with Google.
The Google [Fiber, local fiber-optic service] build-up slowed down because of the fact that they could not get right-of-way access and permitting access. You know, there's been a lot of work done in the last five years to be able to address, from a government mandate to ease out some of those permitting issues.
But you know at the end of the day, it's still a right-of-way challenge, and it's a physical infrastructure issue. And so being able to have products like the Aerial FDH — we also have an aerial terminal for distribution. And of course products like Makwa [a fiber distribution hub], the Makwa hub, which is deployed below ground.
So, everything we do looks at how do we reduce those obstacles. We know we have the performance. Our issue now is really looking at the field issues, the craftsmanship issues, so that we can get those products, get them deployed with the least amount of labor possible.
CML: I want to come back to community broadband in a moment. But to take a step back, Cheri, let's talk about 5G.
You talked about demand and carriers, including at the national level, needing to think about how they retain cust,era and avoid churn. Demand for Clearfield it seems is helped by that kind of competitive environment.
You also said that there were some delays as a consequence of COVID in some of the deployments. So what's the net-net there of work from home, increased residential demand, increased utility of 5G, competitiveness of the carriers and then, these sort of push-outs that seemed to have happened in the last quarter?
CB: I think you've described an environment where there is a lot of push, pull. Some of the things that are out there are increasing the demand, and others are delaying or stalling it.
From a 5G perspective, we've seen a lot of commitment from the national carriers to deploy 5G.
We've seen here the CEO of Verizon talking about how they're doubling down within it.
Yet, they also said that you know areas in which 4G was available they weren't considering that an essential service and weren't doing some of their FiOS builds in those environments because it wasn't necessary.
CML: They weren't considering 5G in those cases essential because they were saying 4G now suddenly looks just okay, just fine?
CB: Due to the COVID situation, they said, you know, is it an essential service or is it not.
Any place where it's an essential service, they were deploying. But if it wasn't an essential service, then they were pulling back.
So we've heard a lot of words that the second half of the year will be stronger, especially for Verizon, because they're operating in their in-network environments, where COVID isn't as established or as high as it was earlier in the year.
However, we really think the best opportunity for 5G deployments to create change in this space is in out-of-network builds. Because in an out-of-network build, 5G is not only going to enable the fixed wireless opportunities, but also some backhaul opportunities to enter into new business-class services and community-class services offerings.
For example, last spring, a year ago, we may have talked about this a little bit when 5G was first rolled out, its first deployment was here in Minneapolis. And it was during the time of the Final Four. And it was deployed in a small area of downtown Minneapolis.
Well, now what that's enabled is for Verizon to compete for business-class services in Minneapolis against the traditional business class providers because they're using the fiber that they brought in.
Those kinds of things are what you'll see national carriers doing in the big cities, to continue to provide competition, to get those business-class services.
And that's making some of the incumbent suppliers take a second look. That's part of the positive side.
The negative side, nobody's working in downtown Minneapolis right now. Everybody is working from home —
CML: Details, details….
CB: Yeah, so it is that push, pull. So, we think the line between business class and residential service, you know, this distinction has now become very blurred. And it's almost a continuum because both are going to require the same level of service, the service offerings aren't going to be any different.
The speed isn't going to be any different. It just might be the density, you know, that will be different. And so I think we'll see, we are seeing a demand more for that residential service, and MDU-type builds [multi-dwelling unit], right now, because of the COVID space.
And Clearfield is uniquely positioned to take advantage of these changes because our product line is modular, the same products are used in all of those applications. So it's an easy switch for our providers to do that.
CML: It's an easy switch but if I were suddenly building out for a surge in residential broadband usage versus downtown urban metro usage, I would think that would change some of my build plans as a carrier possibly substantially...
CB: Well, it's cost-substantive to look at what's the ROI of it, because business class has traditionally been viewed as a higher ROI build.
It's certainly creating a second look for the carriers. But it's also stemmed with the fact that if they don't make those levels of investment, it creates a level of competitive risk and churn.
So it goes to that business model of saying all things equal, you know, if I get to choose, I'm going I'd go to the business class with the highest return.
But if I don't have any demand it becomes a supply and demand marketplace, and I have to go to where the demand is to provide my supply.
CML: That's a way of saying that yes, I start to shift some attention to where are people, they're in residential broadband increasingly, at the moment.
CB: Right. Exactly. And I think we've had an opportunity because of our nimbleness to get a lot of business right now in community broadband that can work really fast, can shift quickly, to do that.
And I think we're going to see that continued level of demand now really extend throughout the winter. As I talk to my employees this morning, the risk to — we're really careful about the level of, what's the word —
CML: You're erring on the side of caution?
CB: Right. Exactly. Because we manufacture in Brooklyn Park [Minnesota], and we manufacturer in two plants in Tijuana. And we build to order.
And so our ability to continue to meet rapid lead times is about protecting our human capital.
And so a big part of what we're doing is remembering that our human capital assets are core to our ability to fulfill that demand.
So we have moved non-production personnel out of the production environment. We have an extremely protective sense of keeping isolation within the manufacturing floors.
We actually have nurses on staff to ensure that people don't arrive ill, or if they are ill that we can separate.
So we've been very fortunate in that while we've had a couple of employees who have tested positive, we haven't had a single case of transmission from one employee to the next. And that's allowed us to keep all of our floors at full capacity and continue to operate to meet demand.
CML: What's the headcount that has to be in those facilities?
CB: So, we have about to 250 in Mexico and about 100 in Minnesota, and then that's augmented with some supply that comes in for high-volume products out of a couple of different Chinese plants.
We had some early work that we needed to do in February and March, and some of the component-level equipment that we were getting out of China was at risk.
So we had to work through managing that.
We've also taken steps to ensure that we have all of the product that we need wherever we might need it. Normally we have three different North American manufacturing environments for the optimization of the single task at each plant.
What we've done now under COVID is we've created every plant can do everything, so that in the event of an outbreak, then we could still fulfill demand, maybe not as rapidly.
So we've made an investment in additional inventory and component lines to do that. So, always remembering that our ability to fulfill, and to fulfill rapidly, is that means by which to help our service providers meet their customer needs.
CML: To bring some autonomy to each site that ordinarily you wouldn't invest in for that?
CB: Right. Exactly.
CML: Interesting. That seems something that has broad implications for you and for the rest of the economy.
CB: Well, we have a strong balance sheet. We have the cash by which to do those kinds of things rapidly.
And again it goes to the level of speed of making those decisions, that we made the decisions in early April that we were going to outfit all of our plants to do everything.
I think the COVID world has created an environment in which people need to be competitive. They need to move very rapidly, and to be able to pivot as the world changes.
CML: It's certainly revealed where one is prepared to do that. Cheri, the 100 employees and the 250, those are in all three sites, that combined total is, they're all staff, they're all employees? Correct? They're not contractors?
CB: The employees don't show up on our in our Q. They're dedicated to our manufacturing but because of tax implications, we run the salaries through a sheltered company.
CML: They're full time workers, though, for you?
CB: Yep, full time, fully benefited workers that wear Clearfield shirts every day they come to work.
CML: And the total headcount these days for the company? It's 250 in Mexico and 100 in Minnesota. And then non-manufacturing workers what's the total?
CB: And then there's another 150, all in the U.S. So.
CML: So 500 is the total headcount for the company?
CB: Correct.
CML: It's amazing. I am still stunned by what a lean operation this is.
CB: I think it's imperative to the ebb and flow of business that you put yourself in a position in which — I lived through the dot com pink sheets, and I really wanted to be in a situation where I never had to do that again.
And so we really run in an environment in which we do within Clearfield what we do better than anyone else, and if someone else can do it better, then we're going to work that part of a supply chain program.
I think our procurement team and our supply chain programs are a part of our ongoing success. And part of our ability to deliver so rapidly. Because our average lead time is still about three weeks from the receipt of order. Our competitors are closer to, we've been told, 12 to 15 weeks in some product lines.
CML: Wow. Okay. And that didn't stop, that pace didn't stop, for you, during all this?
CB: I mean it created a situation in which, just as an example, our backlog went up 68% from June 30th of 2019 to June 30th of 2002.
A year ago we had only one manufacturing site in Mexico.
We doubled down in Mexico, we doubled the employees we had in Mexico, over the course of the last year.
So those are the kinds of investments that we had planned to make in order to meet some of our revenue goals for the year. You know, when we started the year, we gave financial guidance that we felt that the marketplace was growing and that we could take share. And we were looking at about a $92 million year.
When COVID hit, we removed guidance from the marketplace because there were just too many variables for us to control. I didn't feel it was responsible for us to maintain any outlook on guidance.
Right now we're tracking to what we originally set out.
Some of the product's been different, and some of the potential customer base changed from what we initially thought it was going to be nine months ago. But I'm extremely pleased with our ability to respond and fulfill on the product line, the product requests that we've received so far.
CML: It is amazing that you have been able to not miss a beat. I'm wondering what the implications are for 5G overall.
Because when we spoke last year, we were talking about something like 2034 as maybe the knee in the curve for 5G for the whole industry, for the roll out broadly. Does that still feel like that's the timeframe, or are we looking further out?
CB: No, I don't think it's any further out. I think it's a standpoint in which this is a 20-year build.
And it's going to pivot back and forth in regard to different markets and different timeframes. I think there's a possibility with products like ours to not only reduce the amount of labor but reduce the complexity of labor.
When you take splicing out of the equation, you make products easy to install, like the home deployment kit, so that you need less labor.
I think that could accelerate deployment and get more fiber out there more rapidly. And I think COVID and the demand for high speed broadband could create a situation in which the 5G deployments get pulled in.
I think though that we should think about 5G as not separate from fiber-to-the home but actually an element of it. Because if we look at Verizon's One Fiber initiative, the concept behind One Fiber is that there isn't a wireless company and a wireline company, or a wireless network and a wireline network, it's one network in which they're using all of that fiber for whatever need.
And so if you're going to deploy a 5G ring, anyplace that that ring touches is the equivalent of passing that home and business.
Now all you need to do is connect that home or business onto that original fiber line and the 5G services have provided an opportunity to provide business class or home services. So all of it becomes easier and more cost effective to roll out.
The challenge becomes, when 5G is going to be in the NFL cities, where 5G gets to the point of actually requiring that backhaul to the smaller communities, that I think is going to be still a ways out.
And that's and that's why it's exciting to me now, in the COVID world, that it's the one area that in the government space, there is no political divide.
Democrats and Republicans alike agree that high speed broadband is absolutely necessary, and that the deployment of ubiquitous broadband services is key to our ability to allow children to go to school for distance learning, for the medical environments.
And so the money being provided under the RDOF program [the Rural Digital Opportunity Fund, a ten-year, $20.4 billion federal funding initiative to develop Internet connectivity in rural areas] is looking to be a potentially accelerated.
That was supposed to be a 10-year program. And there's different legislation in place in both the House and the Senate to speed that up and deploy it more rapidly.
And that's going to be used in electrical co-ops, by municipalities, by two or three ILECs [independent local-exchange carriers] to provide fiber and higher-speed broadband services to underserved or unserved markets today that aren't being met. And that's the part that I think is going to go substantially faster than what we would have anticipated.
CML: You discussed this at length, Cheri, on the call. I'm curious, how does this fit into a Verizon or a carrier? This is earmarked, I would assume, not for gigantic companies but for local providers. Where do these two things meet up?
CB: Well, I think that for right now, they're separate, yet with the exception that every community that's going to be deploying any level of fiber connectivity needs dark fiber to be able to link into the national network.
And so if we think back to the 5G builds that are going to connect the NFL cities, they're running all that fiber just like during the dot com world, you know there's going to be backhaul opportunities for the national carriers or the large MSOs.
So whether that's Verizon or CenturyLink or Comcast, the more fiber they put out into the space, the more opportunity there is for the backhaul services to connect up those communities to community teams.
So providing money through the RDOF programs to small carriers really isn't bad for Verizon or AT&T. It's just an augmented opportunity for more data to be bound to our national network.
CML: But it means a Verizon or Comcast or CenturyLink gets involved in the backhaul opportunity? They don't attach directly to those rings in the loop for their retail services correct?
CB: No, no.
CML: They have to do that on their own?
CB: Right. So, our success over really 15 years of Clearfield has been predominantly in the community broadband space. You see it in our materials.
About 70% of our business is in the community broadband program. And so we have hundreds of customers who have 500 subscribers or 15,000 subscribers.
They are small communities, but they're looking to make sure they're not left out. And what is interesting now for us, we talked initially at Clearfield about working from home and now we talk about working from anywhere.
And will there be a resurgence of people leaving big communities and working from home or working from anywhere in small towns?
And I think it could be a really interesting change in the education drain that has left a lot of the rural communities, and now an opportunity for a reversal of that.
We all know that the only thing that's constant is change, and that there's always this ying and the yang, and the teeter-totter.
I grew up having been born and raised in a small town with a rural telephone provider, and came into the city. My kids want to go out to the farm, right?
They want to get out of the city, and the chance to not have all the hustle and bustle, and make it a quieter space.
But they still want the job opportunities that are here. And I think high-speed broadband and the ability for communities to have high speed broadband will enable that. And I think that's the next five to 10 years.
CML: In other words, it's kind of like this rise of the suburbs, in the '50s, '60s, without having to actually pave roads? You're in a place like Bemidji [Minnesota], and it's small, and all of your you paved developments are virtual.
CB: Right.
CML: Wow, that's amazing.
CB: I think we're going to see the resurgence of small communities, and people wanting to go back to those spaces.
CML: But no super spreader events. I mean, how do you have a giant concert or something in a tiny town? You have them online, I guess...
CB: I mean, there is a give and take, right? First of all, we're not having any concerts right now.
But you can still travel, and come back and forth.
And so your leisure life is different, right?
I think it goes back to the standpoint of we're never going back to normal of 2019.
We won't have that life again. But it doesn't mean it's bad. It just means we need to envision our new life.
A hundred years ago, most people lived on farms.
Today it's, like, two and a half percent. And so there's lots of space in a lot of small towns that would have a lot of opportunity if we can get that fiber out there.
CML: It's fascinating. It's like, historians will come back and say, you know, there was suddenly a time at which the states became unrecognizable to someone from just a few years earlier in a rapid amount of time. As you say, in a decade, you could see a way of life that would have been totally baffling to someone in 2019.
CB: I absolutely believe that's true.
When we try to describe what we do, we talk about, you know, we provide fiber management and fiber distribution equipment to enable the deployment of fiber.
But if we take it up a step, what we really do is enable the lifestyle that ubiquitous broadband provides.
CML: And which has always been sort-of written off by big city types.
We were never interested in the rural broadband problem because who cares that it's difficult, and EchoStar and Dish are interested in getting broadband to them.
It was always like people in big cities didn't care about the rural broadband problem.
But then it becomes an issue of everyone's somewhat isolated, it becomes a different kind of problem. I'm just thinking out loud...
CB: And, I think, being in Minneapolis, the whole issue we have today with the challenges of diversity, the challenges of, even in a city environment, where broadband is not deployed in the same way. And data and communication are key to being able to have an educated workforce for future opportunity.
And so it's not just a rural problem.
You look at where broadband is deployed, and in a city like Chicago or Minneapolis, I mean, you're going where the money is. Not in ubiquitous ways, not in the same timeframe.
And that's part of the challenge that we have to address as well.
And I think the more we can reduce the complexity of the labor, and reduce the amount of labor, the faster that will go.
And I think you're going to see that there's going to be some private investment in these networks to help speed that along. Money's cheap right now.
And when fiber is deployed, the take rates typically are 35% to 40%. And so if you're an alternative carrier and you can build a business plan that says you can get at least 25% take rates and you can have a profitable business, that can be rolled up and become an M&A strategy.
So I think there's going to be a lot of new providers and a lot of new business models.
CML: In other words, that becomes an interesting market for people who are interested in distribution who have done deals where, suddenly there's a lot of activity, but it's highly fragmented, people come in, financiers come in, M&A people come in, and they say, what does this look like, is this a regional roll-up or something like that?
CB: I think that's very much what we'll see in different ways.
And I think that's where, while we're very focused on ensuring that our product line can grow not only one small customer at a time, but also for our shareholders' purposes, our product lines can be used for the big national carriers, so we have programs for both — but it's also important to say, I don't have to be a huge amount of share at Verizon or AT&T to grow this company in double-digit fashion.
We're uniquely positioned to capture community broadband because we've built a business plan that can deal with fractured and fragmented builds with different kinds of products that are really custom-designed to their needs.
Again, going back to the modularity of our product line.
CML: You have a plan that is a "Coming of Age Plan." What does that mean?
CB: It was a three-year plan that finishes in 2021. And so, 2021 being when you're an adult.
And so the three-year plan was becoming a real company.
I mean, we've been a real company, we've been delivering since 2008, and have been profitable for every year that we've been in business. We went from having no debt, but nothing other than that, nothing other than an idea, to today, with a balance sheet of $15 million in cash, and we just finished the quarter at $26 million.
We're at a hundred-million-dollar revenue [run] rate, with net income at five percent-plus.
So, coming of age was how do we establish Clearfield as an organization that continues to grow responsibly, in that there's there's not a lot of small cap companies out there that are profitable.
And I've always said that we as an organization, we're not going to grow on other people's money.
We're going to prove it out really one step at a time.
So Coming of Age has three pillars to enable that to happen.
The first pillar is concentrating on our core. Not only has community broadband been the core in regard to revenue, but community broadband is where you identify the problems, right? So it's because of the standpoint that where are there problems for deployment, where are there issues, and where can you really get in the field, get your hands dirty or boots dusty, and figure out how to fix something. And so we want to make sure that we always stay close to those customers and we can bring that technology then to different places.
And the second pillar is about operational efficiency in that any market that's growing, and that's going to grow at the level of attention that high speed broadband and 5G are growing, is going to have price pressures. So we have a core pillar about how do we continue to cost-reduce our solutions and be able to maintain the speed by which we deliver products. And so the investment in another Mexican plant while we keep the U.S. plant, because they have different functions and different needs, is part of that operational efficiency pillar.
And then the third pillar is about disruptive growth, and staying in front of opportunities that are going to take us to that next level. And not products that you need today, but products that are going to enable what is going to happen.
So, as an example, we purchased an active cabinet line from from Calix. [Clearfield purchased the outdoor powered cabinet product portfolio from Calix in February of 2018 for $10.35 million in cash.] Calix has gotten a lot of visibility right now.
They had a focus on software, doing what they did best, which was software as a service to some of their companies. And they've tripled their market valuation as they've been able to deliver on that value proposition.
The active cabinets are still a necessary part of deployment, but active cabinets are going to need new designs in order to fulfill the next bandwidth requirements. The product lines we purchased were principally designed for copper deployment.
And the issues associated with power, with power distribution with heat exchangers — all of that was designed in a world-class fashion that was already certified by Telcordia.
We took that concept and introduced a new platform called FiberFlex, which is the industry's first active cabinet initially designed from the ground up for fiber. And so it's the densest solution to be able to provide fiber management alongside active components. Because next generations of fiber deployments are going to have electronics closer and closer, and fiber closer and closer to the edge.
And so hybrid flex is the next generation of that, that's the disruptive type of technology to do it.
We don't have to start from the ground up, there's no reason for us to have started doing something somebody else had already done.
In regard to the redundancy, in the heat exchangers, and those kind of designs for the fiber issues, that's what we do best. And so we want to make sure that we continue on, as part of coming of age, knowing where our core is. Then our growth will be on concentric circles that surround that.
CML: And you're still on the same timeframe? It's still 2021?
CB: Still 2021.
CML: That's good. It would really be a disappointment not to come of age when you plan to! Cheri, anything else you want to mention that we haven't gone over?
CB: I think it's just a world of tenacity.
I think that's the one word I'd like to kind-of leave it with, is, you know, we've seen service providers do a variety of different things to be able to enable some level of, it doesn't have to be fiber to every home or business.
We had one service provider who wanted to get data out there for their customers, and so they pulled fiber out of a grain elevator in a rural environment, you know, 300 feet, put our fiber management equipment on top of an elevator with a radio head.
And now there is a fixed wireless access point for their subscribers.
We're working with Land O'Lakes who is enabling Wi-Fi services in each of their locations in rural environments.
So, until we get fiber to their homes and businesses, at least there's a parking lot experience for the kids to be able to do their homework.
So, I think tenacity is the word that is important for everyone right now.
And just make sure that we stick to it to be able to fulfill the requirements, and to be impatient but not to have the mental challenges of impatience.
CML: I love that way of putting it. Appreciate your taking the time, Cheri. Hopefully, we'll catch up next quarter.
CB: Sounds great.
Conclusion
Finding the technology companies like Clearfield (CLFD) before they are household names is what CML Pro does, with an auditor verified track record, because of course it's verified.
Each company in our 'Top Picks' has been selected as a future crown jewel of technology. Market correction or not, recession or not, the growth in these areas is a near certainty.
The precious few thematic top picks, research dossiers, and executive interviews are available here:

Thanks for reading, friends.

The author has no position in Clearfield at the time of this writing.

Please read the legal disclaimers below and as always, remember, we are not making a recommendation or soliciting a sale or purchase of any security ever. We are not licensed to do so, and we wouldn't do it even if we were. We're sharing my opinions, and provide you the power to be knowledgeable to make your own decisions.

Legal
The information contained on this site is provided for general informational purposes, as a convenience to the readers. The materials are not a substitute for obtaining professional advice from a qualified person, firm or corporation. Consult the appropriate professional advisor for more complete and current information. Capital Market Laboratories ("The Company") does not engage in rendering any legal or professional services by placing these general informational materials on this website.

The Company specifically disclaims any liability, whether based in contract, tort, strict liability or otherwise, for any direct, indirect, incidental, consequential, or special damages arising out of or in any way connected with access to or use of the site, even if we have been advised of the possibility of such damages, including liability in connection with mistakes or omissions in, or delays in transmission of, information to or from the user, interruptions in telecommunications connections to the site or viruses.

The Company makes no representations or warranties about the accuracy or completeness of the information contained on this website. Any links provided to other server sites are offered as a matter of convenience and in no way are meant to imply that The Company endorses, sponsors, promotes or is affiliated with the owners of or participants in those sites, or endorse any information contained on those sites, unless expressly stated.