Alibaba is a Fraud or an Enormous Stock Opportunity


Fundamentals

Alibaba stock has utterly collapsed to all-time lows shedding $140 billion in market cap. The weakness surrounds China's economic slowdown on one hand, and
a very disturbing accusation of outright fraud on the other
.
China's total stock market meltdown has hurt the consumer and consumer confidence. Combined with a slowing economy, the concerns fall squarely on Chinese consumers and their financial health.
But, incredibly,
Alibaba has reported
that revenue and earnings in the last year are
both at all-time highs
. That's right, all time highs in revenue and earnings in a stock down 50%. Here's a chart of revenue (TTM) in the blue bars and net income (TTM) in the orange line.
Here's the Problem
There have been calls that Alibaba is an outright fraud. Here's a snippet from Fortune:
---
"Last week Fortune reported that certain respected investors had begun to doubt the accuracy of various figures reported by Alibaba, the leading Chinese e-commerce company. Hedge fund manager John Hempton of Bronte Capital even suggested that Alibaba might be committing fraud by 'faking their numbers.'" (Source: Fortune).
---
In response to those accusations, Alibaba's founder and executive Chairman Jack Ma retorted that China's community of online shoppers is massive and prolific in their purchasing power, and Alibaba's marketplace is their favorite place to shop. He simply said that the numbers look "to good to be true" because of China's market. Check out this image that shows the unimaginable growth in the size of China's middle class (evidence to support Jack Ma).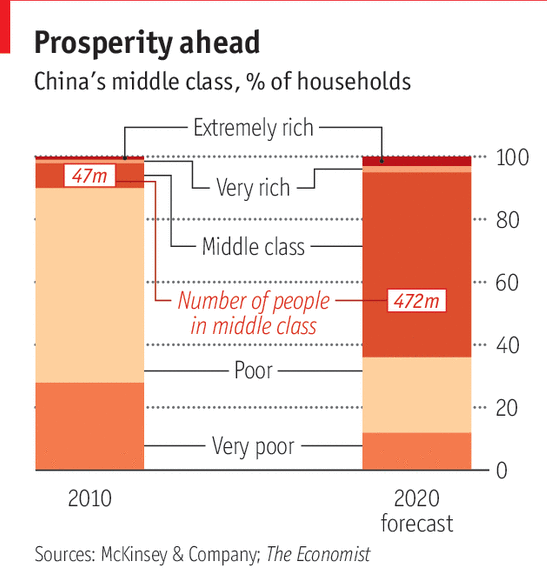 We're talking about estimates of nearly half a billion more people in China's middle class by 2020. That doesn't mean Alibaba isn't a fraud, but let's be honest here, the United States does have a palpable Sinophobia. The stock market has at least some reason for it, as there have been a large number of outright frauds in China that were trading on US markets.
Now What
Unlike other companies, Alibaba does
not
house its own inventory but instead acts as a platform for other retailers to reach BABA's immense customer base. This business model has proven to lead to absolutely enormous earnings margins. Further, BABA recently announced that it will be launching a sort of Netflix / HBO competitive product inside China.
If this fraud claim is simply wrong,
then Alibaba is a remarkable investment opportunity
with a stock price hammered by systematic risk (the Chinese market) and what
could be
totally unsubstantiated fraud accusations.
But, if Alibaba is a fraud at any meaningful level, the stock still holds a $150 billion market cap, so the fall from here could still be abruptly lower. The stock is down 50% from its highs and could easily drop another 50% from here, if not more.
We're left with a simple question: Is Alibaba a fraud? Whatever your answer to that is, will direct your investment thesis on the stock.