Alteryx (AYX) CFO says mission of digital transformation unchanged: "There's just a massive opportunity going forward"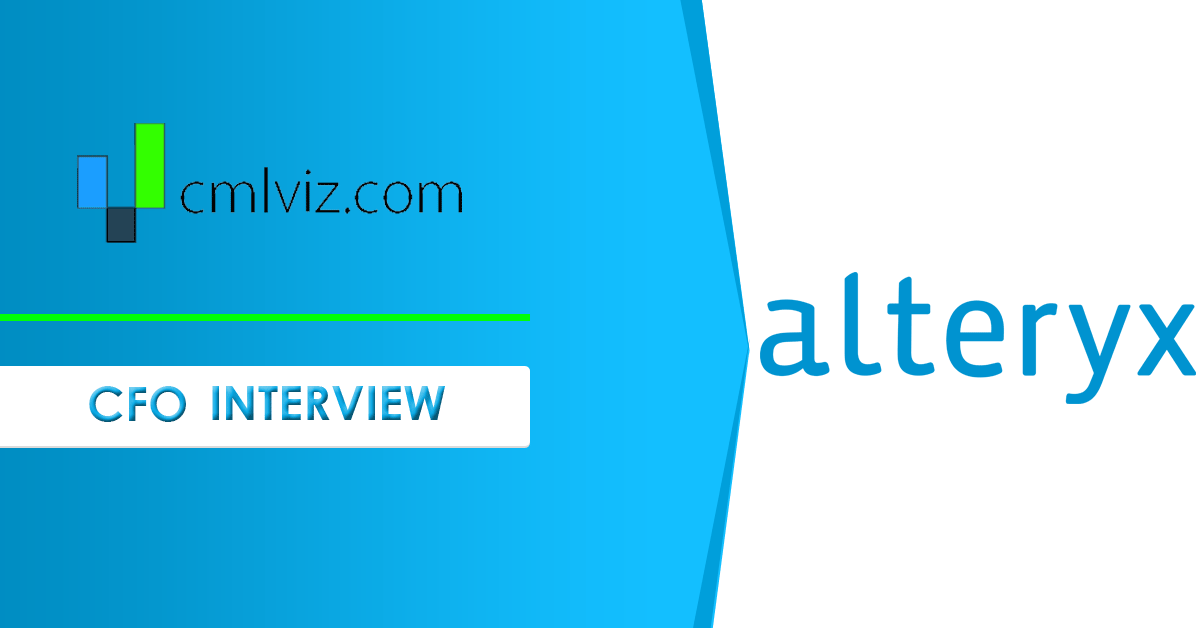 One on One with the CFO
It's been an eventful autumn and start to winter for Alteryx (NYSE:AYX), makers of software to democratize data analytics. After a sharp drop back in early August on a disappointing forecast, the shares bounced back in October as the company raised its outlook and named board member Mark Anderson, previously president of Palo Alto Networks, to take over from Dean Stoecker as CEO. (Stoecker is becoming executive chairman.)
As he has many times in past, Alteryx's chief financial officer, Kevin Rubin sat down to talk to Capital Market Labs days after the company's Q3 report on November 9th.
Rubin said visibility into the business continues to be affected by the pandemic. The effect of things such as longer deal cycles to close a deal is still with the company. That's clear from a forecast for this quarter that came in below expectations.
However, it hasn't dented the company's sense there is an enormous opportunity. "Certainly, the uncertainty does impact how we think about going to market, and engaging with customers, and things of that nature, and frankly, even where our employees reside, right?" Rubin told CML. "But I think overall the strategic objectives are unchanged."
"I believe it was IDC that referenced there is going to be a trillion dollars spent on digital transformation for data-related investments," noted Rubin. "I mean, there's just a massive opportunity going forward."
"We are very focused on making sure we can control what we can control," he added, including adapting from field sales to inside sales.
Regarding Anderson, whom Rubin has had time to get to know while Anderson sat on Alteryx's board, Rubin remarked that he has the kind of experience to take Alteryx to the next stage in its journey to a billion dollars in annual revenue.
"He just has a different perspective to appreciate, as we go from, plus or minus, a half-a-billion-dollar business to several billion, the different hurdles and pitfalls along the way, and how to navigate those pitfalls well," said Rubin of Anderson.
Rubin also reflected on the rise of Snowflake, a company with which Alteryx works in informal ways to integrate customers workflows. Snowflake, and all the other data warehouse companies, including AWS and Azure, are "tailwinds," said Rubin.
"Their customers challenge is always how do I get it out [of the data store] for analytic purposes, and make better decisions. That's kind-of where we step in."
To recap, Alteryx on October 5th raised its Q3 outlook from $111 million to $115 million to a new range of $126 million to $128 million, and then ended up beating that with $129.7 million on November 5th. The company has forecast $146 million to $150 million for the current quarter, below consensus for $150.8 million.
Transcription
Capital Market Labs: Lets recap what happened vis-à-vis August. The number you came out with on October 5th, in the pre-announcement, and then on November 5th, in the final number, was substantially higher than what you guys had talked about in August, so what happened there between your sense in early August and what showed up on October 5th?
Kevin Rubin: I think its two elements. We did see encouraging signs of overall market improvement, which we talked about on the call.
The second component I would characterize as revenue mechanics.
So, our revenue is influenced by a number of different dynamics, one of which is the percentage of contracts we closed that actually started in the quarter. And that was a favorable percentage for us in the third quarter relative to just general historical averages.
So, one of it was truly demand-generated, and one was just more how we recognize revenue.
CML: And you had said on the call that you were seeing longer deal cycles, smaller deal sizes, less favorable linearity. So, are we expecting that is still something that is going on in your market at present?
KR: It is, and my commentary was extended to include Q4, and as we look around at 2021, some of those are still uncertain relative to our business. I would characterize it in the following way.
In 2019 it was pretty clear that customers were making very large bets around very large transformation initiatives.
And as we've seen during the pandemic, call it post-March, while customers continue to have very strategic conversations with us around transformation efforts, they seem to be taking those efforts in kind-of smaller, bite-size pieces.
So, the overall objective hasn't changed, but the pace of their transformation is different than we saw in 2019.
So, I think all of that certainly played a factor in what we've seen since March.
CML: And does that pace mean that its hard again this quarter to know exactly how many deals you're going to be able to close or what size, that the overall visibility is reduced?
KR: I think it would be fair to characterize it as market conditions are still uncertain.
I would say that our business is generally pretty predictable.
The variability in the business comes from two places, as I said earlier, either the demand side or kind-of a revenue mechanics, which is one of the reasons that we have provided ARR as another metric to look at our business.
And if you look at the growth rates and kind-of the stability within ARR, I think it tells a picture of a sizable, stable growth business.
We ended the quarter at $450 million in ARR. I have indicated that we expect to end the year at $500 million.
CML: And so, what things, other than giving that disclosure to help the Street, what things have you been doing lately to deal with the fact of things like less favorable linearity or a longer sales cycle?
KR: Yeah, I mean, like any business, every single quarter we review how we did, and there's always areas for improvement, there's always things you can tighten up and refine here and there.
We've talked this year about really leaning in on sales enablement and training, making sure that sales reps have sufficiently adjusted to the reality of selling during a pandemic.
We talked on the call this quarter about simplifying the overall organization, especially the go-to-market, and making sure that we have clear alignment with customer outcomes and objectives in mind. Not just selling deals but really selling outcomes.
CML: Does that require changing who has responsibility for what areas, or who has what kinds of resources? Is it that specific?
KR: Over time, as the business evolves, we may shuffle some chairs around.
But for the most part its really just making sure that how we go to market, and how our sellers sell is aligned with customers.
And that has been a transition from a year ago where our field sales organization was accustomed to going out and sitting across a conference room table with a customer and engaging in that fashion, and today they are doing it over Teams or Zoom, or some other collaboration software.
We are just making sure that we are executing in all regards in all the right ways. Maybe said differently, we are very focused on making sure we can control what we can control. And that is how we execute, how we present in front of a customer.
Obviously, customers make their own buying decisions, but making sure that they have the best information, and are well-educated on who we are and why we are important.
And even more importantly, for those customers that are existing Alteryx users, the value that they have received from Alteryx and the opportunities to expand and grow the platform within their organization.
CML: On the call, Mark had highlighted a bunch of customer cases. Do you have any concern that new priorities during this period in time represent a shift away from the value that you offer?
KR: No, in fact, it's interesting, we talked through a number of use cases.
A handful were COVID-specific, the FAA and what it was doing with Alteryx around COVID-specific issues.
We talked about a US-based global airline. And then the other set of use cases that we talked about were Global 2000 companies that expanded use of Alteryx across multiple lines of business.
So, if you think about what we've seen over time, we tend to land small, that's something we've talked about quite a bit.
And the land-and-expand motion, at least as we have executed it, is, you land in a department with a handful of users, make them successful, and then you expand throughout the department, and then you expand to adjacent departments, you expand to adjacent lines of businesses.
I think the handful of examples that we offered were really designed to kind-of illustrate that that model is still highly effective.
We talked about APA [Alteryx's Analytic Process Automation] with you after the first-quarter call.
We continue to see very large organizations making very large commitments to the platform, for the reason that data continues to explode.
Its fragmenting in terms of type of data, where it resides, and this need to be able to upscale your worker and then automate the efforts that are fairly repeatable. It's pretty powerful.
And we continue to see these same themes resonate today.
It goes back to my earlier comment, where a customer may have decided in 2019 to outfit the entire org and go through that entire process, were seeing them now doing it a little bit more step by step.
But the end outcome has not changed.
CML: Do you have any concern about the landscape of small and medium customers relative to your average client size?
You serve some very large companies. You also serve some that are in small and medium business. And my sense is that that part of the economy domestically and abroad has been more vulnerable of late.
KR: Yeah, I would generally agree with that last statement.
We certainly have seen the most impact from the pandemic in the high-impacted verticals within smaller to medium-sized business. It's not an insignificant portion of our business, but it's also not incredibly material.
We have been accommodating to customers in those segments to help them through this.
But the truth is the focus of the organization is on larger companies and larger business.
CML: In other words, that serves the land-and-expand approach if there is a very large potential team of users within an organization?
KR: I would say this: Although we are happy to sell licenses to any organization that can benefit from Alteryx, our strategic focus is really on larger enterprises.
To your point, the value of Alteryx when you have hundreds of thousands of licenses deployed, you've automated your workflows through the server, that's really the end state, if you will.
That aligns with digital transformation and other strategic initiatives of very large organizations.
CML: Those are the ones that are doing digital transformation, as we talk about, it at scale?
KR: That's right.
CML: Tell us a little bit about Anderson, because I was surprised by this. I didn't know if you had signaled to the Street earlier, but when I saw the announcement that he was taking over from Dean I was surprised.
KR: I would lead off by saying how excited we are to have him.
I personally have built a relationship with him over the couple years that he's been on the board.
His knowledge and expertise in running large scale businesses is pretty impressive.
Dean had, I think, been getting to a point where I think he recognized that he wanted to do other things, to focus on his philanthropy.
I think also as the company got larger; a different set of skills would be helpful. His successor had been worked on for a number of years.
And then it was really just finding the right person to take over at the right time, if you will.
And conversations started to move Marks way, as he was pretty close to the business, and I think he was excited about the opportunity to come in and lead the company through this next phase of growth.
To quote him, it's a stage that he's incredibly comfortable with, and I think we're thrilled to have him.
He's been on just over 30 days at this point. And certainly, making an impact, and we are excited to have him.
CML: Do you have a sense of what he will bring that is different from how Dean did things?
KR: Let me tell you how he would describe it.
He would describe himself as a knuckle dragger, in the sense that operational execution and excellence is top priority.
Not to suggest that it wasn't for Dean.
But I think what Mark brings in that arena which is just different is an appreciation for stage-appropriate skills, structure.
One of the things he talked about in his prepared remarks is really just simplifying the organization, and making sure we are aligned to customer outcomes.
And so, he just has a different perspective to appreciate as we go from, plus or minus, a half-a-billion-dollar business to several billion, the different hurdles and pitfalls along the way, and how to navigate those pitfalls well.
CML: That's an interesting point because you certainly have been in this business for a long time, in the business of seeing how companies develop.
That can be a milestone going from when you hit a half-billion, how do you get to a billion? Even Bill Gates talked about that when Microsoft was at that stage.
KR: It is a real thing. The skill sets, and even the people and processes within an organization to get to different levels of scale and maturity, change.
And mark has seen that twice, at least, in leadership roles at F5 and Palo Alto Networks.
So, having that experience, having walked the path, probably made mistakes and corrected those mistakes, and still able to push forward with successes, pretty important.
I think Dean recognized that was something that Mark brought to the table that was incredibly unique.
CML: He's coming from a slightly different world with Palo Alto.
He's coming from a world that might be a perpetual license on a site basis, it's a little different from land and expand in your world, where an individual puts down a credit card, and they like it, and then they tell two friends, and they tell two friends…
It's a bit of a different kind of structure for go-to-market and invoicing and for billables and collection. Does any of that matter, that he's coming from a different world?
KR: I don't really think so.
We are certainly much more of a high-volume shop than maybe some of his prior companies.
Although I think there are aspects of some of his experience that may look similar.
But, I think, at the end of the day, when you are talking about selling millions of dollars into customer environments, it starts to look very much like a strategic sale.
And so, I think as we continue to sell into the C-suite, and continue to sell very large APA deployments, I think that's perfectly aligned with his experience, and quite frankly I'm pretty excited to have him.
CML: We've seen a lot of activity in related areas of analytics and data processing.
I'm thinking of companies like Splunk, and companies in application performance monitoring, such as Datadog, and Dynatrace and New Relic. I'm wondering, how do you see Alteryx in the context of these companies and their marketplace for analytics?
KR: Each of those companies that you mentioned are specializing in one aspect of data, if you will — understanding log files, things of that nature.
Where we differentiate ourselves is, we offer advanced analytics and data science across all of your data, across all your data sets, regardless of where they sit, regardless of what the data looks like.
And then we allow you to prosecute that set of analytics across your entire organization, and consume it in whatever fashion you choose to.
And so certain analytics may lend themselves to be visualized, certain may just be an answer that you want to inform a downstream system.
And were seeing more and more analytic workflows actually driving operations. How systems of business make decisions.
I think that's very different and unique to what any of those names you're describing, what their mandate and tasks are.
You know, one of the things that's been an incredible competitive advantage is simply that we have just maintained an agnostic position in the middle of these fragmenting data sets across the organization.
We play nice with your AWS instance, your Azure instance, your Oracle database.
We don't force you to do anything unnatural with your data.
CML: There is of course a battle going on between Snowflake and Oracle, just put all of your stuff in a kind of giant pile in the cloud.
Does any of that battle over where these repositories have an impact on your business at all?
KR: At the end of the day, they are all tailwinds, right?
We share hundreds of common customers with Snowflake as customers try to figure out how to get their data into Snowflake in a manner and fashion that works for them. And being able to get their data out.
What we've seen is Snowflake is just yet another data store that companies are standing up, but it's not, in the grand scheme of things, reducing complexity.
There's still data spread throughout the organization and in the cloud, that's needed for analytic purposes.
We have a close relationship with Snowflake, and the other strategic, more modern data warehouses in the space, for largely all the same reasons: their biggest struggle is getting data into their warehouses, and their customers challenge is always how do I get it out for analytic purposes, and make better decisions.
That's kind-of where we step in.
CML: Is that formalized, in the sense of your being a reseller for them or a channel partner?
KR: I would describe it as, at the moment, we are technology partners that work together.
There is no formal reseller or partnership agreement in place today.
CML: Is that something that you can see, down the road, being of interest?
KR: Certainly, as we think about strategic players in the space, it's to all of our customers best interest that we all integrate and work well together.
CML: What are your priorities for your role going forward in 2021? How do you think about the main things that are on your desk and what you want to focus your efforts on?
KR: That's a great question.
First and foremost, it's making sure as an organization that we have a strategic plan that is both achievable but pushes the organization forward.
My organization in particular, obviously there's a large component of capital allocation or resource allocation, making sure that we are putting our money to work in all the right places in all the right ways.
But then there's really making sure that we are building the infrastructure to support a scaled business. Making it so that we can be more agile, be more nimble, support our customers where they need to be supported, and just making sure that we have all of those pieces put together.
And then obviously partnering with Mark and making sure that we accomplish the mission, so to speak.
CML: Does any of that look different in this landscape in 2021? The results of an election, at some point. We've got maybe a vaccine coming, digitization ongoing — do these things change how you go about that role?
KR: I think what it tells us is that we should continue to expect to have some uncertainty just in the overall market.
That being said, we play in a $49 billion-a-year market.
Digital transformation — I believe it was IDC that referenced there is going to be a trillion dollars spent on digital transformation for data-related investments. I mean, there's just a massive opportunity going forward.
Certainly, the uncertainty does impact how we think about going to market, and engaging with customers, and things of that nature, and frankly, even where our employees reside, right?
But I think overall the strategic objectives are unchanged, right?
I mean, making sure that we serve our customer as best as we can, and continue to demonstrate value, and continue to earn the right to expand with them.
CML: Anything you wanted to mention that we didn't go over, Kevin?
KR: I think the only thing that I would share in closing, and I alluded to it earlier in the call, you know, as we look at the growth of our business, specifically on an annual basis, we really do think this is a meaningful growth-oriented business.
And you should expect us to behave in that manner.
We are very optimistic about the opportunity in front of us, so we are going to go after it in a big way.
CML: Keep up the good work. We look forward to speaking with you next time.
Conclusion
It's finding the technology gems like Alteryx (AYX) before they are household names, that can turn into the 'next Google,' or 'next Apple,' where we have to get ahead of the curve. This is what CML Pro does, with an auditor verified track record, because of course it's verified.
Each company in our 'Top Picks' has been selected as a future crown jewel of technology. Market correction or not, recession or not, the growth in these areas is a near certainty.
The precious few thematic top picks, research dossiers, and executive interviews are available here:

Thanks for reading, friends.

The author has no position in Alteryx at the time of this writing.

Please read the legal disclaimers below and as always, remember, we are not making a recommendation or soliciting a sale or purchase of any security ever. We are not licensed to do so, and we wouldn't do it even if we were. We're sharing my opinions, and provide you the power to be knowledgeable to make your own decisions.

Legal
The information contained on this site is provided for general informational purposes, as a convenience to the readers. The materials are not a substitute for obtaining professional advice from a qualified person, firm or corporation. Consult the appropriate professional advisor for more complete and current information. Capital Market Laboratories ("The Company") does not engage in rendering any legal or professional services by placing these general informational materials on this website.

The Company specifically disclaims any liability, whether based in contract, tort, strict liability or otherwise, for any direct, indirect, incidental, consequential, or special damages arising out of or in any way connected with access to or use of the site, even if we have been advised of the possibility of such damages, including liability in connection with mistakes or omissions in, or delays in transmission of, information to or from the user, interruptions in telecommunications connections to the site or viruses.

The Company makes no representations or warranties about the accuracy or completeness of the information contained on this website. Any links provided to other server sites are offered as a matter of convenience and in no way are meant to imply that The Company endorses, sponsors, promotes or is affiliated with the owners of or participants in those sites, or endorse any information contained on those sites, unless expressly stated.