Capital Market Laboratories (CMLviz) One-on-One CFO Interview with Alteryx CFO - The market is 'ginormous'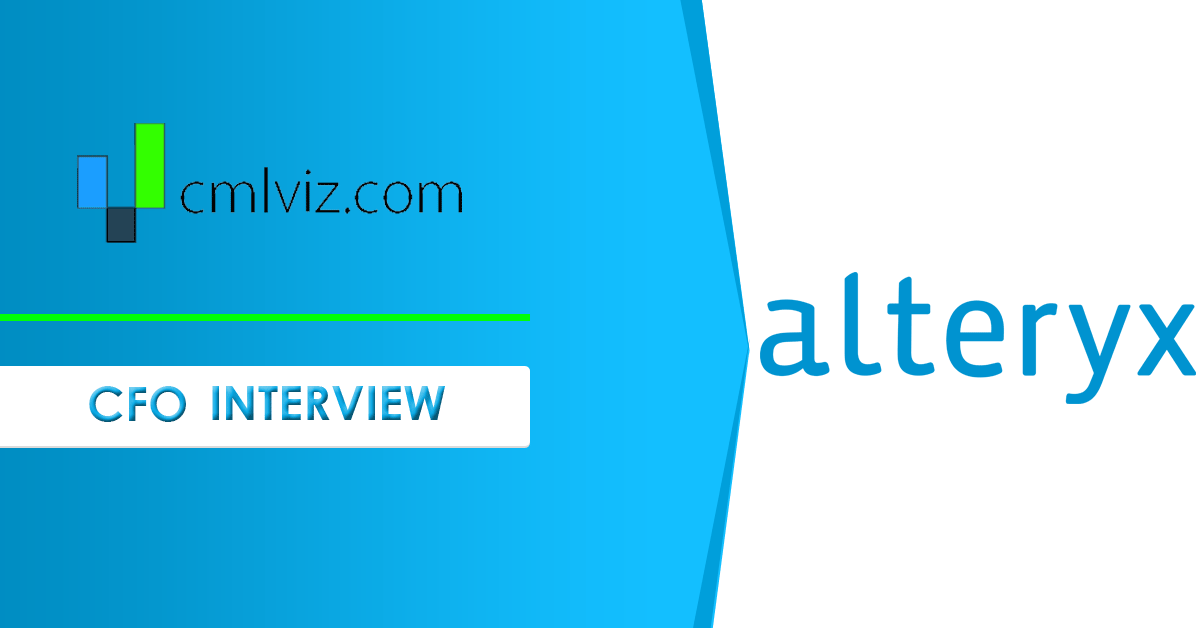 Date Published:
2019-08-20


Disclaimer
The information contained on this site is provided for general informational purposes, as a convenience to the readers. The materials are not a substitute for obtaining professional advice from a qualified person, firm or corporation. Consult the appropriate professional advisor for more complete and current information. Capital Market Laboratories ("The Company") does not engage in rendering any legal or professional services by placing these general informational materials on this website.


Preface
The market for data analysis tools is so 'ginormous' that there will continue to be active M&A, and Alteryx, a longtime player in the field, is keeping its powder dry, so to speak, so that it can be one of the acquirers.

So says Kevin Rubin, chief financial officer of the company, in an interview with Capital Market Laboratories following the company's earnings report on July 31st that solidly beat both top- and bottom-line expectations, and an outlook for this quarter's revenue and the full year that was higher than consensus.

"We expect to be one of the consolidators in the industry," Rubin told CML, when asked about the recent purchase of data visualization tools maker Tableau Software by Salesforce in June for nearly $16 billion.

What's working for Alteryx, said Rubin, is not only the intense interest in Big Data in the boardrooms of companies, but also a sales strategy that divides the market into new prospects to be identified, and then a team to stick close to customers once they're engaged to spread the software to more teams - the classic "land and expand" strategy of software makers.

Rubin's comments overall were very much in accord with those of chief executive Dean Stoecker when he talked with CML back in March.

To review, Alteryx on July 31st announced Q2 revenue of $82.04 million for the three months ended in June, up 59% from the year-earlier, period, and EPs of a penny per share. That was better than the average estimate for $76.6 million and a 6-cent-per-share loss.

For this quarter, the company sees revenue of $88 million to $91 million, above consensus for $87.6 million, and EPS of 6 cents to 9 cents, which is a bit below the average 13-cent estimate. For the full year, the company sees revenue of $370 million to $375 million, again, above consensus for $361 million, with EPS expected to come in a range of 44 cents to 50 cents, above consensus for 44 cents.

CFO Interview with Tiernan Ray
CML: What are the most important things for investors to take away from the results and outlook?

Kevin Rubin: The space that we serve, you know the opportunity is early, and it's just ginormous. There are forty-seven million disenfranchised Excel workers in the world, nearly fifty million data workers trying to work in Excel.

We find that Excel is just not capable of the type of efficient data work that companies are expecting. In many of our largest accounts, we establish the analytic fabric of their analytics culture. What has amazed us - I've been here three and a half years - what has amazed us is, the market opportunity continues to expand every year.

If you look at the addressable market, we originally thought there was twenty million we could serve, and now that has turned out to be more than double that. More and more workers are actually data workers. We've been able to enjoy pretty rapid growth for a sustainable period here, north of fifty percent growth since IPO.

So many companies are trying to figure out how to leverage the data available to us. It's hard to find a board room today where managers aren't pressing companies on how do you take advantage of the data.

We have clients in two distinct buckets today. Some are trying to accelerate business and the growth created through better insights and better analytic processes. And then the other class is all about efficiency and automation and how do I take analytics further in an organization. Any company that that trades on earnings, we can help you significantly expand your earnings power. If you are a company where success looks like growth, then we can help you eke out better growth opportunities.

Let's go back to analytics, generation one, the Hyperions and Cognoses. Looking back today, those things are incredibly remedial, but those companies thought they were putting incredibly sophisticated systems in place. And version two-dot-oh was better presentations and pretty charts.

Where you really create value is being able to take analytics to a much more powerful level, to take advantage of any data that's available to you, to pull in tens of hundreds of data sources, to scale and adjust as many data points as are relevant to your outcome. I've never heard of a manager who said to a data worker, use less data.

How do I take those insights deeper and explore further into what I'm seeing, dive deeper into the data and identify trends and outcomes and behaviors? What is it about my business I need to change to double-down on?

Here's a home-grown example. We use it very deeply internally for our own customer analytics. We regularly analyze our customer behavior for their buying behavior and their expansion cycle. There are various different cohorts of customers to understand what customers behave similarly, and which don't. That level of insight, and the ability to identify execution opportunities, is evident in our results.

Our net expansion rate for nearly all the quarters we've been public, except two, it's been about 130%, so we've been good about drinking our own Champaign, or dog food, so we say to customers, you can do the same thing.

A number of people in my functional ownership regularly interfacing with customers. My tax director is spending twenty percent of his time talking to customers about how we use the program to handle our tax treatments. A drag and drop environment appeals to data scientists who would otherwise be working with open source, because now they don't have to.

CML: What was responsible for the outperformance this quarter.

KR: Some of it was dissecting the business and finding opportunities, and you see that playing out in the sales execution. It was also the continued tail wind of companies recognizing the importance of this.

In 2016, my sales team would spend the first twenty minutes explaining how to pronounce the name we don't have those challenges today. We are regularly finding customers are jumping from one company to another, and they had hundreds of users at their last company, and now they need to outfit Alteryx at the new company. In terms of market recognition, there is a way to systematically do this.

CML: What was the trend for large deals in the quarter?

KR: In term of large deals, we did call out we saw meaningful growth in larger deals. One thing I would say, we don't have any concentration in customers or in markets so it wasn't the deals that drove the outperformance, it was the general state of the business, it was the general strengths in the market.

We have been consistent in our go to market. We have two distinct sales motions, one being attracting new customers, that is a distinct sales team, and the other one, expanding inside customers.

Both of those are forty-five days, which is unheard of in software. Deal sizes have been consistent, we have seen the land and the expand increase a little bit, but not dramatically.

CML: Why do you have a two-team approach?

KR: There are two reasons we split it. The new customers are an inside sales team, they are less expansive, mostly phone or email. We have found that focusing that muscle memory on landing the next one, moving to the next one, makes sense.

The expansion team is much more the field team, they go to a lot of customers and they are focused on enablement. They will identify the team that landed two to three seats, we will work with them to build their first workflow, and then how do we replicate that success and find more users in that same department and find users in adjacent departments, and how do we then expand to a line of business and then get the global conglomerate business to standardized on Alteryx. Those are a different kind of person from the inside-sales team.

CML: This market has seen some M&An action. What's your take on the purchase of Tableau by Salesforce?

KR: We were not surprised they got acquired. I would say we weren't surprised it was Salesforce. They had been shopped around two years ago. They had some retooling they needed to do.

For us, we sit in the middle of it all, in the hardest part. We are agnostic to where your data lives, and how to represent your data. Tableau has been a great partner to us. We have many customers who use Tableau and Qlik and others.

For us they are also both very large customers of ours. We support many internal functions at Tableau and at Salesforce around their data fabric.

There has been consolidation the last few years in analytics, and with the convert we just executed [Alteryx issued a convertible note of $350 million worth of Senior Notes due 2014 and $350 million due 2026 on August 8th], we expect to be one of the consolidators in the industry. As we continue to tuck in various different technologies. I'm not surprised about Tableau. They found a nice home with Salesforce. In some ways, it works as a benefit to us. Being a platform that is Switzerland between all these technologies, we give our customers choice. If they don't standardize on Tableau, and they want to user Power BI, they don't have to redo their analytics process, just redirect their connector. And so, we provide that optionality.

This will just remind customers, as they select key pieces of their stack, to maintaining optionality.

CML: If you're thinking about being an acquirer, you must have noticed that valuations have been pretty rich of late…

KR: We have to recognize that all waters rise. We benefit from that. Our valuation is hot. As we think about M&A, if I think on a per dollar of incremental revenue basis, we can afford to pay for some of these rich valuations because we have been rewarded in our stock.

Look, the valuations are high, and we have that as well. There are a lot of science projects that don't have the go-to-market around that, and we can offer that.

CML: Have you seen any impact in your business from tariffs and trade and Brexit.

KR: That is a great question. Thus far, we have not seen any impact to our business. We haven't seen anything to suggest that downloadable software is going to get wrapped up in this. There's no material exposure to China today. China is truly incremental to us, that's still opportunity.

Brexit is interesting. The disruption can be felt on the streets of the UK and London. I think as it relates to - we are an U.S.-based multinational. EMEA [Europe, the Middle East and Africa] is not affected by Brexit. One thing I can tell you, in good markets and bad, companies asking themselves questions don't go away. To know and analyze your business only gets more important. It would surprise me if either of those things impacts that.


But What About the Future?
It is understanding technology that gets us an edge to find the "next Apple," or the "next Amazon." This is what CML Pro does. We are members of Thomson First Call -- our research sits side by side with Goldman Sachs, Morgan Stanley and the rest, but we are the anti-institution and break the information asymmetry.

The precious few thematic top picks, one-on-one CEO interviews, research dossiers, and alerts are available for a limited time at a 80% discount for $29/mo. Join Us: Discover the undiscovered companies that will power technology's future.

Thanks for reading, friends.

Legal
The information contained on this site is provided for general informational purposes, as a convenience to the readers. The materials are not a substitute for obtaining professional advice from a qualified person, firm or corporation. Consult the appropriate professional advisor for more complete and current information. Capital Market Laboratories ("The Company") does not engage in rendering any legal or professional services by placing these general informational materials on this website.

The Company specifically disclaims any liability, whether based in contract, tort, strict liability or otherwise, for any direct, indirect, incidental, consequential, or special damages arising out of or in any way connected with access to or use of the site, even if we have been advised of the possibility of such damages, including liability in connection with mistakes or omissions in, or delays in transmission of, information to or from the user, interruptions in telecommunications connections to the site or viruses.

The Company makes no representations or warranties about the accuracy or completeness of the information contained on this website. Any links provided to other server sites are offered as a matter of convenience and in no way are meant to imply that The Company endorses, sponsors, promotes or is affiliated with the owners of or participants in those sites, or endorse any information contained on those sites, unless expressly stated.