Applied Materials (AMAT) CEO Conversation - The Ultimate Value of Silicon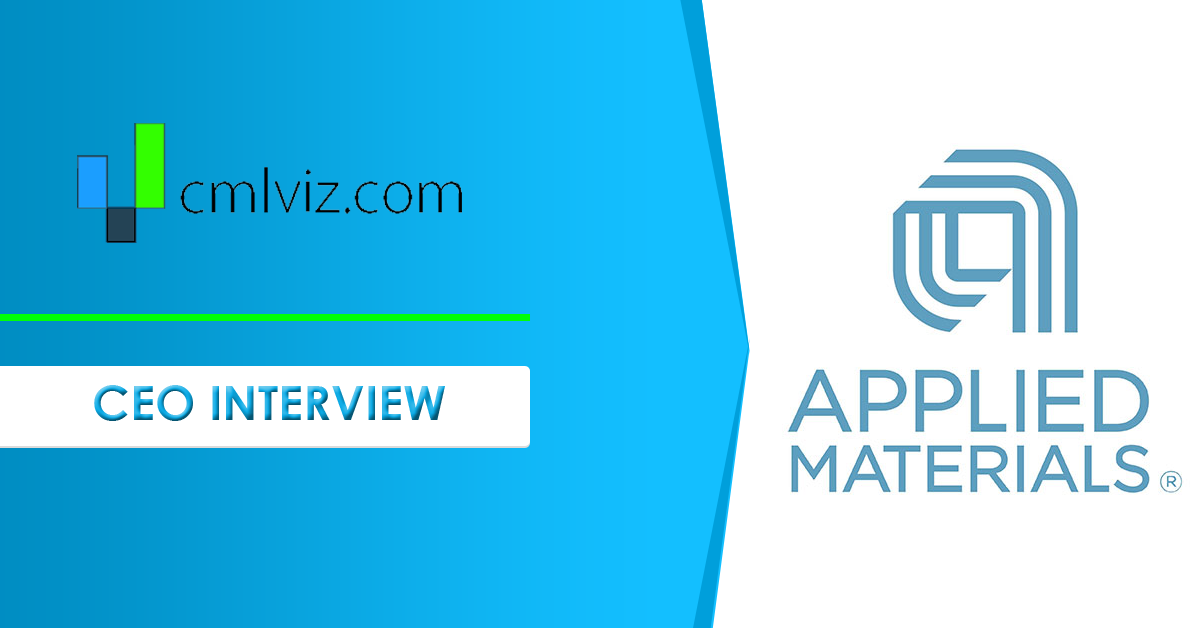 What is the value of the computer chip industry? A lot more than just the dollar value of chips, according to Gary Dickerson, chief executive of Applied Materials (NASDAQ:AMAT), the world's largest maker of chip equipment.
As he has in past, Dickerson recently sat down with Capital Market Labs following yet another highly successful quarterly report in which the company once again raised its overall outlook for the chip equipment industry.
Dickerson makes the case that semiconductors are becoming much more integral to how the world functions. Chips are no longer merely the foundation of computing but the foundation of artificial intelligence and everything else that falls under the rubric "digital transformation."
"My own personal view is the next decade with this digital transformation of everything is going to be much stronger, much more pervasive," he says. "Semiconductors are at the foundation of this infrastructure that impacts the economic growth and employment growth of every country and every company around the world."
The key, according to Dickerson, is what he refers to as "wafer value," the economic value that results from every semiconductor wafer as a kind-of follow-on effect.
That infrastructure leads to value that is multiples of the value of the chips themselves.
"The relative power, performance, and cost of that digital infrastructure that every industry is built on top of has a multiplying effect for employment and economic growth," he says.
Dickerson believes that the chip industry is set to be less cyclical as demand sustains because of that economic worth.
"Demand, I think, is going to sustain, and our markets are going to continue to become larger as semiconductors are at the foundation of this infrastructure that impacts the economic growth and employment growth of every country and every company around the world," says Dickerson.
Dickerson makes his case that the industry is less cyclical now when viewed over multiple years.
"Every data point is up and to the right," says Dickerson of the metrics of the business. "Now, that doesn't mean every quarter or every half year or every year is up, but that two-year moving average, every data point is up."
To explain Applied's value in all that, Dickerson has for the past couple of years articulated his company's contribution as by the acronym "PPACt."
That acronym refers to how well a chip company can improve on the power consumption, the performance, the square area of a chip, and the cost of the chip, and how fast it can get parts to market — the little "t" standing for time to market. PPACt is the "new Moore's Law," as he puts it.
PPACt are the vectors by which Applied's tools help customers improve their chips. PPACt is "going to determine whoever can deliver power performance, and cost ahead of others is going to prosper," says Dickerson. Solving PPACt is a multi-dimensional problem, he says, akin to Spock playing 3-D chess in Star Trek. It's requiring new machine learning tools, and solving it is going to have very high value.
As a result of increasing value, and less cyclicality, "It's just a wonderful time for us," Dickerson says of the market for Applied's products and services.
One-on-One with the CEO of Applied Materials (AMAT)
Capital Market Labs: Gary, first tell us what things you think are most important for investors to take away from the results and outlook.
Gary Dickerson (AMAT CEO): Yeah, I think big picture, my view hasn't changed relative to what I've been communicating, actually over the last couple of years, and certainly it's consistent with what we talked about in our investor meeting a few months ago.
We're in the very early innings of the biggest inflection of our lifetimes, technology transforming every industry.
And certainly, the pandemic has accelerated all of these technology transformations. My twins just started into sixth grade, middle school, this week, actually. And last year they were virtual, online learning for most of the year.
Of course, the way we work has changed, the retail transformation has accelerated. Anybody that goes in and tries to buy a car now, there are a lot of cars that aren't available because of chip shortages.
Healthcare, everything is transforming. There's a digital transformation of every single industry. And, again, we're just in the early innings of this inflection.
Now, I talked before about data and data is up — I think the growth is 150 times in the last six years.
In 2018, I talked about this before, was the first-year machines generated more data than people.
And by 2025 the projection is that people will be 1% [of all data generation]. So, it's just, again, everything around us, every single industry is transforming.
I think also, I've been involved in a number of different discussions with chip companies and auto executives, and I think the world, relative to just-in-time inventories and those types of things, we certainly see that some of those strategies are not working today.
And I also, I was in a call with government and some auto executives, CEOs, and other tech executives, and I think that certainly there's — you see this with governments also now, really realizing that semiconductors are at the foundation of the biggest inflection of our lifetimes, all of the edge innovation that has to happen to the cloud to process all the data that's generated, storing that data.
We are seeing more relationships where customers are entering into longer-term agreements, because, again, just-in time wasn't working.
But I think still my own personal opinion is that the magnitude of the inflection is still something that people still don't fully comprehend.
So, if you look at our market, we shared at our investor meeting, if you go back for a decade and you do a two-year moving average, what you see back to 2012-2013, all the way to 2021-2022, that every data point is up and to the right, every data point is up.
Now, that doesn't mean every quarter or every half year or every year is up, but that two-year moving average, every data point is up.
And my own personal view is the next decade with this digital transformation of everything is going to be much stronger, much more pervasive.
You're going to have a half-trillion connected devices at the edge. You're going to need innovation in terms of power consumption from the edge to the cloud, the speed and the latency.
There's so much innovation in the chip and in the package from a system standpoint, that's going to happen again.
So, the demand, I think, is going to sustain and our markets are going to continue to become larger as semiconductors are at the foundation of this infrastructure that impacts the economic growth and employment growth of every country and every company around the world.
And at the same time, what I would say is that — again, this is also super-clear to me at least — Moore's Law did end, the classic 2-D shrink Moore's Law came to an end.
And we've been talking about this is what is driving the world forward — and I think this will become even more clear over the next three years — it's about application-specific workload architectures.
And you see many of these systems companies with thousands of designers designing their own chips now, again, for application-specific workloads.
And new materials and new structures for power and performance and for cost.
That is going to increase in relative importance going forward, how you connect the chips together. And you'll hear many of the large technology companies talking about how you break a chip up into IP blocks and then connect it through a package, there's tremendous innovation that will take place there.
So, I think, to me what's very clear, is that the path forward, and winning in the future, is not what got us to where we are today.
And so, this new playbook, the new Moore's Law going forward, or the new playbook going forward for power, performance, area, cost, and time, we call PPACt, that's going to determine whoever can deliver power performance, and cost ahead of others is going to prosper.
The companies that have that winning semiconductor, the digital infrastructure, those are the companies.
And there's a multiplier effect on top of this, where all those industries, you're talking about many trillions of dollars in economic employment growth, sit on top of that digital infrastructure from the edge of the cloud.
And again, that's why I think the strategic importance is elevated really with every country now, focused on this transformation that's taking place. But again, that playbook is really — Applied is right in the sweet spot.
If you think about enabling new structures, enabling new materials. We've made investments, and we're in a great position for connecting the chips together through packaging.
And if you look at the relative contribution, the relative contribution to power, performance, and cost innovation, and speed, time to market, going forward, again, these application-specific workloads with system companies, with thousands of designers, new materials, new structures, new ways to connect chips in IP blocks or chip-lets together — and shrinking will still be there — but that is the relative contribution of those other areas. And this is just, again, very clear to me.
And you can see it with our customers, they talk about design technology co-optimization, and how they're going to get areas savings by designing structures and chip architectures in new ways.
I can describe that later, where they get significant areas of savings without any change in the pitch, without any shrinking.
So again, those are things that are really driving our business, our semiconductor business.
We guided it to be up around 50%, year over year, this quarter, and our total revenue we communicated, up 35%, this quarter.
So, our semiconductor business is really in the sweet spot relative to how to enable our customers' power, performance, and costs.
So that's doing really well. We outperformed in '19, we outperformed in 2020, we're on track to outperform in 2021.
You also know that we're pretty balanced.
We have strength in leading-edge foundry-logic, in what we call the ICAPS market, IoT, communication, automotive, power electronics, and sensors.
This is all of it. Edge innovation, explosion on the edge.
We have raised our share in memory where it's pretty much in the same zip code as our foundry/logic share. And then packaging, we have real strength, the advanced packaging and connecting chips together.
So again, even last year was a NAND year, 2020 was a NAND year. We outperformed. Certainly, over the last two years and this year, there's significant adoption of EUV in foundry/logic.
The rate of growth is pretty high, and we outperformed in all of those, with those types of situations.
So again, we're just in a really great position. Our service business is growing at a very high rate.
We talked about the growth rate there. I think we guide it to around 18% [NOTE: Dickerson is referring to the part of Applied's semiconductor business called "Applied Global Services," or AGS, where revenue is forecast to rise 18% this year.]
There's recurring revenue there, there's subscription revenue and agreements, that's doing really well. Renewal rates are doing well.
The length of the agreements are going out to a longer timeframe, so we gave those statistics on the call. So again, I guess those are some of the highlights.
CML: Excellent. That's like a Gettysburg Address, Gary. Well done.
GD: Yeah. Well, you pushed the button and then… No, I just get so excited about this stuff. You shouldn't ask me to talk about this stuff!
CML: I appreciate it. That's worth a lot of our time. But let me pick up on the financials at the back end of that before digging into the other stuff, Gary.
An amazing quarter, 41% growth, gross profit the highest in 14 years, at 48.1%. Operating margin, the highest ever, 32.7%.
A billion and a half in free cash flow, I think, the highest quarterly free cash flow… These are amazing numbers for a, what, 53-year-old company?
And what I wonder is, given that you reached these points after decades of very good operation to get to this point, does that change — do any of those high-water marks, for the moment, do they change the way you operate, how you go to market, how you do this business, month in and month out, when you're hitting these kinds of high points?
GD: Really, I always tell everybody I'm so fortunate to be here at this company, and be here with this team.
We're really focused on inflection-focused innovation.
So, in all of our markets, as I said earlier, delivering power, performance, and costs ahead of anyone else is really what determines who wins and losses.
And so, I spend an enormous amount of my personal time with our customers, especially R&D leaders, the CEOs.
I've actually got a dinner tonight with one of our big customers, and then a video tomorrow. Today's in person, tomorrow morning, another one.
But again, it's just a wonderful time for us.
You look at the innovation that's happening across all parts of our business, as I mentioned earlier, I think there's just phenomenal passion for us. And the opportunity.
We're in this really tremendous position, when you think about our capabilities, with all of the materials that we can create that are very unique, shaping those structures through selective removal, modifying those materials.
Our ebeam, our PVD business, we're projecting, estimating, 60% this year.
And that combination of capabilities with all of those products, and then the integrated material solutions that we've talked about, the ability to improve — one innovation we talked about, and there are many, improving wiring resistance 50%, with a tool that combines ALD, CVD, PVD, copper reflow, interface engineering technologies, metrology…
I think there's seven things in this one tool under vacuum so you don't go out to air and damage the electrical properties of those films and those interfaces by oxidizing them. Again, we have so many unique capabilities.
And as I said, if you look at what's going to enable the future, it is the phase of the new materials, the new structures, connecting chips together, new architectures. Our relative contribution to this digital infrastructure and to our customers, whether it's the generating the data on the addresses, storing the data, or processing the data on high-performance computing in the cloud, or connecting all of those chips and shipments together in the packages, we just…
We're just in a really tremendous position then, and there's so much passion, to drive, to deliver those solutions.
And the other thing I would say, our vision is to make possible a better future for everyone, and this makes possible… These innovations that we're delivering are so meaningful.
I had an employee meeting earlier this week, and I talked to everyone about that. I always do this.
But when you think about this explosion of data that is happening, and you think about power consumption and power-efficient computing… So certainly, this is really important for all of these systems and all of these industries, but it's also important, from a global perspective, when you think about climate change, something like climate change.
And this half-trillion or trillion chips on the edge going to processing and driving actionable insights in the cloud, there's a tremendous amount of power consumption.
We have to innovate to enable better power efficiency. And, again, that has a meaningful impact for everyone. Certainly, my kids, future generations, everyone.
So, I think for me, there's a passion, certainly, in creating value, working with our customers, and other companies through the ecosystem.
But then there's also, I think, a responsibility as leaders, for us to leave the world in a better place and this makes possible a better future.
Again, for me, the results you're talking about are outcomes of the value that we're creating and the difference that we're making.
So, I don't personally focus completely on that.
I mean, I think that the impact that we make in the world and with our customers, that that's really what drives me.
CML: Fair enough. I'm going to ask you one more financial point, nevertheless, despite that fact, before we turn to more of the thematic substance of points.
On the EBITDA margin, you're more like a software company than a hardware company to a lot of people.
Is that a permanent inflection upward, Gary, that high EBITDA margin, for the company?
GD: If you look at what we've communicated in our investor meeting, I think this is making progress toward those numbers that we communicated. [NOTE: Applied held its annual analyst day meeting on April 6th.]
So, if you look at the entire industry, our customers are spending more. Everybody sees they're spending more.
But if you look at the spending relative to profitability, that has improved tremendous amounts.
So, what that means is that, one thing I think about, is that wafer value versus wafer cost.
CML: Right.
GD: That's really margin expansion and margin growth.
CML: Right.
GD: If you look at our customers, the value that's created as you're building this digital infrastructure is increasing. This is really at the foundation of how companies and countries compete.
This value creation, power, performance, cost, ahead of others. And the wafer value, certainly cost is an issue but you're riding that wafer value.
Again, the role that plays in automobiles, you look at electric vehicles: I think there's four times the silicon content there versus internal combustion engine or any of these different markets and applications.
The value is going up. You have a digital transformation of the world.
Certainly, again, for us, I think we're in a great position relative to the relative contribution I talked about to enable this PPACt road map.
We're making progress toward the model, there's no question. We're not there yet.
Obviously, we have still room to go. I look at just driving value creation.
I'm very confident that the value that we create in this ecosystem is going to continue to increase.
CML: The street's fascinated by the prospect, maybe next year, Gary, maybe the year after, of on-shoring of silicon fabs.
I think you and [CFO] Dan [Durn], on the call, said maybe look to 2023 for the impact of that kind of, let's say, government spending bringing some manufacturing back on shore.
Is there anything else you wanted to express about that idea?
GD: No, I think it really comes back to what I talked about earlier.
I think governments, whether it's US or Europe or Asian countries, all of them recognize the importance of this inflection, the digital transformation of everything, and this infrastructure that really, from the edge of the cloud and everything in between, is enabled by semiconductors.
The differentiation from a systems standpoint, that's, I think, one thing I'm not sure everybody understands, that the relative power performance and cost of that digital infrastructure that every industry is built on top of has a multiplying effect for employment and economic growth.
The one thing I would say there, people talk about the physical infrastructure, the human infrastructure, I really personally believe that innovation infrastructure is incredibly important relative to the position of every country through this decade.
As we go through this digital transformation of every industry and you look at the impact on employment, economic growth, and all of that.
This innovation infrastructure, getting to the infrastructure that creates an advantage in power, performance, and cost, I think, is incredibly, incredibly important.
So, I do think that certainly on-shoring and increasing, from a secure supply chain standpoint, that's something that there's a focus.
The other thing I would say on this, the innovation infrastructure, to me, if you think about what do we want to create that's sustainable in our system companies, and all of the industries and applications that can be built on top of that digital infrastructure, the innovation infrastructure that we build in the country so that we're ahead of others in the world, and we have the best infrastructure in the world, I think, again, relative to global positioning in the future that's really important.
CML: That's a good segue to one controversial question, which is everybody wants to know what happens as China cracks down on technology.
That's how some people characterize it. Does that affect China's desire to become a worldwide chip leader, in your opinion?
GD: I honestly can't say. I've been so busy; I've got to get my board slides out tomorrow. I honestly haven't really tracked this that much.
I don't really have, I kind of peripherally looked at this over the last couple of weeks but I honestly haven't really focused in on that that much.
CML: Is there anything to say about generally China's ambition to be a global chip leader, Gary?
GD: I would say that every country, I'm actually, between us, on the phone with another country tomorrow.
I've had at least three countries reaching out directly, or four.
I think that I just really go back to what I said earlier, that having a winning digital infrastructure for power, performance, and cost, is a major factor to global positioning in the future.
I think China is probably focused on the same thing as the United States and Europe and Japan and everyone else.
That infrastructure has a multiplying effect on every industry.
The ability to have that, having differentiation there, I think there's increasing awareness of the importance of that in every country.
CML: Do you have any view as to how the Nvidia Arm potential merger, or generally chip consolidation, may affect the industry?
GD: I really don't have an opinion on that one.
I know some of the people that are involved, and I can't really say too much directly about it, but I think that, just in general, it comes back to this PPACt race is the race of our lifetimes.
So, power, performance, cost, ahead of others, I think that whether you're generating the edge innovation for those half trillion, trillion connected devices, cloud innovation, where you're processing and driving actionable insights, that's going to have an impact on so many different industries.
I think all of this is really companies trying to position themselves as this continues.
I do believe that we're in the early innings of this transformation.
I think it's really, I feel in alignment with that, but I can't really talk too much more about that.
Obviously, there are many different positions from different parties. I don't really want to comment too much on that.
CML: Fair enough. We have talked in the past, and you had a whole thing at the SIA back when I was there with you, I think it was 2019 summer, about AI being involved.
We've talked about Enlight [Applied's optical scanner product to scan wafers for defects], and we've talked about the tools from you earlier this year, just things that make it easier to do defect spotting, for example, with AI.
I'm really curious about this phenomenon of the whole design cycle and the test and measurement cycle, the whole kind of feedback loop being sped up, Gary, where automation accelerates development.
Does that have an impact on your business, on tools, when, from Cadence and Synopsis, from the design itself, the floor plan, the algorithms, through to the defect spotting, through to the backend, is automated?
GD: I would say that, for us, we launched what we called AIx.
I talk about AI, really, artificial intelligence, really leading to actionable insight. Really, for us, I think what is really …
I can talk about other transformations within our company that we're driving that have been successful, but on the "T" of the PPACt, time, we put this concept out there.
I showed in the investor meeting two cloud companies, one year difference, time to market being worth $80 billion. This is so important.
For us, driving power, performance, and cost with our customer, the innovations, whether it's in the transistor, like gate-all-around our nano-sheets, or the 50% reduction in wiring, or the new structures in DRAM or NAND, and we've talked about, many of those different innovations, or innovations in packaging — in all of this, there's a high level of complexity relevant to those unit processes.
Or I talked about that wiring reduction system with seven different technologies on a single platform.
It's incredibly complex, optimizing those materials and those structures through many different steps in these processes. What we put together with AIx [ "Actionable Insight Accelerator," Applied's term for using AI and related software to speed-up progress] is this combination of sensors on our platforms and chambers, the capturing of all of the information as those processes are occurring on our chambers.
We have integrated metrology that we put into chambers, and also in platforms so we can see. We've talked about that.
You can see changes in films that are a few atoms thick inside the vacuum through these multiple processes.
We have the innovation, and that's the 60% growth in our PVD business — ebeam's even faster than that — we talked about the PVD growth there.
Again, that's where you're mapping the fingerprint across the chip.
You have some very densely packed areas, some isolated areas. That's called pattern loading across the chip.
Then you have, across the wafer fingerprint, mapping that orders of magnitude faster.
Then combining all of that, the sensors, all of the parameters from your equipment, the integrated metrology, the e-beam technologies into a big data analytics platform using AI and machine learning.
I think back when I was a kid watching Star Trek. I use this analogy, Spock playing 3D chess. It's very complex.
You're trying to optimize a large number of parameters in multi-dimension space.
Even the best 30-year PhD in the world really can't process all of that information as fast as you can through these analytic platforms, and AI, and machine learning.
This is where I think about the T [time] accelerator.
We showed two times faster and 30% bigger process windows, by the way.
When you dial all of this in, all of the knobs on all of these systems, you want to make that process window as big as possible because that really directly translates to yield on the chips.
Faster and better is enormously important.
One of the things they do when they're developing chips, sometimes they cut them in half and they look at the cross-section.
Whatever that actionable insight is, and to get the actionable data, if I can do that a thousand or a million times faster, that is enormous.
Because all those fingerprints combining with the parameters, and the sensors, and the online metrology in that e-beam, that is, again, what we do with AIx.
We talked about that. I did talk about that on the earnings call.
We said that we had 25 engagements this year around what we called the Process Recipe Optimizer on AppliedPRO, and we're going to more than double that next year.
Again, every customer goes through this optimization. It's very complex.
My goal is many times improvement, not just two times improvement.
Then, when I run my $20-billion factory, then I have to take hundreds of these platforms and chambers. Then, if I have them all dialed in with a high yield, with big process windows, I want them all to look the same.
That process, again, this is where the AI, machine learning, the big data analytics really make a big difference. I dial that in as fast as possible.
Then, of course, when I get into high volume manufacturing, I want to really look for any kind of anomalies that I can detect, that something's changed on any of these kinds of systems.
You optimize yield output and cost.
Anyway, that whole thing starting with the R&D acceleration, the T acceleration in PPACt, is enormously important.
Then you go to the ramp acceleration, and then your high-volume manufacturing. I would say that's really where our focus is.
I just really believe that … People talk about lack of a talent.
If TSMC's in the United States, and Intel's ramping, and everybody's ramping, where do you get all of these engineers?
I don't think scaling what we have is the right approach. I believe that you have to reinvent how we work through these technologies.
That was really the concept. We had been working on AIx for more than two years. I personally engaged with those teams. Anyway, that's really where we're focused.
I don't know if that makes sense, but that's really where we're focused.
Again, for us, we're ramping also very large numbers of service engineers and process engineers.
I want to be able to use these technologies so that, when I'm developing, inventing new structures, new materials in my labs, and I can transfer that quickly to the customers' R&D labs, dial all of that in and then transfer it to the $20-billion factory that's ramping.
I think there's so much opportunity for technology to make all of that better and faster. Again, that's really where I'm focused.
CML: That's brilliant, Gary. Thank you so much.
GD: Anytime. Hopefully someday we'll be back to doing these things in person.

THE FUTURE
It's understanding technology that gets us an edge to find the "next Apple," or the "next Amazon."
This is what CML Pro does. We are members of Thomson First Call / Refintiv and Factset -- our research sits side by side with Goldman Sachs, Morgan Stanley and the rest, but we are the anti-institution and break the information asymmetry. We have five stocks we like even more than Nvidia.
The precious few thematic top picks, research dossiers, and alerts are available for a limited time.
Join Us: Discover the undiscovered companies that will power technology's future.
Thanks for reading, friends.
Legal
The information contained on this site is provided for general informational purposes, as a convenience to the readers. The materials are not a substitute for obtaining professional advice from a qualified person, firm or corporation. Consult the appropriate professional advisor for more complete and current information. Capital Market Laboratories ("The Company") does not engage in rendering any legal or professional services by placing these general informational materials on this website.
The Company specifically disclaims any liability, whether based in contract, tort, strict liability or otherwise, for any direct, indirect, incidental, consequential, or special damages arising out of or in any way connected with access to or use of the site, even if we have been advised of the possibility of such damages, including liability in connection with mistakes or omissions in, or delays in transmission of, information to or from the user, interruptions in telecommunications connections to the site or viruses.
The Company makes no representations or warranties about the accuracy or completeness of the information contained on this website. Any links provided to other server sites are offered as a matter of convenience and in no way are meant to imply that The Company endorses, sponsors, promotes or is affiliated with the owners of or participants in those sites, or endorse any information contained on those sites, unless expressly stated.