Talend One-on-One CEO Interview - Expects Cloud Sales to 'be a very, very strong grower for a number of years'

Talend One-on-One CEO Interview - Expects Cloud Sales to 'be a very, very strong grower for a number of years'
Date Published:
2019-03-12

Written by Ophir Gottlieb

LEDE
This is a snippet from a CML Pro dossier.

Hello, all. This is Ophir writing to start, and a wonderul piece by Tiernan at the end including an one-on-one interview with the CEO.

LEDE
Today we add yet another cloud computing software company to our radar -- TALEND (NASDAQ:TLND) -- this time as a "Company to Watch." We will observe this company for a while, but an one-on-one interview with the CEO is a fantastic start.

STORY
Talend fashions itself at the center of the cloud data integration and integrity market. The data explosion and chaos that comes from it are themes we have repeatedly covered and themes where several Spotlight Top Picks sit.

Talend's growth drivers are, as the company puts it, data explosion, diversity of data users, automation through machine learning. The company gets 86% of its revenue from subscriptions, which are recurring revenue and therefore predictable.

We're going to walk through the data revolution again -- and in some sense we hope it feels repetitive. In this repetition you will find mastery of the subject, and that means patience and calm when market turmoil is anything but calm.

So let's do it again -- for the sake of expertise -- for the sake of knowledge creation that turns us into the experts in the room. Then we will go through a few charts and slides on the company itself and then a fabulous interview with the CEO and Tiernan.

DATA -- LOTS AND LOTS OF DATA
Data will come from many places and in many forms. The two most obvious drivers are data from mobile devices and connected devices.

First, the number of devices that will be in consumer and business hands will grow to 30 billion in less than two-years, and 75 billion in less than six-years: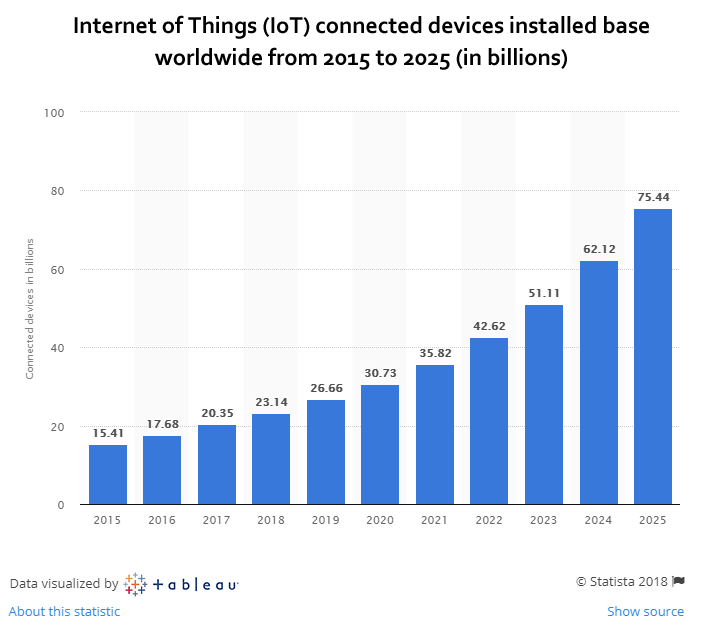 Stop and consume that information -- it implies that in about five-years there will be on average 10 connected devices per person on this planet.

But most of those connected devices must run on a wireless world, and that world is going to be shaken up so enormously that I'm not sure anyone, even scientists and analysts, really understand what is just around the corner. Of course, we're talking about 5G -- the next generation of mobile network.

In our seminal dossier Surprise: The 5G Revolution is Coming Faster Than Expected we discuss the revolution that will turn the world upside down.



The first mass-market 5G smartphones will become commercially available by 2019, according to Qualcomm CEO Steven Mollenkopf, due to increasing demands from the consumer and business segments driving an acceleration of the previous 2020 timeline.



Mollenkopf went on to note that "you will see [5G] in real devices, on the shelf, in 2019," and further, "and if I were to answer that same question a year ago, I would have said 2020."

But before then, On July 4th, 2017, we wrote Breaking Technology Update: The Massive 5G Opportunity, which surrounded the earth shaking news from China that it was expected to see total investments on 5G mobile networks reach 2.8 trillion yuan (US$411 billion) in the period from 2020 to 2030, which could mark the country's most expensive build-out of telecommunications infrastructure.

We also note that while the broader market will vacillate, and we may see a sell-off, or even a panic, nothing is stopping this technological shift. This is happening - and it has nothing to do with the stock market's ups and downs, or quarter by quarter company earnings - this is seeing the future, and while the specific companies we note may or may not be successful, this trend is coming.

5G is expected to support 1 million connected devices per square kilometer and deliver up to 20 gigabits per second of peak data download rate for each cell site (20 gigabits are 20,000 megabits).

So, in English, we could download a full-blown high definition movie in about 3 seconds on our cell phones. A single music file could be downloaded in under one second - in fact, 500 songs would take one second. That's not Wi-Fi, that is standard mobile network speed.

When we look at the IoT device count we know that each device will be a content and bandwidth vacuum, stressing our wireless networks to the maximum. While smartphones will make up less than 25% of the total of IoT, those devices will be the major requesters of data and mobile smartphone subscription growth projections are totally absurd.




Projections call for nearly 75% growth in mobile subscriptions within six-years leading to virtually everyone on planet Earth.

Here is a visual that walks us down the path of that seemingly ludicrous forecast: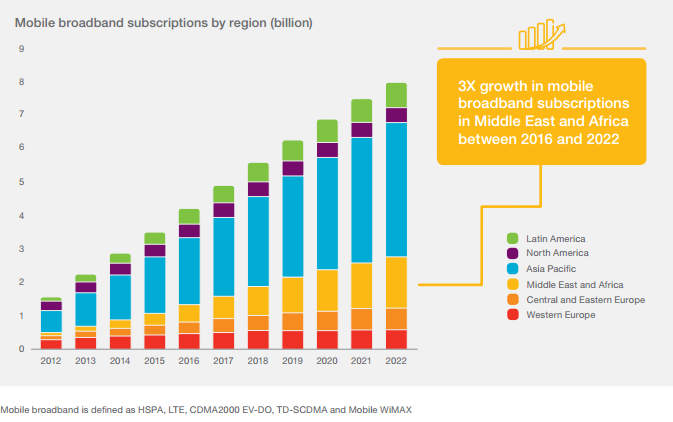 But that alone isn't the driver -- which is to say, it's not a linear increase in data, it is exponential. Check out this next chart for data usage per smartphone: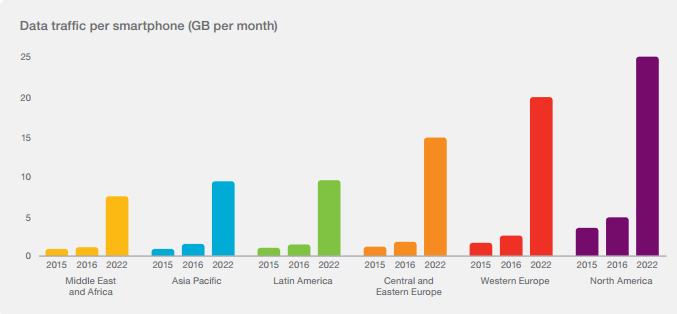 It's this last chart, in conjunction with the growing number of users, that lifts this network change to truly revolutionary. Here's that same information in a single chart - note the dark orange area is data from smartphones: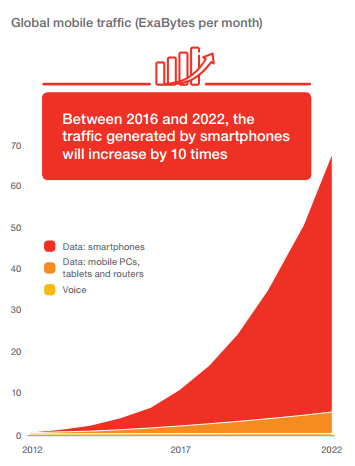 And here's the scary part -- 5G will still be in its early stages in 2022 -- we won't see the real impact for another five-years after that.

TALEND
Flat budgets and legacy data architectures can't keep pace with either the growth in data scale and complexity or the need to support more users. The answer is a modern data architecture.

Built for cloud and big data, Talend Cloud allows users to liberate their data from everything that's holding it back. Talend is integrate with all the major players in the cloud computing space from Amazon and Microsoft's Azure to Google Cloud.

According to Talend, cloud data and integration is at the front of the massive wave.

EDGE OF A MASSIVE WAVE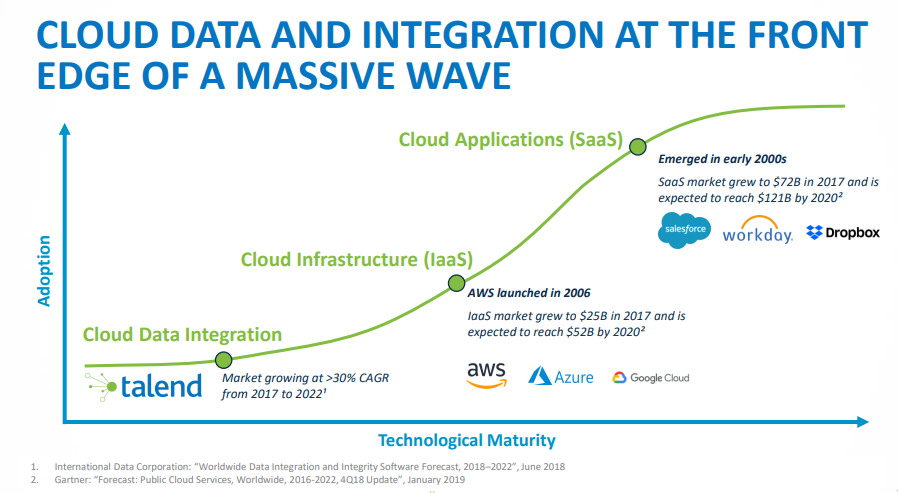 With $266 billion to be spent in the public cloud by 20201 that means 10-fold rise in data, 3x growth rate (the number of data experts y 2020), with more than 75% of organizations with multicloud and/or hybrid IT strategy by 2021 and 40% more machine learning penetration (more automation).

(Sources:
1. What's Your Data Strategy?, HBR, May-September 2017
2. How to Enable Self-Service Analytics and Business Intelligence: Lessons From Gartner Award Finalists, Gartner, Oct 2017
3. Worldwide Semiannual Public Cloud Services Spending Guide,2016-2021 IDC, July 2017
4. Critical Capabilities for Data Science and Machine Learning Platforms, Gartner, April 2018
5. Predicts 2019: Increasing Reliance on Cloud Computing Transforms IT and Business Practices, Gartner)
Talend already has more than 3,000 customers. Here is an image they provide: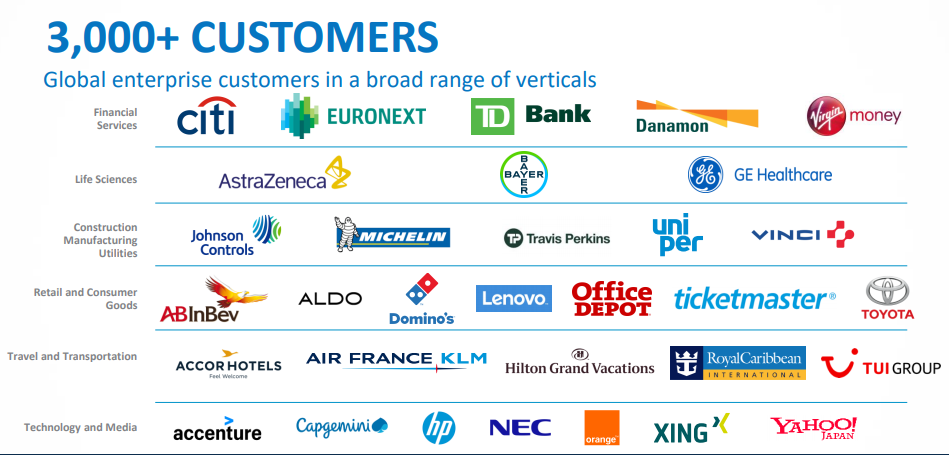 FINANCIALS
Annualized recurring revenue (ARR) is up 33% year over year to $198 million, with the cloud responsible for 25% of the new ARR. Here is a revenue chart which is not yet updated for calendar Q4 of 2018: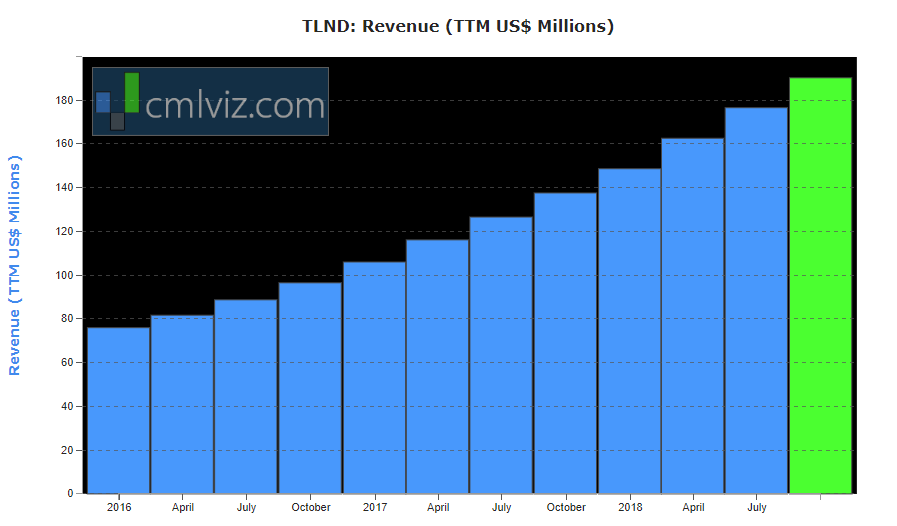 The company is also free cash flow positive.

Now, onto the meeting with the CEO and a note from Tiernan Ray.

TALEND (NASDAQ:TLND) - TELL ME MORE
Talend CEO Tuchen wears two hats to steer sales team to the cloud

Shares of data integration specialists Talend (TLND) soared on February 15th by over 24%, a day after the company announced Q4 revenue in line with consensus, an outlook for the quarter slightly below, and a forecast of this year's revenue slightly ahead of expectations.

Not the kind of thing to make a stock surge, you'd think, but as CEO Mike Tuchen explained in an interview with Capital Market Labs (CMLviz), investors were heartened that they finally had concrete numbers from which to make sense of the complexity that has hung over the company's financial reporting of late.

"When we announced earnings in detail, I think investors took a lot of confidence in our move to the cloud and the ARR [annualized recurring revenue] disclosure."

In brief, Talend last year adopted a new accounting standard, ASC 606. That rule has the effect of boosting the company's reported subscription growth rate in any quarter because it requires the company to report a big chunk of subscription dollars up-front rather than leaving it all as ratable revenue spread out over many periods of a subscription term.

That "tailwind" is cooling this year, because cloud subscriptions, where it gets more and more of its money, as opposed to traditional "on premise" software subscriptions, don't have that big, up-front revenue boost, they are merely ratable. Initially, that slowdown in subscription growth spooked investors.

But Tuchen and CFO Adam Meister have shown the Street that their "annualized recurring revenue," or ARR, rose 33% last year, and is the real figure to watch, a "apples-to-apples comparison" for this year's growth.

Tuchen is focused on two big things this year, the company's transition to selling more of its software as a cloud-based subscription, and his temporary role as head of sales, following the departure of that executive in January.

On the first score, a quarter of all the new ARR the company brings in was from cloud last quarter, and will be half of all those new sales by Q4 of this year, says Tuchen.

"That tipping point happened 18 months ago," he says of the shift by customers to preferring cloud over on-prem.

"That's the dynamic we are seeing, a very big, broad-based industry-wide move to the cloud. That's an enormous business."

On the latter score, his sales job, Tuchen says "it's a little bit of evangelism" to bring a sales team that has sold mostly on-prem to the cloud religion. "Our win rates in the cloud are significantly higher than for on premise," he observes. "The facts were incredibly clear and compelling; getting that well understood by the sales team is the thing."

For Tuchen personally, it's about winning back a day or two in his calendar here and there to dedicate to the new role. Not doing a given investor conference can win him a couple days working with the sales team. "That's a game changer" for his personal productivity, he says.

Tuchen reflected on the size of the cloud market, the rise of machine learning and deep learning, and where the company's business fits with related vendors such as Tableau and Alteryx. Read the full Q&A below.

CMLviz: Tell us about the main things that you think are important for investors to take away from the results and outlook.

Mike Tuchen: The results were obviously well received. At the highest level, we are in a world that is increasingly recognizing the importance of data.

More and more data can be used to understand and drive your business. And all that is moving to the cloud at a pretty rapid clip. It's an increasingly important area for customers but also an area going through significant change. That reflects our story.

The most important thing we are doing over this calendar year is moving our business to the cloud from a selling perspective. We did that from a product perspective a couple years ago, now is the shift from a sales perspective.

In Q3, 14% of what we sold was cloud [in terms of new annualized recurring revenue, or ARR.] In Q4, that was 25%, and growing well over 100%, and it's on track to be 50% of our business by Q4 this year. That was one thing the market was extremely excited about.

CMLviz: In January, you cut your outlook. Why was that?

MT: In January we had by and large reaffirmed the outlook. In November, we cut the outlook for 2019. We wanted to get the investors to set expectations based on a couple of things going on in the business.

Number one, the shift to the cloud was going to have an effect. We started doing [accounting rule] ASC 606 in the beginning of 2018, and it was a benefit to us all of last year [Note: Talend began last year using the European equivalent of ASC 606, IFRS 15. The company is transitioning to reporting only U.S. GAAP accounting this year.] With that baseline being boosted, and now moving to the cloud, where everything goes to the cloud, that turns that into a headwind.

You're comparing this year to a period where we had that unnatural boost. We won't have that this year because, guess what, we are having this really fast move to the cloud.

Number two, there is a little bit of a currency this going on, a little headwind, a couple points. And three, professional services is growing slower than our subscription business, because two things, there is less professional services needed in the cloud, and, two, we are doing more with our partner ecosystem.

Those three things together, from a business perspective, with the subscription business growing in the 30s [percentage basis], revised down to low 20s, the stock took a header on that in November last year. So in January, we announced the organizational changes, but we actually just announced the guidance we had given [in November].

When we announced earnings in detail, I think investors took a lot of confidence in our move to the cloud and the ARR [annualized recurring revenue] disclosure. We said we had $198 million [in ARR] in 2018, growing at 33%. That gave investors confidence, as an apples to apples [comparison].

They said, now I understand why you gave guidance at 21%. It's really hard to take a subscription business - how do you go from one quarter to the next, growing in the 30s, and go to the 20s? That's almost impossible math. It's that tailwind turning to headwind- that, and the currency and the professional services slowdown.

CMLviz: that disclosure of $198 million in ARR, growing at 33% in 2018, was key?

MT: Each quarter, we disclose both ARR and its growth rate from the prior year. As you know, that's extremely rare - very few companies disclose that detail, but many investors are trying to figure it out - because it helps them understand what's truly going on in a business.

Most will look at the proxies from billings. We said, Here's the number, you don't have to do any guess work. There might be four or five companies on the Street that actually do that.

CMLviz: I thought many companies will talk about ARR...

MT: It's extremely rare. Normally, some companies that do it are going through a model transition. Like Tableau (DATA) with very different models, one subscription, one not.

In order to give investors a better benchmark, we talked about it. In our world, both businesses were subscription, but because of ASC 606, you don't recognize a subscription completely ratably unless you go to the cloud.

We will keep disclosing ARR as long as it's different enough from subscription to add meaningful information to investors. At some point, they converge, and accounting issues go away. We will keep disclosing it. ARR at the end of December 31st was $198 million, and it had grown 33%.

CMLviz: Can you maintain those kinds of growth rates?

MT: Let give a clarification. Half our new sales will be cloud, not half our revenue, in terms of what the sales team is selling. Half of that will be cloud in Q4. And then right now, cloud is growing well over 100% per year. I expect it to be a very, very strong grower for a number of years. What's going on in the market right now is, customers across the world are now recognizing that the cloud is the most attractive place to do their data processing and the best place to put their data warehouse.

It's a little bit of a land grab. That tipping point happened 18 months ago. That's the dynamic we are seeing, a very big, broad-based industry-wide move to the cloud. It's been going on for 18 months. That's an enormous business.

CMLviz: So there has been an inflection there?

MT: 18 months ago, it hit an inflection point. It was clearly something on the horizon and starting to happen. As of 18 month ago, it has clearly been taking off.

The offerings in the cloud have gotten more mature, and customers have started to solve their concerns around security and compliance, which were the things holding them back. Once they were confident they could be as secure in cloud as on premise, all the benefits of the cloud came into place: you don't have to constantly buy new hardware, you can scale up and down and only pay for what you use. All the classic benefits of cloud come into play.

CMLviz: But what about all the talk of hybrid cloud, a swing back to on-prem?

MT: We are not seeing much of that. There are a few companies that believe that they can deliver things - they have the scale, and the sophistication, to deliver cheaper on-premise than in the cloud.

But that group of companies is getting smaller, not larger. There are a couple financial services firms that are very large that had that attitude. They are now doing some pretty aggressive cloud pilots. The jury, even amongst those bucking the trend, the jury is kind of out.

CMLviz: That was just a moment in time, in other words?

MT: Yes. There are a ton of benefits to moving to the cloud. It turns out that the desire to achieve cost benefits [from on-prem] were harder to achieve than thought. You lose benefits around elasticity and flexibility. The always-up-to-date aspect [of cloud] is a tremendous benefit. Especially with what's available the cloud, it becomes this force multiplier as you get not just one vendor there but thousands of vendors, the solutions there all progressing forward at an incredibly fast clip, and it's all at your fingertips. That's a really hard thing to replicate and compete with on premise.

CMLviz: What about the engineering challenge of moving all your offerings to the cloud?

MT: We have done the engineering work the last couple of years. We are continuing to move to the cloud at a pretty rapid clip. This is not an engineering challenge, but a sales- and marketing-focused, and execution challenge.

CMLviz: Your head of worldwide sales, Brad Stratton, departed in January, and you've now taken on that role temporarily. How's that going?

MT: It's about getting a team of people selling one set of stuff to look over here and fish in this other area, because there's more fish to find here. That's a little combo of evangelism and training and awareness to get them to do that.

Our win rates in the cloud are significantly higher than for on premise, and higher than our on premise win rates ever were. The facts were incredibly clear and compelling.

Getting that well understood by the sales team is the thing. I'm still running that myself. It's been a very fascinating experience. When I was talking to the sales team, my comment to them, really looking forward to the next few months working together, was, I need all you guys to step up a little bit. I will miss things, things you guys see, but I will also see things you guys don't see. It's a little bit of both.

Sure enough, there will be a couple things where I ask a question and they are puzzled and we spend time talking through it. One team is coming up with something really interesting over there, say, wow, that's cool, how are you doing that, can we share that across other geographies as well?

You guys are doing it fifty percent better than everyone else. That's something we should all be working at. Just being curious and asking questions. Just being willing to admit you don't know. As you would expect and hope, the answers make sense, it's a matter of just asking the logical questions.

CMLviz: How big is the team?

MT: Between sales and marketing, it's about 459 people. It's my intention to find someone to step in at some point, for sure. We have a joke in the team, If the CEO thing doesn't work out, I'll find a future in sales!

CMLviz: So how do you structure your time to wear two hats?

MT: What I'm doing now is spending more time clearly on sales than normally, so I carve it out of other stuff I would normally be spending time on. So, I promoted Laurent [Bride] to COO, in addition to CTO. That's taken some time out of my calendar.

The other thing we have done is clocked, among rest of the executive team, what meetings can I pull myself out of, that you can just escalate to me when you can't solve it? Just a fairly logical process of putting an extra chunk of time on my calendar that is sales-related, so what do I pull myself out of. And Adam [Meister], our CFO, really has done a terrific job. He's at an investor conference without me. It's great for me! Two full days back in the calendar? That's a game changer.

CMLviz: How much time are you personally able to devote to product development?

MT: As a former engineer and former product manager, I'm always going to be a product person at heart, absolutely, I still participate in the conversation, but now at a higher level as opposed to the sausage making.

CMLviz: There are lot of stats we've seen as far as your addressable market. Can you clarify what your addressable market is, and it's value?

MT: We use the data integration market as the best measure of it. Some fraction of that is in the cloud and some isn't. In the next ten years, it will all be in the cloud.

We have to be in the leading edge of that transition. All those dollars will be accessible to us in the next decade. It's even better than that because the transition to the cloud puts a lot of those dollars back in play in a way they haven't been. As they move to cloud, companies say, what is the best solution for me in the cloud?

If you're running a Teradata warehouse with IBM for informatics and Micro Strategy, it's working, and you have to keep plugging along, that part of the market is really not accessible to us in any reasonable way. But once you move to cloud, and Snowflake [cloud-based data warehouse software], and, potentially, Tableau, all that spend is now back in play, and accessible to a new entrant, to us.

That's what's really exciting about the cloud. As far as market stats, IDC is very credible. To me, the market research data is always going to be an approximation, you have to use it as the best proxy you have. They're all measuring the same stuff. I don't have an agenda on that stuff. It's a big market, it's important, it's becoming more important, not less. Whether it's $15 billion or $20 billion, it doesn't matter, we are a $200 million business.

CMLviz: What's your overlap with companies such as Tableau and Alteryx?

MT: There's a minor amount [of overlap] with both of them. The two of them are much more overlapping with one another, they are more on a competitive collision course over time than we are.

With Tableau, there is a lot of complementarity - we actually have the chief development officer from Tableau on our board. If we saw a significant overlap, we wouldn't have done that. So, I think we can say that's not an area we are concerned about.

With Alteryx (AYX), the main value proposition is a desktop solution that allows you to have a very clean workflow, primarily for data scientists to collect data and do some modeling and machine learning and eventually visualization. So I think of it as Tableau for data scientists with a little extra in the up-front data cleaning and blending process.

It's that data prep part that people look at and say, you guys at Talend have that. True, but look at why people buy us or them. Those scenarios are 98% complementary. What customers - we have plenty of customers that use us together with Tableau and, in an increasing number of cases, with Alteryx as well.

What they tell us is that when working with Talend, trying to solve their data problem, they will plug in one or more visualization tools on top of the correct data. Tableau for this set of users, Alteryx for this other set of users, but they're confident the data underneath is correct, consistent and governed. That's how we end up being seen much more in a complementary fashion

CMLviz: What does the continued rise of deep learning mean, the ever-growing data sets used for it and the ever-increasing neural network models?

MT: That is a specific example of people calling out the fact that more and more stuff is measurable, including sensor data. The value of that data they now are able to start realizing through machine learning, so data is becoming more important. Am I bullish on it? Hell yeah, You bet!

CMLviz: Thank you, Mike.

Conclusion

This is Ophir, again.

We are adding Talend as a "Company to Watch." In time it may make its way to a Top Pick, but we'll wait and see with this one.

Thanks for reading, friends.

Neither author has a position in Talend at the time of this writing.

THE FUTURE
It's understanding technology that gets us an edge to find the "next Apple," or the "next Amazon."

This is what CML Pro does. We are members of Thomson First Call -- our research sits side by side with Goldman Sachs, Morgan Stanley and the rest, but we are the anti-institution and break the information asymmetry. We have five stocks we like even more than Talend.

The precious few thematic top picks, research dossiers, and alerts are available for a limited time at a 80% discount for $29/mo. Join Us: Discover the undiscovered companies that will power technology's future.

Thanks for reading, friends. Neither author has a position in shares of Talend at the time of this writing.

Legal The information contained on this site is provided for general informational purposes, as a convenience to the readers. The materials are not a substitute for obtaining professional advice from a qualified person, firm or corporation. Consult the appropriate professional advisor for more complete and current information. Capital Market Laboratories ("The Company") does not engage in rendering any legal or professional services by placing these general informational materials on this website.

The Company specifically disclaims any liability, whether based in contract, tort, strict liability or otherwise, for any direct, indirect, incidental, consequential, or special damages arising out of or in any way connected with access to or use of the site, even if we have been advised of the possibility of such damages, including liability in connection with mistakes or omissions in, or delays in transmission of, information to or from the user, interruptions in telecommunications connections to the site or viruses.

The Company makes no representations or warranties about the accuracy or completeness of the information contained on this website. Any links provided to other server sites are offered as a matter of convenience and in no way are meant to imply that The Company endorses, sponsors, promotes or is affiliated with the owners of or participants in those sites, or endorse any information contained on those sites, unless expressly stated.