Alteryx One on One CEO Interview - The Pickaxe to Data Chaos Revolution (NYSE:AYX)
Alteryx One on One CEO Interview - The Pickaxe to Data Chaos Revolution (NYSE:AYX)
Date Published:
2019-03-05

Written by Ophir Gottlieb and Tiernan Ray

Hello, all. This is Ophir writing to start, then Tiernan with the final piece. This is a snippet from a CML Pro dossier.

LEDE


Top Pick Alteryx (NYSE:AYX) beat revenue and earnings estimates and raised guidance. In an one-on-one interview with the CEO, we got a much better feel for the company.




EARNINGS
We'll review the earnings results and then get to Tiernan's interview with the CEO. Some things to consider before reviewing the numbers:

* Alteryx reported a doubling of its million-plus accounts, and a tripling of its $500,000-plus accounts.

* Alteryx CEO believes that its total addressable market (TAM) is five times bigger than the TAM of Tableau. Tableau just said that they passed 86,000 customers and a billion dollars in revenue. Alteryx believes it can get to a billion dollars in 2021 with 16,000 customers.

* The company now has 538 of the global 2000 organizations.

Here we go with the reported numbers.

* Revenue: $60.5 million (up 57% year-over-year) versus analyst expectations of $57.40 million.

* Adjusted EPS: -$0.01 versus analyst expectations of -$0.02.

Alteryx changed its accounting standards in 2018 from the previous ASC 605 standard to the new ASC 606 standard. The figures in the table above are based on the old standard, for direct year-over-year comparison's sake. ASC 606 revenue for the fourth quarter of 2018 was $89.2 million.

Under the old ASC 605 accounting standard, revenue was recognized based on the term of a subscription, which usually ranged from one to three years. CFO Kevin Rubin said on the call: "With the adoption of ASC 606, we will now recognize a portion of our revenue up front. And the remainder will be recognized over the subscription term."

CEO Stoecker emphasized that -- even with the transition to ASC 606 -- nothing has fundamentally changed with Alteryx's business.

* Guidance: Revenue is expected to be in the range of $345.0 million to $350.0 million, an increase of 36% to 38% year-over-year using ASC 606 rules based accounting. Non-GAAP net income per share (Adjusted EPS) is expected to be in the range of $0.36 to $0.42, up from a loss.

Some more critical highlights:

* Ended the fourth quarter of 2018 with 4,696 customers, a 38% increase from the fourth quarter of 2017. Added 381 net new customers in the fourth quarter of 2018 compared to 338 net new customers in the fourth quarter of 2017.

* Achieved a dollar-based net expansion rate (based on annual contract value) of 132% for the fourth quarter of 2018.

That dollar based net expansion rate, what we could loosely call retention rate, is over 100% because of up sells and increased usage. This is what we saw from two other Spotlight Top Picks and is becoming the de-facto requirement for a software as a service (SaaS) business.

DISCUSSION
The bullish thesis behind Alteryx lies in the thematic we have named "data chaos." In fact, in our Top Pick dossier from 1-15-2019, we named Alteryx The Pick-Axe to The Data Science and Chaos Revolution.

Data will come from many places and in many forms. The two most obvious drivers are data from mobile devices and connected devices.

First, the number of devices that will be in consumer and business hands will grow to 30 billion in less than two-years, and 75 billion in less than six-years: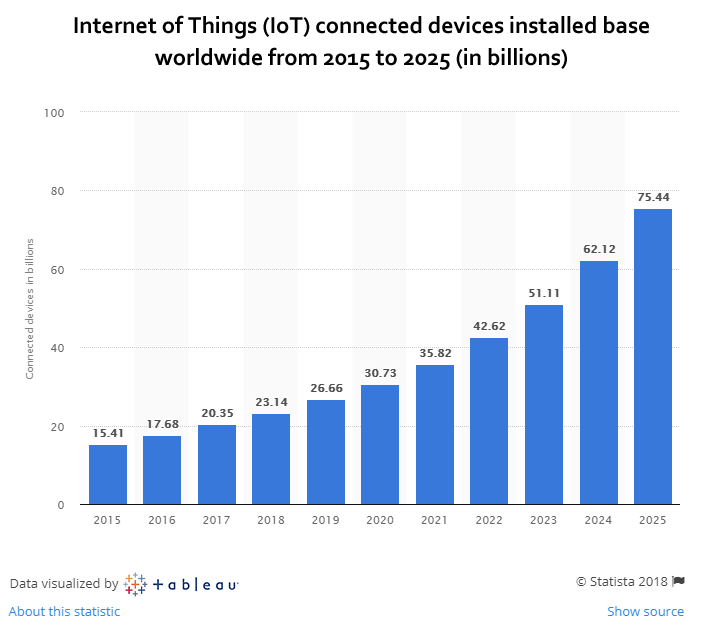 Stop and consume that information -- it implies that in about five-years there will be on average 10 connected devices per person on this planet.

But most of those connected devices must run on a wireless world, and that world is going to be shaken up so enormously that I'm not sure anyone, even scientists and analysts, really understand what is just around the corner. Of course, we're talking about 5G -- the next generation of mobile network.

In our seminal dossier Surprise: The 5G Revolution is Coming Faster Than Expected we discuss the revolution that will turn the world upside down.



The first mass-market 5G smartphones will become commercially available by 2019, according to Qualcomm CEO Steven Mollenkopf, due to increasing demands from the consumer and business segments driving an acceleration of the previous 2020 timeline.



Mollenkopf went on to note that "you will see [5G] in real devices, on the shelf, in 2019," and further, "and if I were to answer that same question a year ago, I would have said 2020."

But before then, On July 4th, 2017, we wrote Breaking Technology Update: The Massive 5G Opportunity, which surrounded the earth shaking news from China that it was expected to see total investments on 5G mobile networks reach 2.8 trillion yuan (US$411 billion) in the period from 2020 to 2030, which could mark the country's most expensive build-out of telecommunications infrastructure.

We also note that while the broader market will vacillate, and we may see a sell-off, or even a panic, nothing is stopping this technological shift. This is happening - and it has nothing to do with the stock market's ups and downs, or quarter by quarter company earnings - this is seeing the future, and while the specific companies we note may or may not be successful, this trend is coming.

5G is expected to support 1 million connected devices per square kilometer and deliver up to 20 gigabits per second of peak data download rate for each cell site (20 gigabits are 20,000 megabits).

So, in English, we could download a full-blown high definition movie in about 3 seconds on our cell phones. A single music file could be downloaded in under one second - in fact, 500 songs would take one second. That's not Wi-Fi, that is standard mobile network speed.

When we look at the IoT device count we know that each device will be a content and bandwidth vacuum, stressing our wireless networks to the maximum. While smartphones will make up less than 25% of the total of IoT, those devices will be the major requesters of data and mobile smartphone subscription growth projections are totally absurd.




Projections call for nearly 75% growth in mobile subscriptions within six-years leading to virtually everyone on planet Earth.

Here is a visual that walks us down the path of that seemingly ludicrous forecast: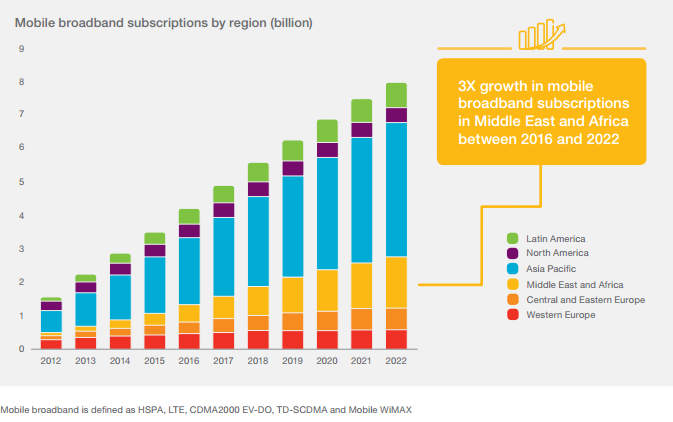 But that alone isn't the driver -- which is to say, it's not a linear increase in data, it is exponential. Check out this next chart for data usage per smartphone: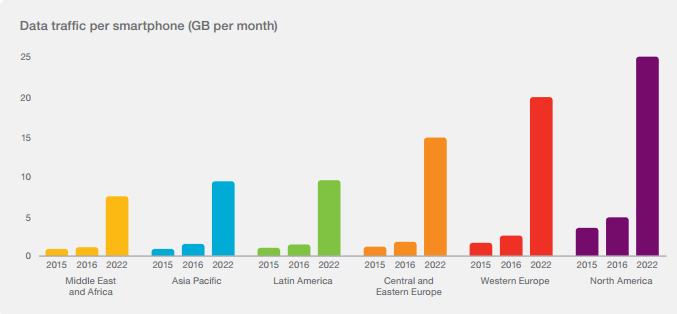 It's this last chart, in conjunction with the growing number of users, that lifts this network change to truly revolutionary. Here's that same information in a single chart - note the dark orange area is data from smartphones: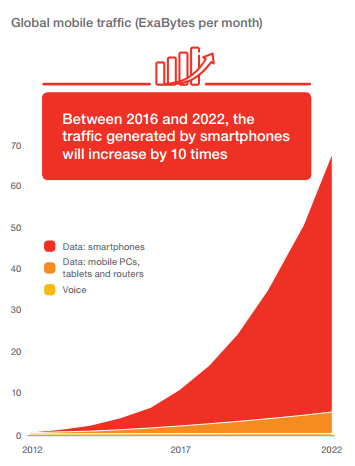 And here's the scary part -- 5G will still be in its early stages in 2022 -- we won't see the real impact for another five-years after that.

All of this data drives trends and companies we have on Top Picks, but the problem Alteryx solves is rather direct: "What do we do with all of this data once we have it?"

In fact, AYX has a great name for it -- "Data Chaos."

Data Chaos
* Hidden data references the fact that 37% of analyst time is spent searching for data.

6 billion hours per year are spent on working in spreadsheets, which translates into 26 hours per week are wasted and 8 of those hours are from needlessly repetitive tasks.

* Modeling inefficiencies references the fact that there is $60 billion a year spent on repetitive manual spreadsheet work.

* Wasted efforts references the fact that 87% of data science models are only partially deployed.

(The source for this data is IDC: The State of Self-Service Data preparation and Analysis Using Spreadsheets.)

And with all of that, here comes Alteryx.

INTERVIEW WITH THE CEO
This final part comes from the incomparable Tiernan Ray.

The tone from Dean Stoecker, co-founder, chairman and CEO of the company, was upbeat in an interview with Capital Market Laboratories following the earnings report.

Stoecker sees a coming wave of consolidation in his market, which he expects will be very good for Alteryx.

"Companies such as Data Mirror, and others, a lot of these players, many went away or got bought or went out of business or are just limping along."

"We already are seeing the early stages of a massive consolidation in the data analytics space," he avers. "You saw Qlik bought Attunity, and just a couple a months ago, they bought Crunch Data. So there's a lot of people on all the Magic Quadrants that aren't going to make it."

He reiterated his theme that "the thrill is back" in data analytics, a reference to the 30 million or so people around the world who have had to rely on using Microsoft Excel for their work, and who Stoecker believes his software is now freeing, like slaves unchained.

Asked about all the cool work being done in cloud computing with deep learning models by the mega-cap techs, such as Google Brain, Stoecker stuck to the view that his clients are an army of humble souls who need accessible tools to get practical work done. "If you like to write Python, hey, go knock your socks off. But there are 30 million people living in complex view look-ups in Excel, and they are the ones who are going to save world," said Stoecker.

With last quarter's report, Alteryx shifted to the ASC 606 accounting method, which recognizes some revenue and some expense numbers up-front that would in past have been spread out over a period. Alteryx, which is 22 years old, no longer qualifies as an emerging growth company, CFO Kevin Rubin noted on Thursday's call, so the company now must shift its accounting to reflect more of its revenue for a period up-front.

The immediate result is that last year's revenue of $204 million became $254 million under the new rule. Said Stoecker, "The surprise is, people are recognizing we are much bigger than they imagined" as a result of more revenue getting reported up-front, he said.

Stoecker in the interview shares his view on public cloud computing - it works for Alteryx, but it may not be everything it's made out to be; about his enduring admiration for computing pioneer J.C.R. Licklider; and about why, if he were to re-name Alteryx, he'd call it Fig Tree Software.

Capital Market Laboratories: Let's talk about the quarter, what things do you think are most important for investors to take away from the results and outlook?

Dean Stoecker: Coming off of the earnings call last night, with callbacks with the sell side and with some of the largest investors, they all appreciate we have a solid business model, with a $30 billion global addressable market that continues to get bigger.

When I changed the name, we thought it was a $5 billion space. When we raised money, we thought it was a $8 billion space. Well, here we are seven years later, with the broadest horizontal platform, serving every vertical in a wide array of use cases, 180 very unique use cases, across all industries, serving 70 countries around the world. Every government has challenges as to how do I get value out of all this data.

CMLviz: Results in the quarter have a little bit of complexity because of the ASC 606 switch...

DS: We've been posting very significant numbers for quite some time. Under ASC 605, we had 57% growth, passing $60 million [in revenue] for Q4. It's a little different number for the year when you go to ASC 606, it was $254 million for the year [versus $204.3 million].

The surprise is, people are recognizing we are much bigger than they imagined. The revenue recognition differences lead to bigger revenue [up-front]. It doesn't change our revenue model, though, or our selling model, or our contract model. We posted a great quarter around net revenue retention, 129%, which by anyone's numbers is top pixel for a company growing as fast as we are. It signifies the size of the audience.

We are growing really fast, but with just a low-single-digit penetration of any of the customers we sell to.

CMLviz: What are your priorities for the year ahead?

DS: As CEO and founder of a public company, the only thing that can get in our way is our culture, and so we focus on making sure we build an amazing cultural experience for the people who work here. If you only focused on driving profit for using our software, your heart is not in the right place. So we leverage our technology to give back to worthy causes, we established an, Alteryx for Good initiative.

And then, we are not resting on our laurels, we have a big roadmap for R&D, we are making sure we are ready at every turn. We already are seeing the early stages of a massive consolidation in the data analytics space.

For example, Qlik bought Attunity, just couple a months ago they bought Crunch Data. So there's a lot of people on all the magic quadrants that aren't going to make it. Its not that they have bad IP, but they picked a segment that's too narrow where they couldn't raise enough money to get to a complex go-to-market effort. That's why we did our $230 million convertible bond offering last year, to be ready for the opportunity.

CMLviz: What about Tableau, Splunk, etc? How do you compete or overlap with them?

DS: We are in a very different space. Tableau is a repository for [...] Talend is more about operational ETL for the on-prem to cloud migration. We went into an area where nobody else wanted to venture, the choke point of analytics, finding it and getting it ready.

Our TAM is five times bigger than the TAM of Tableau. They are dealing with people who only live in visualizations. And that's understandable because no one ever got shot taking a cool, sexy chart to a meeting. If the world will be eaten by machine learning, the existential threat of visualization vendors is when they say, we are putting everything into machine learning on Salesforce, so why do I need to visualize anything?

Tableau just said that they passed 86,000 customers and a billion dollars in revenue. We believe we can get to a billion dollars in 2021 with 16,000 customers. We are much higher value, which is reflective of the higher-order problems we are solving for businesses.

We sell a single platform. We sell to a range of industries, to credit rating agencies in order for them to do bond issuance modeling, to the banks for them to do derivatives modeling and equity pricing; to airlines for them to hedge fuel and manage buyer loyalty programs; to the largest coffee retailer in the world for them to manage much of their real estate network. We sell it to the defense department to do all kinds of cool analytics around managing budgets. Tax and audit departments around the world are using us to manage all the finance work from transfer pricing to FX modeling to R&D tax credits, you name it.

CMLviz: But what about the view, that had been around for a while, that you want a best-of-breed model for everything, not an integrated product?

DS: That's an old model of the '90s and 2000s. It's not the model today. We heard it loud and clear: IT and line of business said, we need more capabilities and fewer tools, not more tools.

That's when we launched our platform. If you heard this from customers you would lead to a platform like ours. But the stack vendors heard, more tools on fewer invoices. That's when you saw Business Objects bought Crystal Reports, you saw Hyperion go to Oracle, SPSS go to IBM, etc. The consolidation was good for the vendors and the purchasing people, not for the users.

We've actually put ourselves in a leadership position in the self-service data sciences and analytics world, reflected in eight straight quarters, post-IPO, of growth. I was reading a story the other day and a tweet a hour ago, that said we were the number one IPO of the last two years. That's the kind of stuff that's getting the stock price - I don't pay attention to that kind of stuff - having wildly successful customers who become advocates, they are the ones who drive the revenue.

Putting that thrill back into solving every problem. When you do that, the revenue flows, the accolades flow. Last year, I think I heard we outperformed about 98% of all equities. The interesting part is going from a private company to a public company, you are obligated to be mindful of that sort of thing...

CMLviz: How do you balance the focus on expansion of your audience, versus getting more from the audience you already have with up-sell, cross-sell and the like?

DS: That's a great question. The only thing more powerful than the platform is our business model. We have perfected the Land and Expand model. Now, we're not the first ones to do this, many contemporary software companies within SaaS have it, but we've been able to do it with largely on-premise.

The typical new customer comes to us thorough a 14-day trial, and it lands in 45 days at typically $10 to $11 thousand [purchase]. Expansion happens right away from there, because everyone wants to be like that person when you get that thrill. Once you get that first proof of a project, downloads increase from there.

CMLviz: You said 45 days, meaning, it's 45 days from the start of a trial, typically, to when you close a deal with a new customer?

DS: Yes, 45 days to close a sale, on average. And then the expansion happens pretty quickly from there. The peak expansion is really four to six quarters out from there. With the focus on digital transformations, we are seeing expansions happening bigger and faster.

The chief data officers not going to wait for an analyst to make a choice, they are going to identify their incumbent inventory and problems they have to solve, and typically go all in after a trial. This last quarter, we reported a doubling of our million-plus accounts, and a tripling of our $500,000-plus accounts.

We are seeing the digital transformation having an impact on growth. We added 381 new customers last quarter. That's consistent with prior periods. We are actually getting better, we leverage Alteryx internally, we drink our own champagne.

We actually know which customers are the best for cohort performance. We landed - we now have 538 of the global 2000 organizations. The ones that typically expand the most. We are excited to be in the thick of their data science.

CMLviz: So, what about cloud, are you all on-premise?

DS: It's a hybrid. We have a Designer product that does on prem, design-time experience, and then a server license we provide and that customers can deploy anywhere they want. And there's a fair number who deploy in the cloud, in Azure or AWS.

Customers can trial it up there or rent it for $9 per hour there. And they can also put up their own private cloud. But in many cases, it lives behind the firewall. We are agnostic where it lives, we don't care what container it is in. The win for us is in putting power back into the design-time experience. Make it available to a vastly larger number of potential users.

CMLviz: But what about the notion that all of a company's data is increasingly going to the cloud? Why not place your bets on an all-cloud strategy?

DS: I think we have proven that that theory is not actually the case. A lot of people in data prep or in the analytics market are not doing as well as us, they are a lot smaller than us, companies such as Data Mirror, a lot of these players, many went away or got bought or went out of business or are just limping along.

My belief is that a lot of that is, they made a bet on a cloud-only play, and, particularly, a cloud-only, Hadoop-only play. We knew a lot of people were experimenting with it, even our large customers have cloud instances of many things, though not everything.

With analytics, we determined with that IDC study that 64% of analysts around the world need no less than five and at least fifteen different data sets for any outcome. For analytics to be efficient, you would need all those data sets to be in the cloud, and that's not going to happen for a very, very long time.

The cultural shift to make it viable is a challenge. This is why cloud vendors like us. We have good relations with Microsoft and AWS. They are realizing that one way to monetize cloud offerings is to have analysts around world building compute loads that can be offloaded to cloud.

CMLviz: What about all the machine learning and deep learning happening at the giant tech companies. Is there an existential risk to you that everything will just be done via machine learning in the cloud, and there won't be a need for the kind of tool you're selling?

DS: There's a lot of great work coming out of these organizations, and that's fine if your data is in those [cloud] locations. Most of these products are offering a scintilla of the capability we have in our platform, and they are code-laden.

If you like to write Python, hey, go knock your socks off. But there are 30 million people living in complex view look-ups in excel, and they are the ones who are going to save world.

CMLviz: Well, but the history of compute shows complicated things becoming more accessible. Vacuum tubes were once off-putting, but then solid-state circuits made computing accessible to the masses. Couldn't these Python-heavy, code-laden things eventually become simple?

DS: I completely agree with you. I'm a big fan of [computer scientist] J.C.R. Licklider, who talked about the man-computer symbiosis. He talked about analytics all the way back then. He said you will only see value in analytics once you remove the friction between man and machine.

He even uses as an example a really cool phenomenon of the fig tree and the fig wasp, a perfect symbiotic relationship, because neither one can live without the another. If I were to re-name our company, the name would be Fig Tree Software. That's actually a good name, come to think of it.

The thing about Licklider is, all of online banking, all of it is credited to the "UX/UI" from him. The mouse? He had a hand in it. The graphical UI, which Apple perfected - all those innovations came from Licklider. Every time I mention him, most people's eyes gloss over. Think about it: this is the reason the singularity is being pushed out, we are amplifying human intelligence. They keep pushing it out. Now they're say 2040.

CMLviz: Thank you, Dean.

THE FUTURE
It's understanding technology that gets us an edge to find the "next Apple," or the "next Amazon."

This is what CML Pro does. We are members of Thomson First Call -- our research sits side by side with Goldman Sachs, Morgan Stanley and the rest, but we are the anti-institution and break the information asymmetry.

The precious few thematic top picks, research dossiers, and alerts are available for a limited time at a 80% discount for $29/mo. Join Us: Discover the undiscovered companies that will power technology's future.

Thanks for reading, friends. Neither Ophir nor Tiernan hold a position in Alteryx (NYSE:AYX) stock at the time of this writing.

Legal The information contained on this site is provided for general informational purposes, as a convenience to the readers. The materials are not a substitute for obtaining professional advice from a qualified person, firm or corporation. Consult the appropriate professional advisor for more complete and current information. Capital Market Laboratories ("The Company") does not engage in rendering any legal or professional services by placing these general informational materials on this website.

The Company specifically disclaims any liability, whether based in contract, tort, strict liability or otherwise, for any direct, indirect, incidental, consequential, or special damages arising out of or in any way connected with access to or use of the site, even if we have been advised of the possibility of such damages, including liability in connection with mistakes or omissions in, or delays in transmission of, information to or from the user, interruptions in telecommunications connections to the site or viruses.

The Company makes no representations or warranties about the accuracy or completeness of the information contained on this website. Any links provided to other server sites are offered as a matter of convenience and in no way are meant to imply that The Company endorses, sponsors, promotes or is affiliated with the owners of or participants in those sites, or endorse any information contained on those sites, unless expressly stated.