The Veeva Story is Astonishing CFO Cabral confident in the product hit machine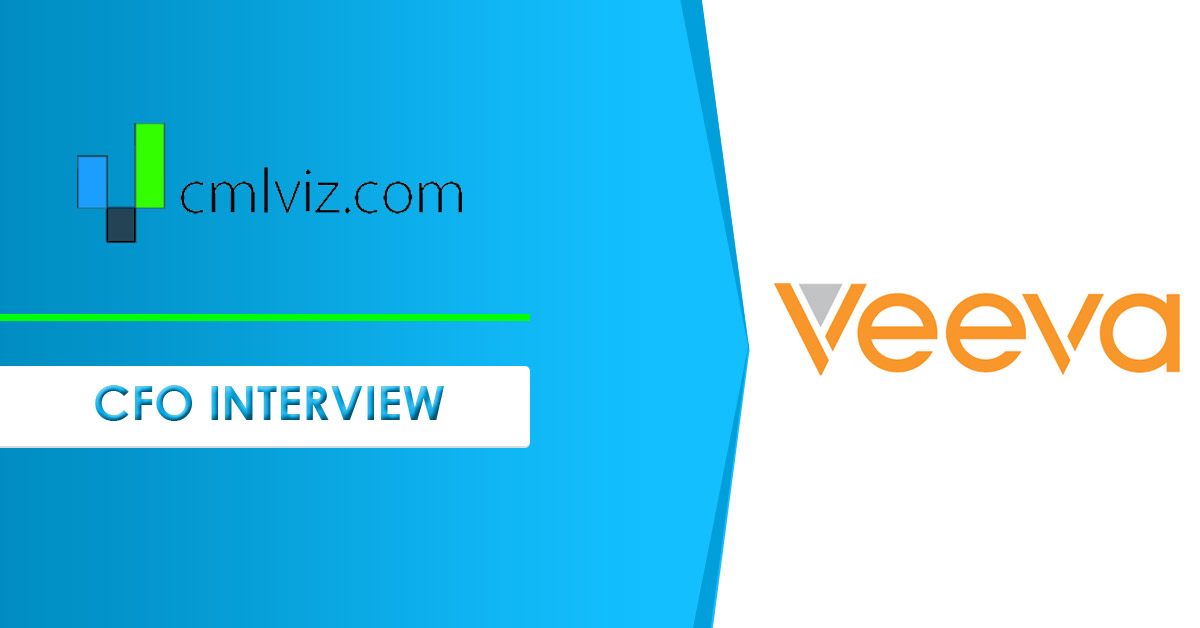 The Veeva Story is Astonishing CFO Cabral confident in the product hit machine
Date Published:
2019-02-27

Written by Ophir Gottlieb and Tiernan Ray

LEDE
Spotlight Top Pick Veeva Systems (VEEV) beat earnings estimates on 2-27-2019, but the story is deeper. In our one-on-one interview with the CFO, we got a phrase that is still ringing in our ears from one of their customers: "product hit machine."



This is a knock down drag out growth story in a company that will hit $1 billion in revenue a year ahead of schedule and is simply crushing it on every note of the business metric symphony: revenue, earnings, margins, innovation, retention, and competitive strength.




We added Veeva Systems to Top Picks on 7-Dec-16 for $42.75. As of this writing the stock is trading at $116.59, up 172.73%.

STORY
Let's start with the earnings results and touch on the Veeva story, then get right to the interview.

* Revenue: $232.3 million versus analyst expectations of $227 million.

* Adjusted EPS: $0.45 versus analyst expectations of $0.40.

* Next quarter Guidance: $238.5 million versus analyst expectations of $233.1 million.

* Full Year Guidance: $1.0275 billion versus analyst expectations of $1.019 billion.

But there is so much more.

* Subscription revenue retention was 122% for the year. Annual customer count grew to 715, up from 625. This included 332 Veeva Commercial Cloud customers, up from 311, and 572 Veeva Vault customers, up from 449 a year ago.

Just so we're clear, what this means is that for every customer last year, on average they retained all of them and those customers spent $1.22 this year for every $1.00 spent last year.

* Gross margin on subscription services revenues on a GAAP basis for the three months ended January 31st, 2019 was an astounding 84.5%. Yep, for every $0.15 of costs to produce the software, the company is taking in $1 of revenue, leaving a gross margin of $0.85.

And the final two pieces which show the earnings power for this firm:

* Key Wins Close Out a Record Year for Veeva Vault Clinical - Veeva Vault eTMF had a record year and momentum continued across all segments. Since Q3, two top 20 pharmas and a top seven CRO have selected Vault eTMF as their enterprise standard. Veeva Vault CTMS ended the quarter with 34 customers, doubling year over year.

* Increasing Market Share in Veeva Commercial Cloud - Share increased with more enterprise expansions and SMB wins in Q4. This included a Veeva CRM win in Europe at a top 50 pharma, making Veeva its global standard. In addition, two top 10 pharmas are expanding with Veeva CRM Engage Meeting into major regions. Veeva also added 15 new SMB CRM customers in the quarter for a total of 46 in the year.

This all comes down to three simple statements:

1. Veeva is growing revenue from its current customers and an up-sell is much less expensive than getting a new customer.

2. Veeva is growing its new customer base rapidly, which it will then look to up-sell and continue on that 122% subscription revenue retention.

3. Veeva's moat is widening -- customers were already dug in with high switching costs, but add-ons mean a much wider moat. Retention should continue to be strong, and the competition is becoming less of a threat.

You will read in the interview below how much success Veeva is having growing outside of life sciences, while at the same time the executives rightly point out how much more room there is in the life sciences industry.

Last quarter CFO Tim Cabral told us "there is an opportunity for multiple billions of revenue from life sciences, especially given the market share we can get as the leader." Keep that note in mind as we progress.

MORE
Tiernan interviewed CFO Tim Cabral again this quarter. From here forward this is Tiernan's piece with the interview.

Once again, Veeva chief financial officer Tim Cabral, and head of marketing Nitsa Zuppas were kind enough to talk with CMLviz. Cabral and Zuppas emphasized, similar to last quarter, how the newer "Vault" suite of applications has reached about half of the company's revenue, while the older "Veeva Commercial Cloud" applications, including a customer relationship management system (CRM), content and digital asset management solution, and a commercial data warehouse, continues to sign up new clients.

"We released 19 products in the last six years and four of those in the last twelve months," observed Zuppas. "What we are seeing today is really the result of seeds we planted years ago."

Because Veeva has grown with the continual release of apps that run on top of the Veeva Vault platform - Zuppas noted the company has been called a "product hit machine" - it is of perennial interest to investors when the company may offer its next product.

Cabral didn't tip his hand, except to say that while it's reasonable to expect "potential new product announcements as we go forward," he views continual improvement in the existing products as crucial.

Developing the audience for the existing products, and refining those products is the focus, he indicated.

"We absolutely focus first on finding a couple handfuls of early adopters and really investing in their success," said Cabral. "And we do that really at the expense of near-term growth. And that's fine, as far as we're concerned, because in industry cloud, the game you are playing is to build a big business for all of these products; you don't want to put that at risk by running too fast in the beginning and getting too many customers and then failing."

Read the full transcript below.

CMLviz: Congratulations on another nice quarter. I would throw it open first to the two of you, what are the most important things you think investors should take away from the results and outlook?

Tim Cabral (TC): There are three things I would point investors to.

Number one, I think with the introduction of the newer products and the success they're having over the last twelve to eighteen months, we have really set ourselves up for long-term growth. That's number one, that the set-up is really very good. On the call today, you heard the sell-side interest in some of the newer products, including Vault CDMS [clinical data management system], Nitro [data warehouse software], Vault Safety, and Vault eTMF [electronic trial master file], and those really set up the company for long term growth. We talked a lot about that on the journey to a billion-dollar [revenue] run rate. It continues to be our Intention to get there with still room to grow.

Number two, our healthy Veeva Commercial Cloud business. With growth last quarter of 10% in subscription revenue, and similar performance in fiscal '19, we believe it is a healthy grower, while you can see in our bottom line results, also incredibly efficient.

Nitsa Zuppas (NZ): And we gave detail on the call that we increased our market share [with Veeva Commercial Cloud], with enterprise expansion and with a lot of new small and mid-sized business [SMB] wins. We Added another 15 CRM customers in Q4, for 46 added in total in 2019. And, another top pharma selected us as their standard in another region. That now makes us that customer's global standard.

The fact that we continue to expand leadership there is also an important aspect.

TC: Yes, Nitsa's right, the fact we gained market share is important. And third, the piece we talked a lot about over the last few quarters, Veeva Vault is now roughly 50% of our business [by revenue].

It's at scale, the growth guidance for next year for subscription revenue is for at least 35%. To have that scale in that business and to still have the potential for that level of growth, and for that to be our second act, is something we are very proud of. And what that means is that it has a critical impact in critical areas of our customers' businesses.

NZ: At the end of the day, we have been really setting the pace for growth into the future. You've seen analysts noting in recent reports that we will be one of only five companies to be the first to hit a billion dollars [in revenue].

We have focused on being one of the few multi-billion-dollar cloud companies. We released 19 products in the last six years and four of those in the last twelve months. What we are seeing today is really the result of seeds we planted years ago.

In one case, in a subset of clinical, with Vault eTMF, the very first clinical app we released in 2012, we closed our first Top 20 pharma in early 2014, and now we have 11 of the top 20. We have four of the top 7 CROs, so it takes some time and some foresight in really looking pretty long-range. It's your line of site into 2025.

TC: The fact that you have one app in what you now know is a clinical suite that we have in the market, at that level of penetration and market share, is an asset for Veeva that allows us to have really productive conversations about other products, which are actually bigger than Vault eTMF in terms of market potential to expand the growth and the use of the product within the overall clinical suite.

That high penetration is a very good thing. Think about that, eleven of the top 20, just the number of customers there.

NZ: That's one clinical application that we have out of a total of 5. Vault CDMS is in the clinical suite, there is some distinction there - clinical operations is how I operate my trial. Vault CDMS is about gathering the documents I need and then the clinical data management, that's actually the set of data you're selecting from patients. So, there are two different processes there.

Q: And are you expecting to be as active in new application development this year as you were in recent years?

NZ: It's a great question. We have 24 applications now and quite a few in very, very early stages. With Vault CDMS, for instance, we have three major capabilities.

You can think of them as in and of themselves apps. Those kinds of things, typically, in the market they are sold as disparate applications. We are going to bring that into one clinical data management system, a workbench, so that people don't have to cobble together three different things. That's one of the big things coming this year.

There are a couple of other things we may talk about, Vault CDMS, Vault QMS [quality management system], Vault eTMF - there are so many of these that are in really an early-adopter mode, where we are focusing on getting to product excellence with those. Yes, you will continue to see innovation from us, and we will also focus on making sure that we are really performing well in emerging areas.

TC: I would add, innovation, as you know, could come both new product introductions and especially with some of these more recent products we have announced. We are innovating on every single release, there is a lot of learning and evolving with those, Vault CDMS, Vault CTMS, Vault Safety, with some of these products, there is an opportunity to innovate for our customers, including some potential new product announcements as we go forward.

If you look at the overall development cycle, we now have really good coverage of the most important areas within the domains of clinical, regulatory, quality, and safety. We have really strong coverage there, and we have opportunities to continue to add new features and functionality and potentially new products. There is a lot of opportunity for new innovation.

Q: I would imagine that analysts want to know where the next product introduction is coming from?

NZ: You know what they [analysts] do, and we showed a slide at analyst day, that mapped our products relative to where they are in our lifecycle. There are a couple things they look at, the size of the markets is one.

So, for instance, you hear them ask about Vault CDMS, is it is a very large market opportunity. So, they look at that, and then at what is the runway ahead in those products. The ones we talked about, those we highlighted today, they are so early. We have early adopter customers, and so they see a big runway for growth.

TC: It's not just the number of new products, it's also the size of the opportunity in those products. Where we are in the early adopter, and the go-to-market motion, are we moving more toward the reference-customer stage. That varies across the applications.

I don't know if it's directly proportional to the size of the application. It could be the complexity of the application. It could be the budget or the regulatory landscape that is moving the market much quicker than other applications. What I would say is consistent is our discipline in our go-to-market strategy.

We absolutely focus first on finding a couple handfuls of early adopters and really investing in their success. And we do that really at the expense of near-term growth. And that's fine, as far as we're concerned, because in industry cloud, the game you are playing is to build a big business for all of these products. You don't want to put that at risk by running too fast in the beginning and getting too many customers and then failing.

NZ: One of the most important things in the early process is getting that product right with those early customers. It's about product excellence. Someone referred to Veeva as the product hit machine!

Q: Tell us about how things are going in your efforts outside of life sciences.

TC: It was a very god year for our outside-life-sciences efforts. The expansion of Veeva QualityOne inside early adopter customers-

NZ: We doubled our customer base there-

TC: Yes, thank you, Nitsa, that's a very good metric. We've made very good progress, we added to the customer base, doubled it, as Nitsa said.

Within the customer base, we saw more usage of those products as well, therefore deepening our relationships with those early adopters. As we look forward, Peter [Gassner, chief executive officer] said this is a year now of focused execution.

This is back to the earlier point we made, about this go-to-market motion we have. Some things are still in an early-adopter stage, one of investing and the learning process to build product excellence, to build Veeva over the long term. We spent a bit of time with the team at the kick-off in January, with Frank, the president of our outside life sciences effort, and his team.

Q: Are you exploring any possible restructuring of pricing or packaging of your applications?

NZ: There is a little bit of a difference in how people may use or purchase products. Vault CTMS is the operational system. The trial master file is the story of the trial, all the documents that tell regulators you conducted the trial ethically. You have to have it for the life of the drug, plus twelve years, so essentially, forever.

These systems are deployed globally, typically as your standard. That's the foundation you use for that operational system, whereas for Vault CDMS, that is tied to a specific trial. And so they will use your product for a trial and then for another trial. That's a little bit of a different dynamic there.

TC: And to add to that, as we build the suites that we talked about, the buying behavior of our customers is changing a little bit. You see this more in the SMB area, where they can take on more change.

In the big 50 pharmas, each of these is a material amount of change management. In a regulated industry, you won't see top 50 try to digest five different concurrent projects across their enterprise. It will be more a single thing at a time. But in SMBs, we are seeing a lot of suite buying, or cross-disciplined buying, like quality plus regulatory. So, we are seeing a little bit of the buying behavior can change, but not in the way we are packaging things.

[Tim Cabral steps away from the conversation for a meeting.]

Nitsa: I would amplify what Tim said. SMBs can have different adoption rates than the large 50 [pharmas]. Because if you're a SMB, and you're starting from scratch, you have the opportunity to put your full development in the full Commercial Cloud from Veeva, including Clinical, Regulatory, Quality and, soon, Safety.

And so, they [SMBs] are in a bit of a different situation, whereas large enterprise will go with an area at a time. Certainly, they [enterprises] have a vision of streamlining these things. There are some important cross-functional aspects.

For example, if you change a supplier for one of your drugs, if you change suppliers of some of the compounds that go into your drugs, the FDA, and it's a good thing, makes you tell them about that. So, there are two things that have to happen.

In your quality and manufacturing operations, there are all kinds of things about your workflow that has to happen to change. But that should kick off a set of activities within the regulatory team. There's no reason that shouldn't happen automatically. There are a lot of things we see across Veeva Commercial Cloud that can have an impact on the speed to market of customers, or making sure the right drugs get to the right patients.

Q: It sounds like some customers are, frankly, digesting what you've put out there. Does that slow new product introductions?

NZ: No, we are in a world of cloud software, we do three releases per year. We are absolutely in the business of making those applications better and better, for Vault CDMS, and for examples like that across the application suite, especially since we are in this early adopter mode. Those products get materially better. So, there's a lot of great work that happens in terms of market fit and product excellence. You may see given it's our track record.

Q: Okay, anything else you want to add?

NZ: We had one of our best quarters and our best years, and I think that there's an element of really significant innovation and incredibly focused execution that got the company there.

When I take a step back, and I think about what is happening here, you keyed in on it: the pace of innovation is pretty high. And Peter mentioned, three point five years ago we set a goal to reach a billion-run rate, and we will hit that a year early. And have been focused on setting the stage for strong organic growth well into the future. We knew when we got here, we wanted to hit a billion with very strong runway for growth. We are pretty unique in that.

Q: I'd think someone reading about you would think to themselves, you're five years from IPO, you have these newer products becoming a majority of revenue and of growth, and all these new initiatives, and having expanded to reach more customers in the market, and more business within each customer, where are you within those trends that move in tandem?

NZ: We got that question on the call, actually, comments that for outside of life sciences, we just started, but we believe it is very early days for industry cloud, for life sciences.

We are so early in these markets. There are some, a few, where we are approaching leadership, which just gives us entry into what are additional opportunities for customers with mission-critical systems in the time to market for drugs that are going to extend life.

Q: Thank you, Nitsa.

THE FUTURE
It's understanding technology that gets us an edge to find the "next Apple," or the "next Amazon."

This is what CML Pro does. We are members of Thomson First Call -- our research sits side by side with Goldman Sachs, Morgan Stanley and the rest, but we are the anti-institution and break the information asymmetry. We have five stocks we like even more than Nvidia.

The precious few thematic top picks, research dossiers, and alerts are available for a limited time at a 80% discount for $29/mo. Join Us: Discover the undiscovered companies that will power technology's future.

Thanks for reading, friends. Ophir is long shares of Veeva Systems at the time of this writing and Tiernan has no position.

Legal The information contained on this site is provided for general informational purposes, as a convenience to the readers. The materials are not a substitute for obtaining professional advice from a qualified person, firm or corporation. Consult the appropriate professional advisor for more complete and current information. Capital Market Laboratories ("The Company") does not engage in rendering any legal or professional services by placing these general informational materials on this website.

The Company specifically disclaims any liability, whether based in contract, tort, strict liability or otherwise, for any direct, indirect, incidental, consequential, or special damages arising out of or in any way connected with access to or use of the site, even if we have been advised of the possibility of such damages, including liability in connection with mistakes or omissions in, or delays in transmission of, information to or from the user, interruptions in telecommunications connections to the site or viruses.

The Company makes no representations or warranties about the accuracy or completeness of the information contained on this website. Any links provided to other server sites are offered as a matter of convenience and in no way are meant to imply that The Company endorses, sponsors, promotes or is affiliated with the owners of or participants in those sites, or endorse any information contained on those sites, unless expressly stated.