Technology's Crown Jewel is Crushing It


Fundamentals

Written by Ophir Gottlieb, 11-06-2015
Follow @OphirGottlieb
If there's one company that will be the technology's future disruptor, it may be Nvidia. It is a transformational company that now has its hands in the most innovative segments of technology and is one of the few identifiable crown jewels of tomorrow's world. And while we're at it, the stock is up 55% in the last three-months and 110% in the last two-years.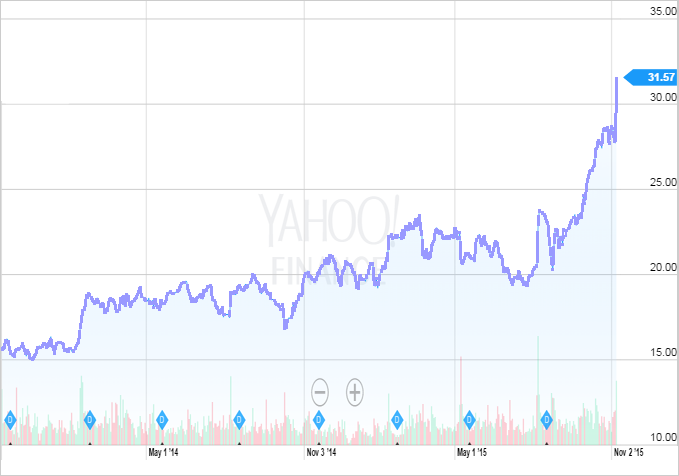 The company released earnings on 11-5-2015 and it was a
blow out quarter
. Let's touch on the results and then dig deeper into the fantastical possibilities of this technology marvel.
Here's the video recap of this article, with fleshed out details below in the write-up.
Earnings Results
R
evenue: $1.31 billion, fully $130 million higher than expectations. For now, gaming is still the 'big stick' for NVDA, representing 58% of revenue and growing at an absurd 44% year-over-year and an 82% market share (Source:
Fool.com
).
E
PS: $0.46 versus an expected $0.25.
F
orecasts: $1.3 billion for Q4 versus estimates of $1.2 billion.
We write one story a day to uncover new opportunities and break news.
Get Breaking News Alerts (Free) Once a Day.
Nvidia the Marvel
Here's a chart of NVDA's revenue in the blue bars and levered free cash flow in the orange line -- but this is not yet updated for the most recent earnings report. Note that revenue in the last year is at an all-time high.
We use visuals to break critical news with chart data that to this point has been kept away from the general public.
Join Us: Get Our (Free) News Alerts Once a Day.
The marvel behind NVIDIA stands squarely on the footing of its strategy to become the driving force underlying large technology segments and to power those segments with every major company. This edge allows the firm to benefit from segment growth, rather than to make a bet on any specific provider. With new product development and continued innovation, NVDA is a true technology disruptor.
The gaming revenue blow out and growth is even more impressive noting that PC shipments are shrinking by ~11% year-over-year and competitors like AMD saw sales declines while NVDA is seeing sales explode.
NVDA holds the dominant position in the GPU (graphic processor) market which means it controls the very guts of the gaming segment which is expected to reach $118 billion in two years. Nvidia's chips are graphics processing units used to display animated scenes in game software and so the firm has easily weathered the PC slowdown.
The main stream media doesn't have the vocabulary to understand breaking technology. Get
free
news alerts (once a day) from us and you will be the expert in the room.
Get Our (Free) News Alerts.
Self Driving Cars
The company is also truly the 'secret weapon' in self-driving car algorithms and has already engaged Tesla, Aston Martin, Rolls Royce and Audi with what can only be described as 'the guts of the future' and revenue in the automotive space grew over 50% year-over-year. While the number still sits small at $79 million, let's take a look at why that number could grow
40-fold
in the next few years.
In fact, Ian Ing of MKM partners wrote:
"[M]achine learning could become a $3B+ opportunity should it grow to 30%-40% of the $10B server chip market."
(Source:
Barron's
).
The company's strategy in this segment is to become a part of the internal workings that all manufacturers depend on.
Barron's
notes that the firm provides processors to more than 50 automakers working toward driver-less cars.
NVIDIA announced that its Tesla Accelerated Computing Platform secured a deal with long-time partner Microsoft (and its Cloud) and NVIDIA processors already power the dashboard and infotainment systems included in Audi vehicles. NVIDIA could very well end up being the hyper critical system behind all self-driving cars. Check this out:
"The development kits are being used to help train self-driving prototypes[]. The kit contains a graphics processor that runs image-recognition software and decodes patterns in footage from up to 12 cameras."
(Source:
CNBC.com
).
The truly unique product offering NVDA provides (called PX) is that "instead of using lasers, radars, and ultrasound to detect obstacles, there's a neural network at the base of its technology. The best part about this deep-learning system is that it's fully automated" (Source:
Market Realist
).
"Because Drive PX relies on deep learning, it can learn to detect images it's never seen before. This is necessary for self-driving, in which quick responses or evasive action is required. The feature that makes Nvidia's Drive PX so appealing is its ability to handle input from twelve cameras, and use it to get a comprehensive view of the vehicle's surroundings.
NVIDIA claims that the kit can infer things, such as the differences between various vehicles, like a taxi cab, an ambulance, and a police car. It can build a 3D map of objects around the car that enables it to self-park."
(Source:
Market Realist
).
Do you thrive on understanding what's really going on in a company beyond headlines to find uncovered gems?
Get Our (Free) News Alerts Once a Day.
Smart TV: The War Begins: NVIDIA and Apple
NVIDIA has spent the last couple of years positioning itself as a full fledged player in the console field, releasing the Shield Portable, Shield Tablet and now the Shield set-top box. (Source:
Nvidia Shield is the set-top box that makes Apple TV look like a kid's toy
).
Here's where it gets interesting. NVDA's Matt Wuebbling (general manager for Shield) addressed the Apple TV and said "[w]e think this validates the category of the smart TV console that we pioneered." Of course, when AAPL enters a category, it grows massively larger -- we've seen that with the iPod, iPhone and iPad. But it gets better. NVDA is claiming rather loudly that its product is
substantially
better than Apple's. Here are some specs:
"SHIELD offers 3x more performance, plus more features and more ways to game. It's still the only smart TV console that can stream 4K content. And — thanks to its support for Chromecast — it connects your mobile devices directly to your living room display."
(Source:
nvidia.com
).
NVIDIA goes on to write that Shield is "the best choice for gamers, the only choice for 4K and the logical choice for Chromecast." We note that Apple TV as of yet, does not support 4K resolution. Nvidia expanded by writing that "By 2018, consumers will own more than 100 million ultra-high definition 4K TVs. And SHIELD remains the only media streamer that supports 4K content. There's plenty of content already available — from both Netflix (NFLX) and YouTube — and plenty more coming.
The main stream media doesn't have the vocabulary to understand breaking technology. Get
free
news alerts (once a day) from us and you will be the expert in the room.
Get Our (Free) News Alerts.
Conclusion
NVIDIA stands squarely in the middle of gaming industry, connected and self-driving cars, mobile devices and Smart TV with a shrewd strategy that allows for market dominance. The company's recent past maybe only be the beginning of a remarkably bright future. If you're looking for a potential crown jewel of tomorrow's technology, Nvidia may be the place to start.
It takes more than click bait and a 140 characters to be an expert and journalists aren't trained to understand breaking technology. Get
free
news alerts (once a day) from us and you will be the expert in the room. You will be powerful.
Get Our (Free) News Alerts.