The Secret's Out: This May be the Next Chipotle


Fundamentals
PREFACE
Chipotle Mexican Grill(CMG) has been a stock market superstar for most of its existence as a public company -- it has been the poster company for growth. But the stock has collapsed on an E. Coli outbreak.
Rather than chase CMG, why not find the next great restaurant chain, free of an epidemic and federal lawsuits.
UNDERSTANDING GROWTH
CMG was such a great investment because it excelled at two distinct types of growth. The company managed the rare feat of not just growing the number of stores, which really any company could do with deep enough pockets, but also consistently improving the performance of its existing stores, as evidenced by its stellar same store sales across time.
Rapid growth can be extremely difficult to manage, CMG's ability to rapidly grow its store base while also improving the performance of older stores spoke volumes about the quality of the management and the product.
Recently, CMG stock has hit the skids following an E. Coli outbreak at some restaurants. The company has warned that the 4th quarter will be the 1st quarter ever with negative same store sales growth. So, let's take a quick look for an heir apparent to CMG.
NEW KID ON THE BLOCK
We'll start by looking at a scatter plot of same restaurant sales growth vs overall sales growth. Companies that are succeeding in both should be found in the upper right corner of our chart.
In fact, there are just one single stand-out: The Habit (HABT).
HABT has the largest growing same store sales and it leads the pack in overall sales growth. Here's a chart of the company's all-time revenue trend.
WHAT IS HABIT?
HABT was named the best burger by Consumer Reports in 2014. The company fancies itself as operating in the Fast Casual segment at "the convergence of two large market opportunities."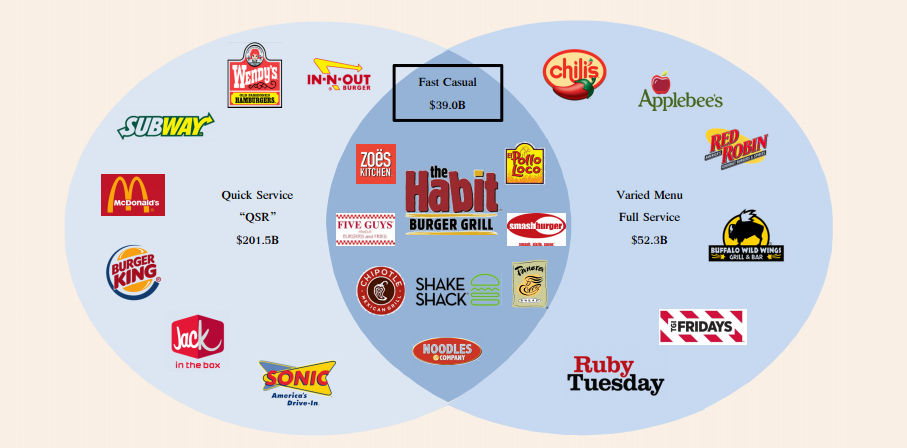 Source: ICR Conference Presentation for The Habit
There are 22 companies included in that graphic and half of them are best known for burgers. That is arguably both a feature and a bug. Clearly, burgers are big business and a profitable one, but just as clearly, the competition is fierce.
Let's take a look at some valuations in the restaurant space, here we plot Price to Sales on the vertical axis and equal space (rank) the companies on the x-axis. We've highlighted HABT in green.
Interestingly, despite the standout performance in growth by HABT, its valuation is rather low compared to its peers. Fast Casual competitors like SHAK, ZOES and SONC sport much richer valuations.
We break news every day. Discover the Undiscovered.
Get Our (Free) News Alerts Once a Day.
WHAT'S UP WITH VALUATION?
Why aren't investors willing to pay for HABT's growth? Let's look at Operating Margins vs Price to Sales to see if HABT just doesn't measure up operationally. Again, HABT is highlighted in green.
Do you enjoy using visualizations to understand what's really going on in a company?
Try CML Pro. No credit Card. No Payment Info. Just the Power.
HABT does seem to be a laggard in terms Operating Margin, but Fast Casual rivals ZOES and SHAK sport much higher valuations despite similar operating performance.
One possible explanation for the divergence between growth and valuation exhibited by HABT is the aforementioned Consumer Reports article. The resulting publicity from the article generated an impressive sales surge, but that surge is now turning into a headwind for same store sales.
THE PRICE OF SUCCESS
Last year's exceptional same store sales numbers will almost certainly mean lackluster same store comparison sales numbers over the next few quarters. Of course this may turn out to be a great opportunity for investors.
After peaking in May above $39 a share, HABT slumped to the low $20's by year end, and then fell another 11% in January. Here's the all-time stock price: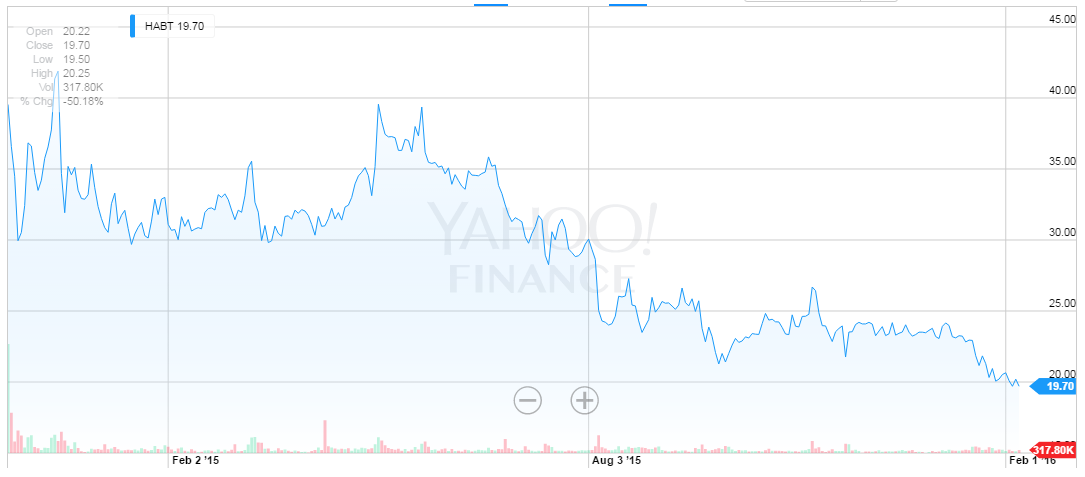 Source: Yahoo! Finance
Going forward, if HABT can meet its overall sales growth goals and begin to show some improvements in operating performance, it could become quite compelling if Wall Street focuses on lackluster same store sales growth and pushes the price into the teens.
WHY THIS MATTERS
If any of the information we just covered feels like a surprise, in many ways it is. The top analysts that represent the wealthiest 1% of Americans have no interest in sharing the data they are
keenly
aware of. But they do know when retail is selling everything they've got and that does inform their decision systems.
CML Pro is the only institutional research house that offers the exact analysis, data
and visual tools
that the pros have to the retail public.
This is just a snippet of the fantastic reports CML Pro members get along with all the visual tools, the precious few
top picks for 2016
that cover all of the rule breaking segments of our future, research dossiers and alerts. For a limited time we are offering CML Pro at a 90% discount for $10/mo. with a lifetime guaranteed rate.
Join Us: Get the most advanced premium research delivered to your inbox along with access to visual tools and data that until now has only been made available to the top 1%.
Thanks for reading, friends.