Swing Trading Earnings Bullish Momentum With Options in E*TRADE Financial Corporation

E*TRADE Financial Corporation (NASDAQ:ETFC) : Swing Trading Earnings Bullish Momentum With Options
Date Published:
2017-08-12


PREFACE


There is a pattern of bullish momentum in E*TRADE Financial Corporation (NASDAQ:ETFC) stock just days before earnings, and we can track that by looking at swing returns in the option market.

This is a short-term swing trade, it won't be a winner forever, and it can be easily derailed by a couple of down days in the market irrespective of E*TRADE Financial Corporation news, but for now it has shown a repeating success that has not only returned 1,027% annualized returns, but has also shown a win-rate of 63%.

IDEA
The idea is quite simple -- trying to take advantage of a pattern in short-term bullishness just before earnings, and then getting out of the way so no actual earnings risk is taken. Now we can see it in E*TRADE Financial Corporation.



Option trading isn't about luck -- this four minute video will change your trading life forever:

Option Trading and Truth



The Short-term Option Swing Trade Ahead of Earnings in E*TRADE Financial Corporation
We will examine the outcome of going long a monthly call option in E*TRADE Financial Corporation just three calendar days before earnings and selling the call one day before the actual news.

This is construct of the trade, noting that the short-term trade closes before earnings and therefore does not take a position on the earnings result.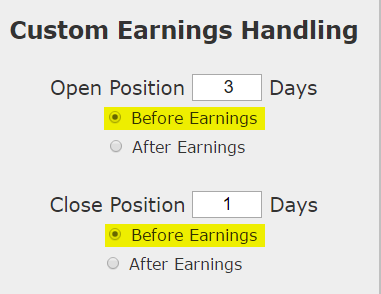 Often times we look at option set-ups that are longer-term, and take no directional bet -- this is not one of those times. This is a no hold barred short-term bullish swing trade with options and that's it. It's a bullish bet, so must be conscious of the delta risk.

Below we present the back-test stats over the last two-years in E*TRADE Financial Corporation:


ETFC: Long 40 Delta Call


% Wins:
63%
Wins: 5
Losses: 3
% Return:
45%
% Annualized:
1,027%

We see a 45% return, testing this over the last 8 earnings dates in E*TRADE Financial Corporation. That's a total of just 16 days (2-day holding period for each earnings date, over 8 earnings dates). That's an annualized rate of 1,027%. That's the power of following the short-term pattern of bullishness ahead earnings -- and not taking on the actual risk from the earnings outcome.

This short-term trade hasn't won every time, and it won't, but it has been a winner 5 times and lost 3 times, for a 63% win-rate and again, that 45% return in less than one-full month of actual holding period.

Setting Expectations
While this strategy has an overall return of 45%, the trade details keep us in bounds with expectations:


➡

The average percent return per trade was 6.36%.




Looking at More Recent History
We did a multi-year back-test above, now we can look at just the last year:


ETFC: Long 40 Delta Call


% Wins:
75%
Wins: 3
Losses: 1
% Return:
32%
% Annualized:
1,460%

We're now looking at 32% returns, on 3 winning trades and 1 losing trades.


➡

The average percent return over the last year per trade was 7.38%.

WHAT HAPPENED
The pattern of this bull market reveals a bullish run up before earnings in the very short-term -- independent of the realized earnings result. This has been a tradable phenomenon in E*TRADE Financial Corporation. To see how to test this for any stock we welcome you to watch the demonstration video.